In this review we will analyze Lost Depths, The Elder Scrolls Online DLC that marks the beginning of the end of the current story arc
Legacy of the Bretonsthe current cycle of The Elder Scrolls Online started with Ascending Tide and that has seen its climax, at least for the moment, with High Isle, starts towards the end. A cycle that certainly left a little bitter taste in the mouth, especially knowing that the scenarios presented were going to present a glimpse of the TES world never seen before. Let's start this review and find out if Lost Depth will have managed to carve out an important slice within The Elder Scrolls Online or if it will simply be the usual DLC with two new dungeons.
Winning tactics don't change
As expected, after a fairly full-bodied DLC like the High Isle one, the developers "try to breathe" by releasing a lighter update. Lost Depth in fact, just as it happened in the other narrative cycles, introduces some secondary missions pending the conclusion of the main story that will take place with Firesong. These will take place entirely in the two new dungeons that have been introduced with the expansion: Graven Deep e Earthen Root Enclave.
The two dungeons, as we are now used to, will be accessible from level 45. The American company based in Rockville therefore does not want to abandon the guidelines they have followed to date with The Elder Scrolls Online. This is despite some complaints received by some players who find these dungeons too easy if faced at high levels. Obviously the choice of Bethesda is to be linked to the fact of wanting incentivize new playerswhich therefore do not have characters with very high levels, to purchase new expansions.
A more than fair idea in some ways, were it not for the fact that these DLCs, which include the addition of only two dungeons, cost 1500 crown, or € 12.99. Nobody pushes us to buy this package, also because, we repeat, it is only secondary missions. The fact remains that the cost is still a bit excessive although, at least in this case, there has been a slight improvement in terms of design in both dungeons.
Baby Steps Into the Abyss – The Elder Scrolls Online: Lost Depths Review
As mentioned earlier, a good point in favor is marked by the settings of the two resulting dungeons distinct from the previous ones. In this sense the developers had already moved with Ascending Tide. In that case, however, only Coral Aerie it had attracted our attention and had been able to arouse in us great anticipation for the new cycle. In this case though both dungeons are well done and each has characteristics that make them pleasant to remember.
Small details like being able to walking underwater, although scenographic and not very useful for gameplay purposes in general, they may be slightly superfluous. However, this aspect points out a new strategy that maybe developers can adopt in future expansions. Plus this new feature allows the dungeon to have its own characteristicsmoving away from the usual "corridor" that can be traveled through that leads us to clash with the various bosses and enemies that populate it.
In short, what should keep this immense online game standing should be precisely the desire to discover linked above all to the atmosphere that the game manages to arouse. This last factor pushed us again to play yet another The Elder Scrolls V: Skyrim Anniversary Edition. However, it seems that the developers have understood the meaning and, slowly, are recreating that characteristic atmosphere that only TES is able to give.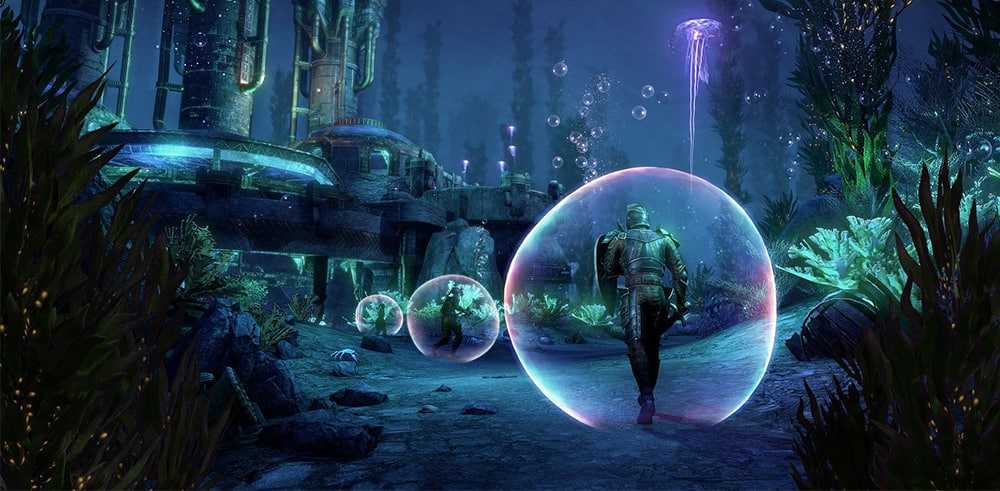 So much diversity towards one goal – The Elder Scrolls Online: Lost Depths review
We have already anticipated something related to the two dungeons and some small gems introduced by the developers, such as walking underwater. We will be honest with you, when we read that Graven Deep was a dwarven ruin, we immediately thought of the immense golden and metallic corridors carved into the stone that characterized the previous Dwemer ruins. You will then be able to understand our astonishment when we found ourselves wandering in immense marine tunnels.
Just like the previous ruins, this one also hides mysteries. According to a legend, Graven Deep is where the legendary Druid King he left his treasures. Therefore, the pirate theme that has partly characterized this narrative arc and the centrality of the sea itself is not abandoned. The developers took care of everything again, even allowing us to make a small underwater excursion in the ocean.
Contrary to Graven Deep, in Earthen Root Enclave we will find ourselves at go from the sea to the plains and hills of the hinterland, where druids were suddenly attacked. If the previous dungeon is linear enough, here we can explore wide open spaces with rather fearsome enemies waiting for you. Between the two, this is certainly the most challenging dungeon from this point of view will guarantee an excellent challenge especially for beginners.
Some improvements, but there is still work to be done
We have now reached the end of this review of The Elder Scrolls Online: Lost Depths and it is therefore time to draw some conclusions. Bethesda's policy to push users towardsESO Plus it is now clear, but maintaining certain prices for an expansion that includes only two dungeons is far too much. However, at least from the design point of view of the latter, we have seen important steps forward.
Dungeons are no longer seen as "simple corridors" to walk through while facing a flood of enemies, but as explorable areas full of small details that make them unique. A Dwemer ruin that does not seem such and a little walk at the bottom of the ocean they know how to give emotions that were no longer lived in the flat screenplay of the other dungeons. In short, the developers took what was good in the Coral Aerie dungeon and followed in its footsteps, improving everything even more.
Some nice steps forward that perhaps portend a long-awaited small change, but still struggling to take off. Will the Firesong expansion be able to give us further steps forward? We just have to wait to find out. For this review of The Elder Scrolls Online: Lost Depths that's all. If you don't want to miss further news regarding the videogame universe, keep following the pages of everything! For those looking for some small discounts on video games, we recommend that you take a look at those offered by Instant Gaming.
Points in favor
Well structured dungeons
More captivating atmosphere
Small news
Points against
Content / price ratio
Still too anchored in the past