Let's take a look at the Sigma AF 70-300mm DG lens for Canon and find out when and to whom it is convenient to buy this product
Among the best Sigma optics we find the AF 70-300mm DG for Canon: a product designed for amateur photographers who need a long-lasting zoom lens. This lens can be used with 35mm cameras and full-frame digital SLRs, along with SLRs with APS-C sensors. The aforementioned product can be found at resellers specialized in Sigma optics such as Fc Web Store, and can be used for different subjects, from portraiture to sports, through landscapes and travel shots.
Sigma AF 70-300mm DG lens for Canon: some information
Before going into detail, studying the best peculiarities of these Sigma optics, it is good to start with this information: the label DG (Digital) refers to a special optical design, designed to optimize performance with digital camera sensors. However, this does not detract from this objective can also be used on film SLRs. In addition to including optical coatings to improve light transmission, Sigma AF 70-300mm DG optics for Canon also improve color distortions. The system employed by the AF 70-300mm DG for Canon uses two sensors inside the lens, the purpose of which is to detect vertical and horizontal movements.
Secondly, in these Sigma optics there is a group of stabilizing lenses to compensate for movements and to provide a stable image in the viewfinder and sensor. It must also be said that, usually, in the most advanced Sigma optics there are separate stabilization modes, for the detection of vertical and horizontal vibrations. However, there is only one mode in the AF 70-300mm DG for Canon, which provides both vertical and horizontal detection. Just like the other Sigma lenses, the AF 70-300mm DG for Canon it is also available for other cameras such as Nikon, Pentax and Sony.
AF 70-300mm DG optical design for Canon
The AF 70-300mm DG for Canon proves to be one of the most compact and lightest Sigma lenses ever produced. The optical design comprises 16 elements in 11 groups, and includes a SLD (Special Low Dispersion) glass element: its purpose is to effectively correct all types of aberration. Sigma then applied a Super Multi-Layer coating to the optics, to suppress glare and to provide high-contrast images, throughout the focal length range. The nine-blade diaphragm of these Sigma lenses closes at a circular aperture, for a really interesting bokeh effect.
The quality in terms of construction of these Sigma optics is well above what one might expect from a device at this price point. The barrel is solid and the finish is very smooth, and parts of the barrel boast a premium matte black finish that is also pleasant to the touch. The same material was also used for the cylindrical lens hood supplied with these Sigma optics: this fits a bayonet mount, and adds about 43mm to the overall length. Finally, a stainless steel mounting plate provides a stable and secure connection to the camera body.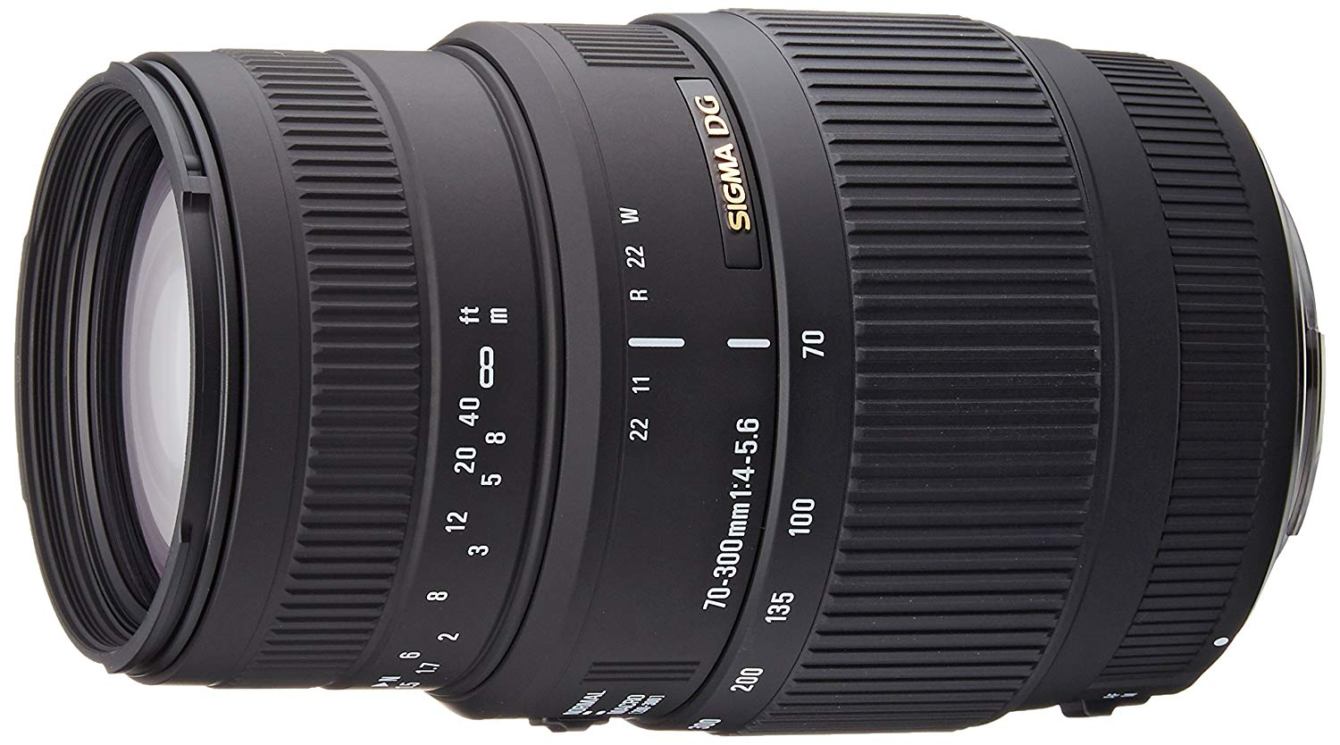 Easy handling of the AF 70-300mm DG lens for Canon
Among the Sigma lenses, the AF 70-300mm DG for Canon proves itself one of the most manageable ever. Both the focus and zoom rings showed no movement – on the contrary, they performed smoothly and steadily. No zoom lock is provided, but it still doesn't seem necessary, as the lens showed no tendency to extend when pulled down. All the controls are close at hand, and the sliders – although small in size – are very simple to adjust.
The zoom ring of these Sigma lenses moves approximately 90 degrees in rotation, while the focus ring can be moved approximately 30 degrees in MF mode. This allows you to get a very precise and direct manual focus. Although no macro settings are provided, close-up photographs of flowers and other small subjects can be taken. As long as the distance from the camera is more than one and a half meters.
AF performance 70-300mm DG for Canon
In terms of performance, these Sigma optics do not fail to give pleasant surprises, especially if we talk about the photos, which are detailed and sharp. In addition, the autofocus system proves to be able to keep up with the burst mode when shooting moving subjects. Overall, the level of straight-line distortion in these Sigma lenses is very low, so it is better than average for a 4x zoom lens.
Vignetting (darkening of edges) may show up in shots taken at maximum aperture at all focal length settings. It must also be said that in some shots taken against strong backlight some subtle haze can be seen, even if it is not normally a problem. Bokeh at large apertures is quite enticing, even in the absence of a lot of background detail. Overall, therefore, the performance of these Sigma lenses are more than worthy, especially considering that we are talking about an entry-level device.
When to buy this product?
Being Sigma optics designed for those approaching photography for the first time, it is natural that there are both advantages and disadvantages. In other words, there are cases in which it is absolutely recommended to buy the AF 70-300mm DG for Canon, and other cases in which it is probably better to opt for other alternatives. So let's try to clarify when you should focus on these Sigma optics, and when it is preferable to look elsewhere.
It is worth buying the aforementioned Sigma optics if the first desire is to get a very reliable zoom. Secondly, it also proves an excellent choice for those who love versatile Sigma optics, which can be used for different subjects (such as in the case of portraits, landscapes and wildlife).
The other way around, this lens is not recommended for professional photographers, looking for higher quality and faster Sigma optics. Especially in low light conditions, the AF 70-300mm DG for Canon demonstrates several limitations. Finally, this model does not stand out for its close focus.
Hoping this article has been of help to you, we recommend reading our guide to the best Canon lenses to buy.