The Taiwanese giant MSI announces the availability in Italy of the E13 Flip Evo Summit, the first 2-in-1 presented during the CES 2021 event
Model Summit E13 Flip Evo of MSI, the multinational's first 2-in-1 convertible arrives in Italy. The convertible laptop, presented at CES 2021, we recall was elected Best of CES 2021.
A product designed for professional users, and to satisfy various needs aimed at productivity. With equipment that also includes a versatile one MSI Pen, could be used as a laptop or tablet, let's see all the details together.
Summit E13 Flip Evo: the convertible according to MSI arrives in Italy
Equipped with 11th generation Intel Core i7 processors and graphics Intel Iris Xe, MSI's convertible proposition is capable of delivering performance up to 10% higher than the average for laptops in its category, while maintaining a contained design so as not to impact the final weight. Thanks above all to the effective dissipation system. Made with a sophisticated manufacturing process called CNC, the chassis of the Summit E13 Flip Evo boasts a sturdy ergonomic 360-degree hinge, which allows you to rotate the display to use it, according to the different work scenario, as a laptop or as a tablet.
The livery, Ink-Black, it is characterized by shiny edges and brushed finishes, a choice this from MSI to give this new 2-in-1 a professional and elegant look. Good equipment in terms of battery, the company's internal tests speak of 20 hours of autonomy. The display touchscreen has a relationship 16:10 13-inch.
To complete the data sheet we find doors Thunderbolt 4, for speed of data transfer up to 40 Gbps. On the storage front, the highest levels in terms of performance and reliability are then guaranteed by the presence of a SSD PCIe Gen4. A very welcome choice, however, is the presentation of chip TPM aimed at security and encryption, a choice that many manufacturers have abandoned, and we are pleased to find it again. Level data protection enterprise assicurate in conclusion. The hardware-based TPM 2.0 chip is also accompanied by the possibility of counting on a triple protection on the webcam which, in addition to the classic light indicator, provides a quick activation button on / off, to which is added a real physical switch.
To offer the highest quality of audio and video calls, there are also technologies MSI AI Noise Cancellation e Noise Reduction CAM which, by reducing background noise.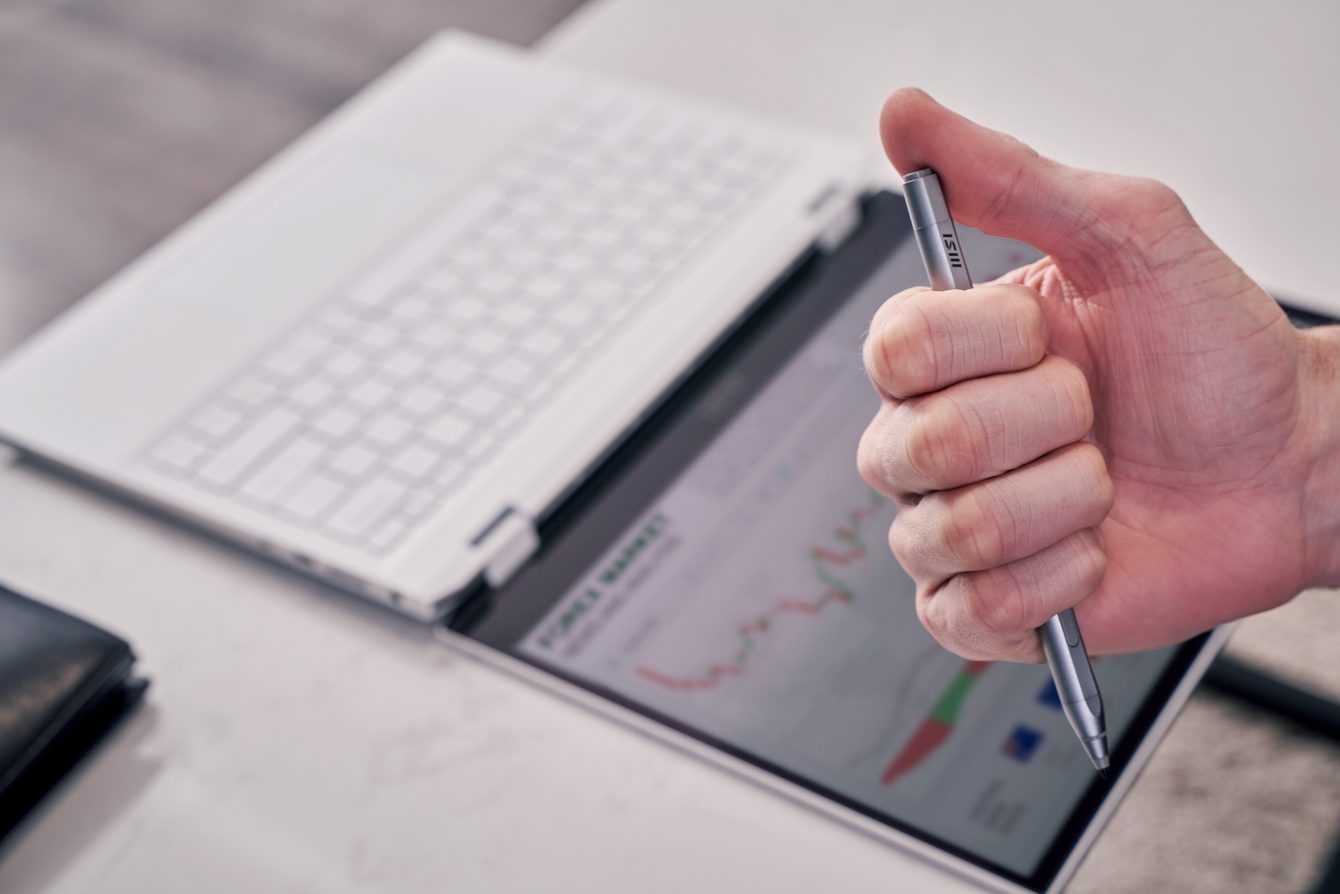 New for this model, however, is the small MSI Pen that we find supplied. It allows you to take notes on the touchscreen display with the same ease with which you would do it on a notepad and it is also perfect for professionals who wish to be able to express their creativity.
The MSI Pen, already awarded at CES 2021, offers pressure technology with 4096 levels of sensitivity, as well as the MPP 2.0 technology, which guarantees maximum connection stability.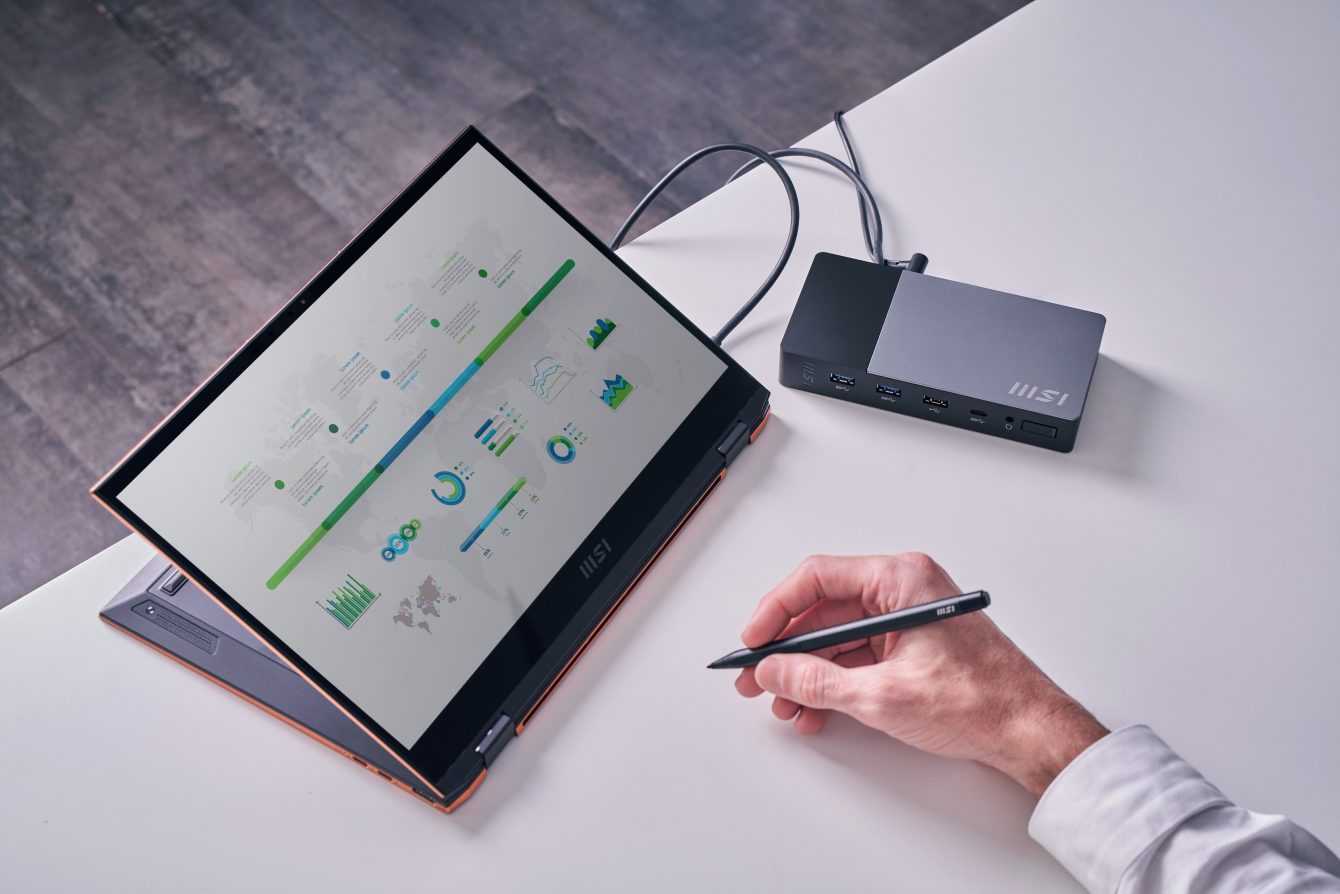 MSI then expands the equipment with extra components, to create a true ecosystem aimed at business and non-business productivity. Like the new one MSI USB-C Docking Station Gen 2, available as an optional accessory, which allows the connection of up to 3 displays and makes available 5 additional USB ports, a Gigabit LAN port and up to 100W of power for charging smartphones and other devices.
MSI Summit E13 Flip Evo will be available in Italy from mid-April at a price of 1.949,00 euro (VAT included). Included you will obviously find the MSI Pen, and also the transport bag. MSI USB-C Docking Station Gen 2 instead, it will be available at a price of 199 euro (VAT included). If you want to continue to know the latest news from the hardware world, keep following us. Greetings from TechGameWorld.com.