Microsoft has organized a virtual event for the next one September 22, where it should unveil its new products Surface. One of them should be Microsoft Surface Go 3, the new tablet with interesting features for the price, with Windows as an operating system. They have circulated on the device already some indiscretions: here's everything we know about this new device.
Microsoft Surface Go 3: the features of the new Windows tablet
Microsoft's new device still remains an unknown: the company has not revealed any important information about the device, limiting itself only to a few hints and profile pictures. But leaker Roland Quandt has revealed what could be the c'sfeatures of the new budget tablet from Redmond.
Surface Go 3 technical specifications
According to rumors leaked so far, the new device should have processors Intel Pentium GOLD 6500Y fino a Intel Core i3-10100Y. Both chips are architecture based Amber Lake-Y, which should provide better performance especially as regards the autonomy of the tablet. Processors of this type they are not really suitable to replace the PC in all respects, especially if you love to play and make graphics. But they become an important aid for mobility and smart working if your main use falls within the Office package and using the browser. Many users can take full advantage of devices of this power, without hesitation.
Surface Go 2, which should look a lot like the new model
The Pentium chip version should have 4GB in RAM, while the one with the i3 processor should go up to 8GB. Memory should go from a minimum of 128GB to a maximum of 256GB. Both should support the Bluetooth e l'NFC, now essential on any technological device. And there is also the possibility of adding the antenna LTE to connect even when you are away from home WiFi.
In recent months, the possibility has circulated online that the device could also have a chip ARM, perhaps based on the processor of Qualcomm Snapdragon 7c. However, there are currently no credible sources confirming these rumors.
No credible information even for the cameras, which seems increasingly likely to be the same as seen on Sruface Go 2. Which means un 5MP sensor for the front camera and an 8MP sensor for the rear one. Given how much Windows 11 relies on Teams for video calling of all kinds, we'd like to see an improvement in at least the front camera.
Classic design
From a design point of view, it looks like Microsoft's new tablet it will look a lot like the previous version. Sleek metal back, front with rather large bezels than seen on many Android tablets. The hope that these black frames will decrease in volume is there but it doesn't seem that Microsoft wanted to revolutionize the aesthetics of this product too much.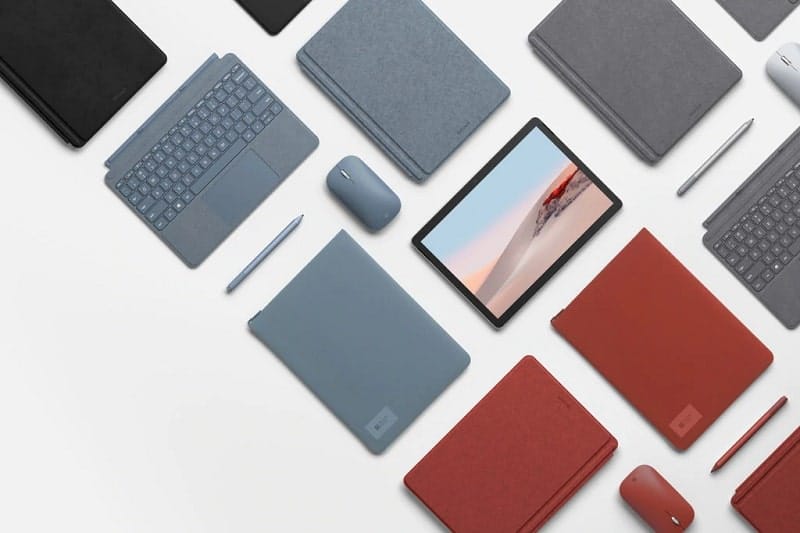 Also this time, the TypeCover to protect the device and act as a keyboard, as well as the Surface Pen they will be from buy separately. Not a little raising the price of the device.
Microsoft Surface Go 3: price and availability
The September 22, 2021 Microsoft has thought of an event entirely dedicated to the Surface. In addition to Surface Go 3, Microsoft seems to be able to announce the Surface Duo 2. And there's a chance they'll come too Surface 8 e Surface Book 4, ready for the arrival of Windows 11.
The launch date shouldn't come much later: it looks like we'll be able to pre-order the new tablets and start using them by early October.
As for pricing, the basic model looks like it can get to $ 399 in the United States. But in our country the basic model had a higher price in previous models: we expect to see it about 469 euros, like the predecessor. The LTE model might as well go up over 800 euros. A decidedly competitive price compared to Windows PCs with similar features but perhaps a little too high for those looking especially for a tablet, with Android alternatives starting at lower prices.
But for the certainty of the features and prices we will have to wait until September 22, when Microsoft will present its new Surface line. Last year the company showed us all one product line under this brand, increasingly rich in devices. We therefore look forward to this announcement and will keep you informed for any news.