Synology NAS DS1621 + review. Who is it for? What does it offer to the user and to the small-medium business? Let's find out the new solution together
Synology, Taiwanese manufacturer specializing in Network-attached storage storage devices, better known as IN THE, presents the latest addition to this family. It comes in the new DS1621+, a shared drive solution intended for business users looking for solutions robust, reliable storage, to install and forget.
Coming to the market with notable upgrades over its predecessor, the DS1618 +. These improvements range from the new ones performance guaranteed by the AMD Ryzen chipset, by the new acceleration given by a new cache system consisting of a double slot M.2 2280 for the NVMe cache, and by secured storage, being expandable up to well 16 units. Let's not waste any more time, and let's get to the heart of the review with the new Synology NAS DS1621 +.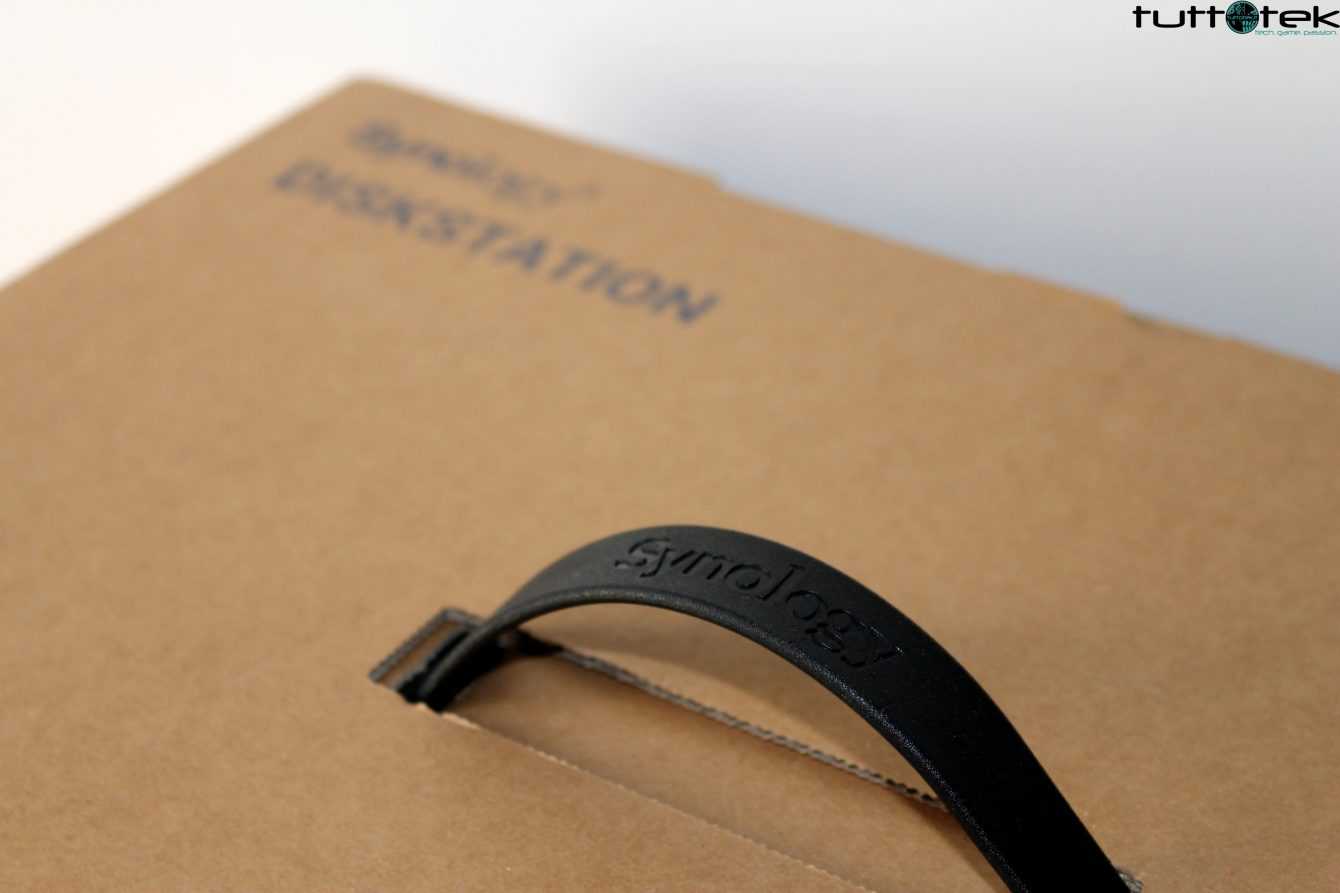 Synology NAS DS1621 + review: umboxing and design
The device presents in the front part bottom right, a USB port 3.2 Gen 1, conveniently placed in this position for quick access. The front top is full of Indication LED, in fact, we see from left to right; the LED Status that is an indicator of status and therefore of activity, the LED Allert which will blink if there is a problem on the storage disks, the power button e shutdown with its LED, and then a block of LEDs consisting of four flashing lights.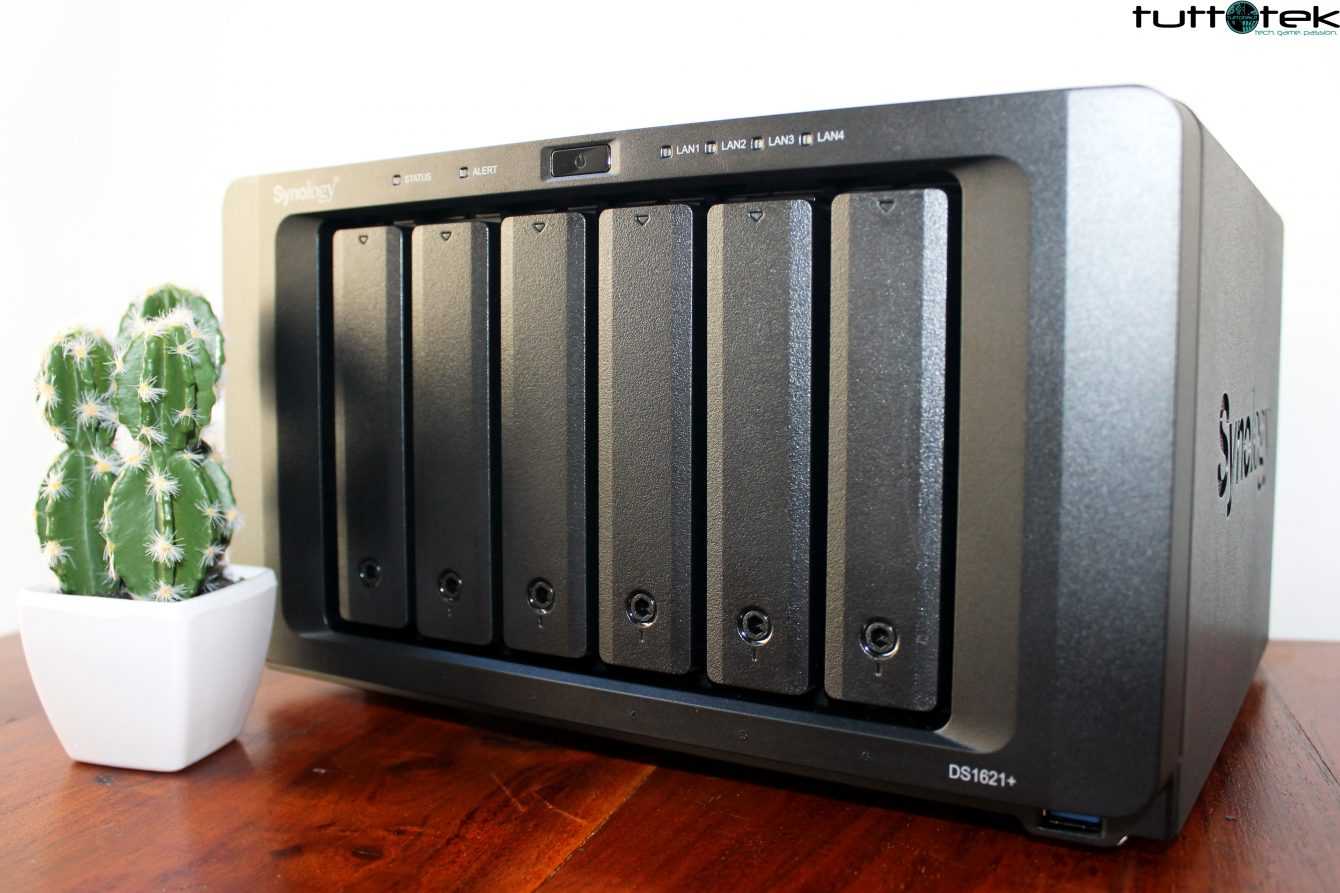 What do we find in the box? A small one quick installation guide, the cable of AC power, two RJ-45 LAN cables (obviously, one to connect from the router to the NAS, and consequently another from the NAS to the PC), and the two keys to open the slots / trolleys to install the disks.
Made of aluminum, this NAS features a fairly heavy and sturdy structure, with support feet made of rubber to absorb the vibrations and be well jump to the ground. In particular weighs 5.1 kg, for measures of 166 x 282 x 243 mm.
The slots are equipped with a single lock for each single slot, with relative key, ed each single slot has an indication LED for disk status activity. In the back instead we see two large fans strategically positioned to cool the entire system, as well as the power outlet and one Kensington security slot.
The key, locks the disc vertically, while horizontally unlocks it, with automatic release, convenient, simple and fast.
In terms of connection we always have on the back due USB 3.2 Gen 1 port, quattro port RJ-45 1GbE, two expansion ports, and one PCe expansion slot. Also present a comfortable Reset button placed between the two expansion ports and the 1GbE gate which perhaps represent a "limiting" element as similar solutions on the market offer 2.5Gbe and 5Gbe connections, for a product that still belongs to the medium – high range.
Let's be clear, it's just a matter of numbers and technical comparison with other products, in any case, under maximum load and with all the ports occupied they can be reached theoretical speeds greater than 400-440 MB / s.
Synology NAS DS1621 + review: which uses it goes with?
Synology DS1621 + takes advantage of the unified, patented operating system from the Taiwanese house, the DSM. Before going ahead and understanding the specific use it is necessary to make a brief review of what this system defined as "unified operating" is. Being a NAS it is clear that it is mainly aimed at professional users, among which companies, businesses, large and small, and for this reason the operating system tries to merge multiple devices for quick access between the connected ones. This means that in this way a higher efficiency is obtained, given by a quick access for sharing via browser, through a effective synchronization from Agent desktop, up to viewing backups from the mobile application, until still, to a backup transfer to another Synology NAS.
What it tries to offer then, is the best compatibility between multiple devices, with the fastest storage speed, for backup and otherwise, to be exploited for the whole connected IT infrastructure. Productivity comes first for the new DiskStation DS1621 +.
An archive that does not think only of one local LAN line, but it also moves into the cloud world, with the software Synology C2 Backup, which seeks to offer both corporate and private users an efficient backup storage with all the security provided by the AES-256 and RSA-2048 encryption. Always the mentioned software, will be able to offer an automatic recovery of the data in case of loss, with a history of the archived files.
The mission that Synology therefore seeks to bring to the market – both with storage devices and related software – is to offer and guarantee that sense of certainty and security that a company seeks. The research is mainly aimed at keeping your data safe, when they are not only sensitive, but above all they reach large numbers.
Synology Collaboration Suite, alongside businesses
I'm different software that Synology makes available of companies in order to make work more effective and productive. It is called Collaboration Suite and the name itself indicates the purpose of these software. Looking at them in detail, there are five.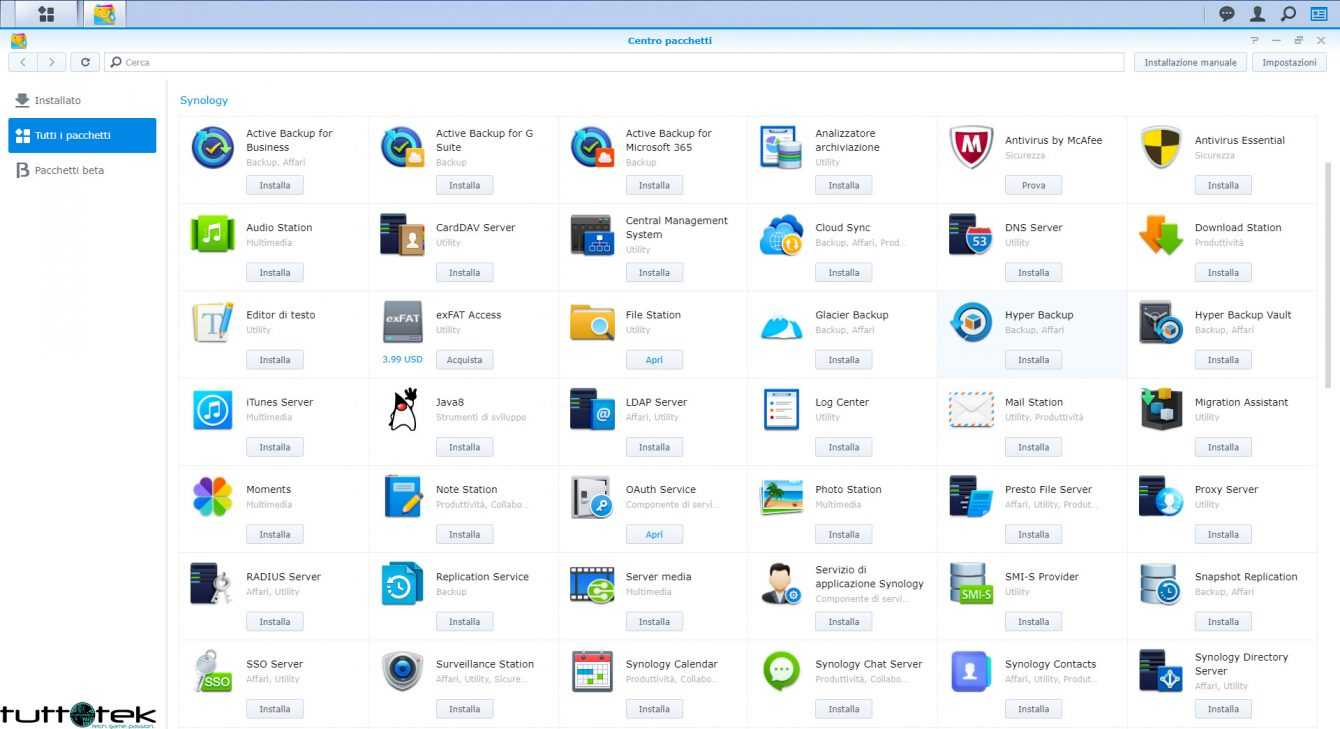 Synology Office, takes care of offering everything you need for typical office use, then manage documents, spreadsheets and slides, all seasoned with an easy sharing tool immediately accessible to all the infrastructure connected to the Synology system. The goal is to make the online environment more collaborative with quick comments and changes.
Productivity at three hundred and sixty degrees also for the mail management, ensured by the software Synology MailPlus, which allows an effective private e-mail server configuration, with a web-based client. Being a device designed for companies, it also offers a communication system with message encryption, it is called Synology Chat.
Synology Drive poi, allows access, the data synchronization and backup via web portal, for desktop applications on Windows, macOS and Linux platforms, to ensure greater compatibility. And finally to help keep track of important events, Synology Calendar deals with managing effective planning, accessible from different platforms.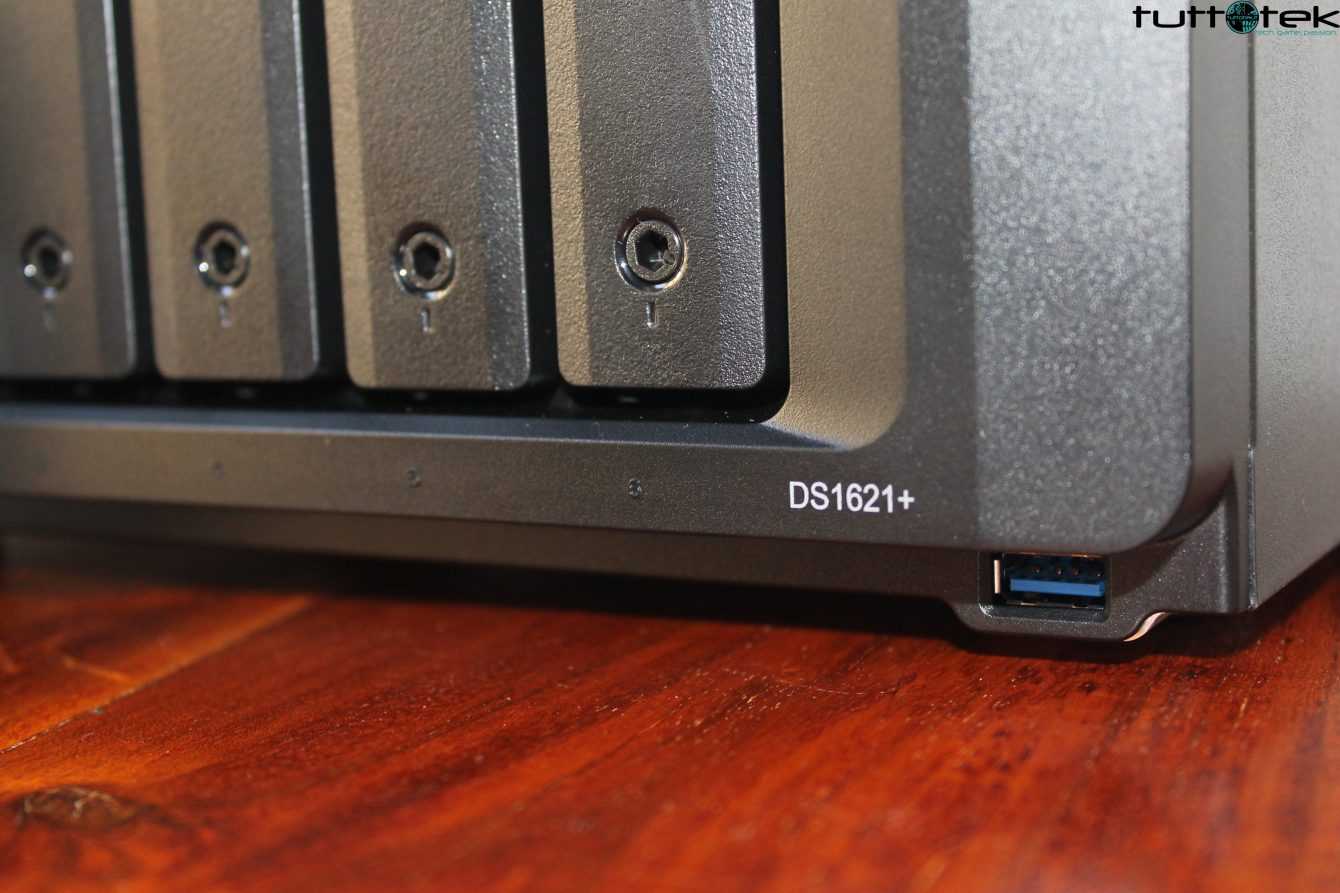 Free imagination to business application realities
Not just backup, archiving, and instant sharing of accessible data from all connected users, but also applications for specific jobs for the sector.
Thanks to the system Synology Virtual Machine Manager (VMM), a hypervisor to easily configure Windows or Linux based virtual machines, you can test virtual machines for VMware vSphere, Microsoft Hyper-V, Citrix XenServer e OpenStack, with maximum encryption security.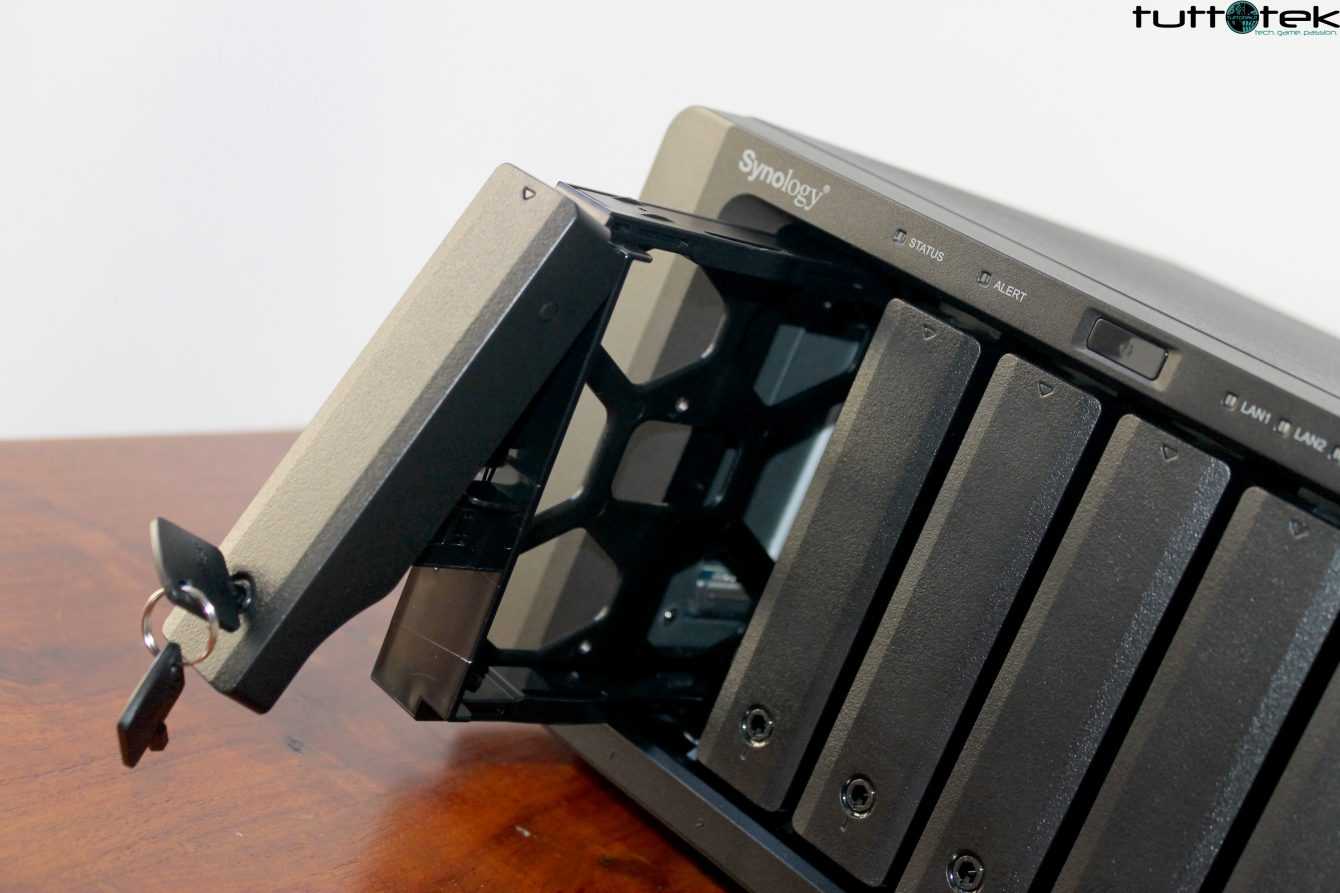 With the ability to access two types of data backup, on Synology NAS with Snapshot Replication, creating quick snapshots for file versioning, and for the data protection from ransomware attacks, and with Hyper Backup, which offers a wide range of NAS backup destinations, including for on-premise and cloud storage providers. Synology Active Backup suite then, is a collection of backup solutions useful in order to protect virtual machines.
Then there is an additional function to the appeal, in particular it is a software also dedicated to intelligent video surveillance. Can support up to 40 IP cameras, and over 7,600 supported camera models, a large compatibility list, constantly updated. Ensuring flexible monitoring, with a wide range of notification customizations. It is called a Synology Surveillance Station, and it is an intelligent system capable of automatically capturing an image when motion is detected, then sending notifications via e-mail or SMS.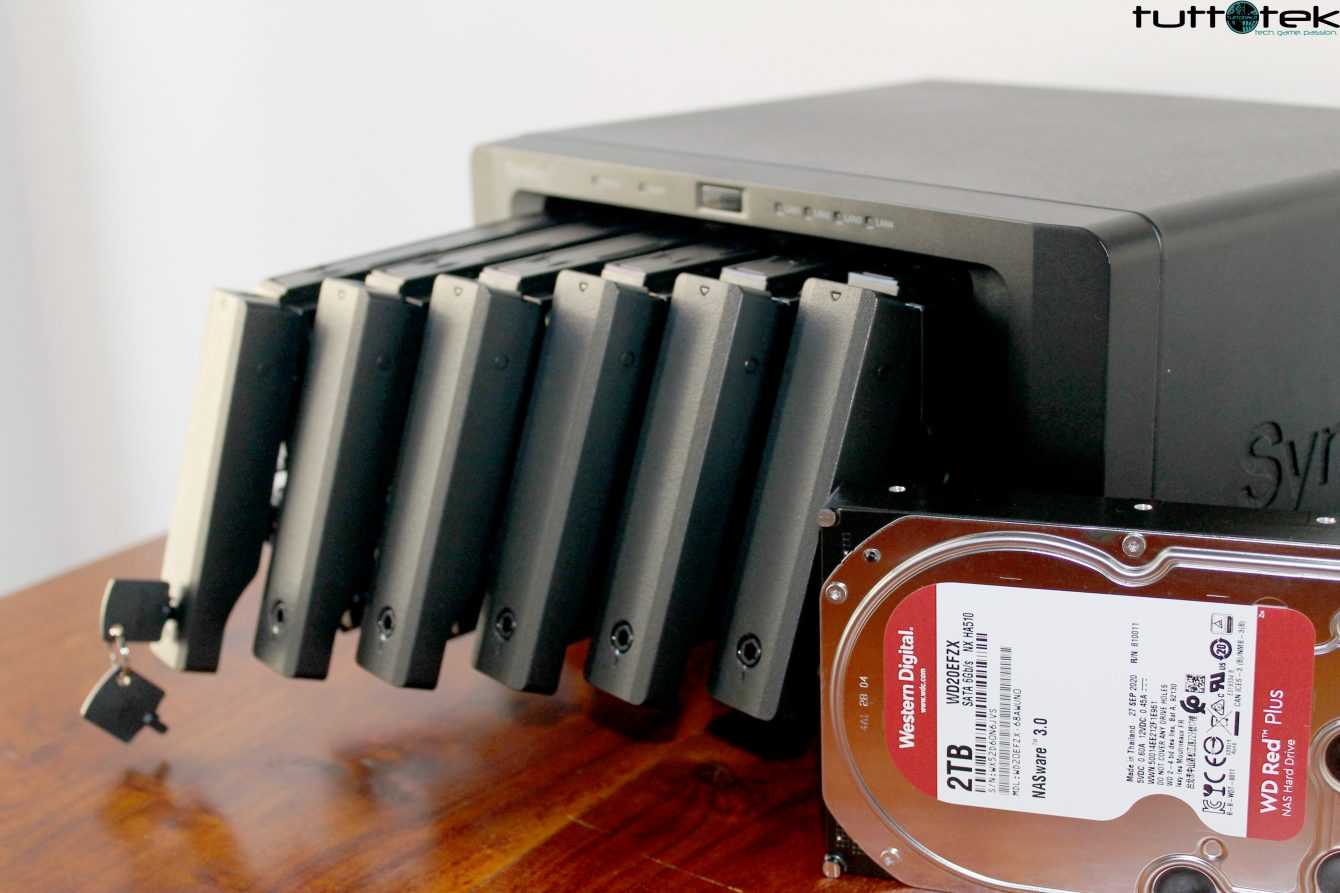 Synology NAS DS1621 + review: technical data and performance? A certainty!
The new DiskStation DS1621+ boasts improved performance compared to the past, thanks to the CPU AMD Ryzen V1500B quad-core a 2.2 GHz accompanied by 4 GB of DDR4 SODIMM memory with ECC protocol, expandable up to 32GB.
The tests show values ​​of 110K IOPS in lettura random 4K. Problem-free stability and performance. As mentioned, it owns the compatibility for 6 x 3.5 ″ or 2.5 ″ SATA HDD / SSD, e two 2280 M.2 NVMe SSDs. The union is strength we can say, in fact the discs exploit the system Array HDD TurboCharge di Synology, to increase cache performance.
Obviously, since this is a device aimed at storing large numbers, it must also have great security in order to protect them from malicious people and any ransomware. In fact, it supports AES-NI hardware encryption. But data can be backed up, even automatically to and from public clouds, using proprietary software: Synology Active Backup Suite, Hyper Backup The Snapshot Replication.
Let's go back to the storage disks for a moment, however, to talk about the types of RAID that this NAS supports, which are the following; Synology Hybrid RAID (SHR), Basic, JBOD, RAID 0, RAID 1, RAID 5, RAID 6, RAID 10, for a maximum size, for a single volume, of 108 TB.
To offer these functions there is the file system Btrfs, specially designed by the Taiwanese company in order to protect and ensure data integrity through metadata mirroring, e self-repair of files. A file system that offers various guarantees to the user, including a data protection that can be scheduled and modified at any time, an advanced recovery of the folders, but above all a convenient automatic compression of the data, when they are stored.
File Station then, the web management tool boasts an interface simple and clean, supporting both drag-and-drop operations, what systems Mac o PC. With several supported protocols: AFP, FTP, iSCSI, NFS, SMB and WebDAV.
Who should buy it?
Intended for those looking for the best, for secure and fast corporate archiving. it is practically able to satisfy every need, or almost, but at a cost, on the other hand, certainly high.
Too bad only for the lack of 2.5Gbe and 5Gbe connections. If indeed you will need a connection 10Gb LAN, you will necessarily have to adopt an expansion card. Another small flaw is made up of door M.2 available, which can only be used for the cache function. Per an average consumption that varies between 50 and 60WI would say, however, that on the whole it certainly represents a good solution. If you want to continue to know the latest news from the hardware world, keep following us. Greetings from TechGameWorld.com.
Increase your productivity …