It's called T-FORCE CARDEA A440, and it's the PCIe 4.0 SSD with competitive specifications introduced by Taiwanese manufacturer TEAMGROUP
TEAMGROUP challenges the highest standards of pure speed for the SSD industry with the launch ofSSD CARDEA A440 PCIe 4.0 under its gaming sub-brand T-FORCE, the company tries to offer a vast and complete product portfolio for those looking for high efficiency products.
It features Extreme read and write speeds of up to 7000 MB / s and 6900 MB / s, respectively, and comes with two patented heatsinks that gamers can install and match to their needs. Proposed in two variants, we have the model from 1 TB sold at a price of $ 229 USD, and the one from 2 TB sold at a price of 429 dollars USD. Here are all the details.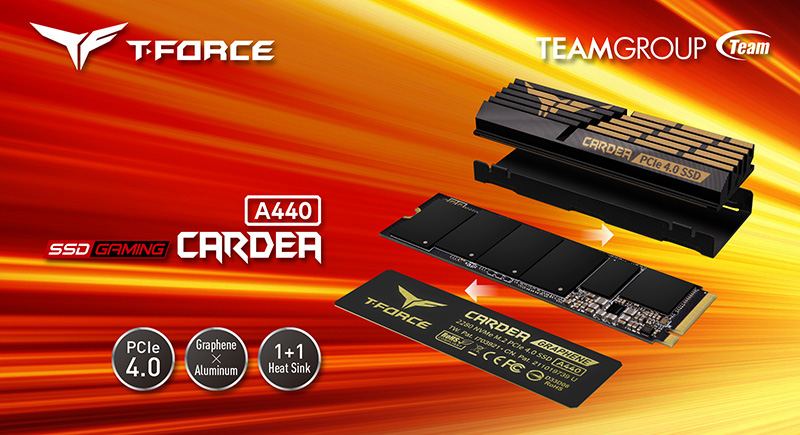 TEAMGROUP presents the SSD T-FORCE CARDEA A440 PCIe 4.0
T-FORCE CARDEA A440 PCIe 4.0 SSD supports Gen 4 × 4 specification and latest standard NVMe 1.4, obviously also compatible with the PCIe 3.0 interface. Not only does it support high speeds read / write until 7000/6900 MB / s, but it also has a structure to keep these performances constant during the period of use. Made possible thanks to layered bevel surface and unique of the "aluminum fins" specially designed to increase the heat dissipation area, and which can therefore reduce the temperature of the SSD by up to 15% compared to standards. The manufacturer chose graphene as the material to make the ultra-thin heatsink.
Available in matt black, the CARDEA A440 SSD features two of the industry's first interchangeable, patent-certified thermal modules.

Made with the best materials for thermal conductivity, even the thermal pad does its fine job, according to the company able to dissipate heat up to 9% more compared to previous models. Thermal throttling when running games should therefore not occur.
The T-FORCE CARDEA A440 SSD uses the latest technology RRL (Read Recovery Level), which can improve the life span of the memory cells of time. There are also algorithms NVM Sets e PLM (Predictable Latency Mode), to reduce latency and wear on read and write. If you want to continue to know the latest news from the hardware world, keep following us. Greetings from TechGameWorld.com.