If you are home alone and don't know what to do, why not play the 5 most popular solitaire games directly online? Let's find out what they are
Never before in this difficult period have we found ourselves at home not knowing what to do. Video games are often not enough and paying for more or paying a monthly subscription to Netflix and company is not easy if you don't work. What can we do then? Well, a solution would be play cards with a friend or family member or, why not, have a nice solitaire if you are alone.
Cards have always been a good time to play, but not everyone has a deck at home that they can play with. However, avoiding this problem is not difficult. There are tons of apps to download on your mobile. However, if you want to save space on your device, here are the 5 most popular solitaires that you can play directly online from your PC or smartphone.
Let's find out the 5 most popular solitaires to play online
Some of these solitaires are really popular, especially for people like me who grew up with previous versions of Windows who, in addition to the very famous Prato Fiorito and Space Cadet 3D Pinball, boasted some timeless solitaire games. In this article we are going to rediscover the classics Solitaire, Spider and FreeCell, already known thanks to Windows, but also Pyramid e Golf. Let's find out together.
Lonely
The most classic of the solitaire classics, simply said Lonely. It features 7 increasing stocks of flipped cards, except the last one at the bottom which is facing the player. The aim of the game is to collect all decks of the same suit starting from the ace to get to the king. To help us comes the deck from which we can draw cards to help us in the enterprise.
There are two variants from this point of view. The first is characterized by a single catch which will allow us to turn over one card at a time and is also the easier version. If you want a more challenging game then you will have to use the triple draw, or from a triple round of cards of which only the higher one can be used. Will you succeed in the enterprise?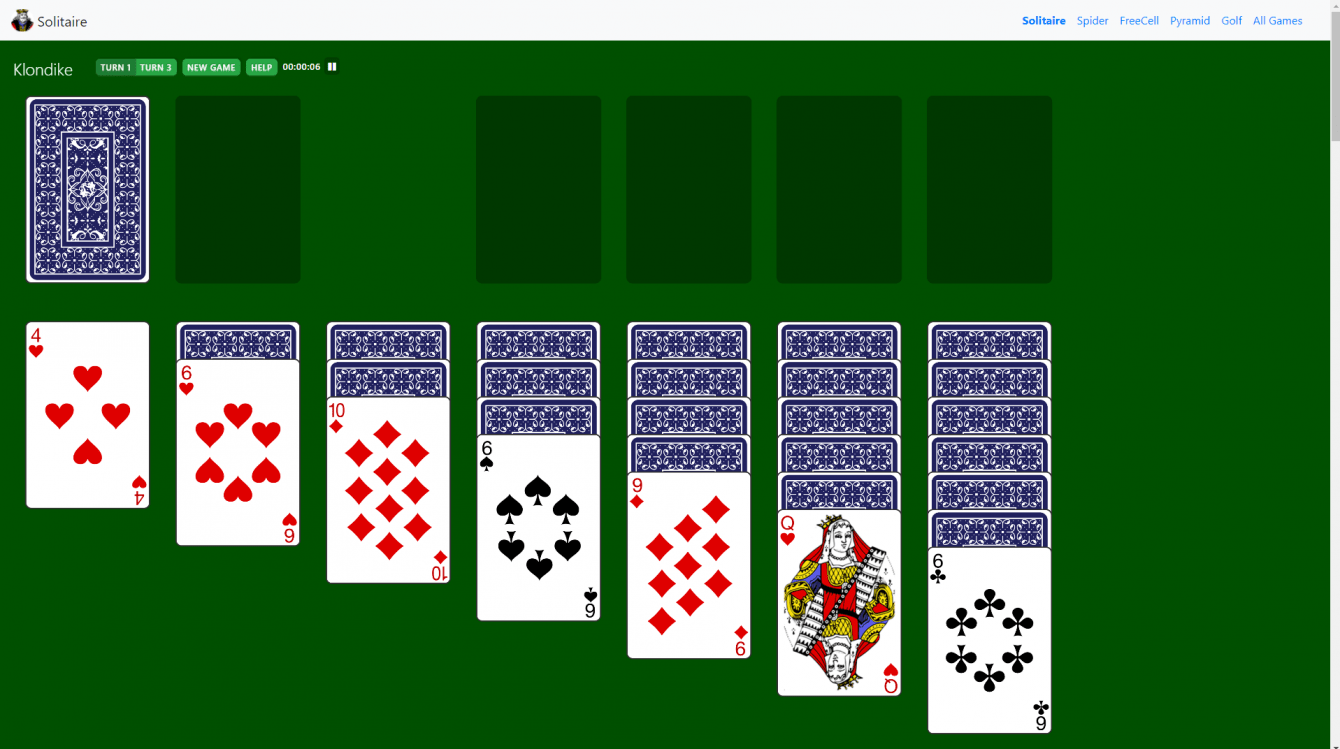 Spider
Another great classic that those raised on bread and Windows XP is Spider Solitaire. The game consists of 10 stacks of cards face down with the last face up: the first four will have five while the remaining only four. The game is divided into three difficulty levels:
Easy – Characterized by only one suit
Half – Featuring two suits
Difficult – Featuring all four suits
Our task will be to collect the 8 decks of the same suit after having arranged them in numerical order. It will be possible to move entire columns in numerical order as long as they are of the same suit. The game is also characterized by other 5 decks of 10 cards each that can help us or put us even more in difficulty. Will you be able to rearrange them all?
FreeCell
The third of the 5 most popular solitaires to play online is FreeCell. Many of you will surely remember it for the king's head moving left and right depending on the cursor position. However, this game seriously tested our logic skills. The purpose in this case too was to collect the four decks of different suits. The game is played on 8 columns of which half are made up of seven cards, while the other six are all facing the player.
To our rescue come four slots in which you can momentarily move cards to unlock the ones below. Completing the game won't be easy. In fact it will be possible to move one card at a time and only under another of a different color.
Pyramid e Golf
These last two games are perhaps the simplest, but this does not mean that you will be able to complete them. Formed by a base of 7 cards, all facing up, in Pyramid you will have to match cards to dial the number 13. Any pairing will be deleted and you can then head to the top of the pyramid. The cards you draw from the deck will come to your aid to complete the missing pairing.
Golf instead it is made up of seven columns of five cards each. In the lower part of the table you will find the basket with one card, while the other cards will be arranged face down next to it. Purpose of the game will be move all the cards to the trash by simply tying them in ascending or descending order by one point the cards to the one in the basket.
Have fun with the 5 most popular solitaire games to play online
These were the 5 most popular solitaires to play online. Did you already know them and maybe you had already completed them all more than once? Let us know yours in the comments. In order not to miss further news from the technological universe, keep following the pages of techgameworld.com!