Acer Nitro 5 is now a guarantee. For some time, in fact, the Taiwanese company has been renewing, year after year, this series of gaming laptops that are not at all discreet. The abundant thickness, the weight over 2 kg and the red finishes do not allow it to go unnoticed. However, this is not his task. The goal of this laptop is offer players a performing product and here Acer fully hits the target. We tell you something more in this Acer Nitro 5 review.
The Acer Nitro 5 2021 review
As mentioned above, there is not a single Nitro 5. Acer provides several configurations which cause the price to fluctuate considerably. It starts from just over € 1,000 to reach the € 2,499 required for the top of the range.
We have had the opportunity to try the processor variant AMD Ryzen 9 5900 HX, 16 GB of RAM and the NVIDIA GeForce RTX 3080 graphics card. In short, a real monster that does not fear any type of activity.
A concrete design
The back side of Acer Nitro 5 2021
Don't expect the metal body we've seen with the Triton 300 SE or its sober and elegant look. Acer Nitro 5 is a gaming laptop and wants to shout it out to the world. The goal, however, is the one that has characterized this family of products for some time now, namely to offer a super-performing product without increasing costs too much.
That's why this laptop is mainly made of plastic. However, this does not involve sacrifices in terms of solidity: with the exception of the lid, perhaps a little thin and flexible, we have in our hands a product destined to last over time.
On the color front there are no big news: Nitro 5 is totally black, except for the rear edge which is red instead. The finish is glossy and unfortunately leaves room for fingerprints.
At the bottom we find a quick access for RAM expansion while on the sides we have all the inputs you need: 3 USB-A, 1 USB-C, 1 HDMI, an Ethernet port and the inevitable 3.5 jack mm.
Un display a 144 Hz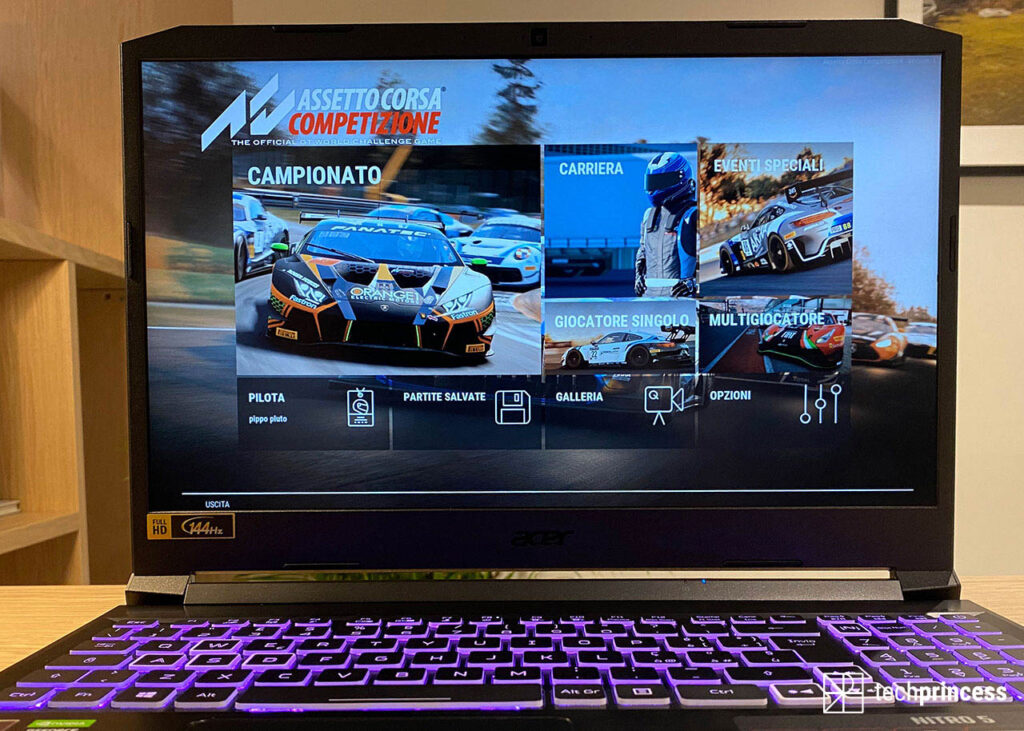 Opening the laptop we find we find a 15.6 "display with FullHD resolution and, most importantly, with an update frequency of 144 Hz. A combination that guarantees a good level of detail but above all great fluidity during gaming sessions. The response time is also excellent, equal to 3 ms, while the chromatic yield is good, with bright and bright colors.
The IPS panel also offers more than satisfactory viewing angles and a maximum brightness that allows you to use Acer Nitro 5 without difficulty in any indoor environment.
We can't be quite as happy with the audio. The sound is not distorted but the volume remains rather low and not very varied. In short, to fully enjoy a film, or to distinguish the enemies while strenuously defending your life, you will have to rely on a pair of headphones.
Keyboard and touchpad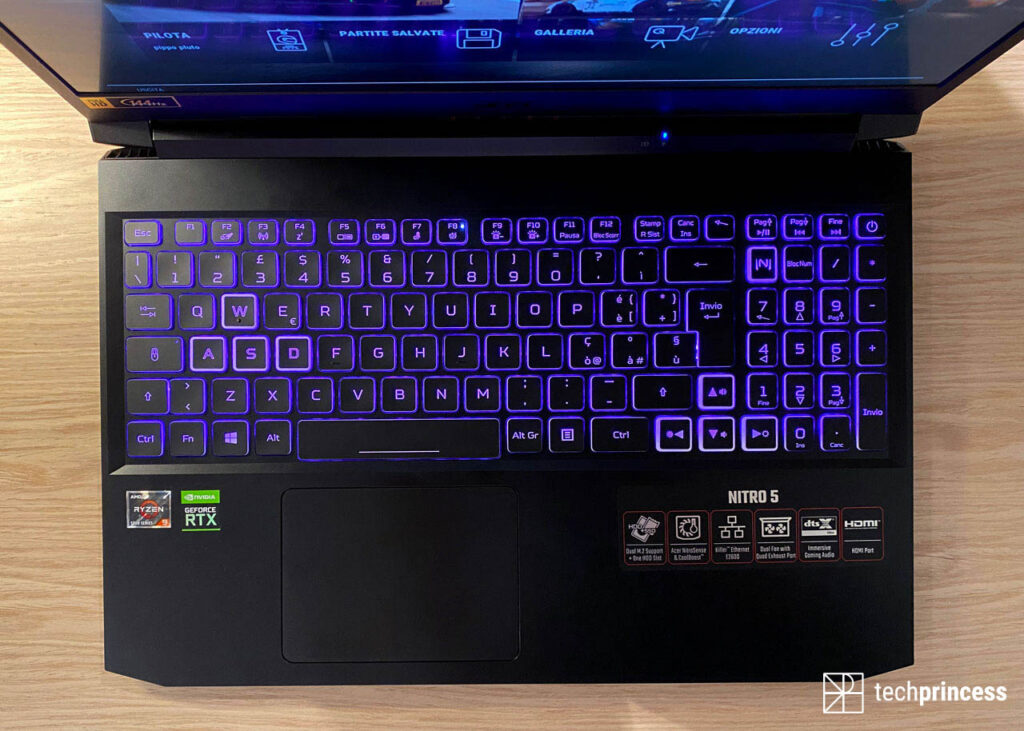 The keyboard consists of rather soft keys. The feedback is perhaps less strong than we expected but, overall, the user experience is very good even in the long run. The keys are well spaced, noise is minimized, travel is large, and there's room for your wrists.
On the right we find a full numeric keypad which also includes the N button to activate the software NitroSense. The latter allows you to customize the experience through a series of options that also include settings for RGB lighting. You can thus choose the level of brightness but also colors and type of animation.
Discreet the touchpad, which could have been wider and which on the whole is precise and reactive, as well as compatible with the gestures of Windows 10. In any case, every good gamer will associate a mouse suitable for the purpose with Acer Nitro 5, entrusting the touchpad only routine operations.
Acer Nitro 5 2021 review: performance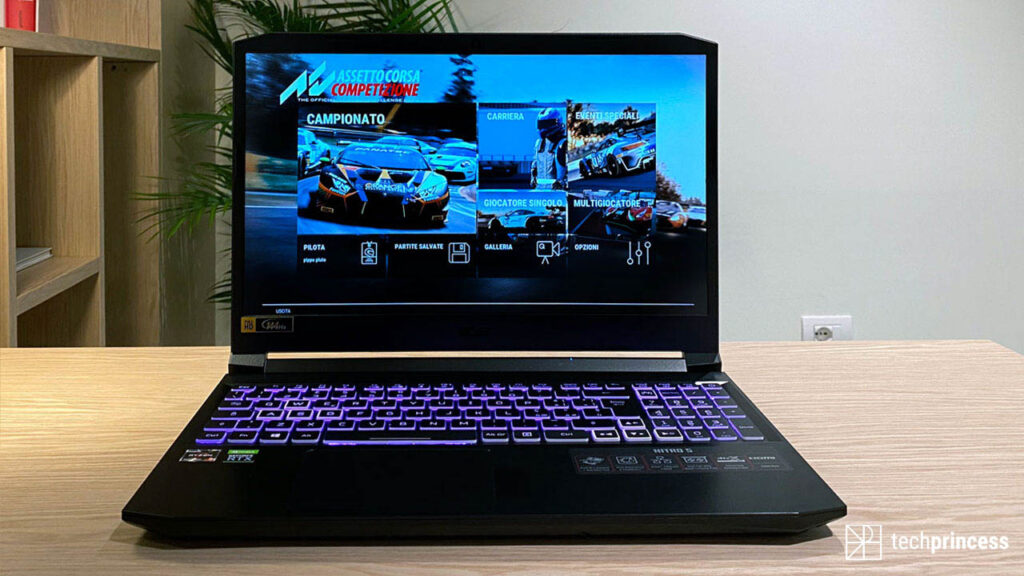 Assetto Corsa Competizione on Acer Nitro 5 2021 with AMD processor
The version of Acer Nitro 5 we tested is undoubtedly more than satisfactory. The AMD Ryzen 9 5900 HX processor and the NVIDIA GeForce RTX 3080 graphics card they have withstood all kinds of tasks but above all games. We enjoyed Cyberpunk 2077, Call of Duty Black Ops: Cold War and Assetto Corsa Competizione: in all these cases we had an average frame rate of 60 FPS, even activating Ray Tracing and DLSS.
All of this of course requires a good heat dissipation system. Acer has opted for two fans, one for the GPU and one for the processor; this combination works great, keeping the temperature always under control. But beware of noise: the two fans make their presence felt, even while doing light activities, such as surfing the net or writing an article in Word.
On balance, Acer Nitro 5 can adapt to any situation, mobility excluded. We are not only talking about the overall weight of this gaming laptop but also about its autonomy. The battery does not exceed 3 hours so to fully enjoy it you must always have the power supply at hand.
The Acer Nitro 5 2021 review: is it worth buying?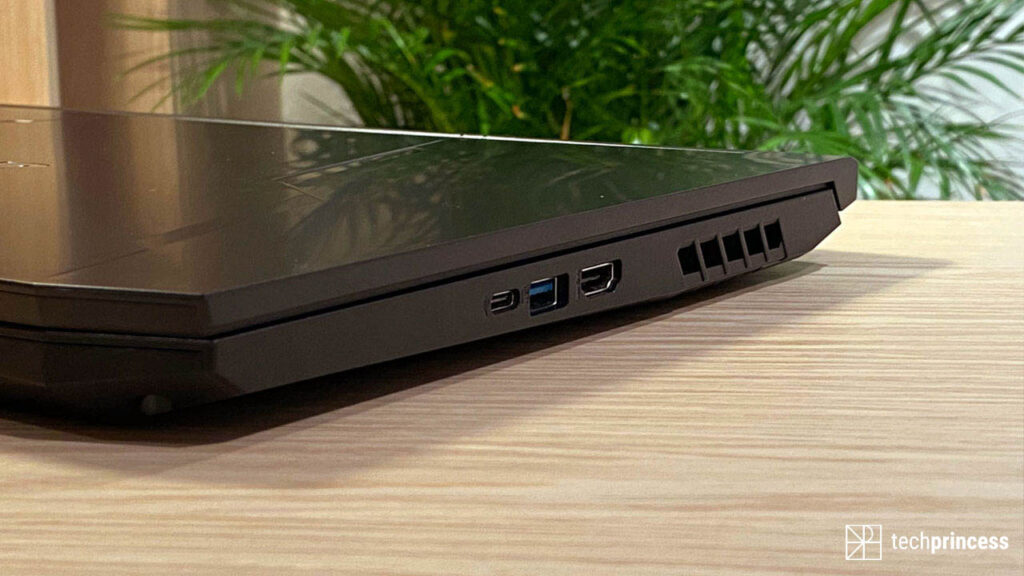 Acer Nitro 5 2021 is a concrete gaming notebook. No frills: the Asian company has focused on performance by sacrificing something on the design front. We therefore have a product with a good quality / price ratio, which is not afraid of anything and which uses a 144 Hz display particularly appreciated by gamers. Too bad only for the audio that could certainly give us some more satisfaction.
The new Nitro 5 is therefore not perfect but, if you are looking for a good laptop to play without brakes, could be for you.
PRO
Well built
Display a 144 Hz
Excellent performance
Good keyboard
VERSUS
Important dimensions and weight
Colorful design
Low volume