We have tried for you Echo Generation, a strange but fascinating one GDR old school made by Cococucumber and we are ready to tell you ours with this one review. Our test took place on PC but the title is also available, starting from October 21, for all Xbox consoles.
The Echo Generation review: an old school trip
Echo Generation follows the adventure of two little boys who investigate mysterious alien sightings in their hometown, Maple Town. This is Cococucmber's latest project, a Turn-based RPG which contains in itself vibes alla Stranger Things.
It's the year 1993 and we are inside a room, where we can create our character. Don't expect anything too sophisticated or detailed. All you can do is scroll through the characters present, choose your favorite, give it a name and start your adventure.
Once you have chosen the character to start playing and exploring the quaint town of Maple Town, you can start taking a look around.
Our character, after exploring the room a bit, has to go to his friends for make a short film but in the city there are strange rumors. Some say that just outside the city, it fell an alien spaceship. At this point, together with our little sister, we venture to to investigate and assess whether the rumors are actually true.
However in the small town they start to happen strange things.
It quickly turns out that dangerous otherworldly beings they started shooting around Maple Town ea kidnap its inhabitants. Local fauna is mutating in horrible beasts e giant robots have been seen raging on the outskirts of the city. With Maple Town's fate in peril and the adults thinking it's all fake, it's up to us and our sister to find out where these monsters come from and prevent them from destroying the city.
The first aspect that catches the eye is it strange ma incredibly detailed artistic voxel style, characterized by colors turned on e vibrant. The style of the Echo Generation mimics the grafica 8-bit e 16-bit in 3D and it is impossible not to be completely fascinated by this retro style characterized by important details is one background that comes close to pixel-art.
The sound sector is also hand in hand with the graphic one. The title soundtrack features music relaxing but addicting, typical of late 80s e early 90s. Furthermore, during the boss fights, the sound sector becomes more pressing and is capable of send us the right energy to be able to fight and give the best of us.
Just like the music, so too is the gameplay mirrors an old school RPG. We can explore Maple Town, interact with objects and converse with characters to find out where these monsters come from. Along the way, we can too collect comics to teach our group new special moves, useful items for battles and recruit pets to join us.
Preparation is the key to everything
One of the main features of the title are i turn-based combat, which can appear at the most unexpected moments. In the beginning, for example, get ready to fight a group of raccoons who has no intention of letting you pass.
To do this, of course, you will have to be prepared. In the turn-based battles of Echo Generation i your attacks e special attacks are run through short and intuitive mini-games. Depending on how you behave (and when you click a certain button) your attacks will inflict more or less damage than normal.
Your enemies also have special mini-games for their attacks. In this case you have the option of defend yourself e reduce the damage, if you respond to the attack and the mini-game correctly. Defeat the enemies and you will get experience points that will allow you to to level up and increase one of the three characteristics of the character: life points, skill points O force.
Turn-based battles, for those who are passionate, turn out a lot engaging ed interesting. They will also often test us. You must in fact use your own healing items sparingly and pay attention to your enemy's attacks to defend yourself well. It will not always be easy to win but perhaps this is what makes the challenge even more exciting.
This means that each combat will be full of tension and even an apparently simple enemy actually poses a real threat if you don't pay attention. But what you have to fear are the bosses: here the reaction time to attacks and the management of healing objects are put to the test.
Echo Generation is pretty demanding. For this we advise you to always arrive prepared for battle, to explore your surroundings thoroughly to find objects, and to learn how to use the keys optimally. At that point, the battles will be even more incredible.
The Echo Generation Review: What's the Verdict?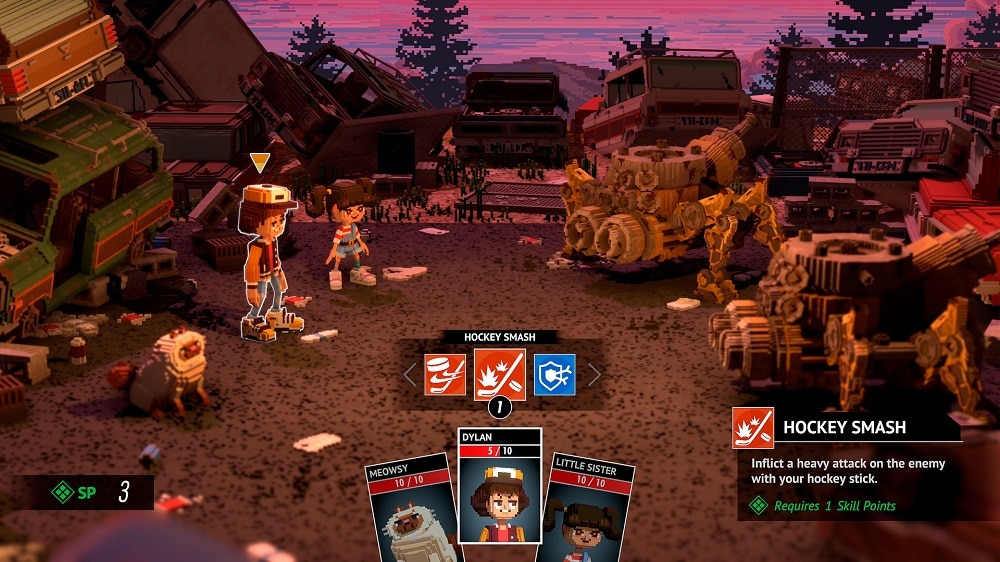 Echo Generation apparently looks like a simple game for children but, in reality, it is much more. The story turns out interesting and the characters you meet on your path are well characterized e stand out. The turn-based battle system is probably the aspect we most appreciated. Not only does it take constantly tested but, once you learn the tricks of the trade, it becomes extremely fun. Each battle will be exciting and unique.
There are however some notes that they might be negative for some players but, for others, they might be fun. We have noticed that often it will be complicated to find what we need to solve the puzzles. Also think outside the box it is what we need to move forward but it will not always come naturally to us to do so.
For some players it may be interesting, for others it may be complicated. In any case we advise you to don't break down and observe every corner of the environment well. The plot will have gods strange implications e sudden so get ready because you are about to go on a strange but really fascinating journey. In any case, know that it is worth it.
To conclude, we remind you that the title is available starting from October 21, 2021 su PC, Xbox One e Xbox Series X e Series S.