Whether we realize it or not, the end of the year is not just an opportunity to reflect on what has happened in the past twelve months. But also a perfect time to reflect on what will happen in the future. From what we imagine, therefore, in the 2022 the pandemic will continue to have a major impact on our lives all day long. This means that, in the coming months, the rate of digitization and virtualization of businesses and corporations will continue to grow very rapidly. Thus putting us in the face of the fact that change is not that difficult to integrate into the modern world. Precisely for this reason, we have decided to collect the 5 trend tech we are sure they will dominate 2022. So to see what surprises the future holds.
Trend 2022: the 5 trends in technology
1. Artificial Intelligence
Until recently, the adjective "smart" was used to connote all those devices with Internet connection – smartphones, smart TVs and so on -. Now, instead, it serves rather to denote i devices powered by Artificial Intelligence. Thanks to machine learning algorithms, in fact, technology is able to help us carry out our daily activities in a simple and practical way. Smart cars, for example, use facial recognition technologies to detect if we are paying attention to the road and warn us if we are not. Smartphones use AI for practically everything: from helping us take better photos to keeping call quality constant.
But it's not just about our daily lives or supporting smart voice assistants. AI also supports a large part of those robotic processes that have made it possible to lighten the workloads in the administration, logistics, accounting and human resources departments. Indeed, probably every business sector has adopted a management solution based on Artificial Intelligence in recent months. And it is clear that this will be one of the strongest trends of 2022, together withInternet of Things and new super fast networks like the 5G. Solutions that, in the last year, have done nothing but improve our lives.
2. The no-code revolution
Another of the trends of 2022 will undoubtedly be the democratization of data and technology. In fact, in recent years, an entire industry has worked hard to provide the tools necessary for technology-driven innovation to as many people as possible. Regardless of their tech skills or experience. Indeed, where there is no adequate knowledge, it is the aforementioned Artificial Intelligence that provides useful solutions to businesses and companies. From marketing to human resources, from project management to production process planning, AI can truly support any activity, even without the need for a company's employees to have specific knowledge about it.
Therefore, we are confident that in 2022 we will continue to see the companies turn to AI and IoT infrastructures without having a server or proprietary code. On the contrary, interfaces without code they will become more and more popular, because the lack of knowledge of programming will cease to be an obstacle to the realization of projects in the sector. It will take care of all Artificial Intelligence, as it demonstrates OpenAI, the research group founded by Elon Musk and funded by Microsoft. In fact, researchers recently presented Codex, a programming model capable of generate code from spoken human language. A solution that will undoubtedly boost this tech trend in 2022.
3. Digitization, dating and virtualization
Another credit to the pandemic for the virtualization of workplaces, which represented one of the major innovations of the 2020/2021 two-year period. A novelty that represents only the beginning of the long journey that will lead us to metaverso, a digital world parallel to what we live in reality. Here, just as we do in our daily lives, we will have the opportunity to work, play and interact with others. For the moment, these virtual worlds are accessible almost exclusively through viewers, but new devices will soon appear on the market that will improve the user experience by offering tactile or olfactory feedback. Ericsson, for example, is developing what he calls the "Internet of Senses". And it has predicted that by 2030 it will be able to ensure experiences virtually indistinguishable from reality. In short, 2022 could be the year of the metaverse. And we are all well prepared for this.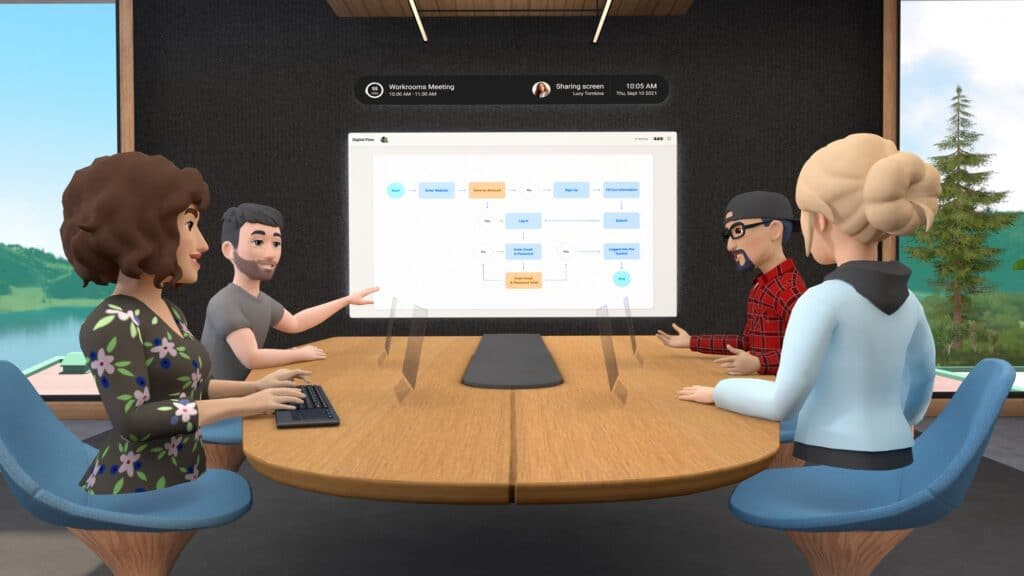 4. Transparency, governance and accountability
For the technology to work, it is important that we learn how to trust its potential. After all, although times have changed, there are really many people who see Artificial Intelligence as a sort of evil entity ready to take away any task or responsibility from us. Clearly, this is a problem linked to the understanding of AI, very complex and difficult to understand. But some blatant technology errors, such as Facebook's system that has labeled images of black people as "primates," certainly do not benefit public opinion. Yet it is important that everyone has confidence in AI, especially considering that it could soon be employed in sensitive matters such as hiring and firing.
The idea of ​​an Artificial Intelligence that is then becomes necessary transparent and easily explained. So much so that the governments of many countries have tried to frame the issue from a regulatory point of view, as evidenced by the European Union AI law proposal. This prohibits authorities from using the technology to create social scoring systems and use facial recognition tools in public places. Indeed, there would also be a series of potentially dangerous effects that AI vendors will have to demonstrate that will not be caused by the systems for sale. In short, if technology continues to advance at such a speed, governments will have to do so too. Not so much to defend citizens as to allow them to welcome a similar innovation.
5. Sustainable energy
During the pandemic renewable energy it was the only one to see its use increase. In the United States, for example, the use of this energy source is grown by 40% in the first ten weeks of lockdown. At the same time, the consumption of non-renewable energy has been significantly reduced, leading to a overall reduction of emissions equal to 8%. A situation that convinced the authorities to invest more in sustainable energy, which will become a clear trend in 2022. Especially considering that recently the cost of generating renewable energy from various sources has decreased by a percentage between 7 and 16% . Which is a huge help for the companies and countries they aim to become carbon neutral The carbon negative.
Furthermore, new energy sources such as biofuels, liquid hydrogen and even nuclear fusion are also becoming more viable, although this does not mean that we will see them already in use in 2022. In any case, it seems that soon we could see, for for example, the real application of the so-called "green hydrogen" energy. In short, whatever the news launched in the next year, one thing is certain: the trend will be that of safeguard the environment. Sure, it may not seem like a strictly technological trend, but if you think about it you will find that this is not the case at all.