A chimera is, as well as a monster of Greek mythology, an idea without foundation, vain dream, strange reverie, utopia (source Treccani). The greatest chimera of those involved in graphics, as we know, is to be able to build a device capable of displaying 3D objects without requiring the user to wear glasses and viewers. Yesterday we did a test of the new ConceptD 7 SpatialLabs Edition by Acer and, we assure you: the chimera was there and we touched it firsthand.
A complex evolution, which has come to bear fruit
3D representation without the aid of glasses has been talked about for many years now; more than 15. Many technical solutions have been tried over time, but none are really satisfactory for the user. Jumping straight to the last proposal, a dense series of microscopic lenses is used to send two different images to the right and left eye. If we equip ourselves with a pupil tracking system, it is possible to aim and make each of our eyes perceive only the odd or even columns of the screen pixels and thus create the illusion of an object in 3D. This technique had already been used for a line of televisions but suffered from two problems. On the one hand, it was necessary to follow the pupils of several spectators at the same time and this worsened the visual rendering. On the other hand, the costs were so astronomical that these televisions were inaccessible to the general public.
Someone had declared the adventure ended until the next great technological leap. Instead, today Acer let us try ConceptD 7 SpatialLabs Edition e we had to change our minds. It is really a pity, for obvious reasons, not to be able to show it here; but believe us if we tell you that objects flew off the screen. In one demo there was debris coming towards us and, instinctively, we raised our hand to try to intercept one.
Compared to previous attempts, now this technology has been put in a laptop (which follows us on the move) with an already announced price of 3800 euros is that will be available, barring unforeseen circumstances, as early as the end of 2022.
L'Hardware del ConceptD 7 SpatialLabs
You immediately feel that the ConceptD 7 SpatialLabs Edition is a portable that is proposed at the high end. White color, satin surface, design line and solid structure. Looking at it from the side, the profile is a bit higher than other laptops but this is explained simply by looking at the technology inside.
The CPU is a 11th generation Intel Core H-series resting on a graphics-equipped motherboard with a NVIDIA GeForce RTX 3080. It comes standard equipped with 32 GB of RAM expandable to 64 and can accommodate up to 2TB of SSD disk. In short, there is also enough for really demanding creatives. All of this hardware, however, generates a lot of heat and Acer had to design a proprietary cooling system which, objectively, also proves itself quite quiet.
The most interesting thing, especially for professional use, is the monitor: a PANTONE Certified 4K UHD which ensures a color rendering that is decidedly faithful to the final result. But what really makes the difference we find it around monitors. Above the screen it is positioned a series of stereoscopic cameras able to track the position and movements of the eyes and the user's head. This tracking is what allows the screen to aim at our pupils to generate a stereoscopic image. During our tests we found the latch of the pupils by the monitor quite fast: within two / four seconds. However, keeping us hooked was also slightly susceptible to posture and somewhat abrupt movements.
A specific target, but with growth prospects
We agree, not everyone is willing to invest 3800 euros in a laptop. Even if the sum scares only up to a certain point. For use in the professional field, however, the perspective changes significantly. For this reason Acer, with this product, is aimed primarily at professional content creators. The laptop screen can be a valuable aid, once an object or environment has been modeled, for verify the result in front of you before its physical realization. An engineer can inspect a joint before production, and an interior decorator can open a window into a client's new living room.
We, however, do not agree very much.
Beyond the obvious advantage in modeling and architecture there are, in our opinion, many other interesting use cases ready to open when there will be usable content. Let's just give two examples, without even bothering the video game sector, because in that case it would be too simple.
Professional training
Continuing staff training is a significant cost for companies. Especially in the case of maintenance, the adoption of new equipment requires setting up expensive laboratories and organizing staff travel. With the help of a laptop such as the ConceptD 7, the training can be done from home by viewing the equipment and manipulard a digital copy of it. The areas involved are many and can range from hydraulics to watchmaking, robotics up to the training of a blaster who defuses a bomb.
E-commerce for luxury goods
The luxury goods market, especially in the fashion sector, looks with great interest at digital. Mainly because it makes products like shoes, bags, jewelry and the like more accessible (and salable). We all agree that if we have to buy a very expensive bag, seeing it in 3D and being able to turn it is definitely more informative and reassuring than looking at a picture. Furthermore, this can take place at our home but also at a retailer, who can therefore make us view the goods without necessarily having them in stock.
Has anyone talked about video games?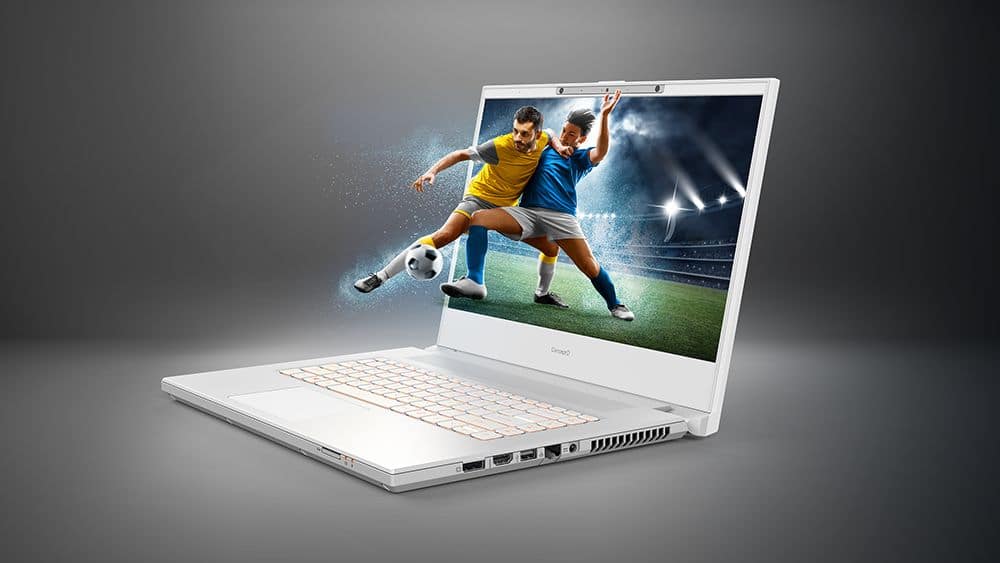 Video games are almost a foregone application on a platform like ConceptD 7 SpatialLabs Edition. Acer plays well by creating immediately a strong collaboration with Epic Games: the company behind Unreal Engine. In fact, Acer had already launched the program in May 2021 SpatialLabs per Unreal Engine. In more recent times, with the launch of this laptop, it has also been introduced SpatialLabs Developer. Through the latter, developers can access a number of tools, including plug-in specifici per Unreal Engine and support a Ultraleap Hand Tracking for hand position tracking. Hand tracking, which unfortunately we were unable to try, could open the door to the development of so-called natural interfaces.
Integration with Unreal Engine is already quite advanced. In fact, during a non-interactive demo, it was possible to move the head to observe the 3D scene from different perspectives.
The proof of ConceptD 7 SpatialLabs Edition in summary
Trying out ConceptD 7 SpatialLabs Edition is at a minimum an experience that leaves its mark. Technology has definitely given us the impression of being robust from a hardware point of view e mature as a quality of the result final visual. The price offered to the public does not make it particularly attractive for home use but is able, in our opinion, to offer it very well to professional users. Furthermore, managing to overcome a first phase in which there is low availability of contents, they can be seen on the horizon a series of very interesting application areas.
The ConceptD 7 SpatialLabs Edition may already become available next winter. If you get the chance, go and try it.