Su Amazon sono Hisense TVs on offer. The large e-commerce offers, in fact, a wide range of smart TVs in promotion, all Hisense, brand partner Uefa, perfect for those who love football. Not bad, right? If you want a bright color TV, with smart features and a minimal design, you can't miss this opportunity.
TV on offer: Hisense's proposal
Currently there are several discounted models and no, they don't require spree on your part. We remain well under 1000 euros with the Full HD and large model. In short, a really good deal. But stop the chatter and see what the TV on offer.
Hisense Smart TV ULED Ultra HD 4K 55″ in offerta
Hisense 55″ is a TV with a 360 ° unibody design, metal body and almost invisible edges. To characterize it a 50 "display, Ultra HD resolution and different technologies, dal Quantum Dot Colour al Dolby Vision.
On board we also find Alexa, Amazon's voice assistant, e Vidaa U, Hisense's smart platform which allows you to access the main streaming platforms.
The TV is equipped with DVB-T2 / S2 HEVC tuner.
Hisense 50 ″: a super discounted TV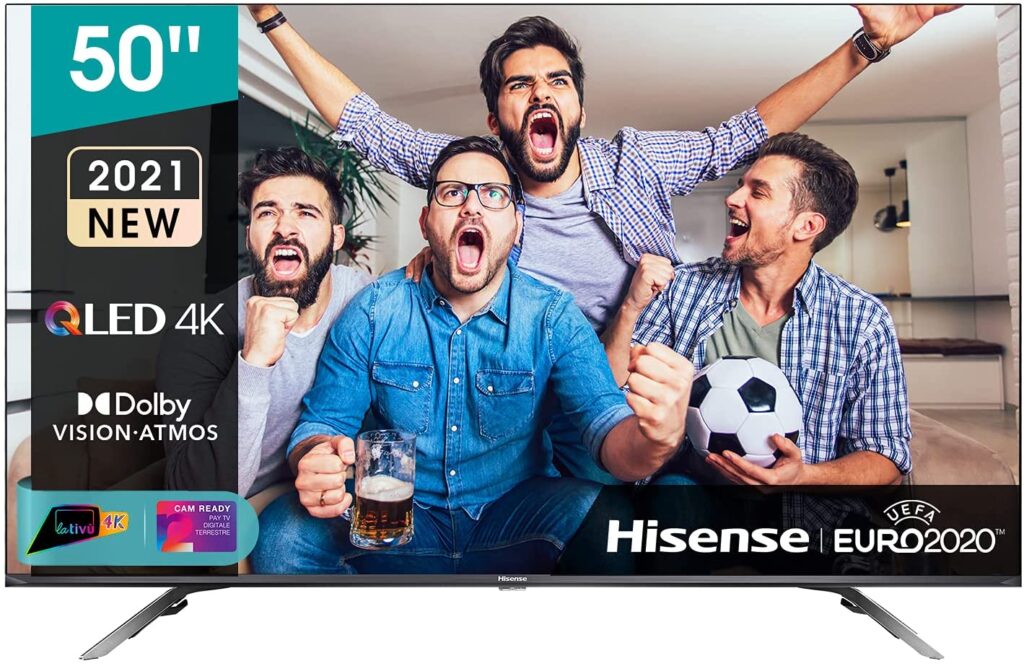 A stylish full HD Smart TV with 50 ″ screen and ultra slim bezel to prioritize the display. The resolution is Full HD, then we have numerous image modes and technologies of improvement of color, contrast and movement, that give a very high quality vision.
This TV is equipped with the dvb-t2 / s2 tuner and offers several connectivity solutions: HDMI x2, USB, Wi-Fi, Ethernet and headphone output. This television is also equipped with the Vidaa U operating system, which allows you to take advantage of the best apps, including Prime Video, Netflix, DAZN, Tim Vision and Chili TV.
Hisense 43AE7000F, Smart TV LED Ultra HD 4K 43″
Among the TVs on offer we also have Hisense 43AE7000F, a TV particularly suitable for gamers since the reduced input lag provides an increasingly immersive gaming experience. Let's not forget the 4K resolution, the good image quality and the Vidaa U 3.0 presents it.
There is no shortage of Alexa again, the a dvb-t2 / s2 hevc hlg tuner reception system and different connection possibilities: WiFi, the ci + slot, 3 HDMI ports, 2 USB ports and Bluetooth.
What can I say, these are really tempting offers. We also remind you that televisions without dvb-t2 reception technology will stop working this year. It is therefore a good time to treat yourself to a new TV. If you want to see all Hisense models on sale, just click here.