Microsoft is preparing a lot of world news Surface per the event of 22 Septembere: new laptops, 2-in-1s and tablets for those who work and beyond. The two absolute protagonists should be the Surface Pro 8, which has long deserved an upgrade, and the cheapest Surface Go 3. But there are many other possible products coming from Redmond.
Microsoft: all the news coming for the Surface event on September 22nd
Windows 11 arrives on October 5th, along with a new version of Microsoft's productivity product, Office 2021. The company has already had many contacts with some producers, its historical partners, to launch laptops and devices designed to make the most of the new software. But he doesn't want to waste time launching hardware products designed in Redmond. Also could come the smartphone Android Surface Duo and new wireless earphones.
The Surface line is completely renewed, to celebrate the arrival of the new operating system with quality hardware. Here are the ones we expect to see, in order of probability.
Microsoft will announce the new Surface Pro 8 at the September event
Since the Surface Pro line debuted in 2013, it has redefined what a tablet can do: a true 2-in-1, combining power and portability. But in 2020 we didn't see, for the first time, an update to the much-loved line. So it seems almost certain that Surface Pro 8 can no longer wait.
The new processors of the series should arrive Intel Tiger Lake, as well as a screen with thinner bezels and a larger diagonal. It also appears that the new device may have some easily removable SSD memories, something that especially those who do business can appreciate. At least one of the variants should have a door USB-C con Thunderbolt to speed up data transfers.
There shouldn't be any major changes in the design but it looks like a new Type Cover may arrive, the case that also acts as a keyboard. Which, however, will still be sold separately.
Surface Go 3, the Windows tablet within everyone's reach
Another novelty that certainly seems to be in the pipeline is that of Surface Go 3. The device should have processors from Intel's Amber Lake line, designed to provide good performance but above all to maximize battery life. Designed to handle 4GB of RAM in the Pentium configuration and 8GB of RAM in the i3 configuration, should not disappoint the expectations of those looking for a comfortable and versatile device to navigate and manage the Office package.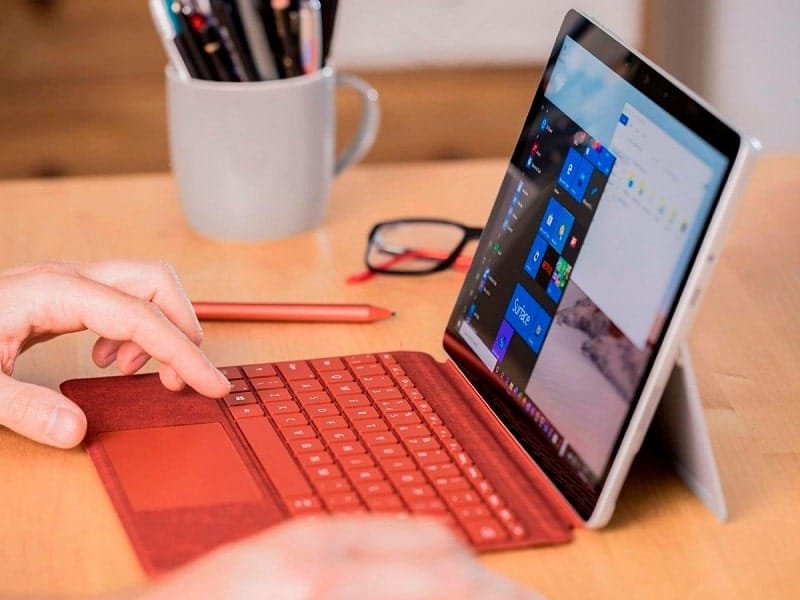 Surface Go 2, which should look a lot like the new model
The design should also be classic in this case, without straying too far from the Go 2. The cameras will also remain the same: 5MP in front and 8MP. Enough for video calls with Teams but certainly not suitable for photo shoots.
Second version for the Duo, Redmond's Android smartphone
Although the first version of the Surface Duo only arrived outside the United States earlier this year, it seems Microsoft is ready to announce the heir at the September 22 event. The dual-screen Android smartphone should have a processor Qualcomm Snapdragon 888, which also brings support for 5G.
We are also waiting for a redesign of the three rear cameras, to keep up with the increasingly powerful sensors of mobile photography. However, a major change in the shape of the device is less likely, which should confirm the excellent hinge between the two screens seen in the first iteration.
Surface X: a new version coming for 2021?
Over the past couple of years Microsoft has unveiled a new version of its 2-in-1 con ARM processor. And given the incredible success not only of the Surface X but also of Apple with the M1 chips, we expect Microsoft to offer a tablet with a processor again this year. Qualcomm.
Difficult to understand what to expect, although some rumors suggest it may come with the processor Third generation Snapdragon 8cx, with Qualcomm invited on stage to present it. But we just have to wait for the event of 22 to find out.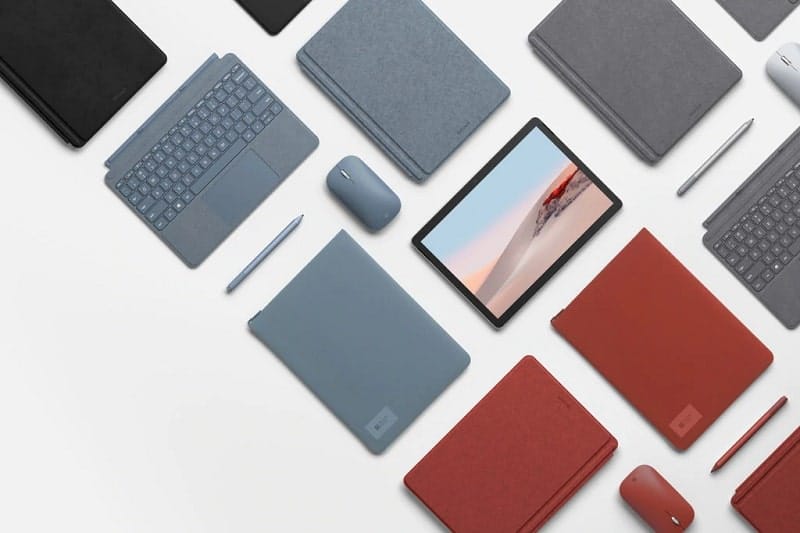 The new headphones and earphones
Most likely, at the event of September 22, Microsoft is not limited to presenting computers. Audio products are very popular in the age of smart working and calling on Teams. So we expect to see both Surface Earbuds 2 than the largest Headphones 3 very early.
However, there is a lack of reliable sources regarding the specifications of this product. This means that maybe Microsoft can announce them later, or else present them on 22 September and then wait to launch them later in the autumn.
Will Microsoft also announce the Surface Book 4 at the September event?
The Surface Book 3 he's only a little over a year old, having been announcing last May. A successor should arrive soon but perhaps September 22 is too close a date. Although some analysts think it would be a winning tactic for Microsoft to launch its most powerful laptop right before the arrival of Windows 11.
Some leaks suggest it may have a new design, abandoning the detachable keyboard to leave the screen "suspended" above the keyboard, a bit like what happens connecting iPad Pro with the Magig Keyboard. This could allow Microsoft to move the internal components and find more space to increase the battery of its powerful laptop. It should be the first Microsoft device with 120Hz screen, making the most of the Dynamic Refresh Rate introduced by Windows 11.
Changes so important that someone suggests Microsoft could change its name, abandoning the Surface Book brand. But we would have to wait until September 22 to find out.
Surface Studio 3, Microsoft's all-in-one (which may have a dedicated event later)
Microsoft's latest all-in-one was released in 2018, so much so that Surface Studio 2 it shouldn't have met the recommended requirements for Windows 11 (it is now supported). This suggests that Microsoft may be ready to launch a successor to its powerful desktop computer.
However, no credible information regarding this device has been leaked in recent weeks. Which suggests that maybe Microsoft can wait until next year to launch it. Or they were really good at keeping it a secret.
Laptop Go 2
The first version of Surface Laptop Go
The less expensive version of the Surface Laptop has attracted a lot of users, attracted by the prospect of constant updates and full support at a very reasonable price. However, the first model came out in October 2020 and we're not sure yet if it might be the type of product that needs an annual update.
Given the technical specifications that are not exceptional but very compatible with Windows 11, it would surprise us to see a new iteration of the laptop on September 22nd. But never say never.
There is potentially a lot of news coming, even if only Surface Pro 8 and Surface Go 3 seem almost confirmed. The event could therefore reserve some surprises for us. We just have to wait for it and discover all the new hardware devices from Microsoft. We will keep you posted.