WhatsApp adds the possibility to decide after what the automatic cancellation of your messages. In fact, you can decide to set "ephemeral messages" that are self-eliminating after 24 hours, one week (option already present) or 90 days. You can also set the option when creating a group.
WhatsApp, you can decide when to activate the automatic deletion of ephemeral messages
The new feature allows you to ensure the deletion of your messages, so as to ensure that they are only visible for a certain period of time. The company owned by Meta had already introduced the possibility of using the ephemeral messages, which cancel themselves once read. He had then done the same with photographs and videos, so he could be sure of deleting private images once they are sent to whomever you want.
Today comes a new feature that allows you to set a fixed duration for your chats. In fact, you can decide to set it for all the new chats you start. The WhatsApp blog reads: "WhatsApp users will be able to choose to activate ephemeral messages by default in all new chats. Once activated, all messages in new individual chats will only be visible for the time period selected by the user ".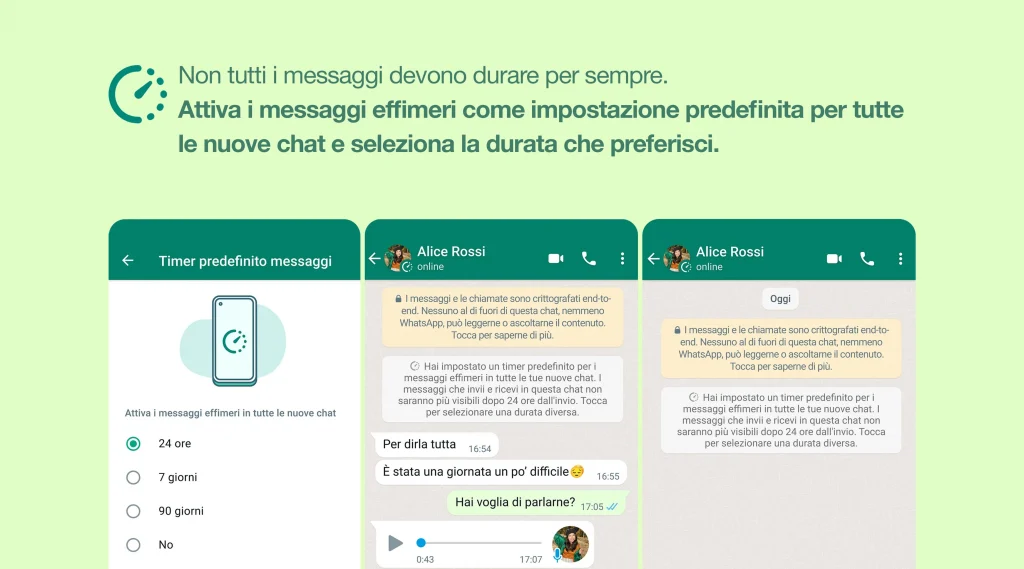 By starting a conversation you can decide whether to enable the cancellation after 24 hours, after seven days (option already present) or after three months. This will also work for any new groups you open: in both cases, the other people in the chat they will see a message notifying them of this decision. But be careful: "the settings of existing chats will not be changed and no messages in them will be deleted".
According to WhatsApp, end-to-end encryption and ephemeral messages should ensure your privacy as much as possible. What do you think about it? Will you activate this feature? Let us know in the comments.