Doodle Dream, a 568.47 sqm canvas supported by common creativity and by Xiaomi, but born from the FRA! Marker, enters the Guinness Book of Records and is donated to the municipality of Altomonte for charitable purposes
The largest drawing in the world hand made by one person. It is with this primacy from Guinness World Records that Xiaomi, world leader in technology, goes down in history together with FROM!, stage name of Francesco Caporale and leading exponent of the italian doodle art.
Born and raised in Altomonte (CS) but transplanted to Milan, since October 29th FRA! has transformed the central square of this small village in the Calabrian hinterland into an open-air art gallery. In five days of intense work, 568.47 sqm of canvas came to life through a simple black marker and were soon filled with "scribbles", essential graphic strokes and contemporary representations, but at the same time very powerful and unique.
Doogle Dream and the words of the mayor of Altomonte
The work that has beaten a Guinness World Records title is named Doodle Dream and, once the award ceremony for obtaining the primacy has ended, it will be officially donated by Xiaomi and FRA! to the municipality of Altomonte. The intention of the Municipal Administration is to sell parts of canvas to raise funds to support local communities.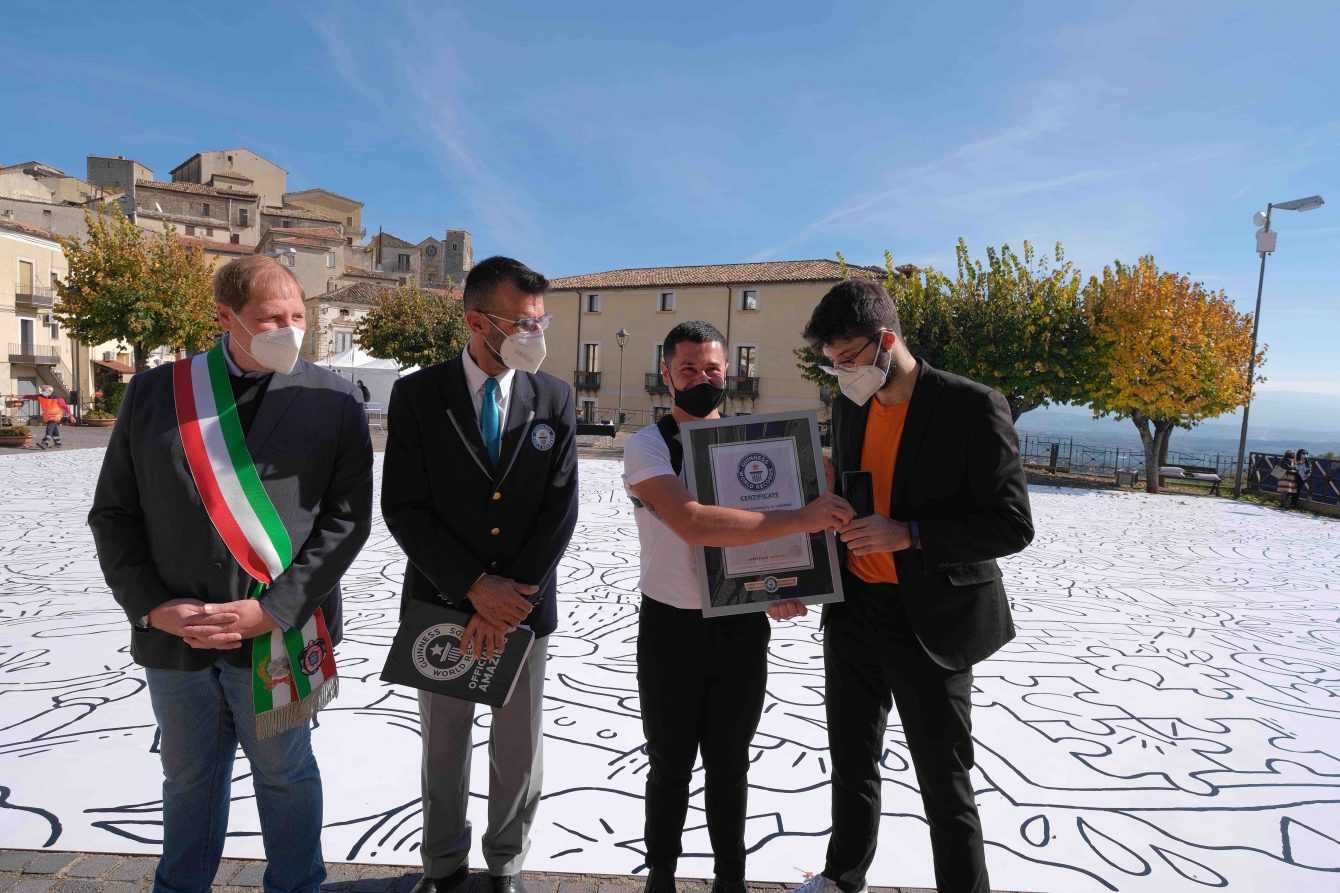 The Mayor of Altomonte Gianpietro Carlo Coppola declared:
"We are honored to have hosted this great initiative in Altomonte, and infinitely grateful to Xiaomi for the commitment and attention dedicated to our small but ancient village, connected in these days to a cultural and artistic context of global scope. Infinite applause to FRA! young but already a great artist, who shows us sincere dedication to his territory of origin and deep love for his people, in one word authentic belonging. The best existing technology, human creativity and the tenacious will to make a dream come true have made this great result possible, and fun for everyone to achieve together. Thanks FRA!, Thanks Xiaomi, thanks Altomonte ".
This extraordinary result is also thanks to the Mi Community and all Xiaomi fans. In fact, the brand, in addition to supporting the entire project, gave life to the platform DoodleDream.it, a portal that has allowed not only to get to know the work, the artist and his philosophy better, but also to actively contribute to the success of the work by uploading an image, a photo or a inspirational design. BETWEEN! he then reinterpreted and transformed the most interesting graphic representations in the style of doodle art, inserting them within the master piece.
Xiaomi and FRA !: a winning collaboration
The author FRA! he has declared:
"The dream is the perfect ingredient on which art is based. Dreamlike visions out of time and space that allow themselves to be freely interpreted by our unconscious and our sensitivity. Here's what doodle art is for me: improvisation and freedom. And with Doodle Dream we have underlined a further fundamental value for contemporary society: that of the community. This world record therefore has an even more important significance, and I couldn't be happier! ".
Finally Davide Lunardelli, Head of Marketing of Xiaomi Italia, said:
"We are very proud of the result obtained. This project was created to encourage the creativity of every single person and to encourage them to always pursue their dreams. Creating can be easy and fun if you have the right means. And it is with this idea that Xiaomi has given life to the Mi 10T family, a series of smartphones with a unique and distinctive character, able to facilitate the creative process and bring it to the nth degree ".
What do you think about it? Let us know in the comments and keep following us on the TechGameWorld.com pages where you can find the latest news and more.