Xiaomi without limits: lots of news are coming including electric vehicles, folding smartphone and new company logo
Xiaomi, a world leader in technology, continues to surprise its fans and kicks off a new era by announcing today, on the occasion of an event presented by Lei Jun, lots of news including a one smartphone foldable, new ecosystem products e i new laptops. Xiaomi also announces the entry into the sector ofelectric car and unveils the rebrand of the new logo.
Xiaomi debuts in the electric vehicle market
Lei Jun, Founder, President and CEO of Xiaomi, today declares the official entry of Xiaomi in the sector of electric vehicles. The business, which will always respond to Lei Jun, will however be managed by Hong Kong Stock Exchanges (HKEX), a wholly owned subsidiary of Xiaomi with an initial investment of RMB 10 billion.
Lei Jun said:
"The decision was made by all Xiaomi partners after numerous consultation phases and this will be the last great entrepreneurial project of my life. I put my personal credibility on the line and I want to give our electric vehicle a future! I am determined to lead my team towards the success of the Xiaomi electric vehicle ".
The decision-making process followed entirely by Lei Jun counted 85 meetings with over 200 industry experts, four internal management debates and two board meetings. But it was above all the support of the Mi Fans and their trust in Xiaomi's values ​​that pushed the brand towards this final decision.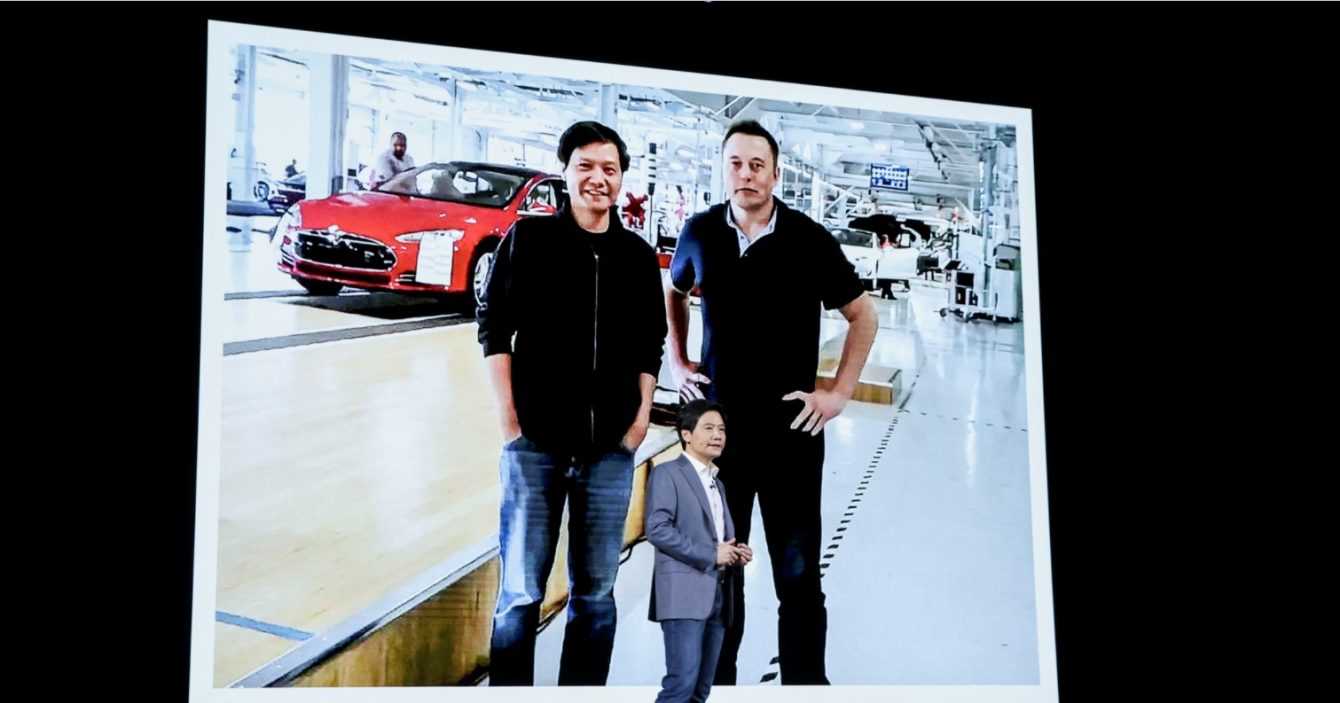 According to the latest financial results, the company has distributed 146 million smartphones on the world market, ranking among the top three smartphone manufacturers in the world. And with over 324.8 million connected devices within the AIoT ecosystem, Xiaomi confirms itself as a leader in the smart home sector.
Lei Jun then added:
"Over the next ten years, the electric vehicle market will be the most exciting development area and will become a fundamental part of the Xiaomi ecosystem. The expansion of our AIoT ecosystem is an essential choice for us and represents a further step towards the completion of our vision which aims to provide everyone with innovative technologies. "
Mi MIX Fold: Xiaomi's first folding
Xiaomi has officially launched its first foldable smartphone, Mi MIX Fold which features a design with U-shaped hinge, which reduces weight by up to 27% compared to other folding and improves reliability. The device was subjected to 200,000 bends in reliability tests e up to 1 million kinks in extreme reliability tests.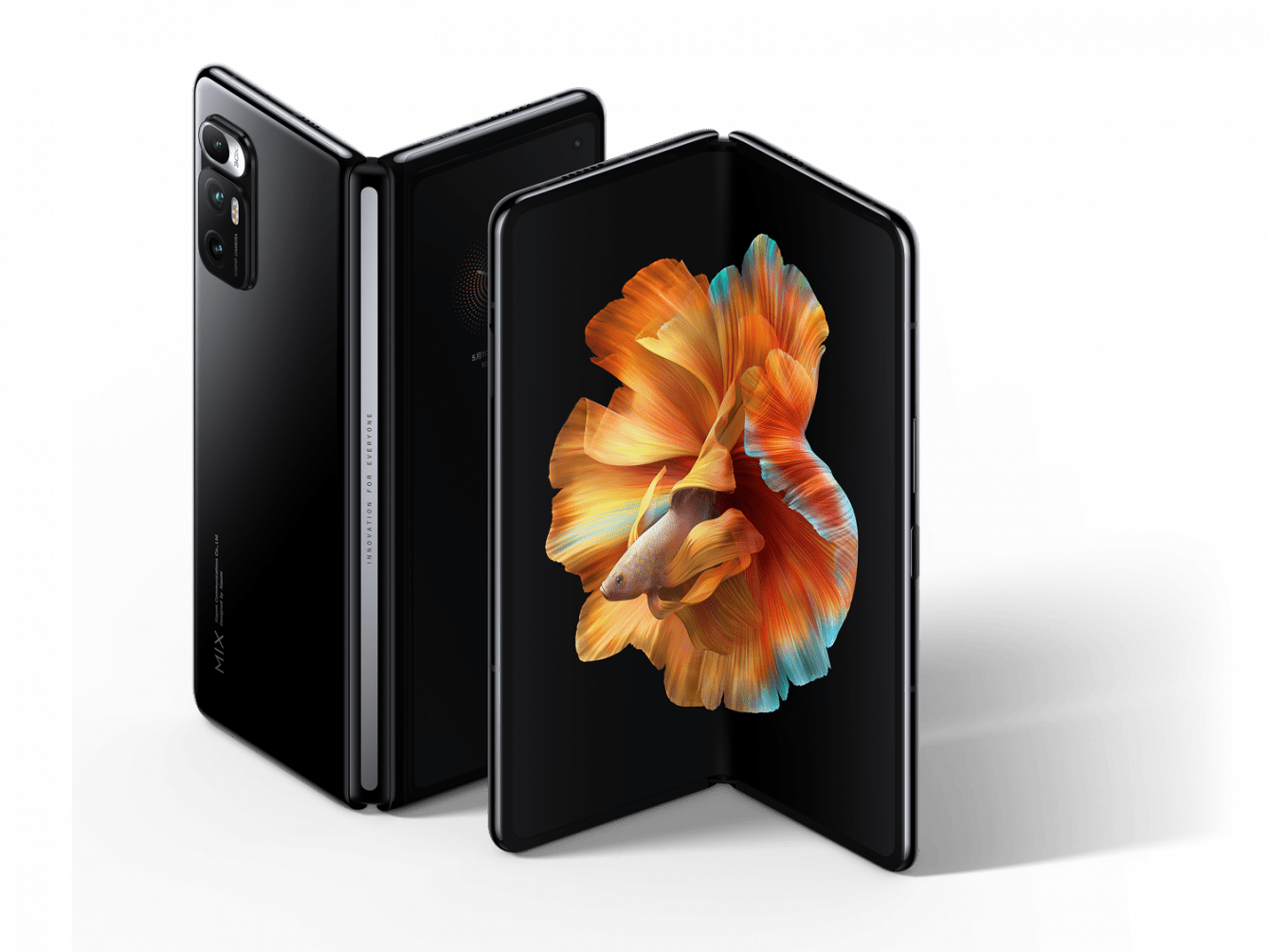 Equipped with a 8.01 "foldable OLED internal display con rWQHD + insulation, Mi MIX Fold offers a 4: 3 ratio, making it the largest foldable smartphone display on the market today. The display from 1 billion colors of the device has been meticulously tuned by Xiaomi's color calibration algorithm, allowing it to achieve impressive color accuracy of JNCD≈0.29 and ΔE≈0.35. Reaching 900 nits of peak brightness and 600 nits of overall brightness, the display provides comfortable viewing in various settings, while the 4,300,000: 1 contrast ratio, support Dolby Vision, l'HDR10+ and the DCI-P3 color gamut combine to create highly dynamic and lifelike images with vivid colors. In addition to the internal display, the Mi MIX Fold is equipped with a 6.52 "external AMOLED display, the largest on a foldable smartphone. Thanks to the update rate of 90Hz, at the sampling rate of the touch of 180Hz and at HD + resolution, this display delivers a fast and smooth user experience with great clarity and detail.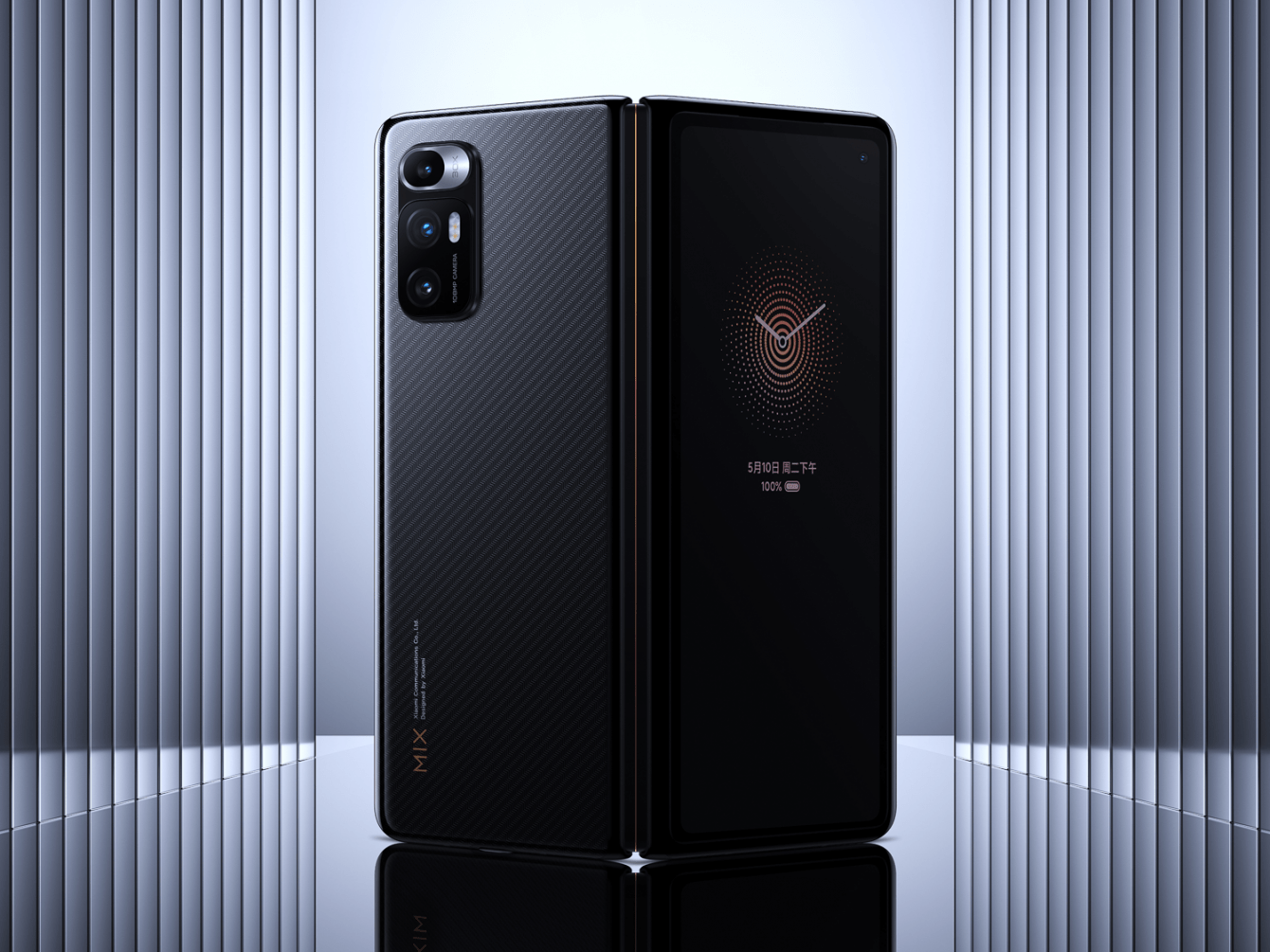 Mi MIX Fold boasts the first configuration of quad speakers for smartphones: the 1216 dual speakers with a symmetrical design are positioned on both sides of the screen and are distinguished by a large amplitude of 0.65mm and a sound cavity equivalent to 1.34cc. The speaker's innate properties are reinforced by the 15V Smart PA, which offers a sound level up to 40% more powerful than that of the Mi 10 Pro.
Mi MIX Fold inaugurates the processore Surge C1 – a professional image processing chip developed by Xiaomi. The product of two years of development and RMB 140 million of investment, this chip provides exceptionally high performance while taking up little space on the CPU and memory. This allows it to run an improved 3A algorithm and low-light focus capability for more accurate autofocus, auto exposure and auto white balance, significantly improving image quality.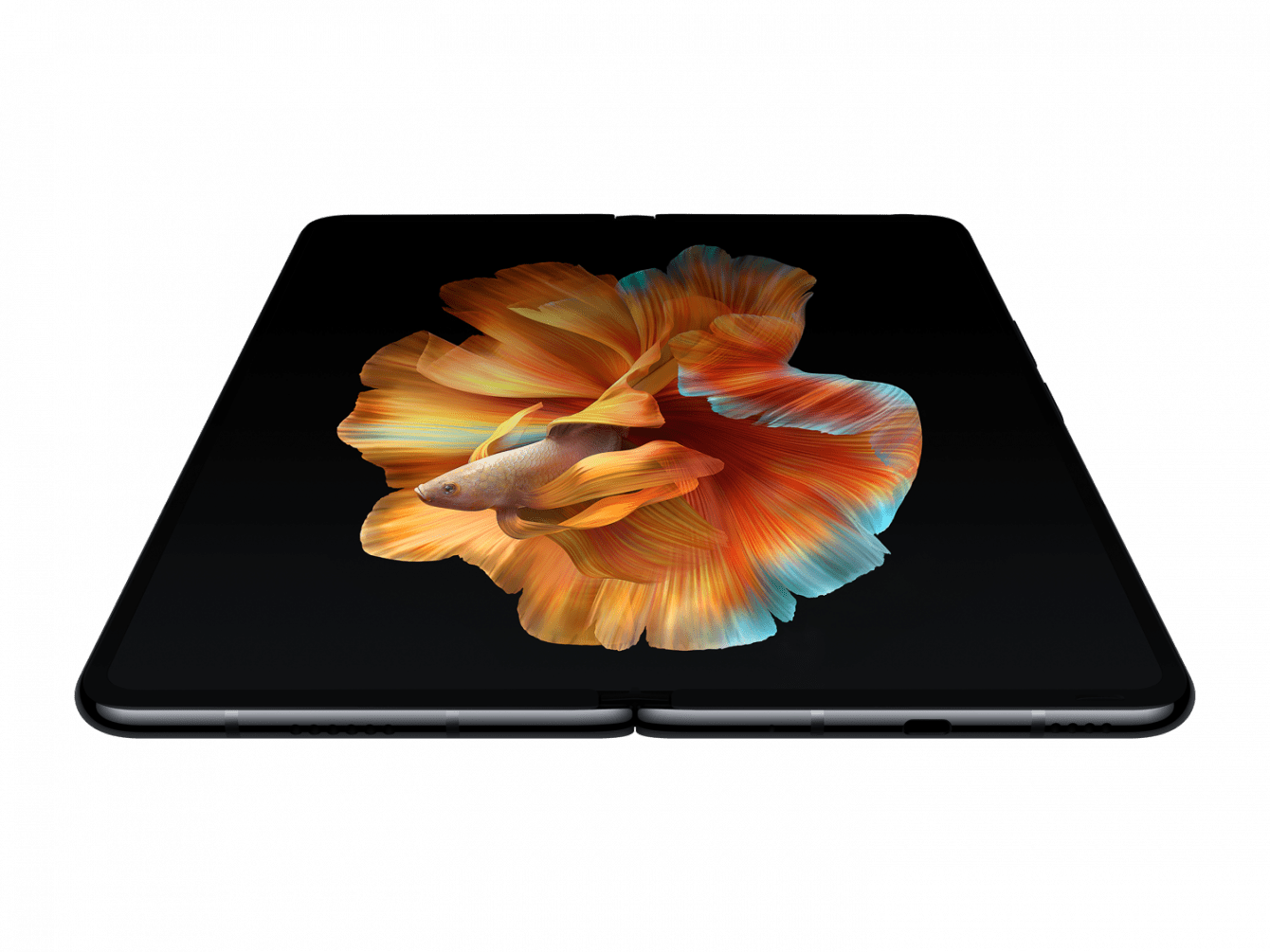 Mi MIX Fold is also the world's first smartphone with liquid lens technology which adopts a structure that includes a fluid element between two films and which, thanks to a motorized system, can modify its radius of curvature in real time to change the way in which the scene is captured. In addition, Mi MIX Fold is also equipped with a main camera from 108MP and an ultra-wide-angle camera from 13MP with an impressive field of view of 123°. The main 108MP pixel camera is equipped with a 7P lens, which can directly produce 108MP pixel high definition photos.
Mi MIX Fold has a built-in battery from 5.020mAh and uses the new parallel architecture a double battery patented by Xiaomi, which consists of two batteries with a capacity of 2,460mAh and 2,560mAh. The special parallel structure allows an incredible current delivery of 10A. In addition, the device also supports the fast charging at 67W which allows the smartphone to fully charge in 37 minutes. Also introduced the technology of CNT battery, which promotes safer and faster charging, extending battery life.
The smartphone will have a price of 9,999 RMB (about 1,298 euros) for the 12GB + 256GB version, 10,999 RMB for the 12GB + 512GB version (about 1,427 euros) and 12,999 RMB for the 16GB + 512GB version (about 1,687 euros). Pre-orders for Mi MIX Standard Edition and Ceramic Special Edition will open today. Mi MIX Fold will be officially available for purchase in China on Xiaomi channels starting from April 16.
Nuova brand identity "Alive"
During the event, Xiaomi also announced one new and renewed corporate visual identity, which combines the philosophical concept of "Alive" with that of design. The new logo was designed by a world-renowned designer, a professor of Musashino Art University and president of Nippon Design Center (NDC), Kenya HARA. By adopting a softer, rounded outline on the corners of the previously squared-off logo, along with the redesigned "MI", the new logo is now more aesthetically pleasing. The corporate color remains orange to continue to convey Xiaomi's liveliness and youth. Black and silver they will also be used as additional colors to suit high-end product line applications.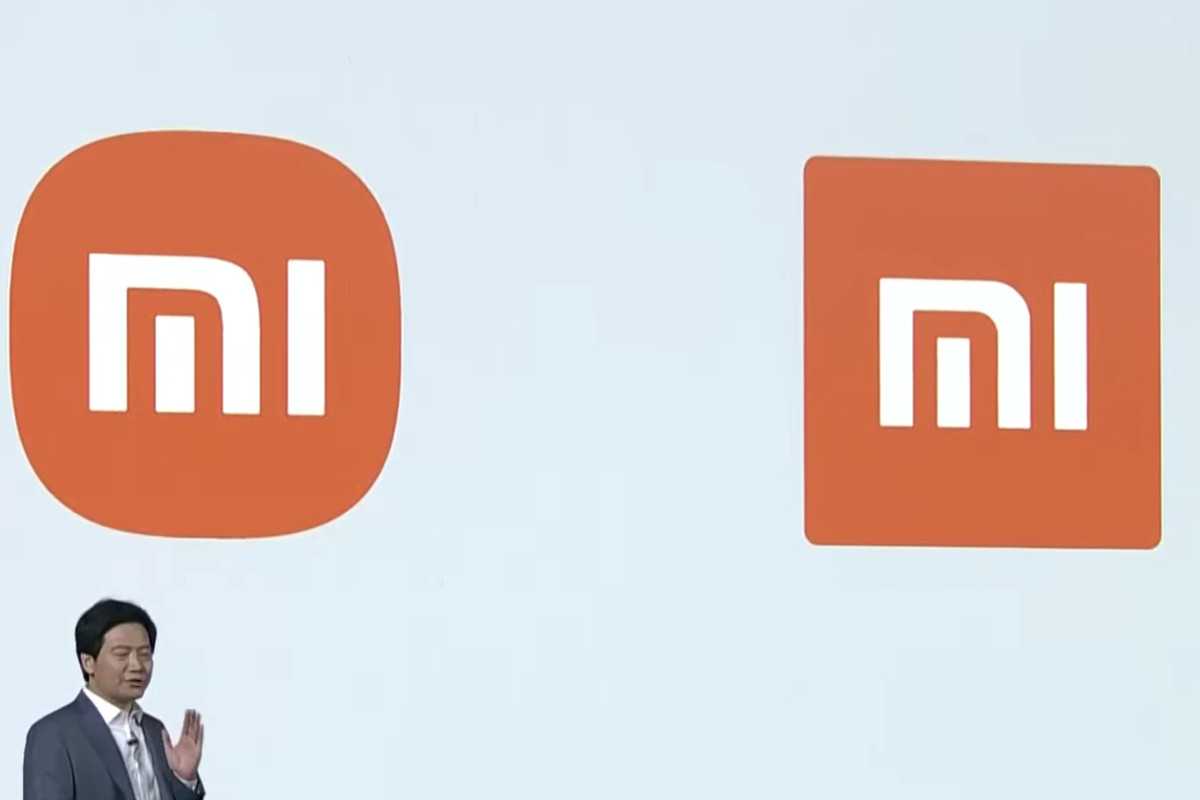 Kenya HARA used the mathematical formula "superellipse"When designing the Xiaomi logo. Although there are endless options between a perfect square and circle, the designer has achieved a visually optimal dynamic balance by adjusting the variables in the formula. Using n = 3 he found theperfect balance between a square and a circle, embodying the central component of "Alive", giving life to the brand new Xiaomi logo that we see now. Compared to a right-angled object, a circle is a more agile shape, which is the perfect representation of Xiaomi's flexibility, relentlessness and willingness to aim high.
According to Kenya HARA, Xiaomi's innovative technology gives people the ability to have a optimal control of your life, adapting to any change in the environment. "Alive" interprets Xiaomi's philosophy from a visual perspective, giving the brand a visual image full of life: people are alive – technology is created by people – technology, therefore, is Alive (Viva). Technology will always be at the service of the life needs of all of us.
For more news and details you can consult the official Xiaomi website. What do you think of these news? Let us know in the comments and keep following us on the TechGameWorld.com pages where you can find the latest news and more.