IObit has recently released its Advanced SystemCare Ultimate 14 and in this review we are going to introduce it to you with all its functions
One year after the release of Advanced SystemCare Ultimate 13, the society IObit renews its flagship software. Already equipped with an excellent base from which to start, will the developers be able to recreate an equally good product and even improve it? To find out we just have to start this Advanced SystemCare Ultimate 14 review and find out together.
The basics are there – Advanced SystemCare Ultimate 14 review
In fact, treating and storing a machine at its maximum potential is not child's play and often many hidden processes can compromise its performance. It is also very easy nowadays to run into any corrupt file that it can infect our PC. So although there are various programs that can do one or the other thing, with ASCU14 you can save not only disk space, but also RAM, halving the processes.
Just as expected, the brand new version of ASCU it is almost entirely based on its predecessor. It would have been unthinkable to create something completely new, both from the point of view of design, but above all from that of optimization. The power of an antivirus combined with the excellent organization of cleaning and speeding up the PC make this truly performing and useful software on any computer, especially older ones that suffer from severe drops in performance.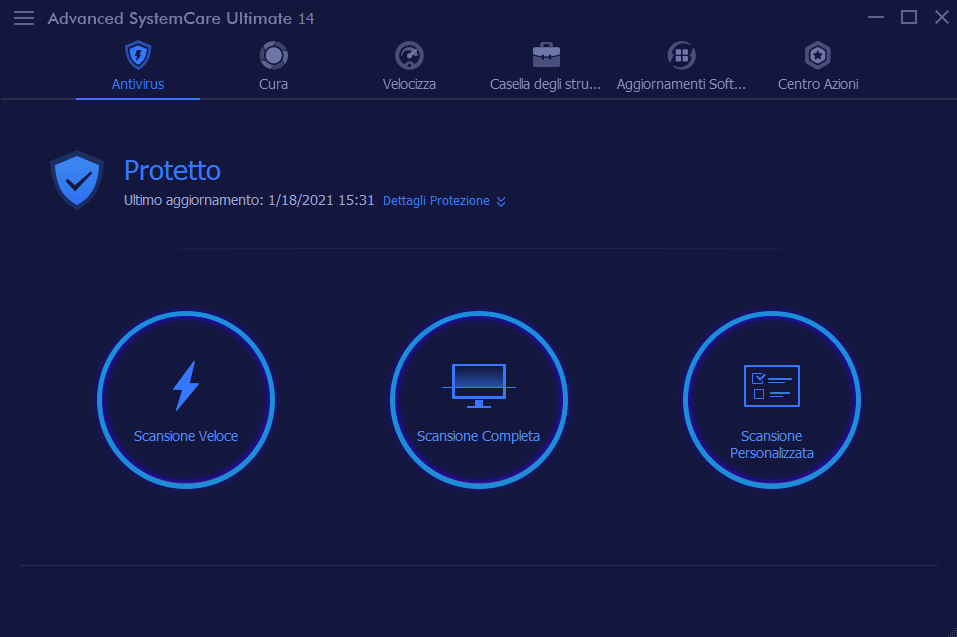 Simplicity, Efficiency, and Marketing – Advanced SystemCare Ultimate 14 Review
As many of our readers will know by now, the watchwords that IObit has set for all its programs are "simplicity" ed "efficiency". Also in this review we are happy to say that the developers have kept faith with this which now seems almost a dogma. The software is in fact "simple" both from the point of view of design, which is practically unchanged from its old release, and of use.
As we have come to appreciate from their other programs as well, efficiency is king too, especially in ASCU14. With a 23% larger antivirus database, the software is able to detect, prevent and eliminate not only viruses but also many types of malware. This makes it even more efficient, but also safer with the ability to detect even more malicious files.
The design, as mentioned earlier, has not undergone major changes except for the screen "Toolbox". The latter in fact has been brought to the fore compared to the previous version. Here we can find the other components of the IObit family that will allow us to perform various functions, such as updating system drivers or performing a disk defragmentation. Obviously though, each of these requires a license to be used to its full potential, but we can also take advantage of the free versions. This gives us a little bit of support, but it's still a major limitation.
Furthermore, again in this screen we can see three other divisions: Optimize System, Safety and repair e System Cleaning. Each subsection is characterized by certain functions, but not all are usable, as was to be expected. Some of these are in fact linked to other software. So you will understand that it is almost like a dog chasing its tail. Sure it's a great marketing choice by the company, but this also goes to reduce what could be the potential of a software that, with these additions, it would be truly complete.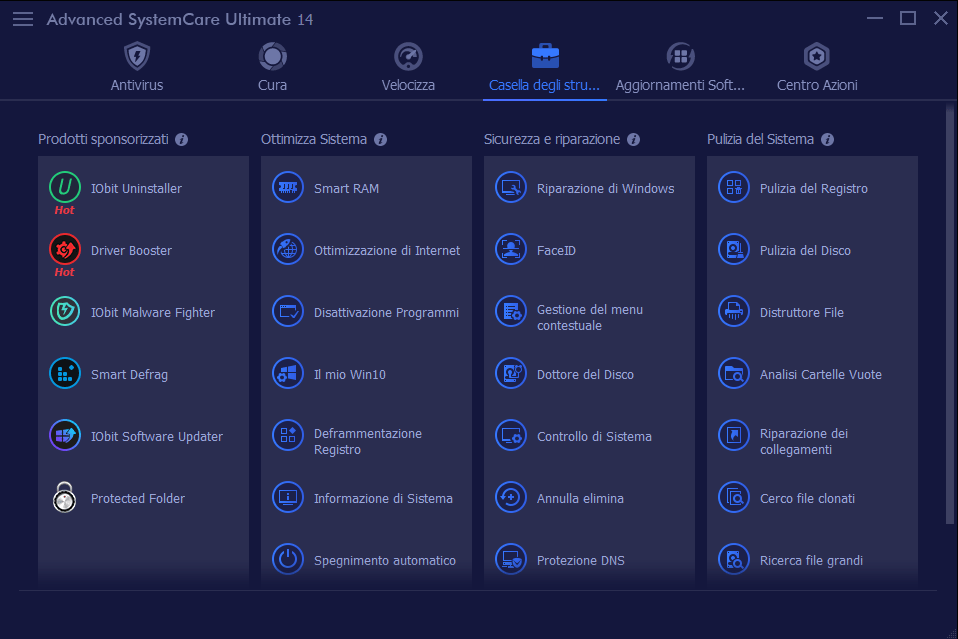 Some news, but "old" product – Advanced SystemCare Ultimate 14 review
Among the positive notes, as I mentioned earlier, is the increase in the database. To this are added the new Bitdefender engine which allows the program to scan intelligently and also Startup optimization with a 42% expanded database. The implementation of the Browser protection which allows for greater security against all types of phishing scams, invasive online monitoring and other threats you may encounter while browsing online.
Although therefore there are all these novelties, software can be defined as "old" in a certain sense. Obviously we speak purely of the aesthetic level which is practically unchanged, but also of performance during scanning. One of the problems I complained about in the ASCU13 review was the slowness of scanning. Many might think that, with a fairly large and file-rich HDD or SSD, this is normal.
And in fact they would also be right, were it not that I have tested the software on a newly formatted computer and therefore devoid of any files and / or programs other than those already pre-installed with the operating system. In conclusion, even with minimal load, we were a whopping 48 minutes for a full scan without using the PC at all. Not exactly a walk in short. It must be said, however, that, in a second scan, we were able to safely use our machine without the process burdening our experience too much.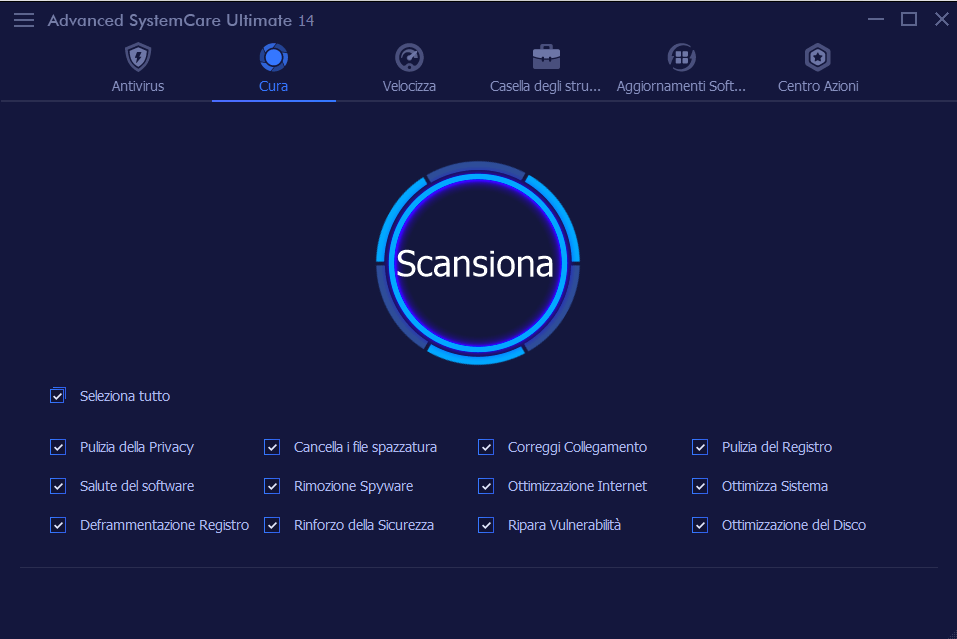 Conclusions
We have now reached the end of this review on Advanced SystemCare Ultimate 14 and it is therefore time to draw some conclusions. The new software version shows up very similar to the previous one both as a design and as a setting in general. However, although from a visual point of view there is nothing new, we can see an exponential growth of the program compared to its previous version.
The increase of the database is very important not only from the point of view of the antivirus, but also of the optimization. This definitely guarantees one greater protection but also greater performance. This makes it very useful on slightly dated PCs that suffer from software and an increasingly "heavy" Windows 10 from the point of view of resources. Lightening up the various processes therefore allows you to have even greater increases in performance than the previous version.
However, while there is an improvement both from a performance point of view, what still makes us turn up our noses is the slowness of the antivirus scans. This aspect seems to have not really been touched by the developers. The rest of the software is completely based on its predecessor. It is indeed equipped with a enormous simplicity that makes it suitable for any user. Furthermore, its artificial intelligence makes it work directly on non-essential sectors. This allows less experienced users not to have to change anything in the settings when cleaning junk files and various caches.
That's all for this Advanced SystemCare Ultimate 14 review. I remind you that the software is available for purchase on the official page of the IObit website, al RRP of 29,99 € excluding VAT. The license will be valid for one year and can be applied to as many as three PCs, guaranteeing savings compared to other software that only provide protection or only serve to speed up our computer. To not miss further reviews and news from the software universe, keep following the pages of tuttooteK!
Points in favor
All the good of ASCU13 …
Lots of features …
Expanded database
More security on the web
Points against
… but with the same slowness in scanning
… not all usable