Amazon presents the new Kindle: 300 ppi high resolution screen, USB-C charging and double storage
The new lighter and more compact Kindle, and features a 6 " high resolution anti-glare screen. Up to 6 weeks of autonomy and recharge via USB-C; adjustable front light, dark mode e 16GB of memoryall for only 99.99 euros.
In addition, a period of use is included with the new Kindle free three months by signing up for the service Kindle Unlimited with which to enjoy unlimited access to millions of books and many other contents.
Details on the new Amazon Kindle
Amazon today announced the arrival of the new generation of Kindle, now lighter and more compact. Starting from only 99.99 euros, the new Kindle combines premium features with an affordable price. Among the various novelties, we have the new display da 6'' 300 ppi high resolution, USB-C charging, longer battery life (up to 6 weeks).
Plus, we have double the storage space to support thousands of books. The new Kindle is available for pre-order from today and shipments will begin on October 12th. More information on amazon.it/kindle.
Statements regarding the new Amazon Kindle
The following are the first statements regarding the presentation of the new Kindle devices.
We've integrated a high-resolution display that offers three times the resolution of the previous generation Kindle, USB-C charging, 16GB of memory, and a built-in adjustable front light. The new ultra-light Kindle is the latest example of how we continue to offer our customers premium features, even for our entry-level devices,
he has declared Eric SaarnioVice President, Amazon Devices International.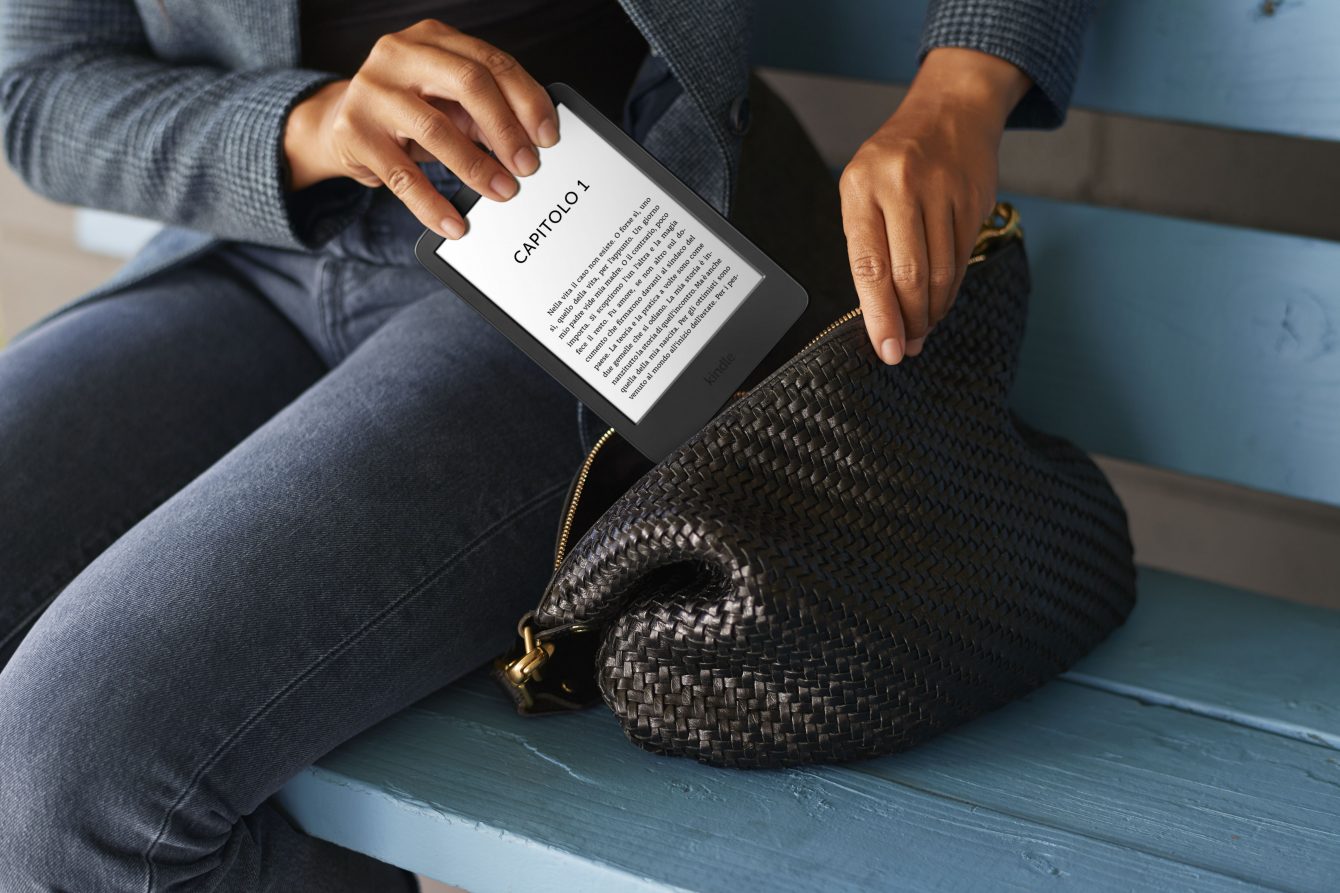 New high resolution display
The new Kindle features a new 6 " display anti-reflective high resolution from 300 ppi, with a number of pixels three times higher than the previous generation. You have the ability now to be able to view texts and images sharp like on printed paper. Dark mode and adjustable front light provide a comfortable reading experience in all conditions, including direct sunlight or even in the dark.
In addition, the device is equipped with all the features preferred by the customers such as X-Ray which provides important details about people or places mentioned in a book. And again, a integrated dictionary to quickly search for any word. The simplified configuration of theapp Kindle for iOS and Android offers the ability to register your device in just a few steps and access books even faster.
Lighter and more compact Kindle
The new Kindle is the Kindle model lightest and most compact available, you can carry it in your pocket to read comfortably with one hand and for longer. The device's longer battery life, now up to six weeks, maximizes the time you spend reading, and the USB-C port makes charging easier than ever.
The new Kindle delivers 16GB of memory, twice compared to the previous generation. Enough to hold thousands of titles in order to have an entire library always at hand.
The best eBook store in the world
All Kindle devices come with instant access to the best eBook store to the world, which includes:
Huge selection – to discover millions of books, including the latest best sellers.
Kindle Unlimited – Enjoy unlimited access to millions of books and read wherever and whenever you want, on any device. Eligible customers who pre-order or purchase a Kindle will receive 3 months free period of use if they sign up for Kindle Unlimited while setting up their new Kindle.
Furthermore, i Prime customers they can read content from a continuous selection of thousands of books, magazines and more, at no additional cost to their Prime membership.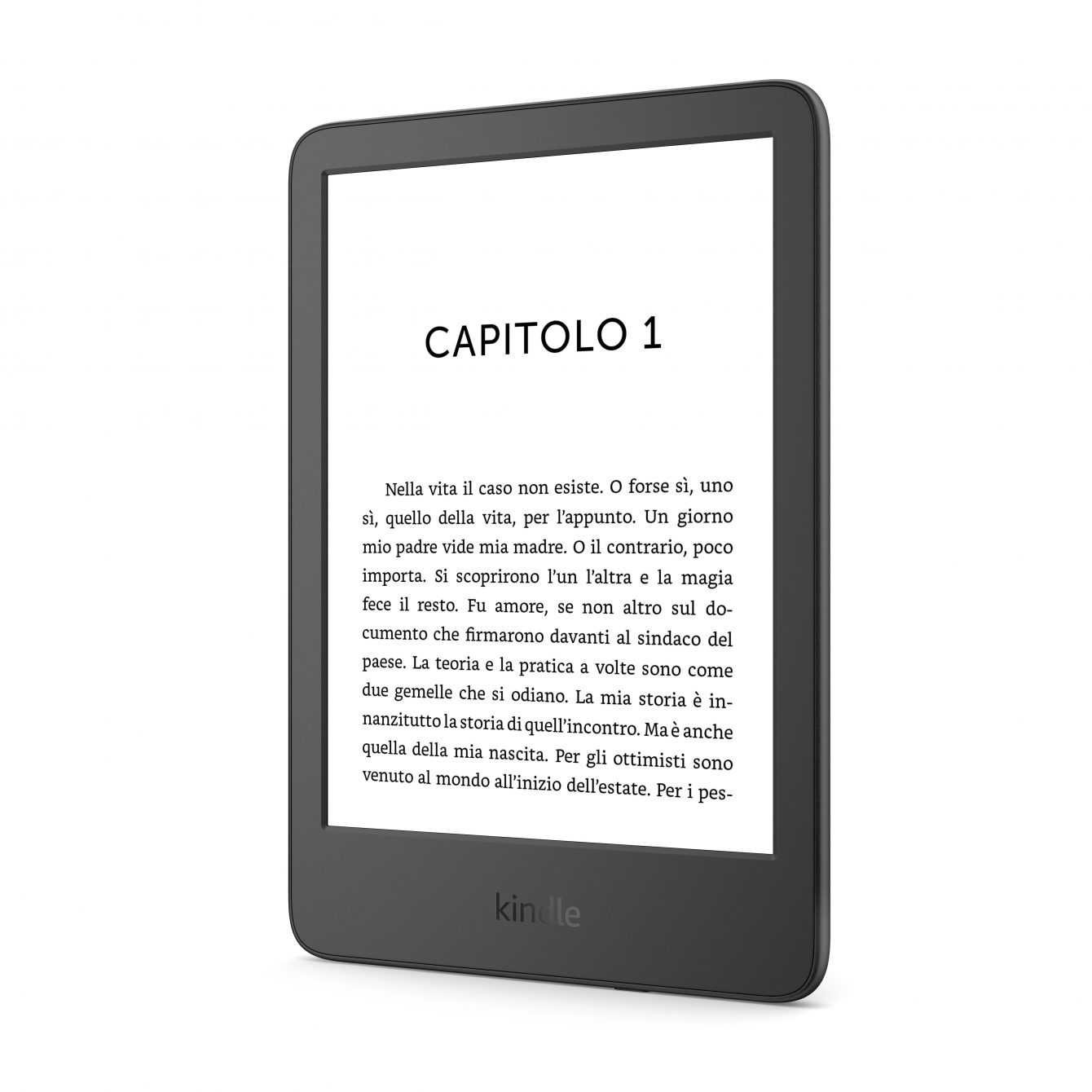 Designed with sustainability in mind
The new Kindle is designed with sustainability in mind and brings back the certificazione Climate Pledge Friendly. With this, one further guarantees reduction of emissions of carbon compared to previous generations. The devices have been carefully selected and built with the 90% recycled magnesium. Also, pursuing the goal of making Amazon device packaging 100% recyclable by 2023, for the first time ever, Kindle device packaging is 100% recyclable.
And it is also made with fiber-based materials 100% wood from responsibly managed forests or from recycled sources. Amazon's Kindle accessory cases also feature packaging made from 99% wood-fiber-based materials. Amazon continues to reduce its impact on the planet by reducing waste and providing more sustainable options, and efforts regarding Kindle are no different.
Prices and availability
The new Kindle will be available starting from 99,99 euro with 16GB in black and blue colors. New fabric covers for Kindle will be available in Pink, Black, Blue, Green.
And you? What do you think of this new Kindle from Amazon ? Let us know with a comment below and always stay tuned to TechGameWorld.com for other news and reviews from the world of technology (and more!).