Laptops differ greatly in specifications. There are developer laptops with a lot of memory and disk, there are gamer laptops with state-of-the-art graphics cards and good connectivity. But how should a laptop be made for someone doing creative work? We are not talking about a videomaker or a person who only uses photoshop. We are talking about a person who needs to range over many tools to create content without being tied to a specific activity. Unfortunately, there is no definition. However, after trying it, the ASUS ProArt Studiobook 16 that we see in this review, it could be exactly that laptop.
The ASUS ProArt Studiobook 16 review
First of all, we point out that this review was done using an ASUS ProArt Studiobook 16 model W7600H.
If we go to see the technical specifications of the ASUS ProArt Studiobook 16 we find interesting values, even if they are not exactly the concentrate of cutting-edge technology that makes us jump in the chair. The processor is not of the latest generation and the graphics card, although advanced, does not have almost zero response times as in gaming laptops and the available ports are also quite standard. This, however, turns out not to be a problem.
The technical equipment of ASUS ProArt Studiobook 16
Operating system
Windows 11 Pro
Processor
Intel® Core™ i7-11800H Processor 2.3 GHz 8 core
Video Card
Intel® UHD Graphics
NVIDIA® RTX™ A3000 Laptop GPU 6GB GDDR6
Display
16.0 pollici, 4K OLED 16:10
HDR VESA True Black 500 certified with Pantone validation
Memory
32 GB (max 64 GB)
Discs
1TB M.2 NVMe™ PCIe® 3.0
1TB M.2 NVMe™ PCIe® 4.0
I / O ports
1x USB 3.2 Gen 2 Type-C supporta display/Power delivery/VR
2 x USB 3.2 Gen 2 Type-A
1 x Thunderbolt™ 4 supporta display/Power delivery
1 x HDMI 2.1
1 x Jack Audio da 3,5 mm combo
1 x RJ45 Gigabit Ethernet
SD Express 7.0 card reader
Webcam
HD camera with IR function to support Windows Hello
Net
Wi-Fi 6(802.11ax) (Dual band) 2*2 + Bluetooth 5.2
Weight
2.40 kg
Dimensions (W x D x H)
36.20 x 26.40 x 1.99 cm
Source: Asus Italia website
What can we read from these features? First of all, that ASUS has understood what the real needs of content creators are and has made a strong bet in that direction. A lot of memory, up to 64GB, to encourage the development of great content. A lot of storax; two NVMe ™ PCIe disks which means, in theory, up to 4 TB of storage. A graphics card not for gaming but optimized for image and video processing is one 4K screen.
All this, at a market price that orbits around 3000 euros. We admit, they are not few, but it sure is an interesting figure for what they are offering us. Especially considering who you are talking about a product for professional use.
A breathtaking display
What is incredibly striking about the ASUS ProArt Studiobook 16, and that made us fall in love with it in this review is the quality of the screen. First, it is already very difficult to find a laptop with a good 4K (3840 x 2400) matrix. Furthermore, OLED laptops are not yet very common. Finding a product with both characteristics blended so well is almost a unicorn.
The result is a screen very bright and with brilliant colors, like no other laptop screen we've tried before. Unfortunately, and please be aware that we are very sorry, no photograph on a website can give the idea. We therefore recommend, if you are interested in this type of product, of go to a dealer and see it with your own eyes.
To conclude, we remind you from the specifications that the monitor is HDR, VESA certified and Pantone validated. This holds great importance for a multimedia content creator, because it guarantees that the color visible on the screen will be very faithful to what you will get with a four-color printing or a professional video projection.
Aesthetics and material
To the touch you immediately understand what the laptop is of excellent workmanship and built with quality material. The slightly matte and very elegant black case feels a little rough to the touch; just enough for do not be afraid that it will slip into your hands. The monitor hinge seems to us immediately very solid. Opening the lid we face a glossy display with very thin border. The keyboard, to the touch, seemed a little less solid than the rest of the device, but the keys do not seem to have lateral offset. So, also thanks to the short run, the keyboard is very pleasant to use.
Overall, the laptop really is an object of excellent design, slim and compact; something that a creative can really carry around with pleasure.
Ergonomics
On the ergonomic side, we were, honestly, a bit torn. On the one hand we have a large touchpad and very comfortable to use, equipped with three buttons. A ASUS Dial rotor, which we'll talk about in a moment. On the other we found one compact and nice keyboardbut with a slightly unusual disposition e shifted slightly towards the bottom; which took some time to get used to. This is obviously given by the fact that the right space must be left for the touchpad and Dial (and so far nothing bad), but it also forces us to extend your hands more. And this is not always very convenient.
How much, unfortunately, engineering and ergonomics do not go hand in hand
The thing we have been most perplexed about ergonomically is not on top of or in front of the laptop, but from the side. As we have already mentioned, the laptop is rather slim and compact; and this, we assume, has required many internal components to change positions. We change the position of the components, even the connectors suffer the same end. Well, the side connectors seemed a little too close to the front to us.
On the right side, the USB port and the headphone jack risk annoying the movement of the mouse. On the left side, as you can see from the following image, the power port was placed in the middle of the side, whereby the cable runs in front of the fans, a USB port and the Kensington connector. In addition, the HDMI cable (usually a bit stiff) is forced to make a rather sharp bend to go to the video (in front of us) and is likely to tangle with the power cable. In short, we recognize a technical constraint, but the arrangement of the connectors may not suit everyone.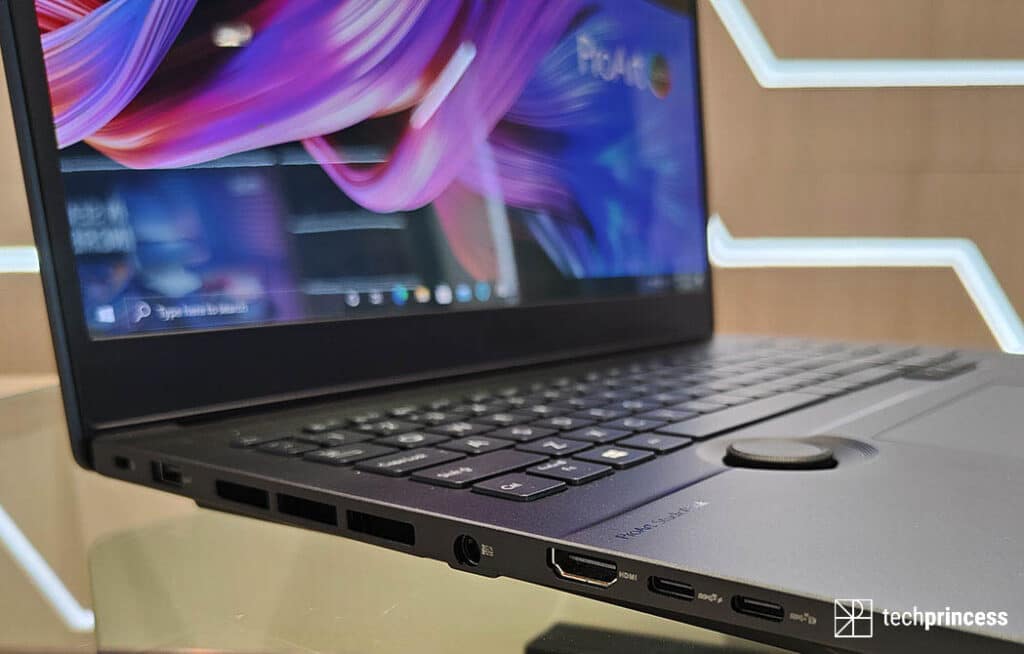 We feel therefore to advise cuffie e mouse wireless (although with a touchpad like this you shouldn't feel the need for a mouse) e un HUB USB-C using a cable with the elbow connector.
Asus Dial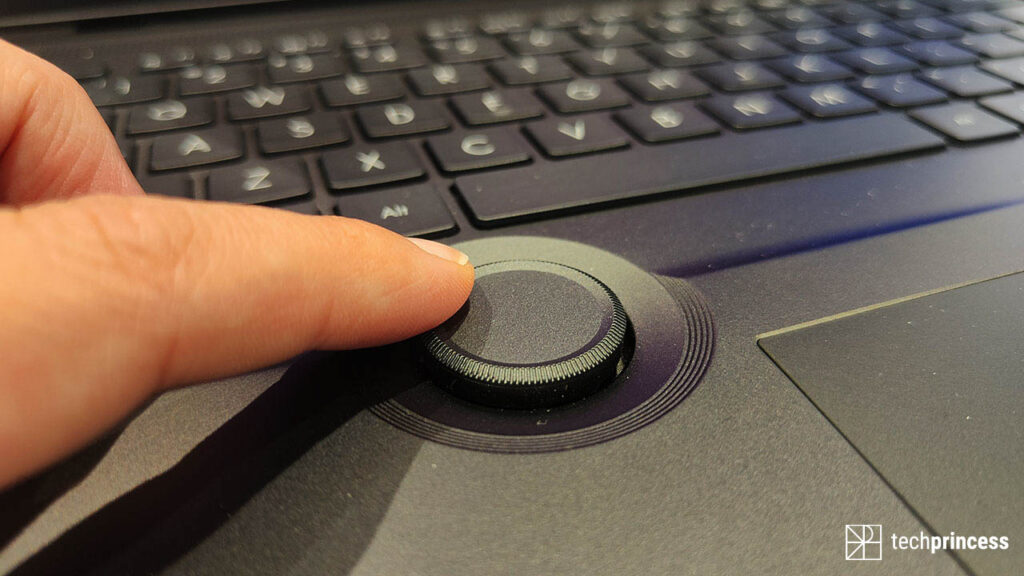 ASUS Dial allows us to manage quickly and accurately all those situations in which we have to scroll on a linear scale. This includes chroma corrections rather than selecting a moment in a video or the zoom level of an image. This rotor, which we loved it for its practicalitydeserves a discussion of its own.
From a technical point of view, ASUS Dial is the invention of hot water: a wheel that rotates and allows us to change a value between a minimum and a maximum. However, it is a wheel placed in the best possible spot: always within reach of our left index. It also provides a feedback apticoso we also have the physical sensation of what we are doing.
The ASUS Dial is also very simple to set up. Holding it down for a couple of seconds will bring up the ProArt Creator Hub configuration panel. From there, the rotor can be configured for each individual application. In fact, in each application, different controllable elements may appear according to our needs. Plus, ASUS Dial comes pre-configured for the Adobe Creative Suite.
Power and battery
In the tradition that "there is no rose without a thorn", a small thorn for the ProArt Studiobook 16 we found in this review is the power supply. A 240 Watt external power supply. I 240 Watt are needed to support such powerful hardware, but have the unfortunate consequence of requiring a rather bulky power supply (and heavy) and a jack connector instead of USB-C. Unfortunately, all of this reduces laptop portability.
The good news, however, is that we have been surprised by the battery life. Unfortunately, we have not even come close to the 12 or 14 hours of a product designed specifically for mobility. However, if no graphic features are used and you are limited to office automation and use the browser, we can count on almost 6 hours of autonomy. And, in our opinion, on this type of systems it's really a great result. Obviously, starting to use the GPU and with the fans active, the expectations are drastically reduced and the final result depends on what we are doing.
The ProArt Studiobook 16 review at a glance
The ProArt Studiobook 16 is a great laptop to use. Great because it finds a fantastic compromise between performance and usability. And this is a trade-off that many other products fail to achieve because they are designed with an obsession with pure computing power. ASUS, in this case, offers us a laptop perfectly capable of supporting the workload of a content creator by targeting the elements that really matter to him: screen, multimedia processing and ease of work via a great touchpad and ASUS Dial.
To what has just been said must also be added …