When we talk about laptops today, we know we are dealing with a very wide range of options. There are cheap or expensive models, for gaming or for office use, small or bulky, and we can go on for a long time. However, there is one feature that is little discussed: whether the laptop tries to bring innovation. And we are not talking about using a more modern processor or graphics card, because it would be right to follow the evolving technology. Innovation means diverge from the standards and propose something new. And that's what ASUS is doing with its Zenboook Duo line. With the second model, the Zenbook Pro 14 Duo we tested for this review, ASUS capitalizes on the experience made and Up the ante with an OLED screen with incredible colors and of very high-end performance.
The ASUS Zenbook Pro 14 Duo OLED review
Let's leave the dual screen issue temporarily, which we'll talk about shortly. If we go to see the technical specifications, we are faced with a high-level hardware. ASUS is clearly offering us a laptop designed for intensive use of multimedia and capable of supporting substantial workloads. Certainly it is a machine for professional use or for very demanding users.
It can be used very well as a gaming laptopbut we don't feel like classifying it as a pure gaming laptop.
The hardware equipment of ASUS Zenbook Pro 14 Duo OLED
In the following table, to facilitate readability, we only indicate the values ​​of the top model, which is also the one we had on test for the review.
Operating system
Windows 11 Home
Processor
Intel® Core™ i9-12900H a 2.5 GHz
Video Card
Intel® Iris Xe Graphics
NVIDIA® GeForce® RTXTM 3050 Ti
Display
14.5 pollici, 2.8K (2880 x 1800) OLED 16:10
HDR VESA True Black 500 certified with Pantone validation

(secondary) 12.7 inch ScreenPad ™ Plus (2880 x 864) IPS

Memory
32 GB
Discs
1TB M.2 NVMe™ PCIe® 4.0 Performance SSD
I / O ports
1x USB 3.2 Gen 2 Type-A
2x Thunderbolt™ 4 supports display / power delivery
1x HDMI 2.1
1 x Jack Audio da 3,5 mm combo
Micro SD Express 7.1 card reader
Webcam
1080p FullHD camera
Net
Wi-Fi 6E(802.11ax) (Dual band) 2*2 + Bluetooth 5
Weight
1.75 kg
Dimensions (L x W x H)
32.35 x 22.47 x 1.79 cm
Source: ASUS Global website
Reading the specifications, what stood out to us was not so much the hardware (all of the latest generation) as the relationship between computing power and size. In fact, in our experience it is quite rare to find a laptop with all this horsepower that is not too bulky and heavy. The ASUS Zenbook Pro 14 Duo OLED can't be said to be a tablet or a super light, but we found it far more manageable than we expected.
An OLED display always has its why
It is difficult to show it in a photograph, which will then perhaps be displayed on a screen that may make use of another technology. An OLED display must have it in front of you to be able to appreciate it. Of course, we are still in full "wow effect!", Because there are still very few laptops equipped with an OLED HDR screen and the difference is very visible. However, if you are a content creator, such a vivid color representation and with a Pantone certification certainly has a great added value. If, on the other hand, you have a passion for gaming, there is no need for us to tell you the final result.
In addition to being OLED, it is main screen is also a 2.8K (2880×1800) e touch. So not only for colors, but also from the point of view of image quality we are well covered.
Aesthetics and Material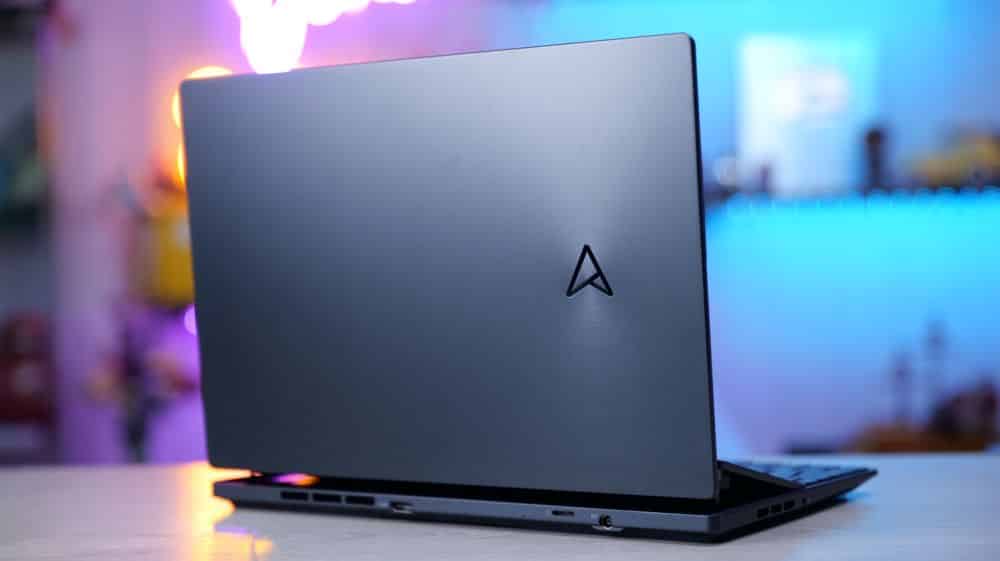 To the touch you immediately understand what the laptop is well-made and built with quality material. We are not in the presence of a metal case, because otherwise it would weigh too much, but the plastic seems quite resistant and the slightly opaque black to which ASUS has now become accustomed to is very elegant. The monitor hinge seems to us immediately very solid. Also the mechanism that raises the secondary screen slightly runs very well on all metal pins.
Opening the lid we see all the space occupied. The main display, glossy, has a very thin border. The flat part is occupied for half from the secondary screen and half from the keyboard. The touchpad was placed on the right side, sacrificing just a minimum the size of the keys. Unfortunately, this leaves no room to rest your wrists but, since the keyboard is set back from a standard situation, it doesn't turn out to be a problem. It is enough to move the laptop away ten centimeters from the position we are used to now, and everything comes back natural.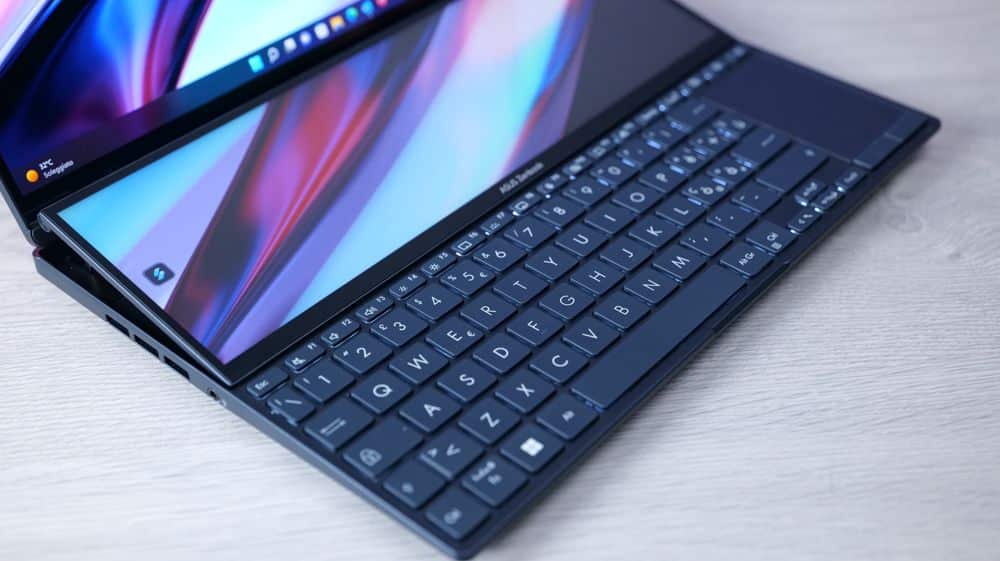 The keyboard, to the touch, immediately gave us much satisfaction and it's in line with the solidity of the rest of the device. Also thanks to the short stroke, typing is a very pleasant experience.
Overall, the laptop is solid and compact. Relatively easy to carry and with a great design. This, and the dual screen certainly does not make it go unnoticed in a business meeting or a LAN-party.
A laptop with two screens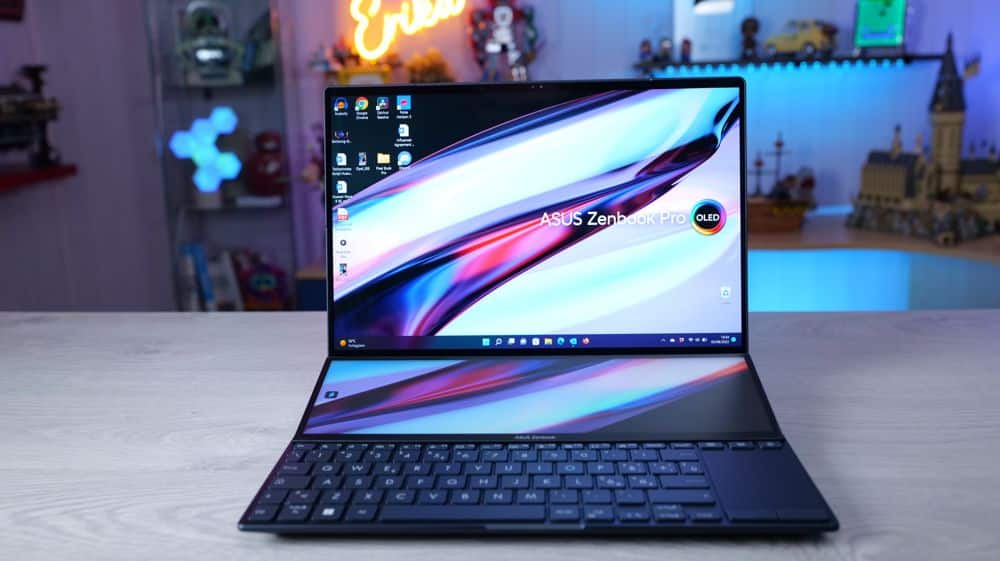 Let's now touch on the distinctive feature of the Zenbook Duo line: the dual display. From a technical point of view, if we are to be honest, there is not much to say: it's like having a second monitor always attached. This certainly has many positive aspects, because it is recognized and configured by Windows no need for additional drivers or software. There is also a hardware key on the keyboard to turn it on and off as needed.
What has been said, however, is nothing excessively new. Many of us are already used to working with a laptop using a screen as well external and things are expected to work. Here, too, we can manage resolutions separately and move windows from one screen to another. Of course, it is not very common to have an external touch screen; but for us that is not the point.
The point is that if we consider it only an external screen, then we are wrongand quite a lot too.
Not a secondary screen, but the keyboard extension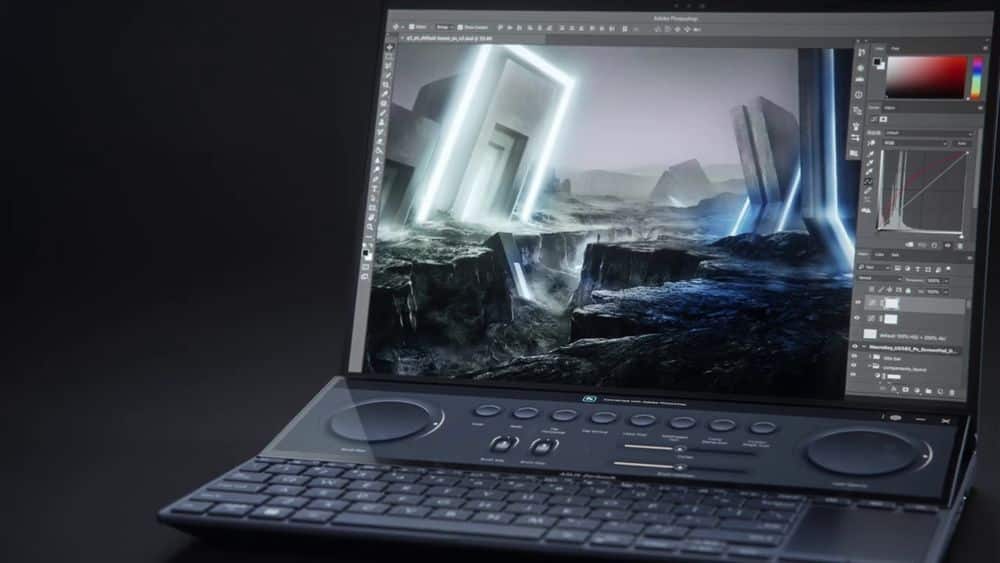 If we consider it an addition to the main screen, the secondary screen is simply small and uncomfortable. Incidentally, it does not even have the same graphic rendering to give the impression of continuity and, due to the different pixel density, you also have to put some effort into if you want the windows to have the same size on both sides. monitor.
In reality, the secondary screen is not the extension of the main screen, but of the keyboardto. In fact, even the secondary screen reacts to the touch. Also, it is slightly rougher than the main one to give us a better tactile experience. More, The laptop comes with a stylus supplied so we can use it to draw on it.
At this point, imagine you have a much larger keyboard where the bottom is fixed (with the keys) and the top changes according to what you are doing. We can thus have keys that change according to the situation and controls that slide and rotate. You can use it for write or draw and we can customize it as we please. Everything is reachable sending the hand forward a few centimeters and, which should not be underestimated, without going to change the interface on the main monitor.
From our point of view, this is the real and strong innovation brought by ASUS Zenbook Pro 14 Duo OLED: make the keyboard more powerful and versatile, not the video. And, once we got it, we saw everything in a very different perspective. Think, for example, of how many and what uses you can have with multimedia editing softwarecontrol panels for external devicesor even just video games.
The difficulty right now, let's not hide it, is finding software that makes use of a digital keyboard extension. However, in our opinion, should a secondary touchscreen become a trend, it is only a matter of time.
Ergonomics
From a usability standpoint, the Zenbook Pro 14 Duo OLED we have seen in this review it's a great laptop. The keyboard is pleasant to the touch and the keys have a short and precise travel. The touchpad isn't where we're used to finding it, but the placement on the right makes it conceptually a mouse surrogate. Unfortunately, the touchpad is a bit small, but it has obviously been thought of as a fallback when traveling. Mouse and touch screen are clearly the interaction system around which this laptop was designed. So much so that the keyboard provides us with a key to transform the secondary screen into a large touchpad for when we need to work with precision.
Ergonomics, however, is always a complicated point to address. Especially since users have the propensity to dwell on the things that don't work, on what is not as they would like it to be. If something is well designed we tend to use it naturally and that's it, without much praise.
If we really have to attribute a flaw to the Zenbook Pro 14 Duo, it is that is forced to put too many features in a very confined space. This happens not due to the inability of those who make the product but, simply, it is sometimes too difficult to find the right fit between technological optimization and usability. In our case, this caused us to experience three small inconveniences of use.
If, on the other hand, there is to report …