Every day we are looking for software that allows us to download music and videos for free. Audials One 2019 is the program for you and now we will find out together in this review
Nowadays, finding a program that allows us to download music and videos easily is not a challenge. There are billions of them, free and not, with special licenses that guarantee us not to break the law and have the material we want. Today we of techgameworld.com we will discover, in this review, Audials One 2019, the software of the homonymous company that will allow us to get all the songs and videos we want.
We remind you that downloading and using copyrighted products is a crime and techgameworld.com assumes no responsibility for the use you want to make of the program presented in this review!
Audials One 2019: layout and wide choice of music and videos to download | Review
The layout of the program turns out to be quite enough simplified and clean. The excellent division of the workspace allows us to navigate on it quickly. A quite substantial central sector in which we will be able to carry out the main search and download actions. On the left there is a menu with various items that contain all the possibilities of reproduction / recording that the program is equipped with. In the lower right corner we find the player which allows us to view the piece being played while the queue of items downloaded and / or being played.
The first time you start, you are immediately surprised by the sheer breadth of ways to download what you want. Whether it's a song, an album or even a TV show, Audials One 2019 will allow you to find everything you want. In the menu on the left mentioned above, it will be possible to choose between multiple items that will allow us to select, among the various, also music and video streaming services.
We can then find our song directly on Spotify or the episode of our favorite series on Netflix. However, as reported by the same company on its program "The sample websites are provided for compatibility purposes only. Audials AG is not affiliated with them or endorsed by them". In order to legally use the software you will therefore have to possess the relevant subscription to each program! However, even without the latter, streaming music apps that guarantee a free service can still be used, but at your own risk.
Although therefore the sources from which Audials One 2019 draws are really high, however, in order to exploit them, you will have to own an account. Without this the program will not be 100% effective and you will not be able to access the content you want.
Audials One 2019: speed and "intelligence" | Review
The software shows up fast and intuitive even for those who are not a computer expert. Its light weight on the CPU, even while decoding and downloading a song or video, is something truly incredible. You will therefore not need a latest generation processor to be able to download your elements in a matter of seconds. However the program gives the best of itself when we start downloading some songs through Spotify or any other streaming music program.
By launching the music software via Audials One 2019, the latter will be able to capture every single song, record it and save it directly on our PC. Although this process is longer than the previous one, it still remains the most profitable. The extracted and saved audio will be qualitatively better compared to one taken from YouTube. Furthermore, by doing so we will be able to get all the music tracks we need. In fact, just insert a playlist and feed it to our program. In this way Audials it will pick up every single song and download it as a separate item.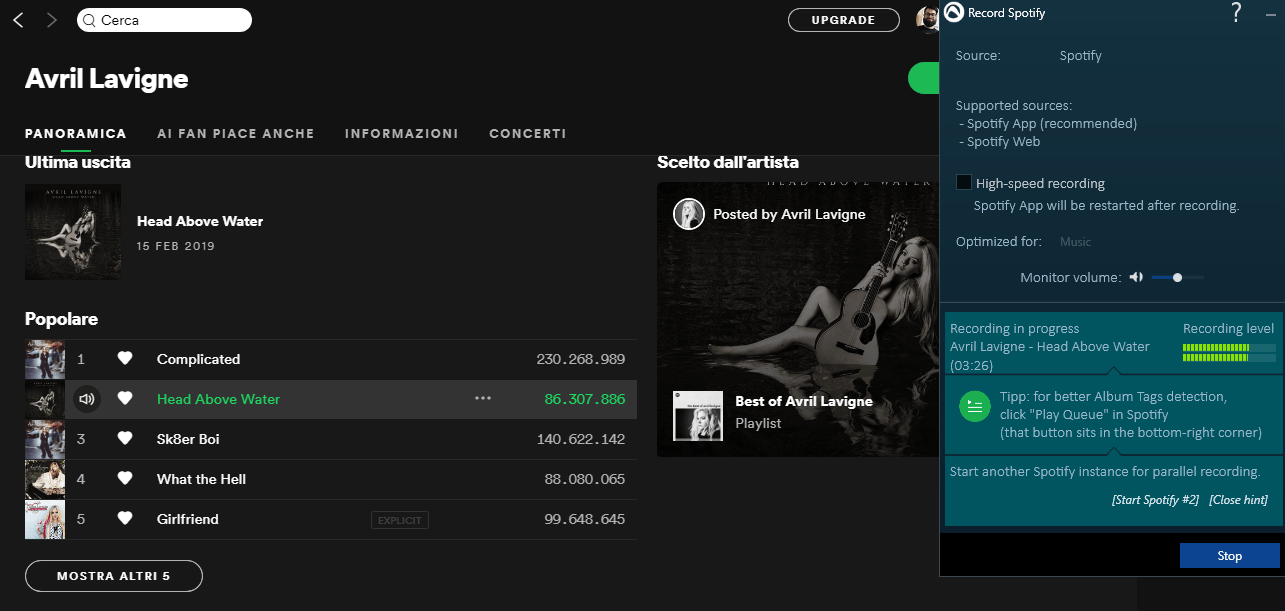 Limited intelligence and various problems
This software "intelligence" however remains limited to that particular example only. If we go to record a song taken from any radio present in the program, this one you will not be able to distinguish the various songs that follow one another, going to dirty what is the final result of the process.
While recording various episodes (it was only possible to test on Amazon Video) there have always been problems con Audials. We were therefore unable to record even a minute of the various episodes since the program he could not pick up the input resulting from our browser.
Audials One 2019: final conclusions | Review
We have now reached the end of this review and it is time to draw some conclusions regarding Audials One 2019. As already mentioned, the program relies on third party services in order to guarantee the user a library as vast as possible both for videos, but above all for music. Downloading any multimedia file you want will certainly not be a problem. The software guarantees ahigh speed in its actions, without compromising the performance of the PC.
Lightness and speed are therefore the masters, but also the recognition of songs (if you are using Spotify or another music streaming program) it is well structured, allowing you to download a playlist without having to start and stop a recording each time. However, at least with the radio, this "property" is waning and, if left unchecked, we will end up with very long recordings composed of numerous songs. Recording through third-party programs like Amazon Video isn't thrilled either and indeed, turns out to be completely useless. Nothing to report instead when you start recordings on some TV channel.
That's all for this review on Audials One 2019. We remind you that the product can be purchased on the official page at price of 59.99 € for a valid license until the end of 2020. You can also purchase all the various services and components of the package by paying one annual fee of € 29.99. To not miss future news and reviews on the software world, keep following the pages of techgameworld.com!
Recall again that downloading and using copyrighted products is a crime and techgameworld.com assumes no responsibility for the use you want to make of the program in this review!
Points in favor
Speed
Lightness
Song recognition …
Points against
Use of third party software
Failure to register TV series episodes
… only with some programs