Aukey Smartwatch LS02 review, the ideal device for those who want precision and aesthetics. Let's find out why it is one of the best purchases in the reference range
Welcome back to TechGameWorld.com for the complete review of Aukey LS02's smartwatch, a device that deserves the right attention thanks to its extremely competitive price and not indifferent quality. In fact, it proposes a display LCD TFT da 1,4″, a metal shell resistant to water and dust according to the standard IP68 and a battery from ben 260 mAh. The latter – according to the company – is able to guarantee up to 20 days of autonomy in stand-by. Let's find out now why prefer it to a more common smartband.
Data sheet
Product name: Aukey Smartwatch LS02
Template: LS02
Form: square
Dimensions: 48 * 36 * 11,5 mm
Weight: 35 g
Colors: nero
Strap: silicone
Strap size: 20 mm
Screen: 1.4 inch TFT LCD display
Screen resolution: 320 x 320 pixel
OS supported: Android e IOS
Sensors: heart rate sensor
BT version: V5.0
GPS: N0
NFC: NO
ECG: NO
Multi sport mode: 12 sport modes
Heart rate monitor: Yup
Waterproof: IP68
Other characteristics: sedentary reminder, sleep monitoring, alarm, brightness adjustment
Battery capacity: 260 mAh
Charging method: via USB
Standby time: 20 days
App: Aukey Fit
Compatibility: Android 4.4 and above, iOS 8.0 and above
Package format: circa 16 x 10 x 3 cm
Package weight: circa 120g
Package contents: AUKEY LS02 smartwatch, charging cable, user manual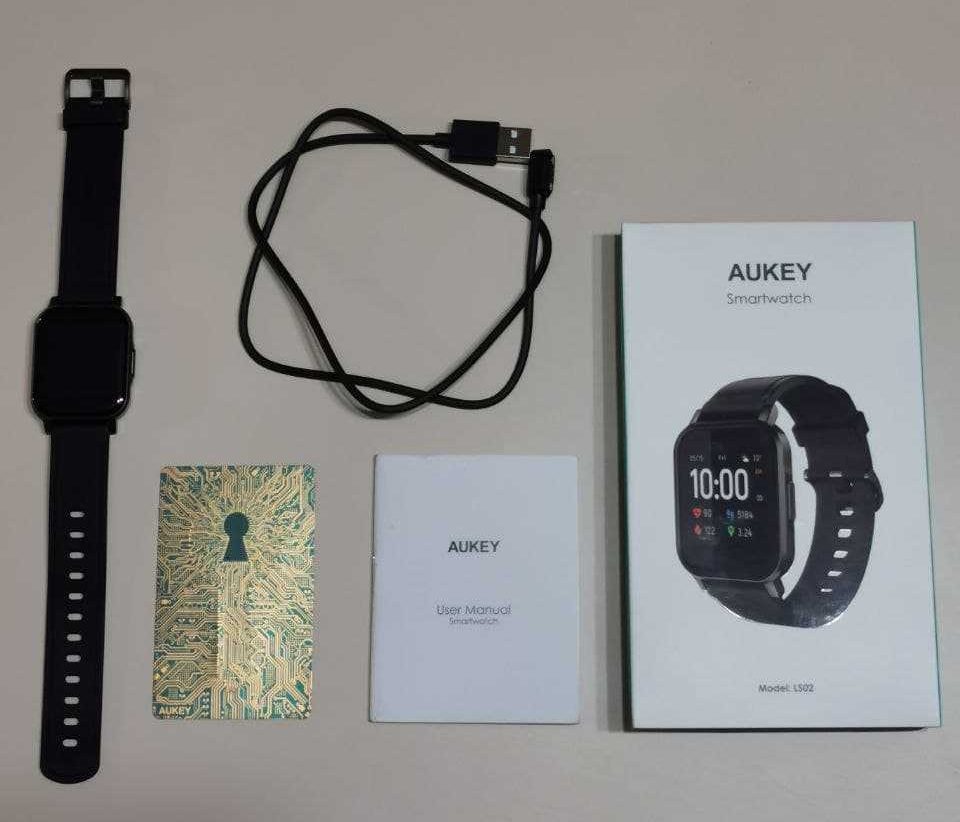 Build quality and display | Aukey Smartwatch LS02 Review
Let's start immediately with one of the strengths of the device, the build quality. In fact, it is perceived very quickly that we are dealing with a smartwatch made with care and detail. You will not notice various imperfections or creaks, everything is as it should be (which is absolutely not obvious in this price range). Even the design, although it does not shine for its originality, manages to be appreciated and to give a good visual impact regardless of the dress or context in which it is used. To conclude, the 20mm strap silicone is well made and easily replaceable.
But let's now move on to one of the fundamental aspects of a smartwatch, the display. The latter a large panel 1.4 inch TFT LCD diagonal with resolution 320 × 320 pixels. The quality is all in all good (again in relation to the price range), however don't expect vivid colors, high peak brightness or excellent viewing angles. Also worth mentioning is the absence of a brightness sensor or V-Sync (visible when reading notifications).
Hardware and autonomy | Aukey Smartwatch LS02 Review
The beating heart of this Aukey Smartwatch certainly lies in the sensors, not abundant, but quite accurate. In fact, advanced measurements such as ECG or SpO2 are missing, however the detection of steps, sleep or heartbeat is quite accurate when compared to an Amazfit Band 5. Of all, that of the steps is certainly the best, with discrepancies of only 100/200 steps at the end of the day. As for sleep, on the other hand, we have major discrepancies with delays in detection of about 1/2 hours.
On the autonomy front, however, nothing to say, the smartwatch manages to guarantee – as promised – 2 or more weeks of continuous use. Equally excellent is the autonomy in stand-by, with a loss of 1% every two days (impressive!). Finally, the recharge, which takes about 2 hours to reach 100% and which takes place via magnetic pins on the back, comfortable and practical.
Software and App Companion | Aukey Smartwatch LS02 Review
Here we are, therefore, at the sore point, where the limitations due to the price begin to be felt. Let's start first from a software that, although full of features, fails to keep up with the user and ends up being almost frustrating. To make matters worse, then the notifications, with a excessively confusing management and, of course, without the possibility of an answer. However, we break a lance in favor with the sports activities, as many as 12, and that thanks to the coupling with the smartphone's GPS are able to cover most of the request. Among the features of the smartwatch we find: heartbeat detection, sleep analysis, weather, music control, breathing exercises, sports activity, timer, alarm clock, smartphone search and more.
Last but not least, the companion app Aukey Fit. An application that immediately shows itself elegant and pleasant, with accurate graphics and a rather intuitive interface. However, it suffers from connectivity problems that seriously undermine the daily experience, with continuous disconnections and stability problems. Even in the options we find a certain limitation and poverty, above all that of not being able to download additional watchfaces for the smartwatch, having to limit ourselves to the 4 pre-installed (two analog and two digital).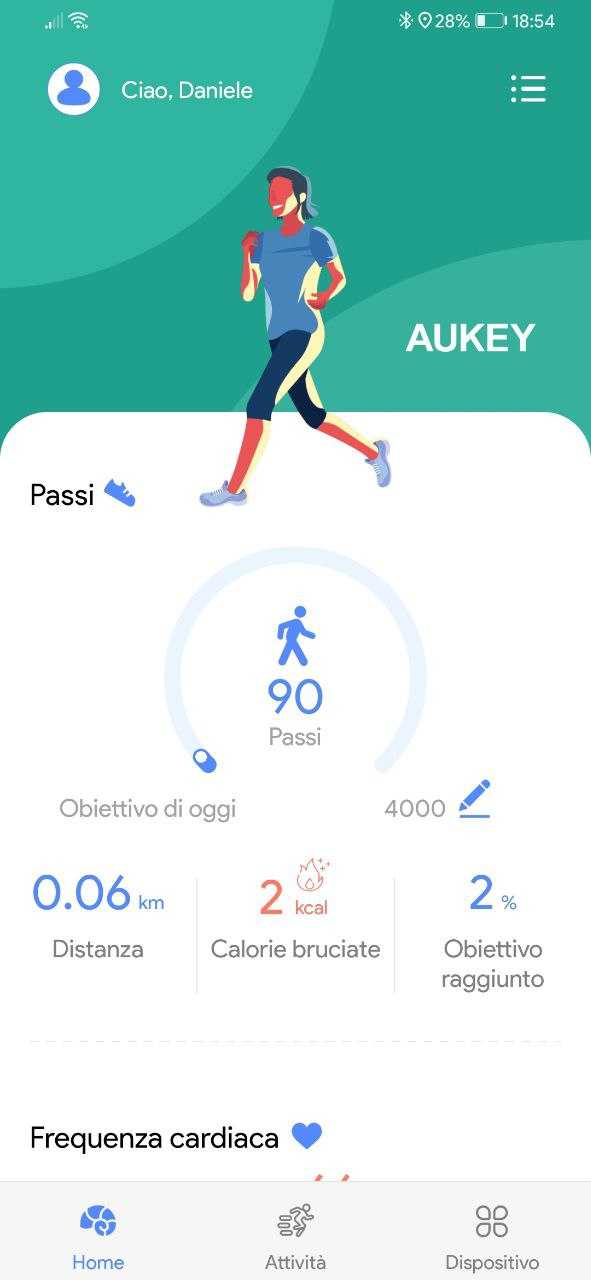 IMG_20210109_201605_889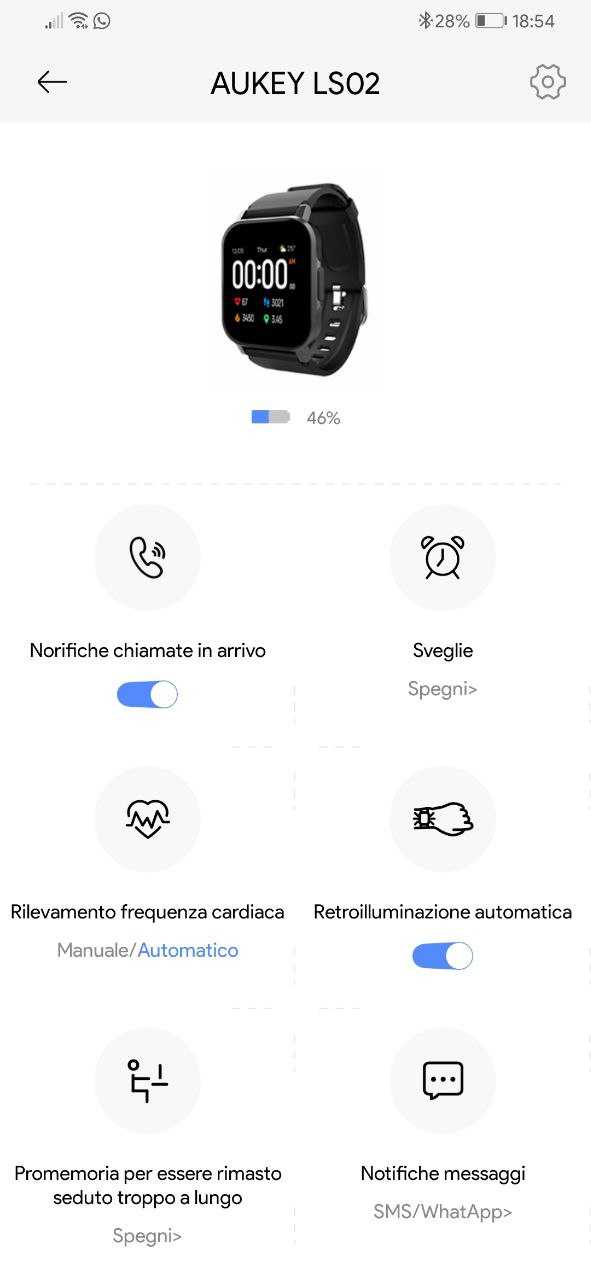 IMG_20210109_201600_128
Price and availability
After trying this Aukey Smartwatch LS02 for about 2 weeks, I would recommend it mainly to those who want to approach this world for the first time, without having to spend a fortune, and still being faced with a complete and aesthetically pleasing product. Currently it is possible to buy it su Amazon for about 30/40 euro, a very low and honest price for what it offers.
Before saying goodbye, we invite you to follow the mobile section of TechGameWorld.com for further news and video reviews. See you soon!