September is the month of "back to school", That is, of the return to school. And yes, it applies to everyone: from primary school pupils to university students. But before sitting down again in the school desks, perhaps trying to grab a seat in the last row, you need to have everything you need, including technology.
The school of 2021 is now projected into a future with less paper and more PCs, tablets and useful accessories for students, both in the classroom and in the home or the large tables of a library. Let's find out then i must have del Back to School 2021.
Better a tablet or a laptop?
Tablet or laptop?
It is probably the first question from every student or parent in the world. In short, does it make sense to take a mobile device instead of a PC? There is no universal answer. Each student has different needs, that change and evolve by changing school, class or faculty. We must then consider that a device will never be solely bound to the study. A notebook, for example, could also be used for gaming while a tablet for watching multimedia content. The variables to be considered therefore increase a lot and do not make the decision easy.
To help you choose the right study partner, we have decided to select for you the best tablets and notebooks for students.
Best Student Tablet 2021
Let's start with the tablets, which stand out primarily for extreme portability, while sacrificing a little bit in terms of versatility and multitasking.
To choose the best student tablets of 2021 we have considered displays, hardware, connectivity, autonomy and the possibility of expanding their capabilities thanks to a series of very useful accessories.
We have also taken into account the possible budget allocated for the purchase of the product, which is why you will find the tablets chosen by the techprincess editorial team listed in order of price, from the cheapest to the most demanding.
At this point we just have to find out which are the best student tablets of 2021.
Amazon Fire HD 8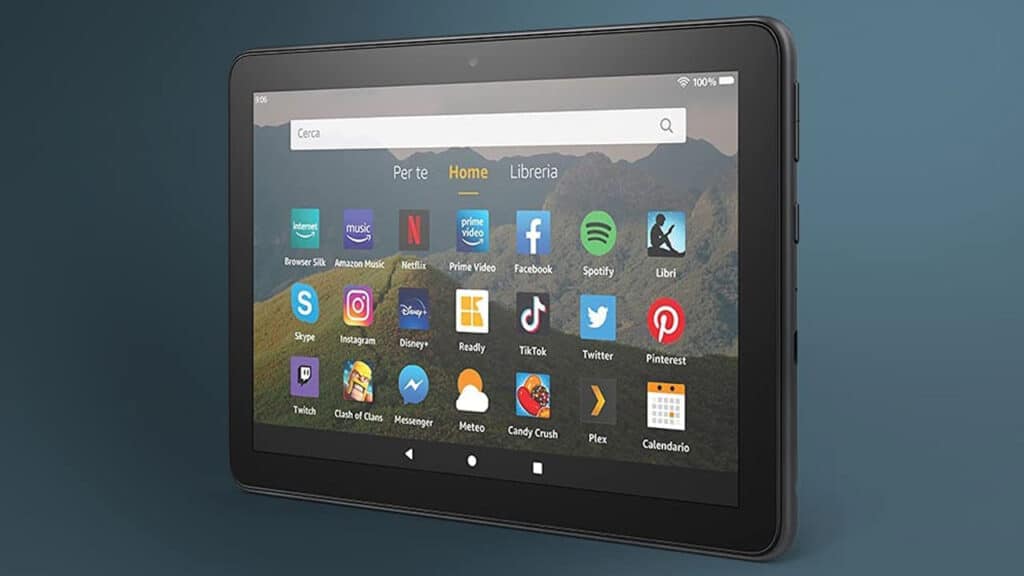 With 99,99 € you can take home the cheapest tablet of this selection. Amazon Fire HD 8 is a tablet with an 8-inch HD display, a 2 GHz quad-core processor, 2 GB of RAM and 32 GB of internal memory. There is also a variant with 64 GB of storage, on sale for € 129.99. In both models, however, it is possible to expand the memory using a microSD card up to 1 TB, so you will never run out of space.
Fire HD 8 is equipped with Wi-Fi and Bluetooth 5.0 connection, integrates a 2 megapixel front and rear camera and reaches 12 hours of autonomy. On board you will find the FireOS operating system, based on Android but without the classic Play Store. Don't worry, using the Amazon Appstore you can get all the apps you need.
Who is it suitable for?
Amazon Fire HD 8 can be used to read books, consult pdfs, surf the net and watch some videos. Consider it a kind of ebook reader but more versatile. It could therefore be suitable for those who just want to use it to study, then enjoying a few minutes of relaxation with applications dedicated to entertainment.
iPad (8th generation)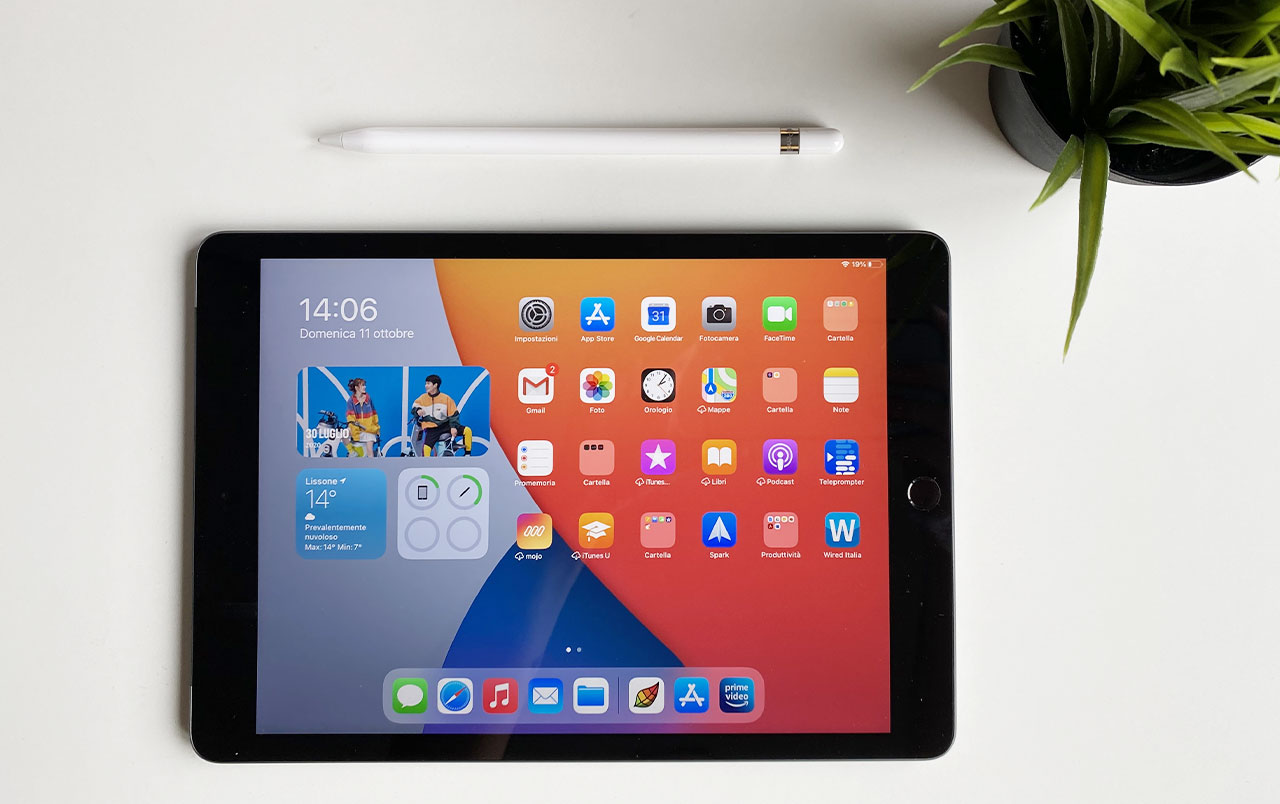 Let's take a good leap forward to talk about a more performing and more complete device but not for this very expensive. Let's talk about iPad, the "basic" version of the Apple tablet which has now reached its own eighth generation. The A12 Bionic processor, the 10.2 ″ Retina display, the supplied App Store and the FaceTime HD camera make it perfect for the most varied activities, from video calls – personal or school – to the study through to watching videos or use of some game.
iPad can also count on the Apple Pencil which, combined with this tablet, allows you to take notes, highlight books and draw while the Smart Keyboard could be particularly useful for those who write very long texts.
What about the battery? We are around 10 hours of autonomy which drop very little by connecting the keyboard or using the Lightning connector to recharge the stylus.
The starting price is 389 €.
Who is it suitable for?
In our opinion, the eighth generation iPad – of which you can find the review here – is perfect for students who want to take notes, so they can already have them digitally, possibly synchronized with other Apple devices. It also supports any video calling software, it allows you to study on books or pdf and it is thin and light, so as not to weigh on the shoulders.
Instead, it becomes less suitable for those used to extreme multitasking since you can only get two windows side by side. Also pay attention to any software used by universities: some institutes in fact use programs for remote exams that may not be suitable for iPads and mobile devices in general.
Best Student Tablet 2021: Samsung Galaxy Tab S6 Lite
Samsung Galaxy Tab S6 Lite ha the S Pen inclusa and this in itself is a great advantage. With 399,90 € you bring home an already very complete product, equipped with a tool with which draw, take notes and even play games. Plus you can magnetically connect the S Pen to your tablet so you never lose it.
Galaxy Tab S6 Lite can count on an excellent 10.4 "display, AKG speakers and hardware that guarantees fast loading and smooth movements. At your disposal you have 64 GB of internal memory, which you can expand via microSD up to 1 TB, and two cameras, the front 5 megapixel one and the rear 8 megapixel one.
The Samsung tablet finally relies on the Google Play Store, allowing you to install apps for video calling, Microsoft Office, Adobe Acrobat and much more.
Who is it suitable for?
Samsung Galaxy Tab S6 Lite è an excellent tablet at a super attractive price, especially considering that it integrates the S Pen which can be useful for high school students as well as university students.
Even in this case, however, consider the limitations on the multitasking front and the possible problem with the software used by some universities to take exams.
Huawei MatePad 11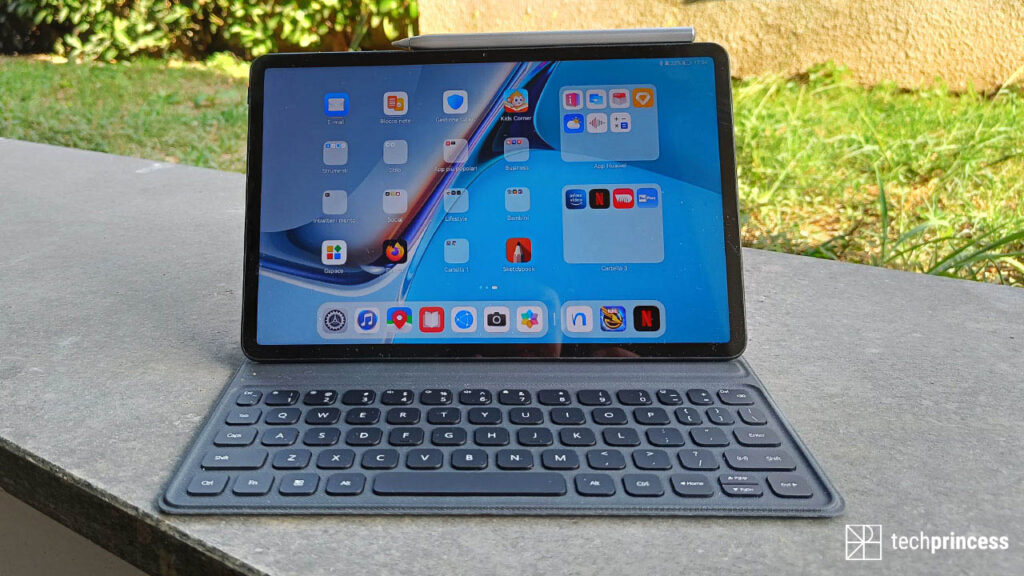 Huawei MatePad 11 it has the same cost as Galaxy Tab S6 Lite but with one difference: the pen is not included. This means that to take notes with the M-Pencil 2 you will have to spend another € 99.90, the same price as the Smart Magnetic Keyboard. Is it worth it? Well, if you take a lot of notes and find yourself writing very long texts such as summaries and essays they could really make a difference in everyday use.
However, Huawei MatePad 11 offers you much more. We have a 10.95 ″ TFT LCD IPS display with a 120 Hz refresh rate for a very smooth user experience while the DCI-P3 color gamut offers vivid and realistic shades, possibly also suitable for those who want use the tablet to edit photographs or do some graphic activity. We also have blue light protection and enough power to handle even heavier tasks, including gaming to distract you a bit.
Autonomy? We are around 12 hours of use.
Who is it suitable for?
Also this time we are faced with a product that can adapt to a very heterogeneous audience, thanks to the HarmonyOS operating system which is intuitive, complete, equipped with multiwindows and able to support multiscreen collaboration, i.e. to guarantee complete integration between Huawei devices.
But keep in mind that technically Google apps cannot be used on this Huawei tablet, which means no Gmail, no YouTube, no Google Classroom. Before proceeding with the purchase, therefore, carefully evaluate your needs and the requests of your school.
Microsoft Surface Go 2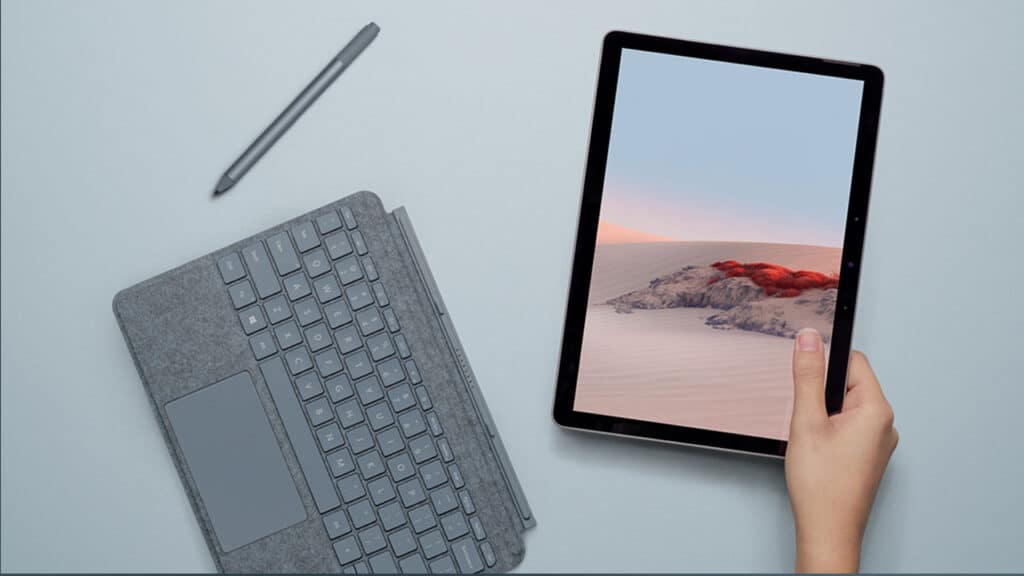 So far we have talked about tablets with an operating system… well, as a tablet. If you prefer a product that is closer to a notebook than a tablet in terms of file and window management, then Surface Go 2 it could really be for you.
He leaves from 469 € for the 4/64 GB version but currently you can take advantage of the discounts dedicated to the Back to School to take it home at a discount. Also know that special prices are available for students, parents and teachers. To discover them and access the offer, just go to the official website and check your eligibility.
But let's go back to Surface Go 2. What is special about it? It is a product with a 10.5 ″ display, an autonomy of about 10 hours and a processor that adapts to all the typical activities of a student, from the smallest to the quasi-graduates.
The weight, of only 544 grams, makes it perfect for use on the move and, by spending a little more, you can also take the LTE version home to be truly independent.
Do you want to expand the experience? You can combine the Surface Go 2 with a keyboard that doubles as a cover and the Surface Pen.
Who is it suitable for?
Microsoft Surface Go 2 is perfect for all kinds of students, first of all for those who want a familiar product, which has all the advantages of a classic notebook but the size and portability of a tablet.
Best Student Tablet 2021: iPad Pro
Let's take a major leap forward in terms of price: iPad Pro starts at € 899 for the 11 "model and € 1,219 for the 12.9" version. Virtually the same cost as a laptop, which makes it even more difficult to decide whether to buy a notebook or a tablet.
In our opinion, considering the features of iOS, there are two elements that can help you in your choice: file management and multitasking. If they are vital to you, iPad Pro is probably not the right product for you. We talked about it extensively in our video review.
Net of these elements, iPad Pro is an extremely complete product. The M1 chip, designed directly by Apple, has allowed this tablet to make an incredible leap in performance, putting in your hands a terminal that really does not fear anything: from video editing to 3D design, there is nothing it cannot do.
The display is also excellent, with the 12.9 ″ version using the new Liquid Retina XDR for extreme dynamic range and even more realistic details. Plus you have Thunderbolt range to connect external accessories, the camera …