Las Vegas – Tra le best news of this CES 2022, the new cannot be missing concept di casa Razer, Project Sophia. It is, perhaps, one of the most ambitious prototypes of the brand in recent years. Let's talk about a desktop computer housed in a fully modular desk with the look of a navigation console of the future. The company is not new to showcasing prototypes, but it has definitely outdone itself this year. Absolute personalization and an idea of ​​the future, all condensed into a single product with immense potential. Absolute best concept of this CES 2022.
Razer Project Sophia: modular desk, best concept of CES 2022
Razer Project Sophia, best concept of this CES 2022, is a modular desk, able to adapt to every need. It can be used for gaming, but also for work, without excluding content creators. It is not a classic desk, but a real production system that simplifies your work with a more than futuristic design: you will feel like you are inside a Star Trek spaceship.
The desk consists of 13 separate modules that will allow you to have maximum customization on every front. You will have tools for video editing, secondary screens, surround control, audio mixer unit and much more. Whether you are a gamer, content creator, streamer or worker, it doesn't matter: Razer Project Sophia is ready to meet your needs.
"Project Sophia is our futuristic vision of a multipurpose gaming and workspace setup that meets the varied needs of a PC user, eliminating the need to move from space to space. The modular system allows users to quickly reconfigure the desk with almost infinite flexibility, adapting Project Sophia not only to the task at hand, but also to the user's particular preferences. This is the future of battlestation ". This is the definition of Richard Hashim, VP of Growth di Razer.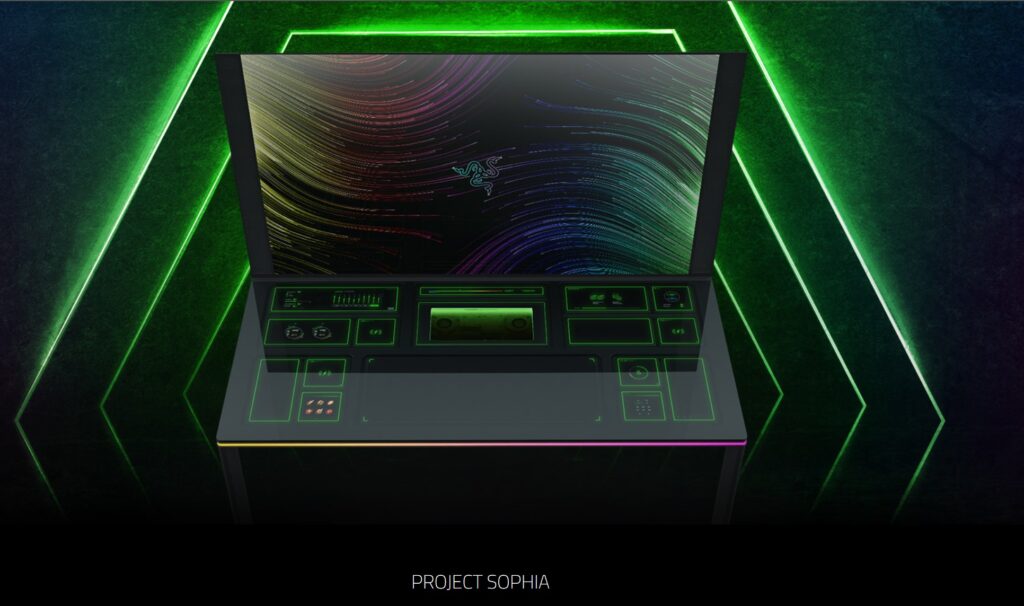 The composition of the PCB it is clearly aimed at the future; we think about the inclusion of the new and powerful ones NVIDIA GPU series 30 and the new ones Intel processors last generation. A tool as powerful as it is useful for any situation. Switching from a streaming set to a game set is really simple and you can do it without having to physically change your location. Razer Project Sophia also includes one in its concept schermo OLED, which can be 77 or 65 inches. There is clearly no shortage of LEDs and the whole new management system of Razer Chroma RGB.