In this guide we will see the Best keyloggers for Mac or the best programs to monitor and record the keystrokes on the keyboard in order to monitor user activity
A keylogger is a device, whether hardware or software, capable of recording all the keys pressed on a PC keyboard. These include written documents obviously, however much more delicate data can also be recorded, such as email messages and social media messages, but also credit card numbers or personal and sensitive data. As you can guess, these are very delicate software that can be used for illegal purposes related to the violation of privacy and improper use of computer devices. Then It is always important to warn and ask the PC user for permission before installing a keylogger on his Mac. However, by avoiding falling into illegality, these software can be very useful in numerous scenarios. Let's see some of them
When to use them?
Before starting to list the use scenarios of a keylogger it is well to point out that in many cases keystroke registration is just one of the various functions. Many software that we will see in this guide have integrated additional features such as monitoring of applications and websites, the ability to filter or block malicious programs and websites and much more.
It soon becomes clear that many of these software they are very well suited for parental control: today all young people and children need a PC to study and interact with friends, but in some cases these means can become doors of access to the world of cyberbullying or social isolation. Parents can use a keylogger to verify that everything is okay in their children's lives. But also by moving in the professional field Keyboard monitoring can be very useful for estimating an employee's productivity, understanding if there are any distractions in their work and generally making sure that all work is done in the best possible way. We then have the PCs that are used in public places such as schools or Internet Cafes. In these situations, monitoring user activity is also a safeguard to prevent illegal actions from being carried out. Finally, if you think someone is using your PC improperly or without permission, you can install the software and check for yourself.
Spyrix Keylogger | Best keyloggers for Mac
Let's start right off the bat with software with countless potentials. Indeed Spyrix Keylogger it is much more than just a keylogger because it integrates a multitude of additional features for monitoring activities. It is a cloud-based solution that allows you to keep everything under control via web or software.
The web or software interface allows you to monitor the machine where the software has been installed through your account. In addition to allowing you to record all the keystrokes on the keyboard, it also integrates an analytical module to calculate statistics on recorded data which is certainly very important given the amount of information that can be produced.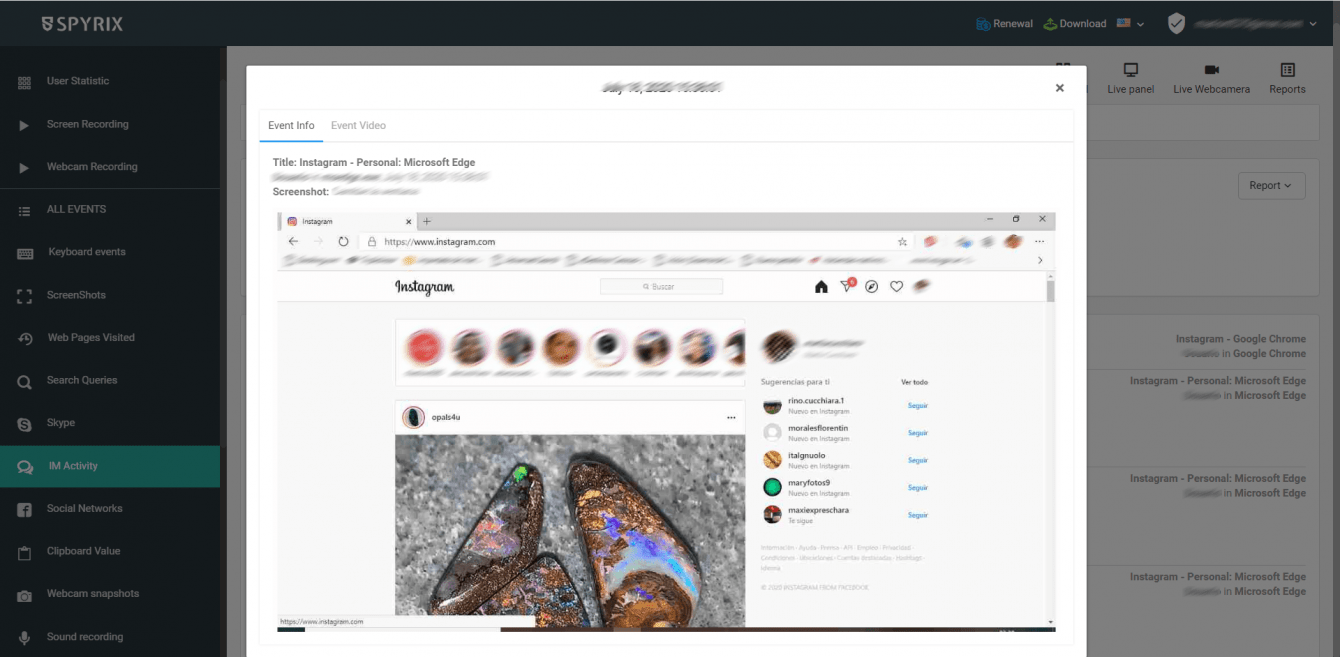 But beyond that it is possible to register the apps used by a specific user and also remotely uninstall unwanted programs. Also external devices such as printouts, USB sticks and HDDs can be monitored. It will also be possible to record screenshots of it without the user noticing it to collect further evidence. It will also be possible to activate notifications if certain keywords are entered and to save the URLs of the most visited websites. Ultimately it definitely is a powerful and complete software which can also be used for parental control, however it is very invasive so pay attention to how it is used. In any case, Spyrix Keylogger is definitely the first example to mention in this guide to the best keyloggers for Mac.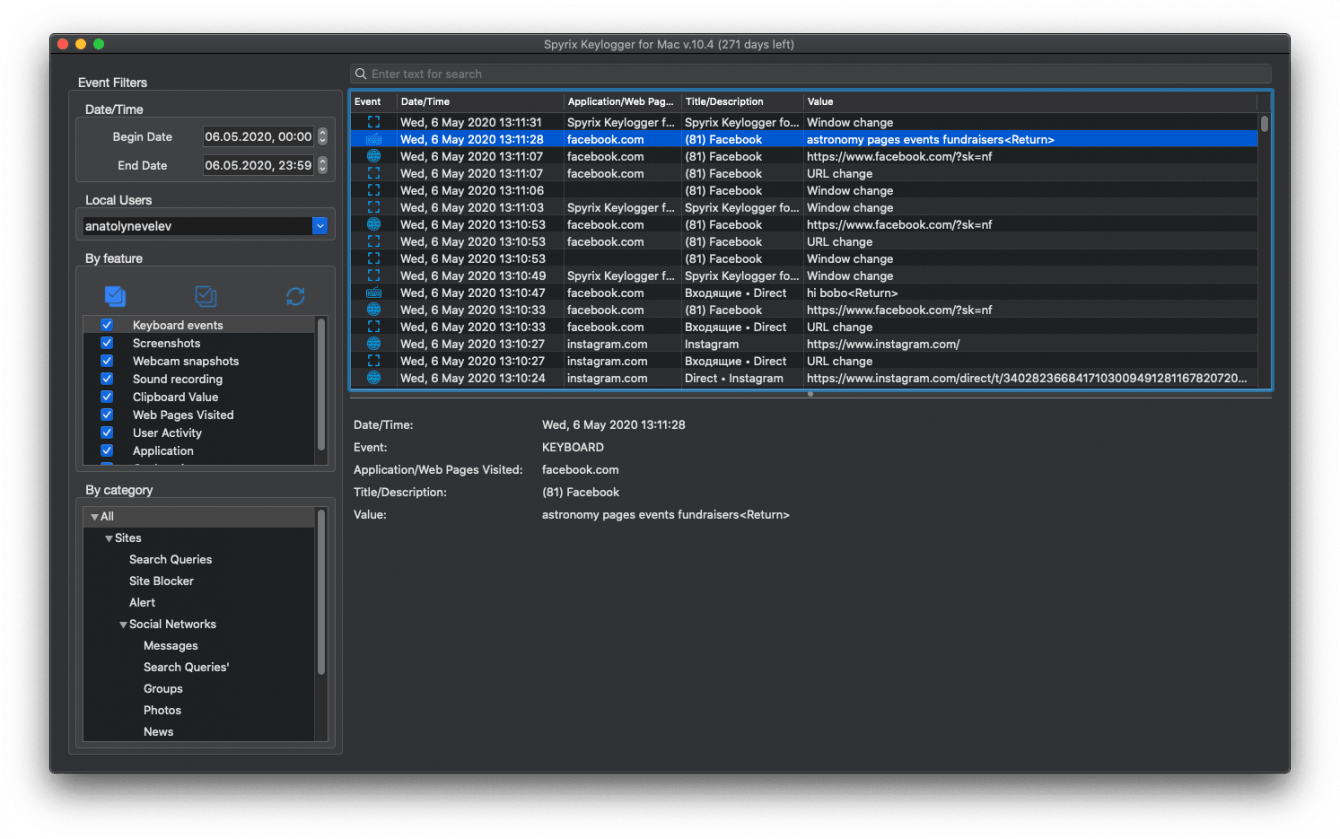 Current Keylogger | Best keyloggers for Mac
This software is a little more basic, but very powerful! You can monitor running applications as well as those already closed and obviously all the keys pressed. But also prints, content copied and pasted and any Internet connection made and all websites visited. You can produce reports in txt and html format, as well as schedule periodic screenshots. Actual Keylogger has some peculiar features such as CAPS LOCK sensitivity or the ability to filter the data to be logged. It also has a handy feature that allows you to print to log files only letters and not invisible characters, such as space or enter. Thanks to the countless functions and ease of use it is suitable for parents for parental control, but also system administrators and executives who want to monitor user activity for diagnostic or productivity control purposes. But also useful for monitoring activities on public PCs such as those in schools or Internet Cafes.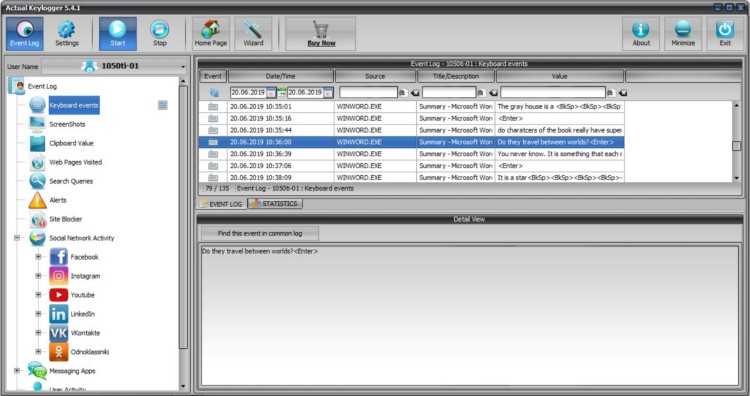 Ultimate keylogger | Best keyloggers for Mac
REFOG's free keylogger only integrates basic features, but for this reason it is easy to install and use. There are different versions depending on whether you want to use it in the home or professional. Ultimate keylogger allows remote control via a web browser account, making it easy to access any and all devices, anytime. The software keeps track of all the websites visited by a user, even the all the chats and messages in the social and obviously all the keys typed (even passwords if they have been typed in). In addition, it records activities on all online and offline applications. We also have an invisible mode that allows you to monitor devices in a completely transparent way to the end user. Very convenient for both office and home use with children!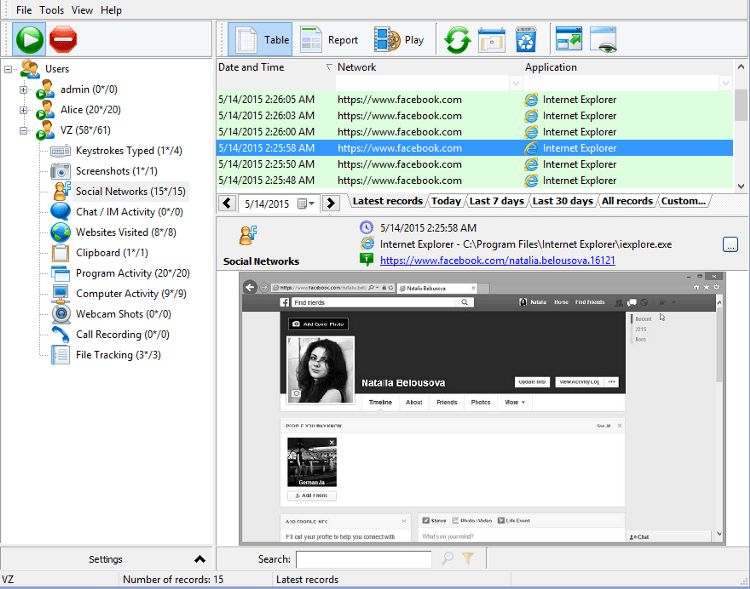 Elite keylogger | Best keyloggers for Mac
This simple keylogger allows you to record all the keys pressed to write documents and emails, do research and chat. However, some particularly sensitive fields are protected by the system and therefore will not be recorded. Elite keylogger for Mac can record both sides of chats from Skype, Viber, iChat / Messages and Adium, as well as outgoing mail. Also there is the possibility of register URLs of the sites visited, with compatibility extended to most of the web browsers currently available on the market. There is also the ability to monitor applications and take periodic screenshots, as well as of course the logs that the program produces regularly.
All sit will be completely hidden from the end user and also a lot of antivirus: it also remains hidden in the list of processes and applications and is very difficult to spot (and this of course can create privacy issues, so be careful!). Access to the recorded log files can be done via email or on a dedicated server.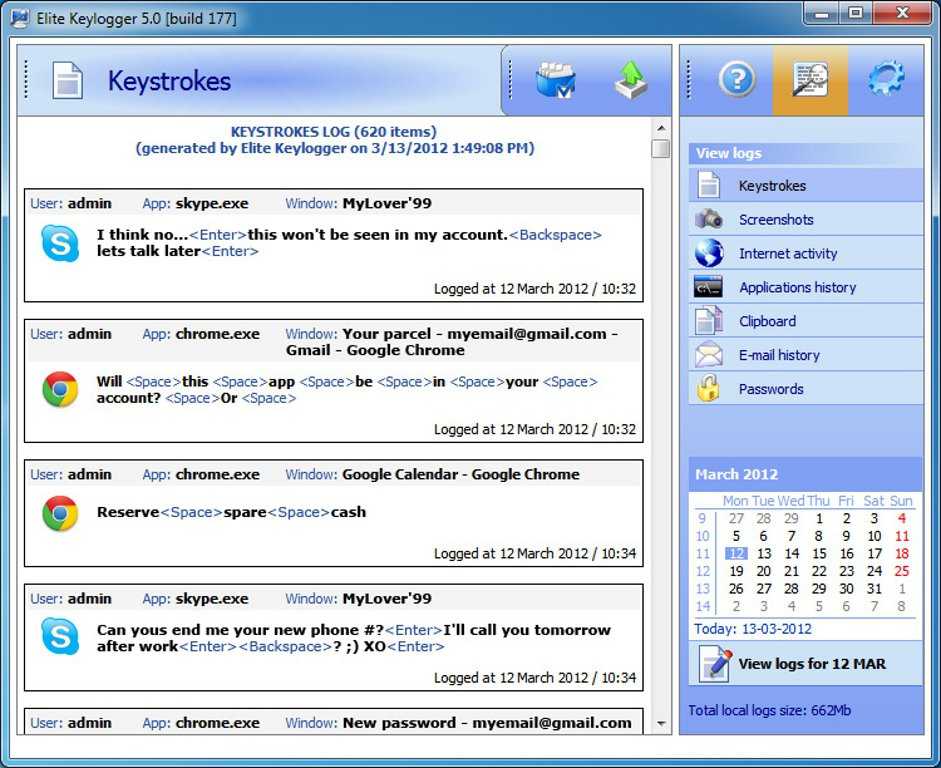 Perfect keylogger | Best keyloggers for Mac
When it is said that the dress does not make the monk sometimes we are wrong. This is precisely the case of Perfect Keylogger, a complete and fairly intuitive software that will obviously allow you to record all the keystrokes on the keyboard, but also much more. In fact it will also be possible register the websites you visit (compatibility guaranteed only with the Safari browser for the free version). It will also be possible check the applications launched and the main instant messaging services. An interesting possibility is also to record the screen or capture screenshots remotely.
It must be said, however, that the free version has some limitations. For $ 40 it is possible to unlock many features such as multilanguge, recording on an external USB device, the ability to receive logs via email and customize the information to be monitored with filters and keywords.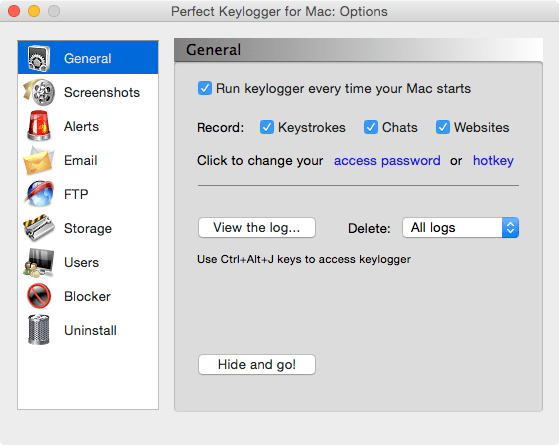 Be careful!
Obviously we remind you that the use of these software without the user's consent determines a serious violation of privacy that can result in financial compensation or even prison. In this guide to the best keyloggers for Mac there are still many interesting solutions to meet different needs and can prove to be very useful if used with common sense. That's all from the software section, keep following us!