In this guide we will see the best keyloggers for Windows or the best programs to monitor and record the keystrokes on the keyboard in order to monitor user activity
A keylogger is a device, whether hardware or software, able to record all keys pressed on a PC keyboard. These include written documents of course, however they can also be registered much more delicate data such as email messages and social media, but also credit card numbers or personal and sensitive data. It is therefore very dangerous software from a certain point of view. In reality, however, the best keyloggers for Windwos can prove to be very useful in different situations in case you want to monitor a station. First of all, however, let's try to understand how to use these software correctly in order not to get into trouble.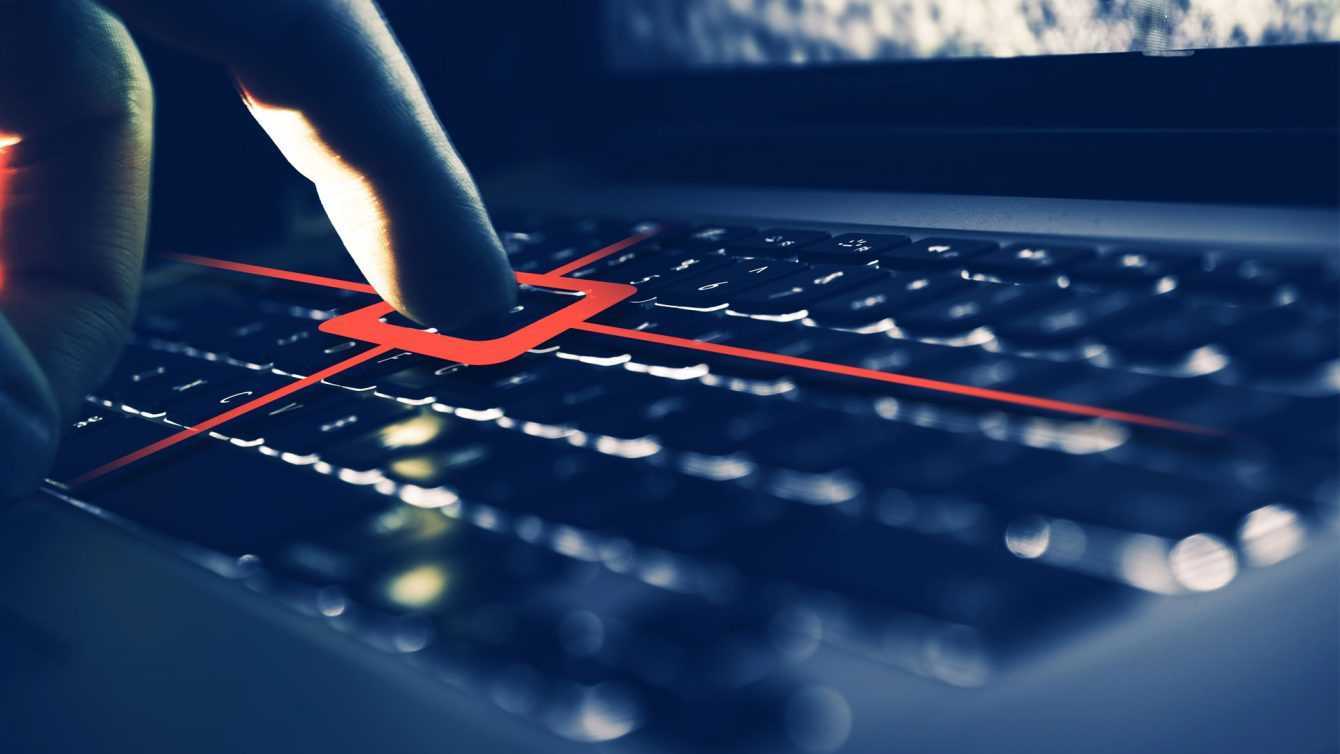 Legal aspects
Like all software that fetches data from computing devices, using them improperly can be a privacy issue. In the case of physical devices, this is a little less dangerous as the user can notice the device, even if he is not necessarily aware of its function. Obviously installing keylogger software on a person's PC without their permission is absolutely illegal and there is a risk of serious penalties, including criminal ones. When can it be used then?
In some situations the use is not only legal, but also useful. First of all obviously the person using the device must be warned that you are logging keys with a keylogger. Having postulated this, in professional settings, keyboard monitoring can be very useful for estimating employee productivity. Or even in the family it can be very useful for monitoring the activity of children and keeping them safe. In fact, the best keyloggers for Windows also implement additional functions to enhance the expressiveness of these software. Moreover it is also possible to install a keylogger in your PC for security reasons that is to understand if someone uses our device without permission.
Spyrix Keylogger Free | Best keylogger for Windows
Let's start this guide to the best keyloggers for Windows with this really cool software. In fact, Spyrix Keylogger is much more than a simple keylogger because it integrates a multitude of additional features for monitoring activities, it is a cloud-based solution that allows you to keep everything under control via web or software.
The web or software interface allows you to monitor the machine where the software has been installed via your account. In addition to allowing you to record all keystrokes on the keyboardalso integrates an analytic module for calculate statistics on the recorded data which is certainly very important given the amount of information that can be produced.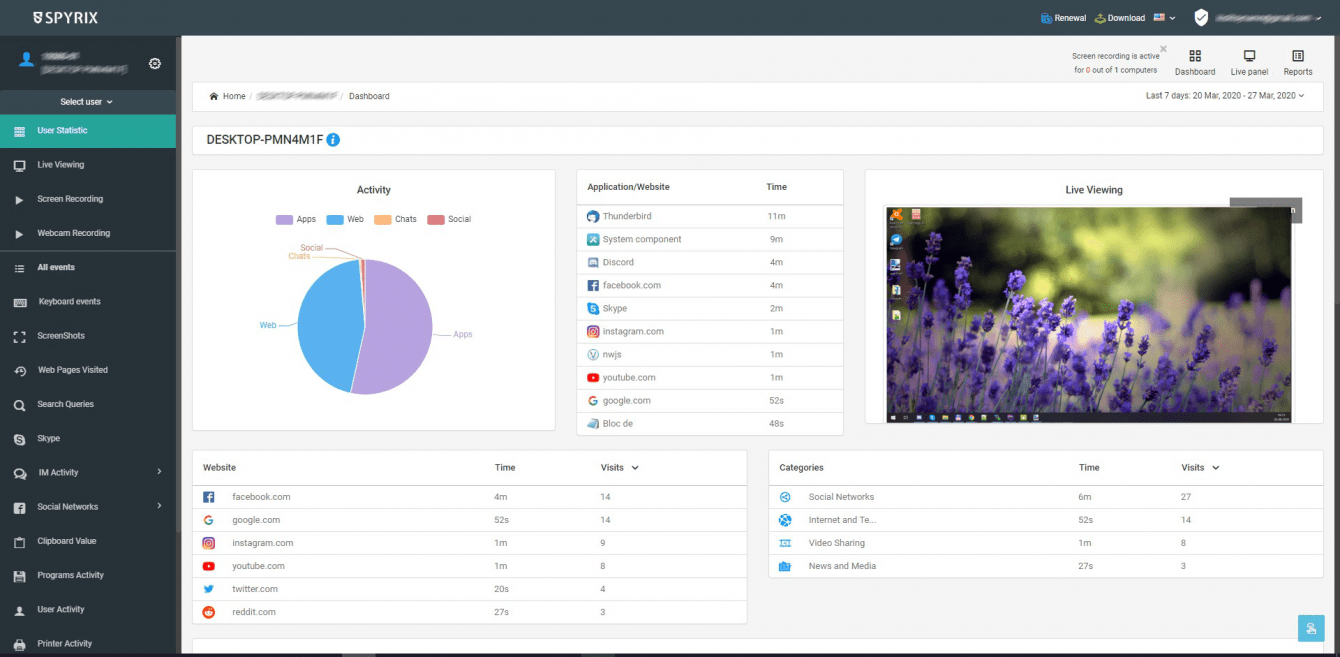 But beyond that it is possible record the apps used by a specific user and also remotely uninstall Spyrix Keylogger. External devices such as printouts, USB sticks and HDDs can also be monitored. It will also be possible to record screenshots of it without the user noticing it to collect further evidence. Ultimately Spyrix Keylogger is definitely a powerful and complete software that can also be used for parental control, however it is very invasive so pay attention to how it is used.
There is a paid version called Spyrix Personal Monitor which introduces some additional features like screen recording, live screen display and no ads.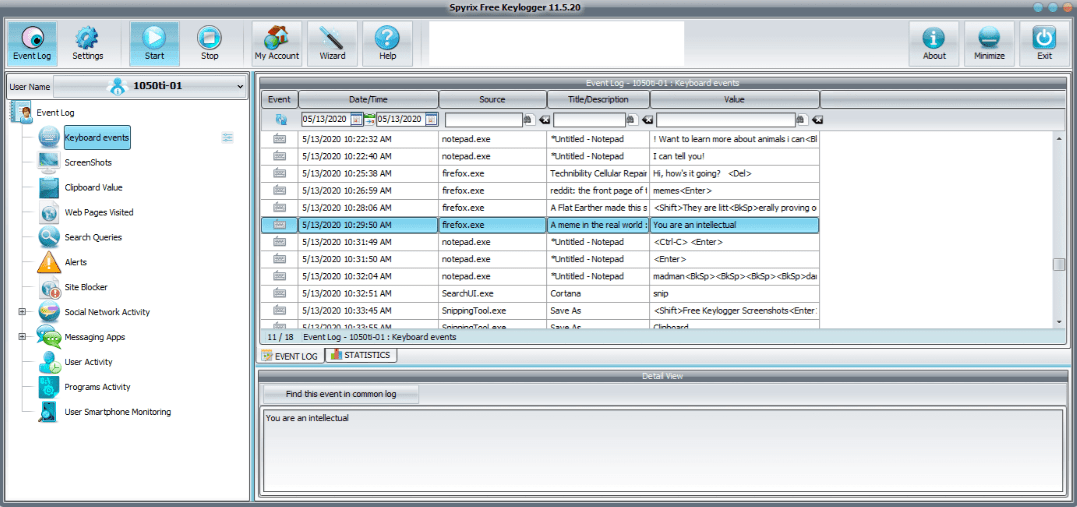 Best Free Keylogger | Best keylogger for Windows
This software aims at a very user friendly interface. The graphical interface is very well organized in different tabs that allows you to view the results of the different functions separately. But what will they be? Best Free Keylogger – yes, that's what it's called – is a very powerful software that allows you to record keyboard inputs of course, tagging them with the app where they were digital. But this is only the beginning. It can monitor activities on the web and in local apps and observe activities in real time. It also allows you to apply filters and blocks to limit the use of unwanted websites and apps, so certainly very useful for parental control, but also for controlling productivity in the workplace. With you can also uninstall applications remotely and monitor mail and USB devices. Really useful and complete!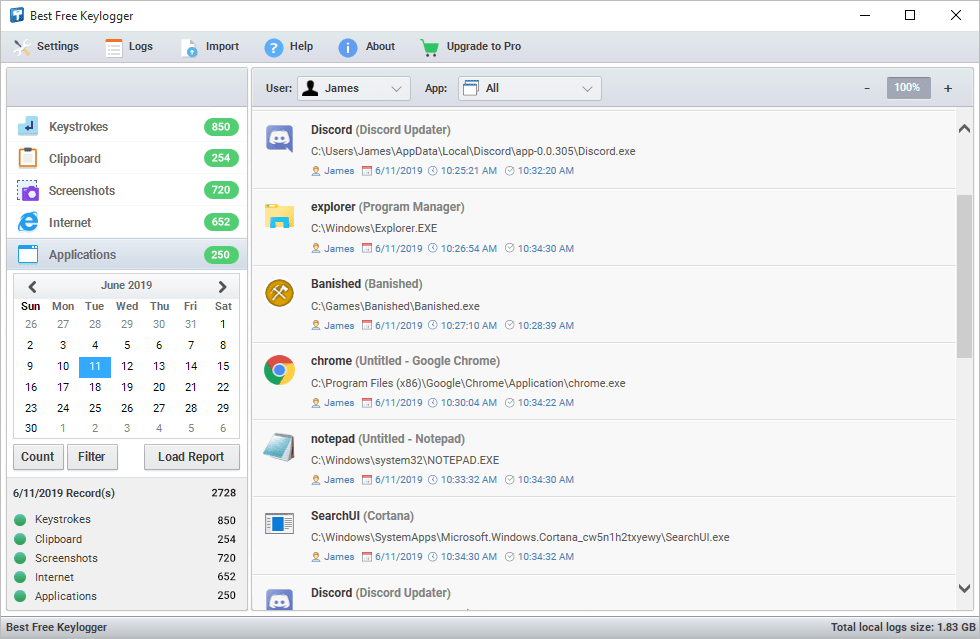 Actual Keylogger | Best keylogger for Windows
This software is a little more basic, but very powerful! Yes they can monitor the running applications and also those already closed and obviously all the keys pressed. But also prints, content copied and pasted and any Internet connection made and all websites visited. You can produce reports in txt and html format, as well as schedule periodic screenshots. Actual Keylogger has some peculiar features such as CAPS LOCK sensitivity or the ability to filter the data to be logged. It also has a handy feature that allows you to print only letters in log files and not invisible characters, such as space or post. Thanks to countless functions and ease of use it is suitable for parents for parental control, but also system administrators and executives who want to monitor user activity for diagnostic or productivity control purposes. But also useful for monitoring activities on public PCs such as those in schools or Internet Cafes.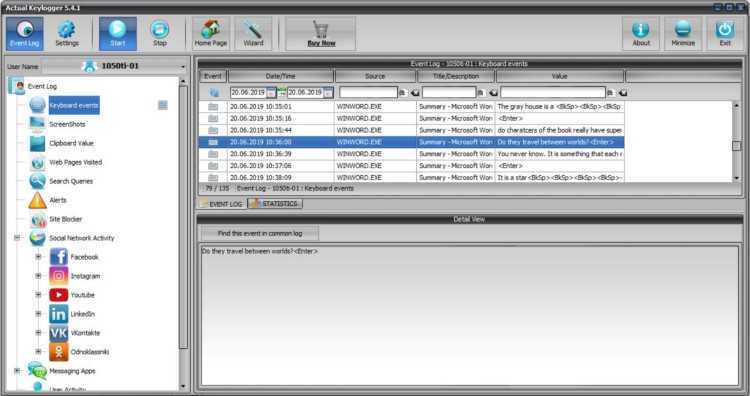 Ultimate keylogger | Best keyloggers for Windows
REFOG's free keylogger it only integrates basic functionality, but for this very reason it is easy to install and use. There are different versions depending on whether you want to use it in the home or professional. Ultimate keylogger allows remote control via an account from the web browser, in order to make it easy to access any device, at any time. The software keeps track of them all the websites visited by a user, also all the chats and messages in the social and obviously all the keys typed (even passwords if they have been typed in). In addition, it records activities on all online and offline applications. We also have an invisible mode that allows you to monitor devices in a completely transparent way to the end user. Very convenient for both office and home use with children!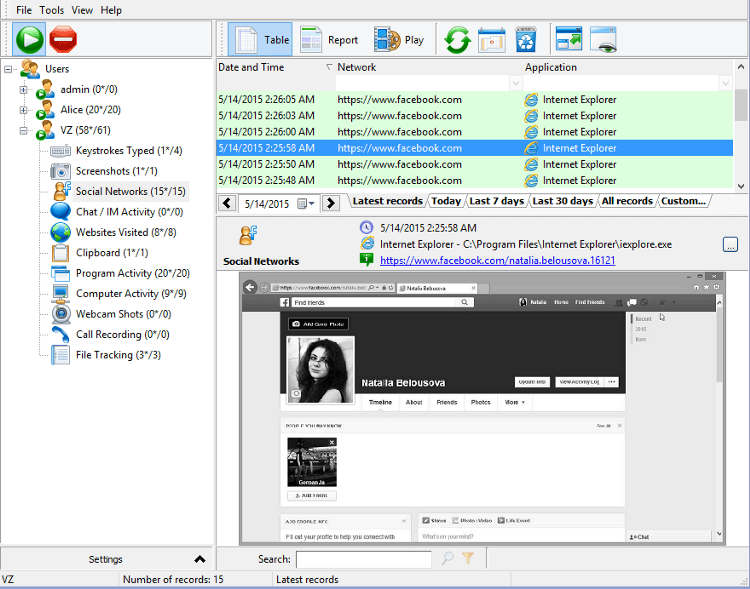 Hooker | Best keylogger for Windows
Hooker is software instead much less powerful than the others which focuses more on recording keystrokes. Allows the acquisition of all keystrokes made by the user, including changes to the clipboard and allows you to understand if a text has been copied and pasted. The process name and window title can be recorded and used to filter the captured data so you can quickly find what you are interested in. It is compatible with Unicode, then the characters generated in any language will be registered correctly, so no problem even with accents and symbols. The advanced logging function can periodically save all data in log files, send them by e-mail or upload them to an FTP server. The program is completely hidden during normal operation and can only be accessed with a combination of secret keys (and a password in the "Pro" version).
The graphical interface is very crude and spartan, but simple and intuitive. There are no complex menus to explore and dozens of buttons. Only the most basic commands are present. This makes it very easy to use even if unfortunately the software is not available in Italian.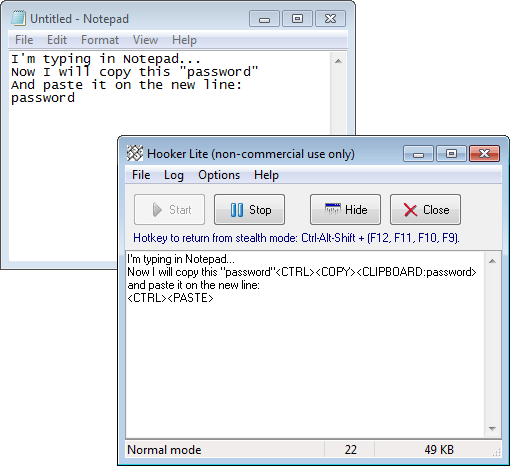 Shake wisely
Before closing this guide to the best keyloggers for Windows we want to add that once again you have to be very careful how you use these software to avoid ending up in illegality. Privacy is an important issue and there is no justification for its violation. Always ask for permission from interested users before installing these software which can be very useful in various scenarios. That's all from the software section, keep following us!