Welcome back to our weekly appointment with In the mood for East, a column entirely dedicated to oriental cinema. Today we talk about Toshiaki Toyoda's Blue Spring
Finally we left the winter behind: away the greyness, away the frost, the rain, away that constant bad mood for those condemned to meteoropathy. But as Eddie Vedder sang, "no matter how cold the winter is, there's spring after it." And here we are, in fact, enjoying the first warmth of one of the most pleasant seasons of the year.
Well, you may be wondering what this has to do with oriental cinema. Simple: today, come on In the mood for East we want to celebrate spring with a film that speaks of it. Or rather, to be more precise, with a film about the spring of life, adolescence. Don't be fooled by the optimism expressed in our introduction, much less by the joy with which we welcome this season. Because our film will not be joyful at all. Blue Spring is written and directed in 2001 from Japanese director Toshiaki Toyoda. The feature film is based on the manga of the same name by Taiyō Matsumoto, of which it reproduces perfectly disillusionment and anger of the years that some define as "the most beautiful of our life".
Trama e trailer | Blue Spring
One two three four five six seven. Seven claps of hands on the edge of the precipice, before clinging to the railing of the school roof. A dangerous test of courage that decrees the head of Asashi High School, Tokyo's decadent high school for boys, and all its gangs.
He is Kujo (a very young and splendid Ryūhei Matsuda) to win it, thus becoming the king among the smeared and vandalized corridors of the school. His best friend Aoki (Hirofumi Arai) is thrilled, but soon discovers that Kujo has been playing the risky game just to pass the time, and is not really interested in dominating the school gangs. As the relationship between the two falls apart, while something cracks in the life of each of the boys who attend school.
People who know what they want frighten me | Blue Spring
Raise your hand if you feel like you have passed anadolescence happy. We bet, a bit sadly, that very few would think so. Adolescence should be a time of discovery, of lightheartedness. We come to life, but without burdens on us. A teenager should simply be happy. We know well that those who paint youth in this way have probably lived in a gilded cage: this period can be really cruel, especially for those who attend Asashi High School. A school where clashes are the order of the day, where blood often flows, where teachers are constantly bullied and subjected to the will of violent and contemptuous children.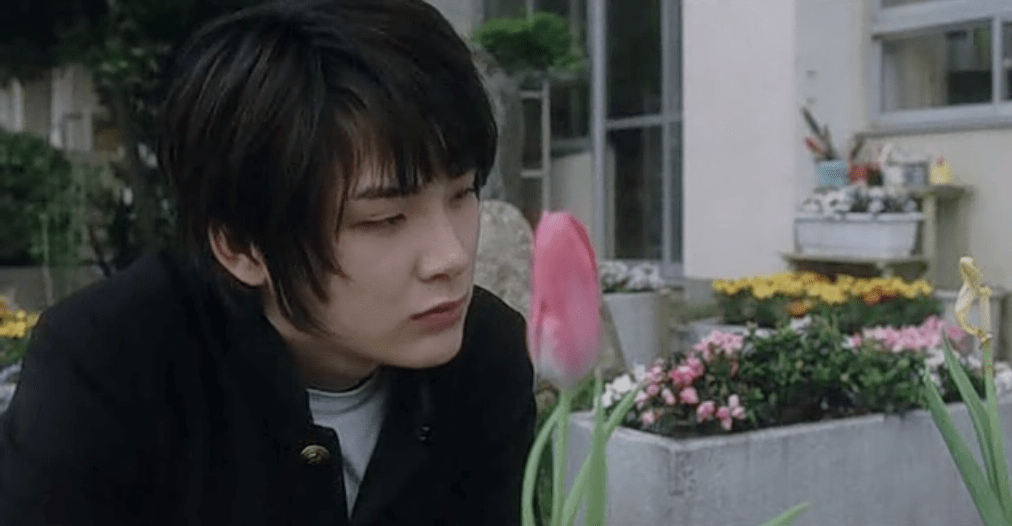 But also a school where you can look at things from above. The cherry trees in bloom, or the planes that are released in flight, from that roof where it is possible to take refuge but also to get lost. A school in which to make flowers bloom, risking that they wither before their time ("Professor, are there flowers that never bloom?" "Flowers are made to bloom, not to wither. This is what I have chosen to believe." ). A school in which to ask oneself what to do with one's life, in which to ask oneself if one is ready for life outside. In which to do wrong choices, sometimes fatal.
No future | Blue Spring
There is no hope for the kids who populate the corridors of Asashi High School. There is no time for lightheartedness, because life has already led them to collide – some for one reason, some for another – with disappointment and unhappiness. Lost in a nihilistic and apathetic world, find themselves reflecting on who they will be in the future once they drop out of school, realizing that they do not have many choices. The hardest thing is dealing with disappointments. Having dreams (sport, being a pilot) and colliding with reality (the yakuza, death). Understanding that the world is not willing to fulfill our dreams, that things will not go as we would like. This cruel portrait of a generation it has even more echo in a country as rigidly structured as Japan.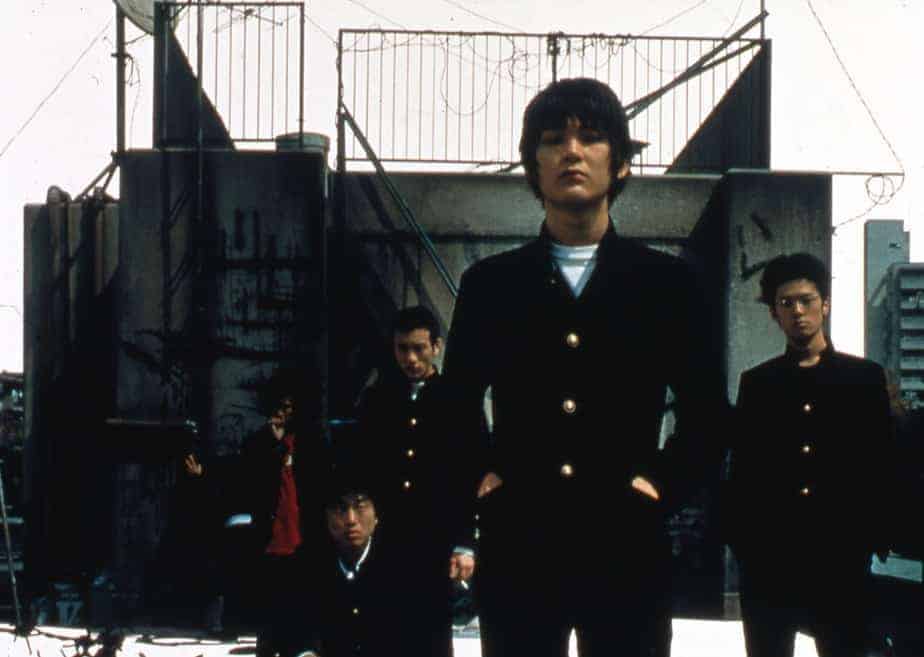 In Blue Spring all boys, no one excluded, they grow without any support from the institutions, without any reference figure. The family is completely absent. The school is nothing but an empty shell, deprived of its fundamental function. Boys do not carry on any rebellion, other than against themselves, because there is no authority to rebel against and no ideal to fight for.. The only positive figure in this abyss that leads to self-destruction is that of Professor Hanada (Mame Yamada), who lovingly takes care of the boys as she lovingly takes care of her delicate flowers.
Conclusions
Blue Spring is truly an unmissable title in Toshiaki Toyoda's filmography. With this work, the director signs a small jewel, a extremely brutal and desperate teenage drama. This mood is also perfectly portrayed by the soundtrack of Thee Michelle Gun Elephant, a Japanese garage-punk band, whose sounds are the perfect bond between images and emotions. Its short duration (only eighty-two minutes) causes Blue Spring to hit the heart like an arrow, straight and quick.
Keep following ours specials dedicated to cinema and TV series on this page, where you will find new and interesting events every week!