BLUETTI presents the new modular energy storage system EP600 and B500 at IFA 2022. The new modules can reach up to 79 kWh of maximum capacity. Let's see the details!
This month, BLUETTI presented its latest innovations at the IFA in Berlin, including the AC500 + B300S combination, the AC200 series and, above all, the much rumored solar energy system EP600 + B500a three-phase system equipped with a inverter to 6 kW and an LFP battery with maximum capacity of 79 kWh.
BLUETTI and the new solar energy cells
The search for a perfect solar-powered battery it can be very complicated, since there are so many different options available and it is difficult to analyze them all. Furthermore, there is no single and simple answer when it comes to energy storage.
Flexibility is always the first priority of the new BLUETTI products. Since the launch of the AC300 + B300 system in 2021, BLUETTI has started making modular its high efficiency solar systems, offering extraordinary versatility and compatibility between the various modules. The new BLUETTI EP600 and B500 maintain this excellent tradition.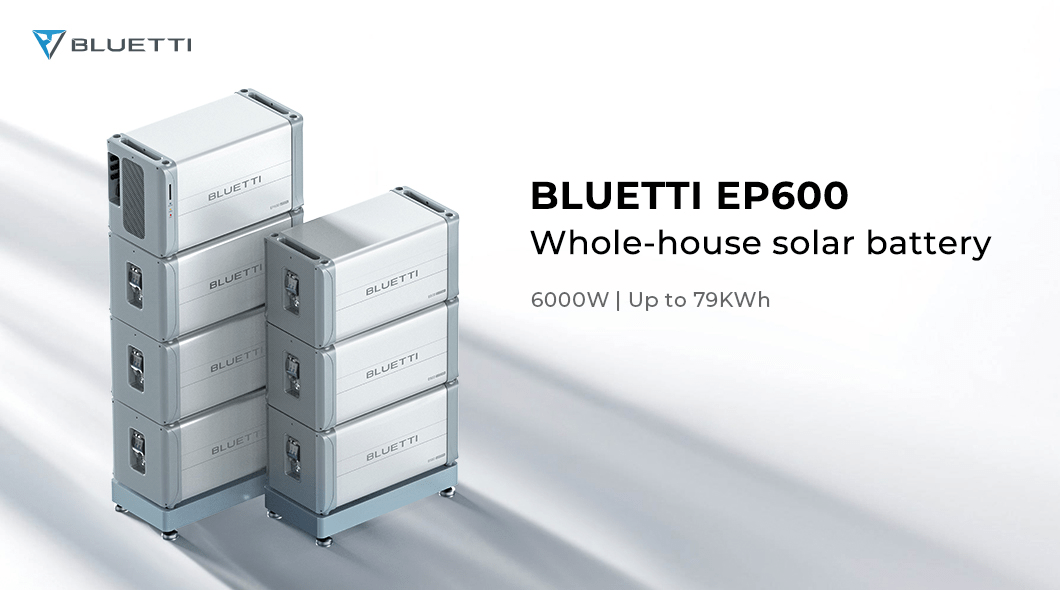 What is the BLUETTI EP600 solar battery system?
The modular design of the EP600 greatly reduces the overall weight and dimensions. It features a huge 6000VA bi-directional inverter for AC input and output, which it provides alternating current at 230 / 400V to operate almost all appliances easily. In addition, the EP600 also supports one input for charging via solar energy up to 6000W with a range from 150V to 500V. With an MPPT efficiency of 99.9%you can power all your entertainment with sunlight even with a small array of solar panels!
For the expansion battery, B500 is tailor-made for the EP600 system. Presents LFP battery cells ultra-strong 4.960Wh, an aluminum alloy design and the same size as EP600. Each EP600 supports up to 16 battery modules to achieve a total capacity of 79.3 kWh, able to cover every energy need at home or away from home for days or even a week! BLUETTI EP600 and B500 can be stacked neatly to save space inside or outside the house. Whenever energy is needed, the BLUETTI EP600 system is ready to intervene.
Why is the battery so important for a solar energy system?
In general, a solar energy system includes solar panels and a solar generator with integrated batteries or expansion. Solar panels efficiently collect sunlight and convert it into electricity that can be stored in batteries for later use, making it possible the use of solar energy even after sunset or on cloudy days. Furthermore, they represent an economic solution to access sustainable energy and reduce the carbon footprint on our planet.
So whether you want to get rid of high electricity bills or prepare for any unexpected power outages or natural disasters, the EP600 Energy Storage System will be a solid backup power source you can always count on.
What makes the BLUETTI EP600 system unique on the market?
Household energy storage systems were introduced years ago and they did changed our life for the better. Numerous varieties and sizes are available today. Compared to other solar generators on the market, EP600 is equipped with a hybrid inverter system under the body, which means that it is sufficient to connect the solar panels to the solar generator. Solar inverters or external MPPT controllers are no longer required.
Availability and prices
It is reported that some countries and areas have taken drastic measures to alleviate the energy crisis gripping Europe, especially for next winter. To alleviate the energy shortage, BLUETTI states that the EP600 and B500 systems will be available before the arrival of winter in Europe, the UK and Australia.
The pre-order it should start before November on the official BLUETTI website. You can sign up here to get an early bird price and stay up to date on the latest news from BLUETTI's new solar energy system.
As for the price, although it has not yet been formalized, a highly recommended combination – EP600 + 2x B500 – it will cost 8,999 euros, as revealed James Ray, the executive vice president of BLUETTI. He also stated that this combination will satisfy all the needs of the average consumer without costing an arm and a leg. That's all from the electronic section, keep following us!