From Canon, tips for the perfect shot and the most romantic gifts for lovers' day. On Valentine's Day, express all your love through pictures!
Every love story experiences unforgettable moments. Moments that deserve to be told over time. Images know how to relive the happiness of those moments. For this Canon offers its tips for capturing and printing the perfect shot, with a series of romantic gifts dedicated to special people.
Shoot from different perspectives
Don't be afraid to try different angles. Kneel or lie down on the ground and try to frame your loved one from below. Or completely change perspective and take a shot from above placing yourself in a higher position than who you are framing.
Get a gorgeous blurry background
If you are shooting outdoors it is better to use a wide aperture. This results in a shallow depth of field and the background behind the subject is pleasantly blurred. Thanks to this trick, the protagonist of the shot will stand out even more in your photograph.
Set a fast shutter speed so you don't miss a moment
It often happens that those who are about to be photographed tend to move, out of emotion, embarrassment or to take a particular shot. To make sure you get the most out of the framed subject and avoid unwanted blur, it is best to set a faster shutter speed.
Choose the most suitable shot
Before starting your shooting session, think about where you are going to photograph. Are you aiming for a fast-paced urban vibe, a cool, minimalist look, or an action-packed shot? Using the zoom to get a close look at your loved one can create an impactful shot. But also frame the subject by placing it all on one side of the image, to capture, with a touch of romanticism, the whole surrounding environment: an urban glimpse, a green lawn or a beautiful sunset.
Play with the background
In portraits, the person should be the main point of interest in the shot. However, it is possible to radically change the mood of a photograph by changing the background. For example, capturing someone in a crowded subway conveys different sensations than taking a shot of the same person sitting on a quiet bench in a large autumnal park. Sometimes even a minimalist background, such as a simple wall or curtain, makes for great photographs.
Natural or posing portraits
Posed portraits can seem unnatural: the advice is to keep your camera always at hand to capture the spontaneous smiles of your loved one or his moments of concentration. Instead, if you want a more dramatic posed portrait, try positioning the subject to the left or right of the frame and ask him to look away from the camera to give the scene a more intriguing touch. A person's expression, in fact, can transform a good shot into an exciting image. Try it!
Choosing the right camera body and lens
Canon EOS 80D is a great portrait solution. Its 24.2 Megapixel sensor helps to take photographs of your loved one in stunning detail and the responsive 45-point all cross-type autofocus system is ideal for portraits. Use the EOS 80D with a lens at its maximum aperture to separate the subject from the background. Lenses with a focal length of 50mm to 100mm are ideal for portraits. The macro ones, on the other hand, are suitable both for portraits and for framing the details in the best possible way. To take full advantage of the aperture of the camera, choose the EOS 80D's Aperture Priority (Av) or Manual (M) mode and try using automatic ISOs to maintain the correct exposure.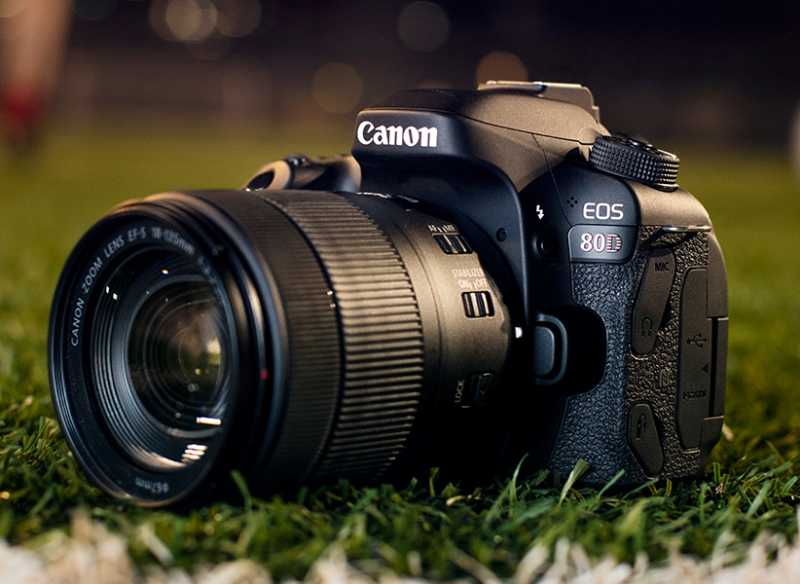 The most romantic gifts, available on the Canon Store
Let's explore a series of romantic gifts dedicated to special people available on the Canon Store.
Canon EOS-80D
Fast and versatile, it is the ideal digital SLR for any occasion, capable of creating impressive photographs and splendid Full HD movies. This fully customizable camera lets you shoot with exceptional speed and ease. The EOS 80D has been carefully crafted to offer passionate photographers everything they need. The design of the camera allows everyone to adapt it to their own shooting style. This is possible thanks to the rational arrangement of the controls that give access to the most used modes and settings. The smart viewfinder shows 100% of the field of view, as well as indicating the current settings. Plus, you can quickly switch to the 7.7cm (3.0 ") swivel and touch screen, ideal for shooting movies, Live View mode, or quick access to various menu functions.
Suggested retail price: € 1.339,99 iva inclusa (EOS 80D + EF-S 18-55mm f/4-5.6 IS STM)
Canon SELPHY CP1300
The compact and portable photo printer that lets you print professional-quality creative photos anywhere. SELPHY CP1300 is able to print images in just 47 seconds directly from the camera, from the memory card or more simply via Wi-Fi. With an elegant and compact design, the SELPHY CP1300 includes an 8.1 cm (3.2 ") tilting LCD screen and combines an easy-to-use user interface with exceptional print quality. Plus, with the optional battery included, the CP1300 is a perfect portable photo printer.
Suggested retail price: € 134.99 including VAT
DSC M50
The most intuitive and high-tech mirrorless camera Canon has ever made. Designed for modern explorers, the EOS M50 is Canon's first mirrorless camera with 4K movies, a swiveling touchscreen and an innovative DIGIC 8 processor. Added to this are Wi-Fi and Bluetooth connectivity, a 24.1 megapixel APS-C CMOS sensor. for beautifully blurred backgrounds and high-resolution images that are always sharp, even in low light, plus continuous shooting of 10 frames per second (fps). Canon EOS M50 is the perfect choice for those who use smartphones or compact cameras and want to improve their photographic skills by using a light and portable interchangeable lens camera to best tell stories they can be proud of.
Suggested retail price: Iva included € 731.99 (EOS M50 + EF-1000 15-45mm IS STM)
Canon Zoemini Print
Latest and much loved, it is a lightweight pocket photo printer with ZINK (zero ink) technology. Easily connects via Bluetooth to the Canon Mini Print app to instantly print photos and images from major social media in 5 x 7.6 cm format. It's the perfect accessory for anyone who loves to print their memories and share special moments with family and friends. With Canon Zoemini, you can express your creativity, thanks to the wide range of fun filters, frames and AR effects made through the Canon Mini Print app. Canon Zoemini allows you to transform your shots into stickers, personalizing each object with faces, landscapes, stories. From the computer to the mobile phone cover, from mirrors to school backpacks: you can relive the emotions captured in your photographs at any time.
Suggested retail price: € 149,99
Happy Valentine's Day!
Keep following our photography section for lots of news and insights!