EIT Community Booster is the new program created to support the high-impact initiatives of New European Bauhaus. The initiative was launched by European Institute of Innovation and Technology and five of its Knowledge & Innovation Communities. The goal, therefore, is to support innovative projects and teams capable of developing high-impact solutions by integrating sustainability, aesthetics and inclusion.
EIT Community Booster kicks off
The New European Bauhaus was launched by the European Commission and translates the Green Deal in a tangible and positive experience. The EIT Community Booster was created with the aim of identifying and supporting startups and scaleups that integrate the fundamental dimensions of the New European Bauhaus.
These dimensions are:
sustainability, from climate objectives to circularity, passing through zero pollution and biodiversity;
aesthetics, quality of experience and style, in addition to functionality;
inclusion, from the enhancement of diversity, to the guarantee of accessibility and availability.
To participate in the initiative, it is therefore possible to submit a specific application. The twenty companies selected will receive support for the growth of the value of 50 thousand euros in grants and services. Applications can be submitted via the official site from which it is also possible to obtain all the information on the project. Finally, it should be noted that there is time until next December 17th to be able to submit your application.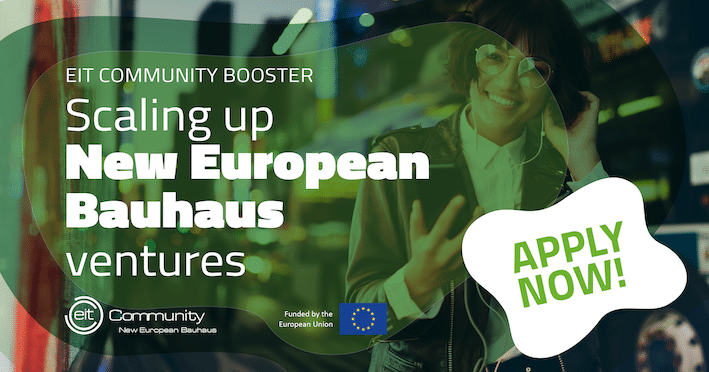 Comment from the EIT Governing Board
Gioia Ghezzi, Chair of the EIT Governing Board states: "The EIT Community contributes to all aspects of the New European Bauhaus and has the ecosystem to find exciting ideas and startups from all over Europe. We can't wait to discover and support the growth of creative and innovative solutions that will help rethink sustainable living and make living spaces more beautiful and accessible! '