We were at the Italian presentation of Fujifilm GFX 100, we took the opportunity to test the machine and provided, in this preview, our first impressions of Fujifilm's new vision of the medium format or better of the "Large Format"
Fujifilm GFX 100 uses a large CMOS sensor with over 100 million pixels. This makes Fujifilm GFX 100 the digital mirrorless with the highest resolution ever produced! Needless to say, the curiosity to put a hand on a body of this level was really great. What we report below will be our first impressions on the product and, that is, a hot opinion after just a few hours in which we have just begun to know this camera body and the Fujifilm GFX system in general. Without wasting any more time, let's dive into the Fujifilm GFX 100 preview!
Specifications – Fujifilm GFX 100 Preview
The Fujifilm GFX 100 is a mirrorless camera with a Medium Format sensor from 102 megapixels. The sensitivity range, including extension, is 50 – 102400 ISO and can snap a burst of 5 FPS x 13 RAW, 41 JPEG. The detailed specifications are as follows:
Format sensor: Large Format (43.8 x 32.9 mmq)
Resolution: 102 Mpx
ISO sensitivity: 100-12800 native (50-102400 including Extension)
File formats: Raw 16bit, Raw 14bit, JPG
Shutter speeds: 30 ″ – 1/16000
Exposure Compensation: +/- 5 stops
Exposure mode: M, S, A, P
Types of light meters: Multi-Area, Semi-Spot, Spot
Mount: Fujifilm G
Stabilization: Yes, 5 axes
Autofocus (n. Aree AF): 425
Live View: Si
Anti-dust: Yes
Video mode: 4k @ 30fps
WiFi: Yes
GPS: No
USB: Si
Touchscreen: Yes
Display: 3.2″, 2360k pixels, articulated
Viewfinder: Electronic, coverage 100%, 5.76 million points, 0.86x
Built-in Flash: No
Memoria: SD, SDHC, SDXC (UHS-II) (double Slot)
Shutter: Mechanical and Electronic
Battery: Li-Ion. Fujifilm NP-T125
Camera body | Fujifilm GFX 100 first impressions
Let's start with the impressions that the camera body of this Fujifilm GFX 100 gave us! This is the first G-mount to have the integrated grip, actually the first Fujifilm to have this feature. In our opinion, this choice was made for several reasons.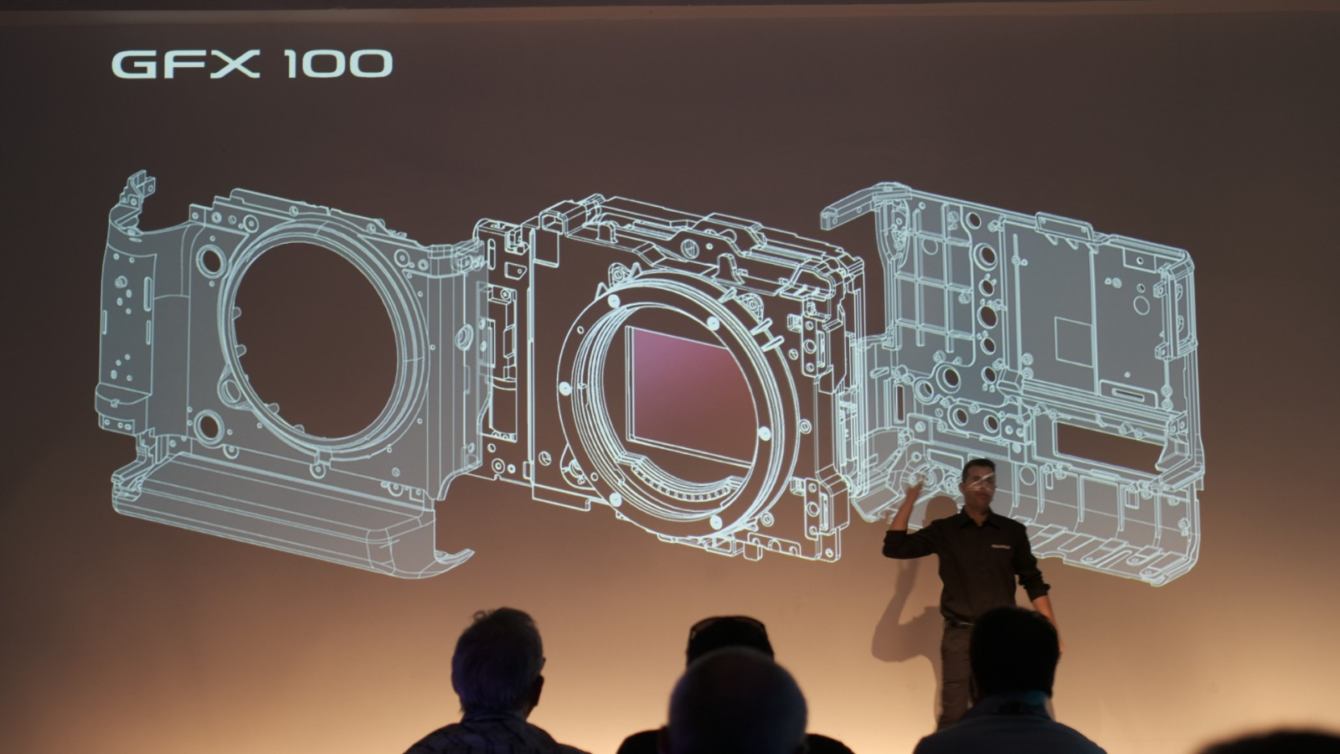 First of all certainly the need to guarantee one shock resistance out of the ordinary, also thanks to a body that is entirely in magnesium alloy. In addition to this, there is also the need to guarantee its resistance to dust and bad weather, to contain its overall weight and dimensions, and also to guarantee a "premium" feed machine in hand. The body is truly extraordinary, we have (in addition to the main display) two OLED screens, one on the shoulder and one on the back, able to report, at the user's choice, some key data of a photo in a dynamic way.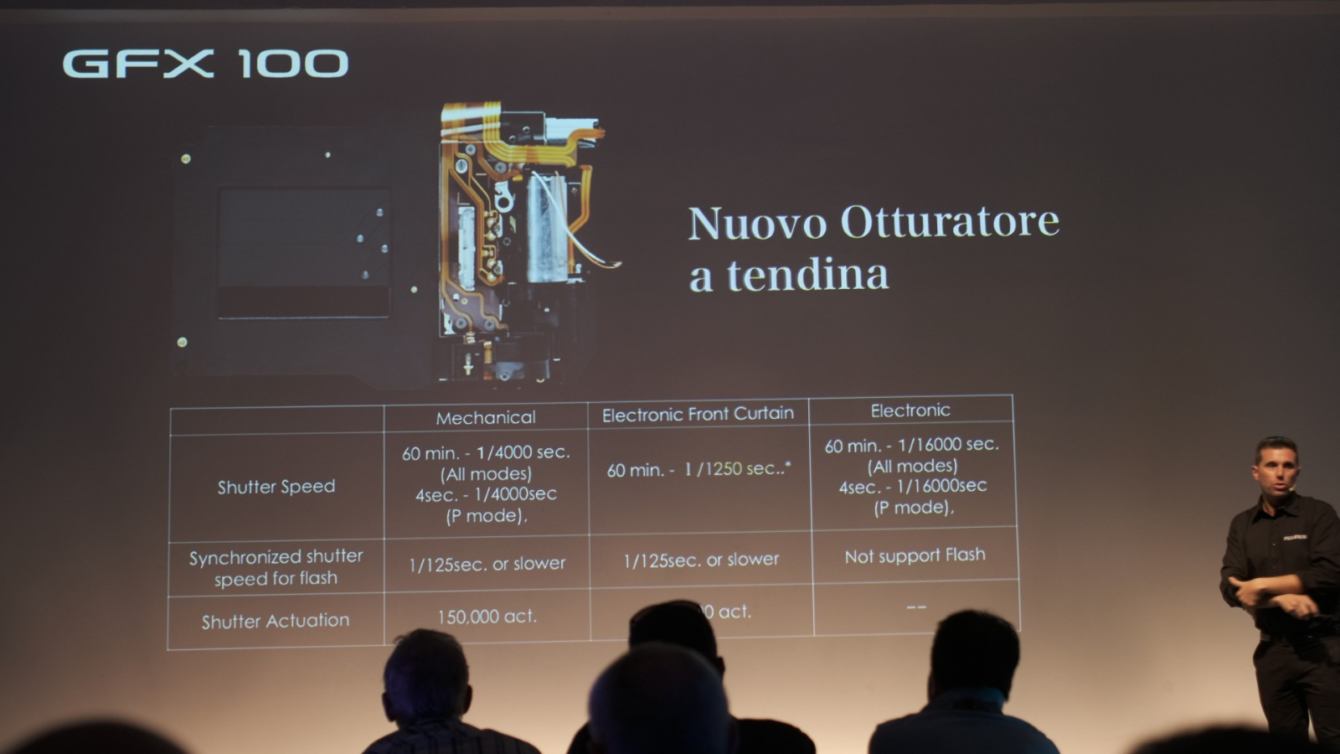 All these precautions, which we have briefly described, pay off Fujifilm GFX 100 extremely comfortable to hold and use. We have often forgotten that we have such an important body in our hands, we were really happy from the first moment, so well that we would have taken Fujifilm GFX 100 really everywhere. Its dimensions are such that it can be inserted in a normal bag, and the optics of the G system are as compact as they are performing. And if that's not enough, the GFX 100's viewfinder is replaceable. There are currently two options: classic fixed viewfinder, and viewfinder with variable inclination. In addition, it is clearly possible to use the camera without a viewfinder. Why use such a camera without a viewfinder? We will tell you when we talk about videos.
And, finally, the total compatibility of this body with the reference software in the sector could not be missing: Capture One. Remotely we will be able to manage every aspect of this camera with the comfort that Capture One has always spoiled professionals in the sector.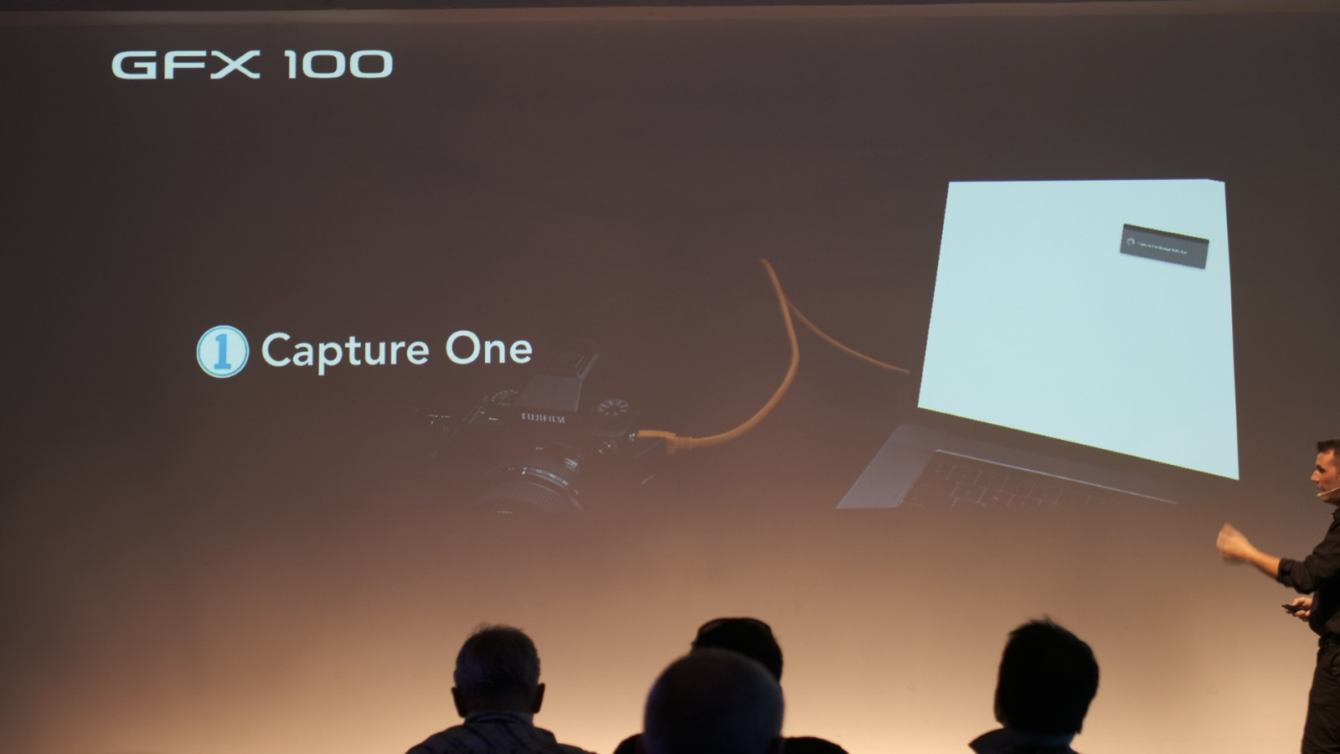 In conclusion, the first Fujifilm GFX 100 impact was very positive, in short we could define it as an ultra-portable Large Format, also intended to go out of the studio without causing trouble for the photographer. Clearly we reserve the right to deepen the whole discussion on the occasion of a possible future review.
Focus | Fujifilm GFX 100 Preview
Focus has always been one of the critical points of any camera body, especially in sensors with dimensions larger than the Leica format. Already with the GFX 50R and GFX 50S Fujifilm had done a great job, but with the Fujifilm GFX 100 we are on new heights. It seems to use a Fujifilm of the X series in terms of reactivity and immediacy of use with the difference of having a 102 megapixel sensor. We can customize every aspect of autofocus and even create custom settings.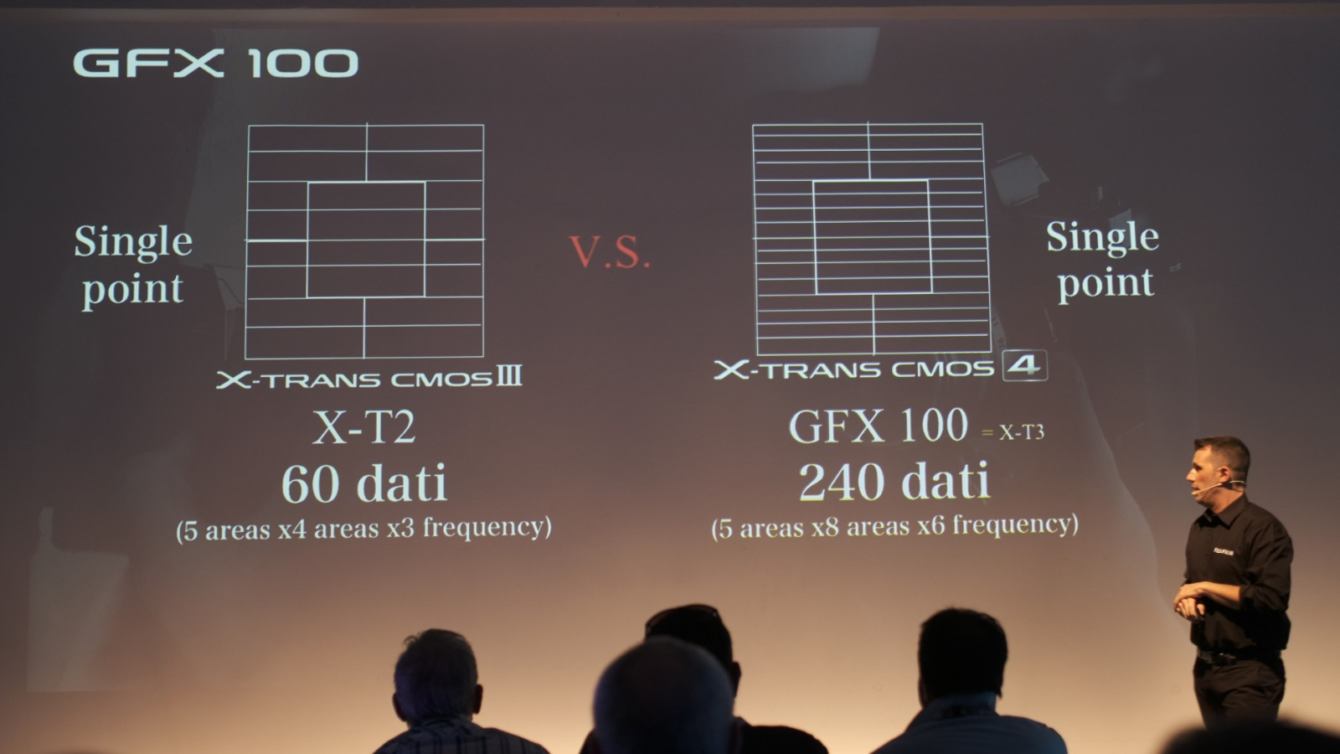 If that's not enough we also have face recognition and eye detection. These options work extremely well. Thanks to the 5fps burst and the excellent general reactivity we were able to shoot without any problem a model in motion. This is an extraordinary result that we weren't used to on such large sensors. The coverage of the AF points is really surprising, they almost completely cover the entire frame.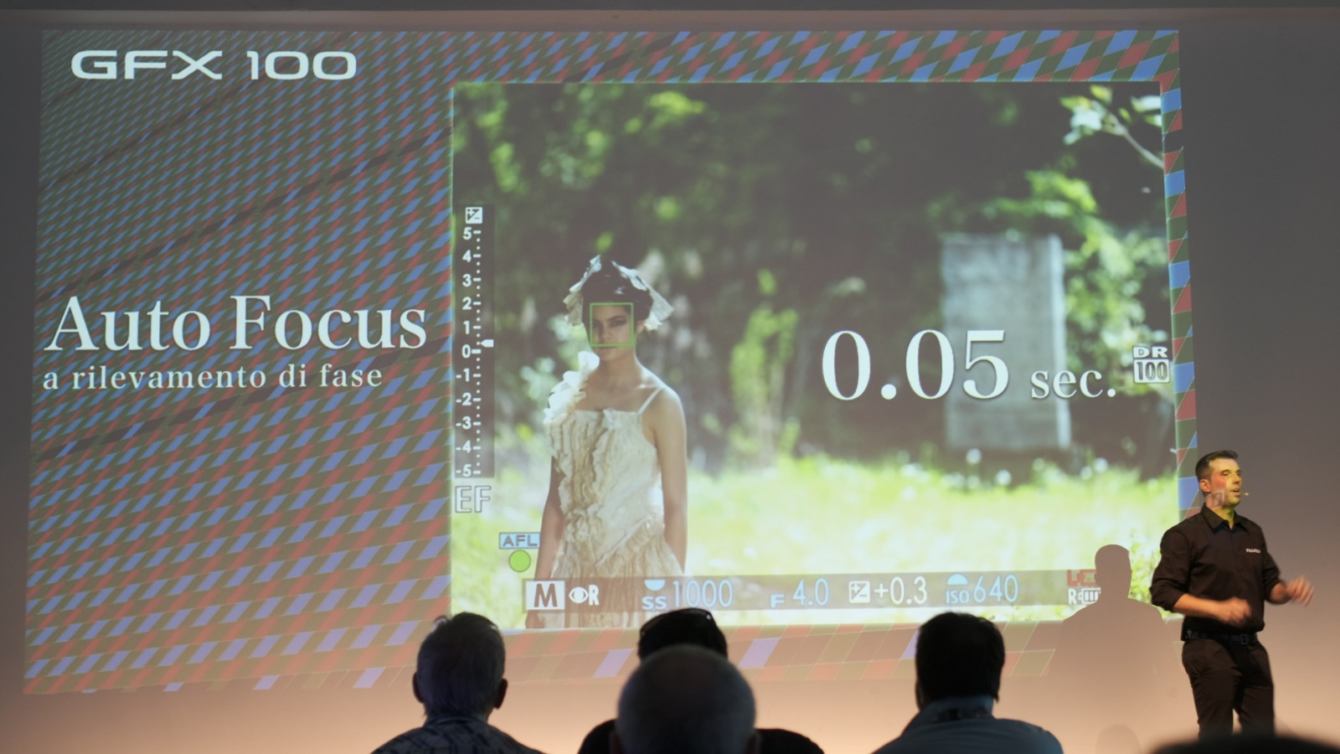 The Fujifilm GFX 100 AF system, from our first impressions, is passed with flying colors with no ifs and buts. "102 megapixels and not hear them" it is an expression that fits perfectly as such a resolution, theoretically complex to manage, does not scare or undermine the 425-point AF system of Fujifilm GFX 100!
Stabilizer and Sensor | Fujifilm GFX 100 Preview
One of the outstanding features of this Fujifilm GFX 100 is the implementation of stabilization on a sensor of extraordinary size and resolution. But let's take it one step at a time, let's start with the sensor. Fujifilm GFX 100 features a backlit 102 megapixel sensor. This technology is able to offer incredible performance in the management of ISO, noise in the shadows and in general improves the image quality of the sensor. This means that the GFX 100 is on another level in terms of workability and perception of color shades even compared to the previous cameras of the GFX 50S and GFX 50R.
The dynamic range declared by Fujifilm during the presentation is 14 stop con un raw da 16 bit in single shot mode and 14bit in bursts of 5 fps. Dynamic range, low noise, yield on the complexion and wide crop possibilities are just some of the features offered by this sensor. In fact, the study carried out by Fujifilm is very important to avoid blur. The shutter has been specially designed for avoid any vibration and guarantee safety times never seen before on sensors of this size.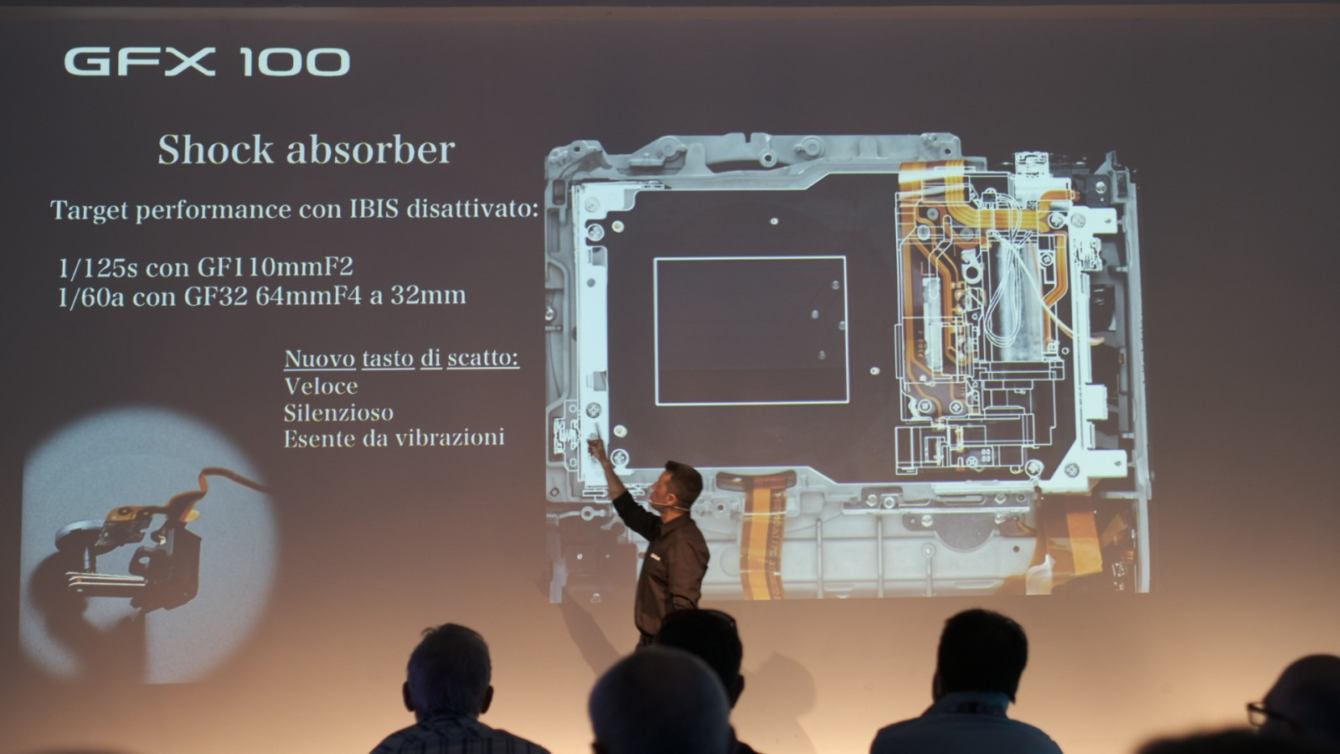 To complete the whole there is then the stabilizer on the sensor. This is one totally new feature in the world of large format sensors. Its introduction allows you to recover up to 5.5 stops in terms of safety times. This means that the freehand use of Fujifilm GFX 100 is possible in any condition, a bit like we are used to in the world of Leica or aps-C format cameras. This is incredible and has left us speechless: one thing to read a rumor, another to see everything with your own hands!
Going to the point, what allows such a stabilization system? We answer you with this image, where you can see a extreme magnification of a handheld photo taken from an airplane with stabilization turned on.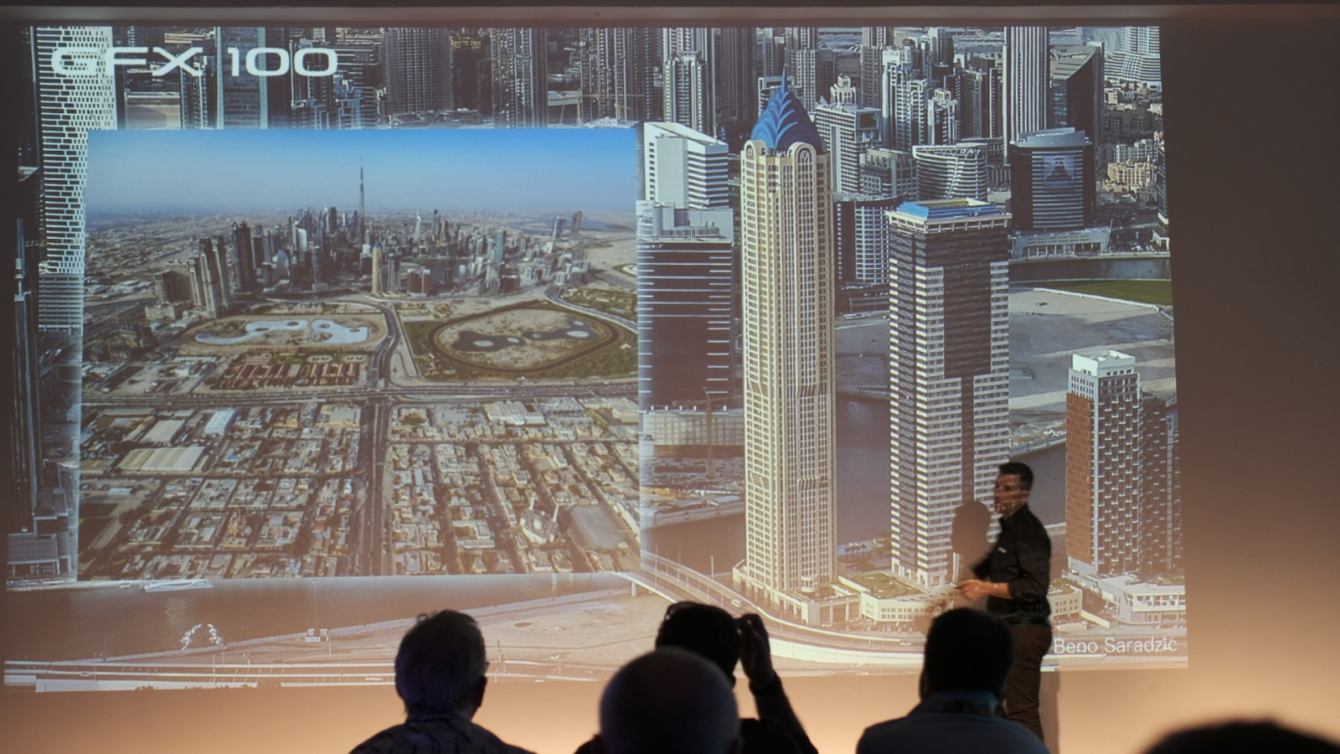 There is no blur and the image is totally sharp even in such an extreme shooting condition on 102 megapixels. We have nothing else to add about it: the image speaks for us!
The video mode | Fujifilm GFX 100 Preview
What if I told you that the GFX 100 also allows you to record video? Surprising right? Videos that have a look that is very close to what film cameras are able to offer in a body that, for all intents and purposes, looks extremely compact. How compact? Enough to be used on a drone without a viewfinder (and here's what we were referring to earlier)!

Obviously on board the drone the camera will be able to take both photos and videos. And speaking of videos, here are the fundamental characteristics of the same:
It is an extremely solid video compartment that takes advantage of the sensor size to offer a cinematic look to movies. We have a container from 400 Mbps, the "ETERNAL" Film Simulation and even F-log, 10 bit and 4: 2: 2. To go from 102 megapixels to 4k, the machine resamples the sensor data to 11604 × 4352 pixels, finally oversampling to return the final video. However, we know that an excellent video sector does not represent anything without having accessories with it. And on this point Fujifilm was not caught unprepared.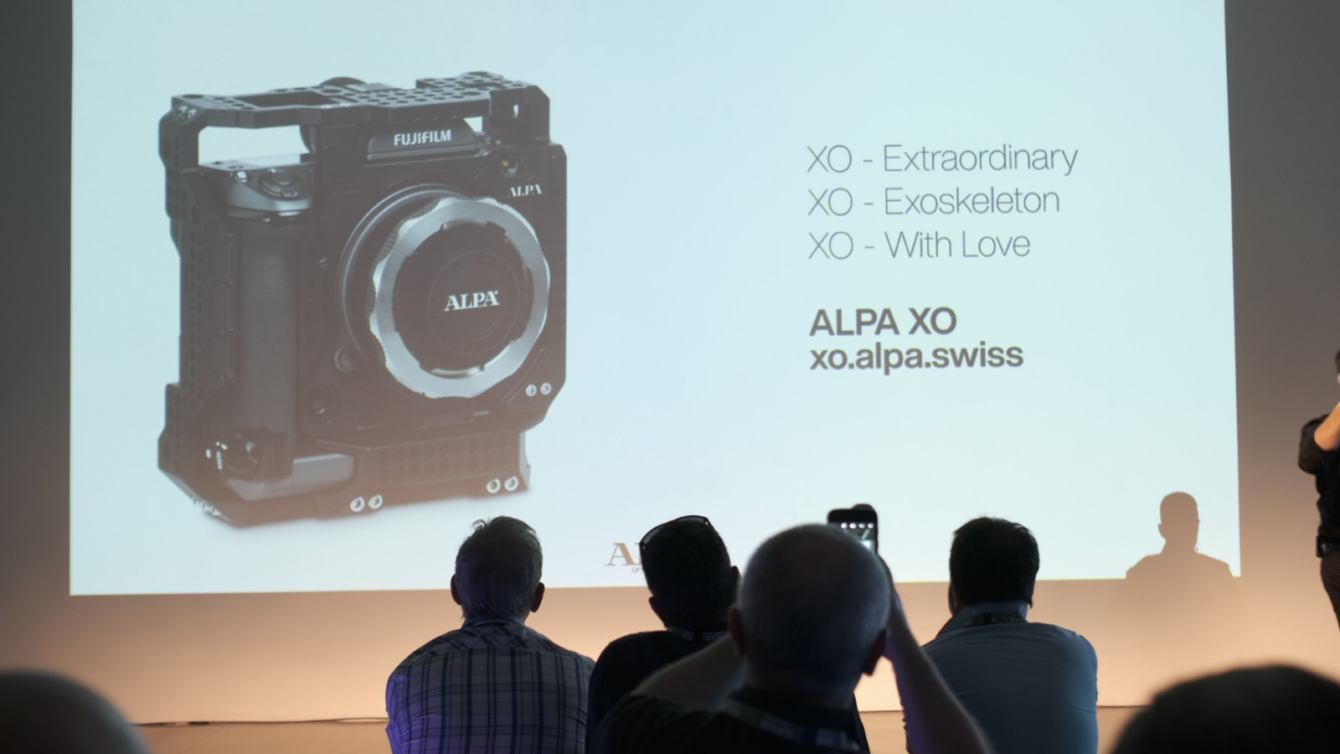 A full line of cages dedicated to the videos produced by ALPA. This new line will be entirely dedicated to the GFX series and will offer all video professionals, and the most advanced amateurs, the opportunity to use their GFX 100 in any type of video set!
The results on the field | Fujifilm GFX 100 first impressions
We have so far exposed the key points of the presentation of GFX 100, accompanying them with our comment. to follow we will examine what are the results on the field. Results that we anticipate fully confirm what the conference anticipated: unprecedented image quality in an easy-to-use body. We had two sets, in the first set there was a model who posed for us for a short portrait session. The second set was instead a "classic" still life set. The genres that we will examine in this preview are therefore the Portrait and the Still Life. In our opinion, our considerations can easily be extended to other genres as well. We will still leave you the raw of the shots that you will then see below. The same can be opened with Capture One!
Portrait | Fujifilm GFX 100 Preview
The set dedicated to the portrait and organized by Fujifilm surprised us by the courage with which Fuijfilm conceived it. We did not find ourselves in front of the classic static set in which the photos are posed, but in front of a dynamic set where the model has a musical base underneath and moves to the rhythm of the music. The clear advantage of such a set is to offer more natural poses and, above all, a more dynamic photograph able to be very impactful. We then challenged the GFX 100 and ran a series of shooting in AF-C, eye and face detection with tracking, and the following is the result:
This first shot was taken as the model was about to get up. The camera was able to focus on the model's eye without any problem. The file obtained offers unprecedented workability, in our vision we opted for a dark atmosphere and a grading aimed at enhancing the lights of the set and the pose of the model.