FUJIFILM Introduces FUJINON XF18mmF1.4 R LM WR, the 39th Interchangeable Lens for X Series Mirrorless Digital Cameras
FUJINON XF18mmF1.4 R LM WR, with its 7.56cm length and a weight of only 370g, has a filter diameter of 62mm and a minimum focusing distance of 20cm. XF18mmF1.4 is the ideal lens for a wide range of shots, from landscapes to street, from portraits to weddings. The high F1.4 brightness allows for greater flexibility in low-light environments and also produces incredibly smooth bokeh in blurred areas of the image.
True to the philosophy of the X Series of creating light and compact solutions with a qualitatively impeccable image rendering, the XF18mmF1.4 offers incredible optical performance without being heavy or bulky. Compared to other lenses, which have a similar viewing angle and aperture, the XF18mmF1.4 will be the choice of many imaging professionals for years to come.
FUJINON XF18mmF1.4 R LM WR will be available from June 2021 at the suggested retail price of € 1,049.99 including VAT.
FUJINON XF18mmF1.4 R LM WR: all the features
Outstanding optical performance, even at F1.4
With its 15 optical elements distributed in 9 groups, the XF18mmF1.4 uses three aspherical elements and one ED element to minimize chromatic aberration. This means that the finer details of an image will be reproduced with a high level of sharpness and purity.
The six-element focusing lens assembly moves in unison to reduce aberrations that can be caused by optical shift, to provide consistent sharpness at any set focus position.
Designed for versatility
XF18mmF1.4 has a focal length of 27mm in the 35mm equivalent format, and can focus on subjects up to 11cm away from the front lens element. This makes it perfect for a wide range of applications, from everyday shots to the widest landscapes.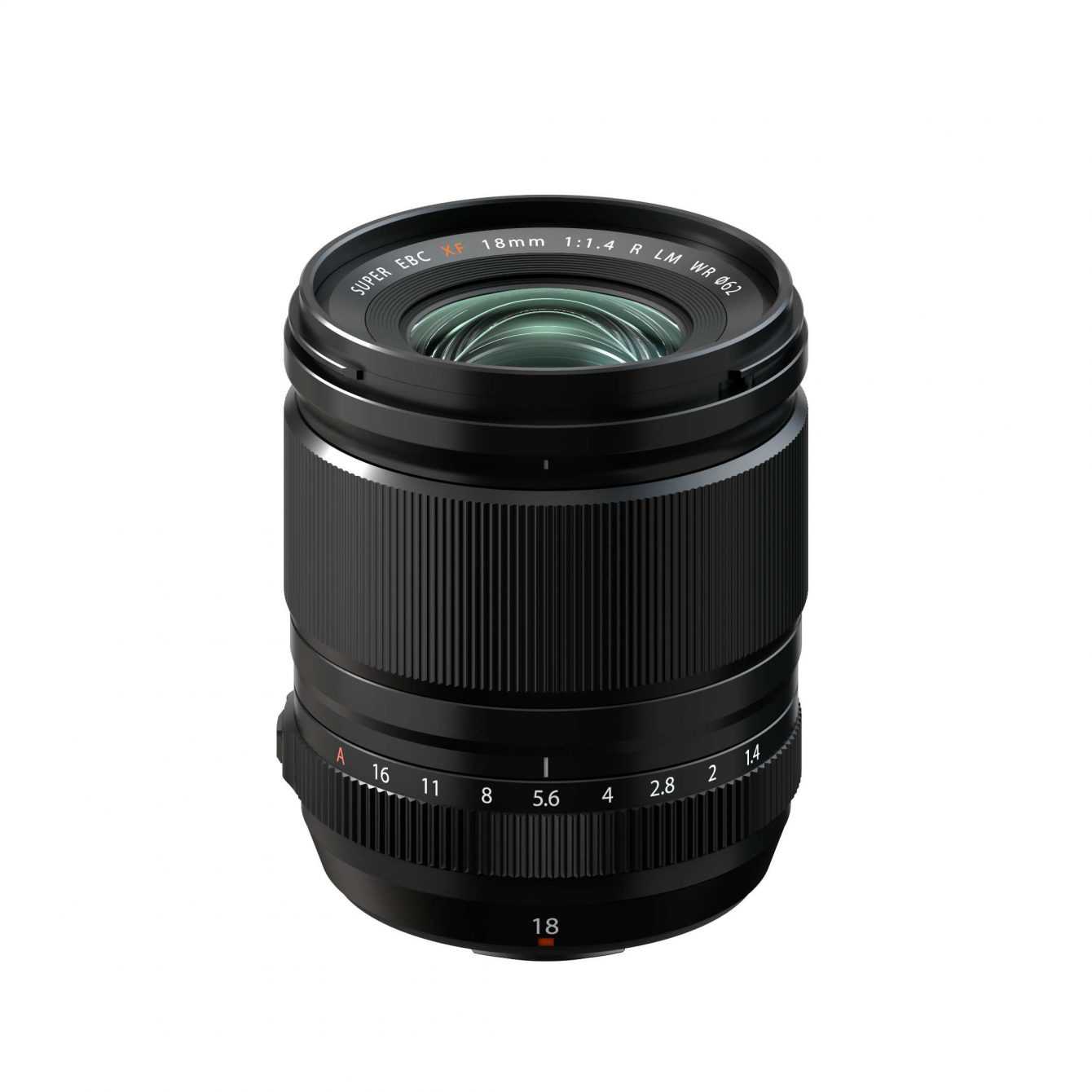 Fast, precise and almost silent autofocus
The XF18mmF1.4 uses an internal autofocus system, driven by a powerful linear motor, to provide fast, accurate and very quiet AF. From the minimum object distance (MOD) of 20cm to infinity, the elements of the lens focus group move only 2.5mm. This means that focus can be acquired in as little as 0.04 seconds
If the focusing lens were to move from minimum focusing distance to infinity, focus acquisition can still be achieved in as little as 0.25 seconds.
For precise control during manual focusing, the focus ring assembly components have been specially designed to respond precisely, especially when minimal and accurate adjustments are required.
Compact, light and resistant to atmospheric agents
The XF18mmF1.4 has a 62mm filter thread, measures 7.56cm in length and weighs just 370g. This makes it incredibly light and portable. Although the lens barrel is made of metal, it is specially designed to weigh as little as possible while still providing high strength.
The lens is equipped with eight-point seals along the barrel to ensure resistance to atmospheric agents and dust, humidity and temperatures down to -10 ° C.
XF18mmF1.4 has A (Auto) position lock on the aperture ring, which prevents accidental operation
Optional accessory
Lens Hood LH-XF18 – Rectangular aluminum lens hood for XF18mmF1.4 R LM WR which helps prevent flare and ghosting that can occur when light beams hit the front element of the lens.