FUJIFILM announces instax mini 40 the new analog instant camera with a classic and vintage design
FUJIFILM introduces the new instax mini 40, which makes the instax e range even more attractive in addition there is also a new mini "Contact Sheet" film, which mimics the look of a classic roll film, adding a new twist to the popular instax mini film range.
From today, the instax range expands with an instant camera with a timeless design: conceived to be always carried with you, instax mini 40 is finished with a high quality texture that fits comfortably in one hand. The camera body remains plastic, but it comes in bright black and is accentuated by silver details, which give life to a sophisticated and timeless look, synonymous with the approach Fujifilm's iconic camera design.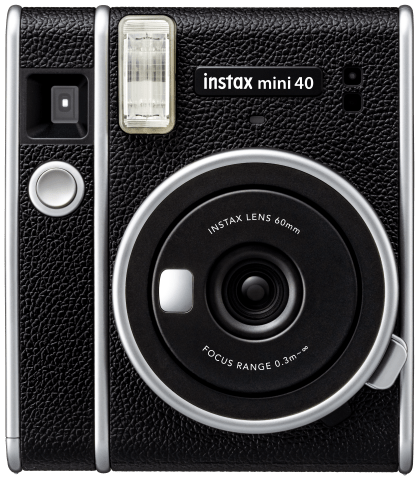 FUJIFILM: new design and new films to stimulate creativity
Thanks to its peculiar design, classic and with black and silver finishes, mini 40 fits perfectly in the hands of a more adult and sophisticated user. He winks at the female universe, but at the same time his style attracts the shooting fantasy of the male audience who will find in this camera gender belonging to express himself, his own vision.
With this new camera, there are also new films that can stimulate creativity more, for example the monochrome that allows black and white shots. And given the small size of the machine, the case is also available, always with a vintage look to be able to carry it over the shoulder.
As for the potential of this machine, as well as other FUJIFILMs analogue snapshots there is always the example of the FUJIFILM ambassador Maurizio Galimberti, who has been carrying out his photographic projects since 2017 with instax SQUARE SQ20 therefore the larger format.
Fujifilm instax mini 40 will be available from April 21, 2021 at a suggested retail price of € 99.99 including VAT.