Is FUNSNAP Capture 2 Really the Best Budget Smartphone Gimbal? Find out in this review
Whether you are a professional influencer or not, it is undeniable that the galleries of our smartphones are now studded with multimedia content. How much pain does it create when, returning home from a trip, you find that the photos and videos that should have imprinted those beautiful moments are completely blurry or so much moved as to make you sick? FUNSNAP Capture 2 it is just one of the many smartphone gimbals available on the market but it is also one of the best you can buy, find out why in the course of the review.
FUNSNAP Capture 2 review: full equipment and excellent build quality
Already from the opening of the package you will realize how much the offer proposed by FUNSNAP is complete and accurate in the presentation. The entire main body and its accessories are placed in a comfortable and lightweight polystyrene case. Inside, in addition to the manuals, you will find the Micro-USB charging cable, a screw-on pedestal to keep the gimbal standing on a surface and a small weight to apply if your device is particularly heavy and elongated. By purchasing the product on Amazon you will also be entitled to two further and appreciated accessories: a carrying case and an adapter to use this FUNSNAP Capture 2 in combination with a GoPro.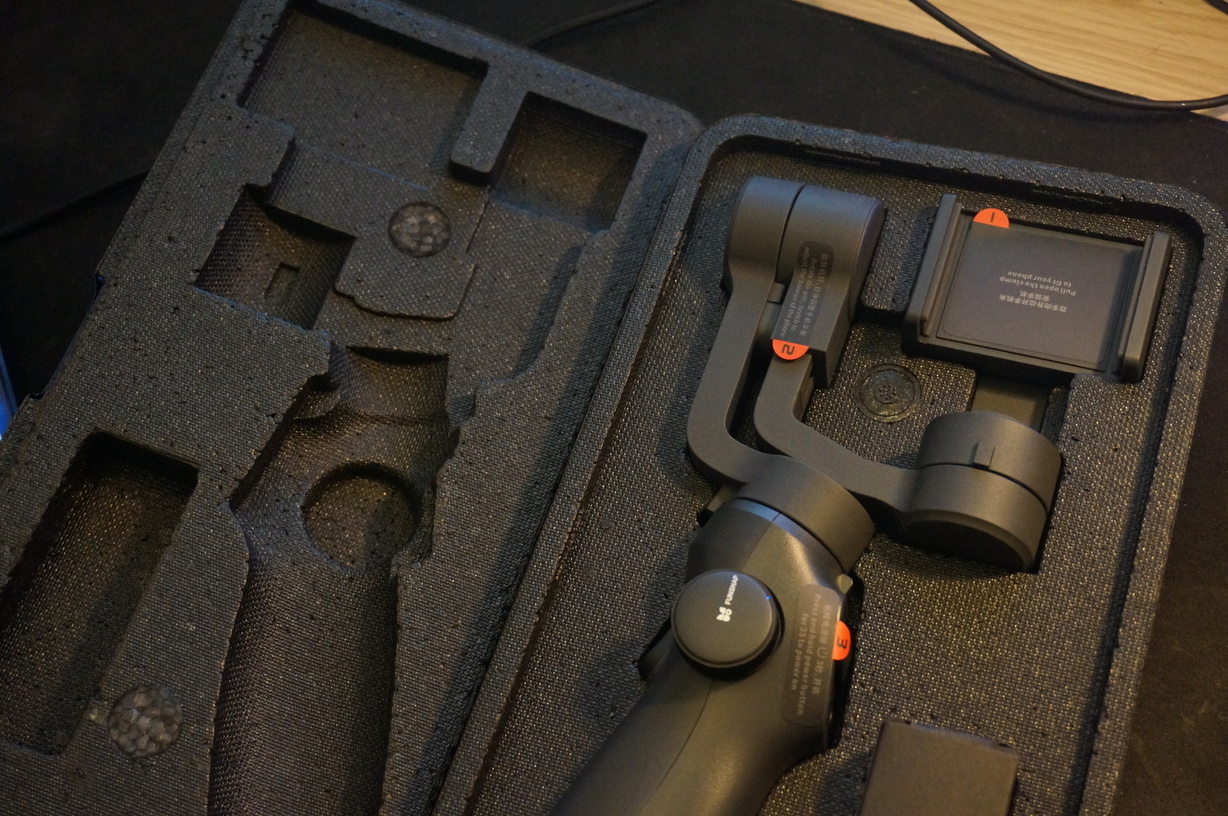 Speaking of the materials used, the plastics are of excellent quality and the assembly is nothing short of perfect, so much so that you have the feeling of having in your hands a product of a quality and price range much higher than that of belonging, strength also confirmed come on almost 500g of weight. Devices for a size of 55x90mm with max 6.5 "display and a weight of about 250g. The grip, despite being entrusted to a classic spring system, is still safe and perfect with every smartphone we have tried. Surely, however, you will find some difficulties with particularly elongated smartphones at the time of the first activation in which you will have to manually stabilize before entrusting everything to the gimbal.
FUNSNAP Capture 2 review: perfect stabilization and flawless app
Using this FUNSNAP Capture 2 you will never find yourself regretting the choice of not purchasing a more expensive product. The stabilization capabilities of this gimbal are indeed perfect, as well as having all the customization possibilities that you could request from a product of this type. Thanks to the application available for iOS e Android it will in fact be possible to take photos and record videos (up to a maximum of 4K) and to alternate the various functions including face tracking and the much loved timelapse and hyperlapse functions that everyone appreciates. By selecting the exact starting point and the final point of your shooting, Capture 2 will automatically rotate the frame to create evocative videos.
The various settings, however, are not entrusted only to the application but, thanks to an infinity of hardware commands available on the body of the gimbal, it will be possible to keep almost everything under control. First of all, through various presses of the on / off button, it will be possible to alternate 3 different operating modes:
Default mode (green LED): roll axis locked horizontally
Locked mode (red LED): all axes are locked, camera aimed at the same point
Pan mode (blue LED): two axes locked, horizontal roll and up / down tilt
There is also a convenient wheel on the left side to zoom directly from the gimbal. An impeccable position for control unless you are left handed! Obviously present a joystick for manual control of the frame. To complete the equipment and the shooting possibilities, there is a trigger that blocks or unlocks all the axes with a pressure, making the adjustment of the frame even more immediate.
FUNSNAP Capture 2 review: autonomy
The battery inside the gimbal is good 2200 mAh and guarantees at least 8 hours of autonomy, which can also increase as the weight of the smartphone used decreases. Full charge can be achieved with approximately 2 hours of connection.
It is time to take stock
During my weeks of testing I really tried to find a defect that could somehow make us think whether or not to buy this FUNSNAP Capture 2 but, in the face of a highly competitive price, of always reliable performance, infinite possibilities of use and a complete hardware equipment, I can only recommend the purchase. Certainly there are products on the market that are equally valid or even slightly more performing (I am thinking for example of the tracking of the working face but not very fast) but the sale price becomes the main (and not indifferent) cause for taking this FUNSNAP product into consideration.
You can buy Capture 2 at this link (10% discount with the coupon: tuttoolan3) or at this link (10% discount with the coupon: allan4).
Points in favor
Super competitive price
Excellent construction
Perfect stabilization
Lots of settings
Points against
Face tracking can be improved
A little slow horizontal movement speed when it has to follow a point