Do you have outdated PPT presentations that you would like to turn into online courses? If so, converting them to the online format will take just a couple of minutes. Alternatively, you can create a whole new course!
Corporate training is growing at a rapid pace. Despite the slowdown during the global pandemic, the business education market will reach $ 487.3 billion by 2030, according to research.
However, even as companies invest immense amounts of money on staff training, the results they achieve often leave a lot to be desired. One of the reasons why the results are not always as expected is that employees are not involved in the training process. They consider training a boring and imposed activity and speak of it in a disparaging way.
Fortunately, there are some time-tested practices that can help improve training performance. One of them is to create engaging eLearning courses that employees will genuinely enjoy. Two important things are needed to design these types of courses: a desire to create and a solid authoring tool, such as the iSpring Suite.
iSpring Suite is a powerful eLearning solution that allows you to create professional courses without programming or design skills. It's built into PowerPoint, so you can start working on content right in the familiar PPT interface.
After installing on your computer, iSpring Suite will appear as a PowerPoint ribbon tab. You can take advantage of all its tools like quizzes, screen recordings and simulations, right from the toolbar.

Now that you have an idea of ​​how it all works, find out how to create engaging courses with the iSpring Suite.
1. Start using PowerPoint slides
Do you have outdated PPT presentations that you would like to turn into online courses? If so, converting them to the online format will take just a couple of minutes with iSpring Suite. Alternatively, you can make a whole new course the same way you put slides together in PowerPoint.
Do you want your course to look professional right from the start? Then take advantage of iSpring's ready-to-use slides with consistent design and color themes. Each template is developed by the best specialists in the industry, so you have all the elements you need to create an engaging course: a title slide, a table of contents, chapters, a timeline and much more. Just put these slides in the right order, add your text and images, and your course is ready.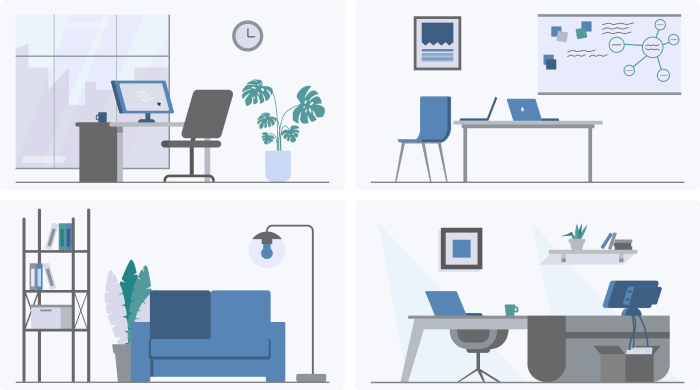 2. Add interactive assessments
Do you remember when you were in school and prepared yourself carefully knowing that there was going to be a check? In fact, tests have always been a reason to study more. When students know they will be graded via a test, they set a deadline for when the content needs to be learned and try to stick to it.
With iSpring Suite you can create online quizzes that will not only allow you to test students' knowledge and give them an idea of ​​how well they have assimilated the material, but will also be able to engage students. The toolkit allows you to create quizzes with 14 types of questions, including drag and drop questions, where a student has to sort or place items in the right place, and hotspot questions, which ask the student to mark a certain area of ​​an image .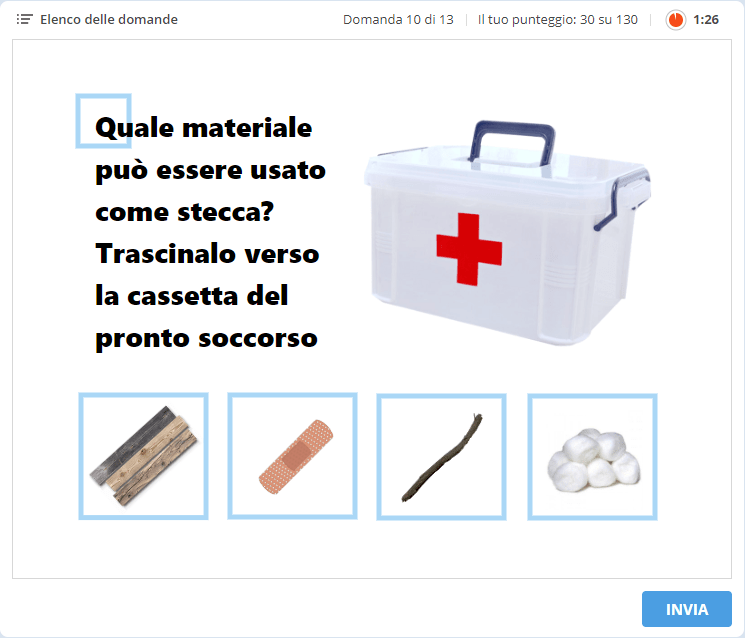 3. Record a video of the presenter
Are you going to cover a topic that you think will be difficult for your students to learn just by reading the slides? Then record a video with an expert who will explain the topic in detail. Plus, this video will add a personal touch to your training and be a great way to create a deeper connection with your students.
With iSpring Suite you can easily record webcam videos and screencasts and perfect them with a built-in video editor. You can remove unnecessary snippets, insert an introductory slide at the beginning of the recording, and add images, infographics and annotations to make the video more engaging and the information in it easier to remember.
4. Create an interactive simulation
Have you ever staged scenarios during training where, for example, one of the employees plays the role of an altered customer and another employee tries to find a solution to bring the conversation to a harmonious conclusion? With iSpring Suite, you can convert this scenario into a virtual role-playing game and help employees master communication skills in a risk-free environment, without harming a sale or your company's reputation.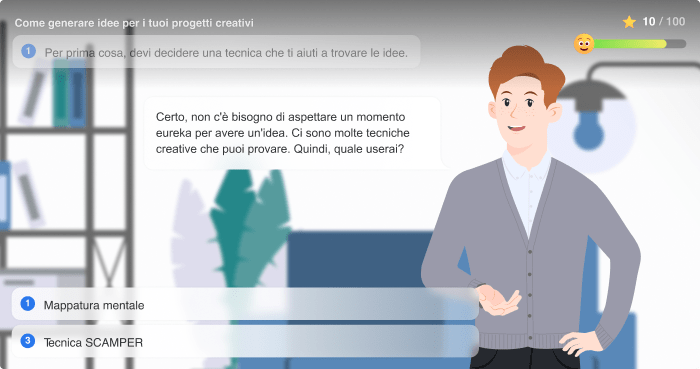 The simulations might seem too complex to develop, but iSpring Suite does all the heavy lifting for you. You can build a dialog tree in a visual editor and manipulate it with just one click.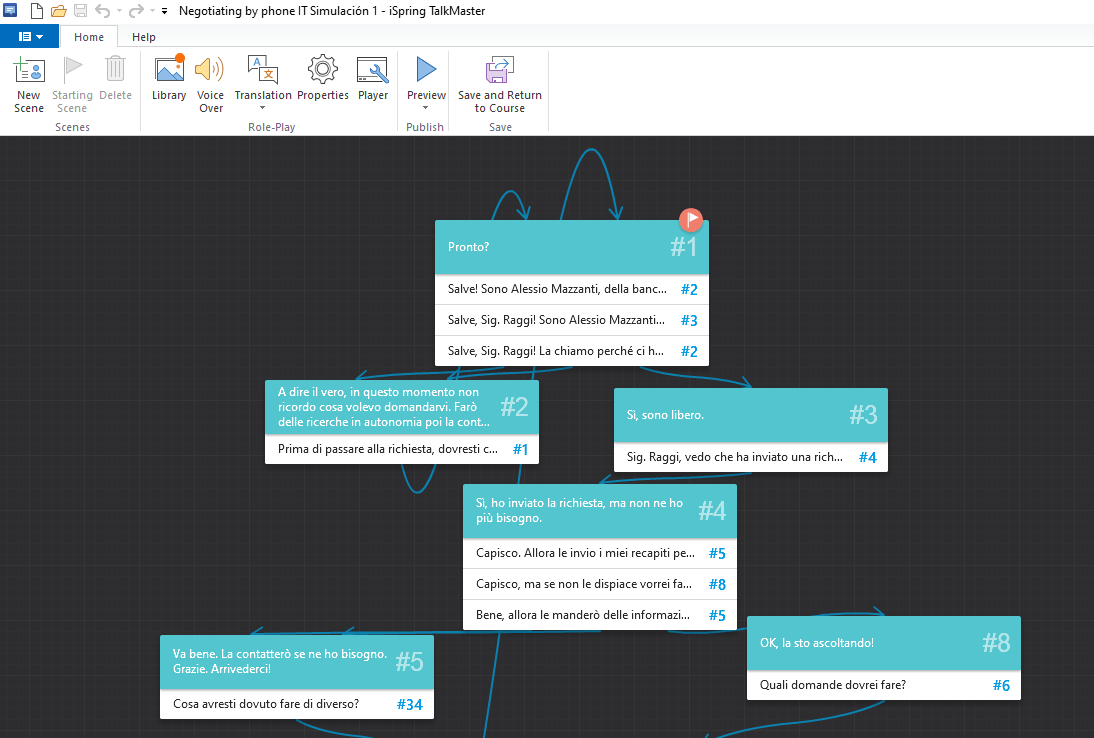 To make the simulation even more realistic, you can add characters and locations, upload your own images or use the built-in assets. iSpring Suite offers access to a large set of backgrounds suitable for office and factory scenarios, education and healthcare and other settings; a wide range of characters of different ages, nationalities and professions. The collection also includes hand-drawn locations and characters that can engage your students in a more intense simulation.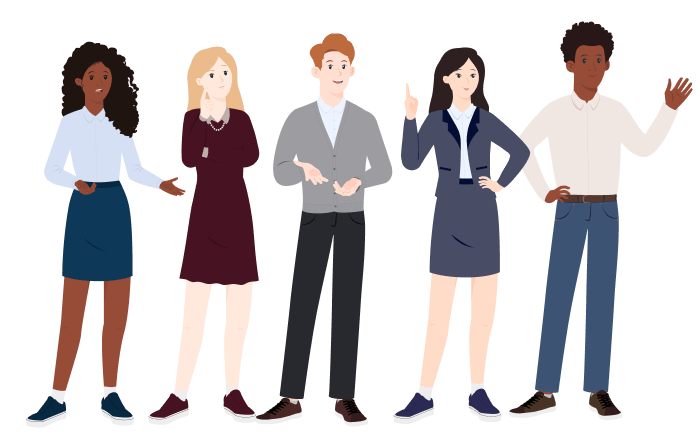 5. Design an eLearning interaction
Another way to increase student engagement is to let them interact more with your content. For example, you can repurpose your textual content in the form of interactions.
One of the most exciting things about iSpring Suite is that you can create interactions in a matter of minutes. You just have to choose a suitable template, fill it with texts and multimedia files and your interaction is ready. The toolkit allows you to create 14 types of interactions including glossaries, FAQs, timelines, catalogs and label graphics.
In the example below, you can see the Steps interaction which provides a step-by-step guide on how to handle an angry customer. You can also use it for any other instruction.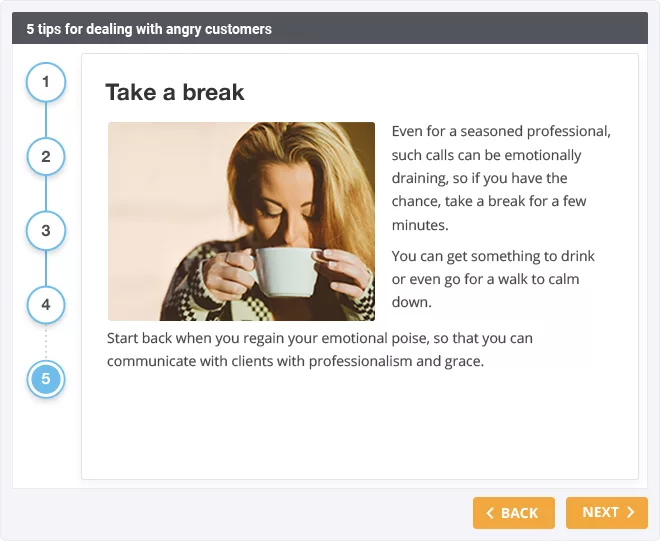 6. Incorporate your brand identity
Branding goes far beyond meeting a company's design requirements. It is an effective way to assure students that your training course is not made up of generic content, but is targeted to the needs and challenges of their work.
iSpring Suite makes customizing the appearance and interaction modes a breeze. You can redesign the player to your liking: customize the colors, change the font and shape of the buttons, add shades and transparencies and more.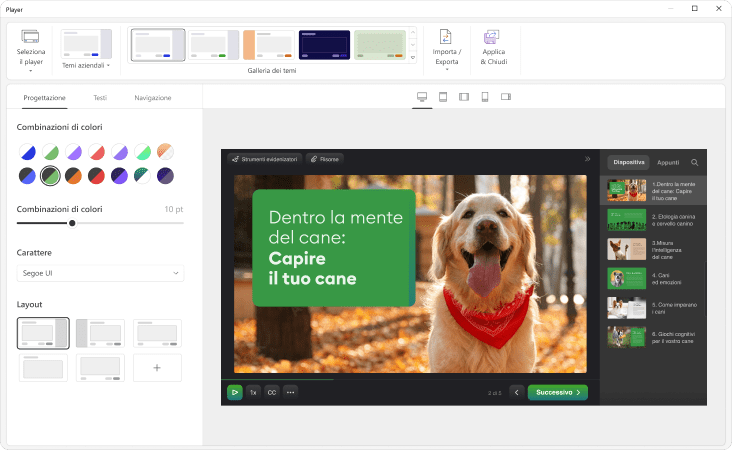 As you can see, creating an engaging course with iSpring Suite is not an impossible feat. Even a person who has no technical experience can do it with ease. Would you like to see the iSpring Suite in action and check out its features for yourself? Then get a 14-day free trial and create your first course today.