In this article we will explain how to remove MDM from iPhone in order to be more free in its use
Apple's Mobile Device Management (MDM) is the mobile device management system that allows organizations to monitor employee and associated devices to ensure they are being used correctly. Sometimes you don't want someone else to have control of your iOS device with MDM turned on. This is why it is useful remove the MDM from the iPhone or iPad.
The best option we've found for removing MDM from iPhone is to use WooTechy's iDelock. This application is easy to use and allows you to solve problems related to the monitoring and management of the device remotely. Keep reading our article to find out the details!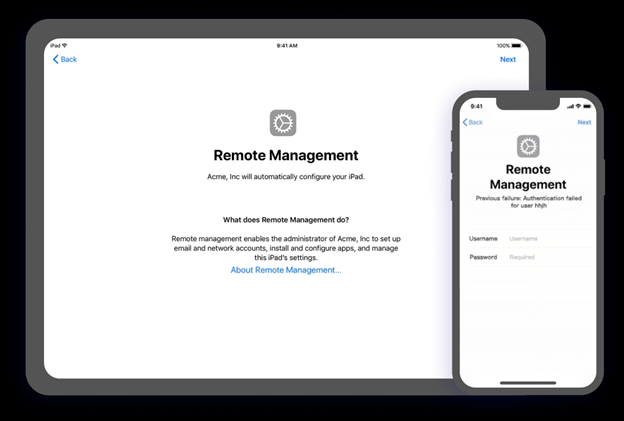 How does Apple MDM work?
The mobile device management system is for schools, organizations and businesses to create a barrier against theft or unauthorized use of their devices. For example, companies want to protect their intellectual property or avoid employee misuse of iPhones for personal purposes when they were purchased with company funds.
Before removing the iPhone remote management system, let's try to understand how it works. There are essentially two parts: the server and the agent. Whenever an administrator wants reconfigure the device, send notifications or adjust the use of apps, the MDM allows access. With administrator access, a single IT user can manage multiple devices using his or her credentials.
There are a few drawbacks, which is why some want to get rid of the device management options for iPhone:
Social media access is restricted on MDM-controlled iOS devices.
The MDM profile manager / owner can do pretty much anything he wants remotely.
The option for schools includes content restrictions are implemented to prevent adult content from being seen by younger eyes.
WiFi, cellular or Bluetooth connections are exposed, which could lead to privacy breaches.
The most effective way to remove MDM from iPhone on your own
That said, the easiest way to remove the iPhone's MDM profile is to use WooTechy's iDelock. It is about an excellent application that can easily bypass all the different blocks of your iPhone, iPad and iPod Touch. It has an incredibly high success rate and allows you to remove the iPhone management profile without having to jailbreak.
This is the best solution when you are stuck in MDM and need to remove the iPhone remote management option to regain full control. It is also a good option for those older devices that still have the iPhone MDM lock activated by the previous owner, so we can use the device as if it were our own.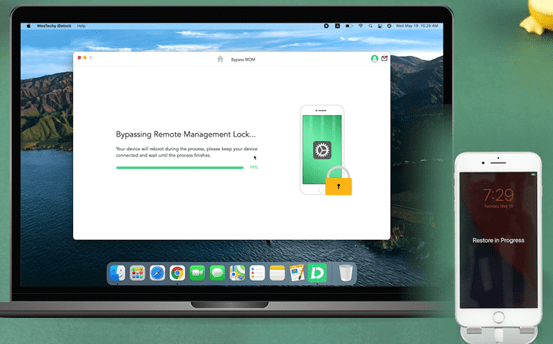 Features:
It works to remove remote management from iPhone, Apple ID, screen lock, screen time and restrictions.
Easily bypass standard MDM blocks with just 3 clicks.
Outstanding compatibility with all iOS devices and models.
iDelock is compatible with both Windows and macOS.
How to use iDelock to remove MDM from iPhone:
Step 1. Launch WooTechy iDelock and select Bypass MDM. Connect the iPhone / iPad to the computer e we confirm the reliability Of the device.
Step 2. Select the appropriate situation and follow the on-screen instructions.

Situation 1: The device is locked from the MDM lock screen.

Touch MDM Bypass> Start Bypass. The bypass will begin.
Once the MDM on the device is bypassed, click Don't transfer apps and data while setting up apps and data on your device.
Note: MDM will reappear if you reset the device after exclusion, but you can always unlock the same device with iDelock before the license expires.

Situation 2: The device is supervised and managed by another organization

To proceed, click Remove MDM> Start.
Then, iDelock will bypass the MDM of the iOS device. After a few minutes, the MDM will be successfully bypassed.
You should now have full access to your iOS device.
Other methods to remove the MDM profile (may not work)
Ecco other common methods to remove the iPhone MDM which may or may not work. Each of them depends on the exact steps you use and whether they do not damage the data on your device. Surely the most dangerous and the one to avoid is jailbreaking your iPhone.
Again, you need to pay close attention to the fact that none of these methods can harm in any way the device or personal data. Jailbreaking is dangerous because it can void the warranty of your iOS device or cause conflicts between apps that can no longer be updated because you are outside the normal iOS ecosystem.
Conclusions
The MDM system is a useful tool, especially for large organizations with multiple devices. You need to be able to manage everything, in order to use it appropriately and avoid legal or employee problems. However, there are methods to safely remove MDM from iPhone devices. Better to avoid anything that can damage the iPhone, iPad or iPod Touch.
Your best bet is to download the free version of iDelock from WooTechy's expert developers. You can explore the software and check if it meets your expectations before moving on to the premium and full version. With iDelock, you get a clean user interface with simple instructions and an incredibly high success rate. That's why it's our best choice! You can also read how to eliminate device management (MDM) on school iPads. That's all from the hardware section, keep following us!