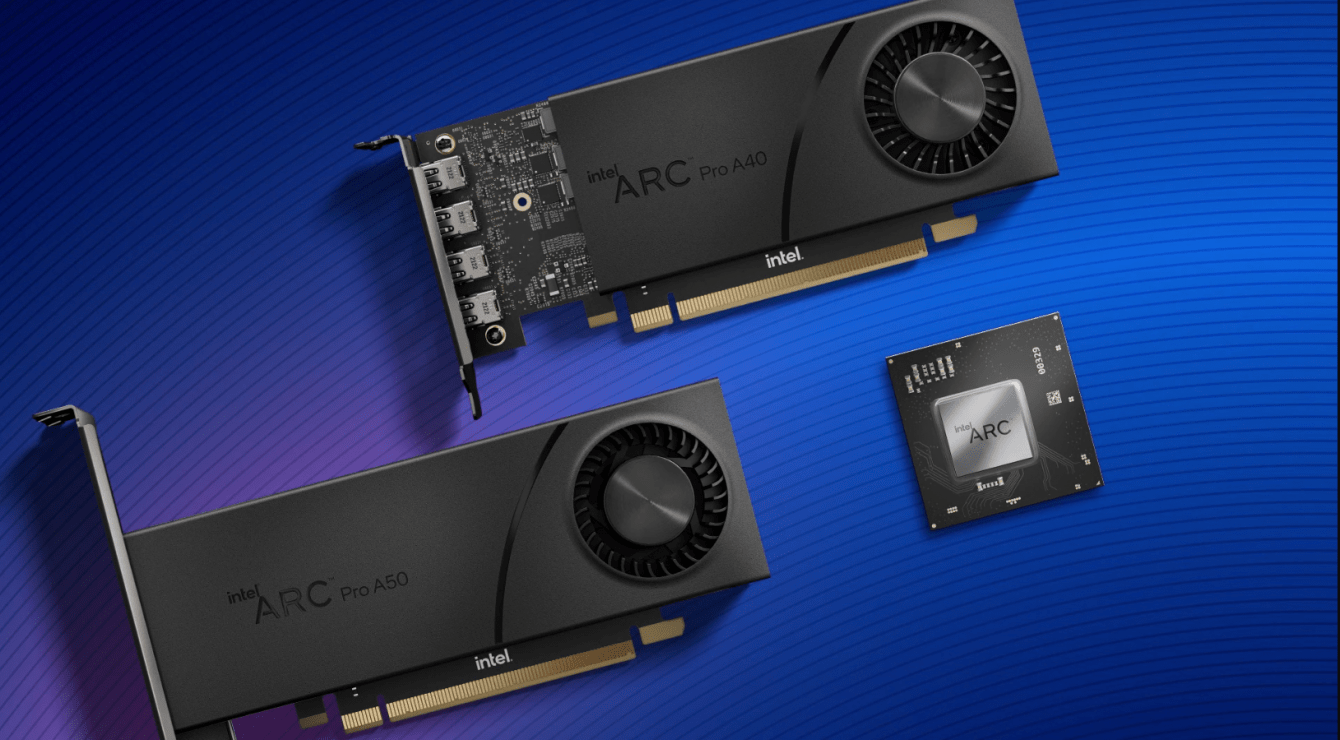 The new Intel Arc Pro GPUs are finally among us. Intel unveiled the A-series Pro range, consisting of A30M, A40 (single slot) and A50
The new gamma takes more and more shape, now, is completed by the professional series, or the gamma Pro A. Indeed, the colossus of Santa Clara presented the range of Intel Arc Pro A Series Professional GPU.
The first products are Intel GPUs Arc Pro A30Mdesigned for the mobile environment not the Intel GPU Arc Pro A40 (single slot) e A50 (dual slot) for desktop with a form factor ridotto. They are both equipped with integrated ray-tracing hardware, machine learning ability and acceleration of AV1 hardware encodingthe first in the industry.

Intel Arc Pro: official the new unreleased graphics cards!
The A-Series graphics cards aim for certifications with the main software applications professionals in the fields of architecture, engineering and construction (AEC), and design and production (D&M). Intel Arc Pro GPUs are also optimized for multimedia and entertainment applications (M&E) come Blender and run open source libraries dell'Intel oneAPI Rendering Toolkitwhich are widely adopted and integrated into the industry's leading rendering tools.
Intel Arc Pro GPUs will be available later this year from leading mobile and desktop ecosystem partners. For developers and content creators who will participate in SIGGRAPH from 8 to 11 Augustit will be possible to access demo sessions with oneAPI Rendering Toolkit systems at the stand Intel n. 427.
Introducing the Intel Arc Pro A-series professional range of GPUs.

Learn more about Intel Arc Pro A30M GPU for mobile, and the Intel Arc Pro A40 (single slot) and A50 (dual slot) GPUs for small-form factor desktops. #IntelArc https://t.co/nnA3X1hLjj pic.twitter.com/ZqrIpMqs92

— Intel News (@intelnews) August 8, 2022
We don't have the full specs yet, but the website has interesting details, it is striking that Desktop variants will contain 6GB of RAM GDDR6, while the laptop version will have 4GB. And, that all three GPUs were also built with the a 6 nanometers of TSMC, a truly super efficient production process. Clear the intent and the interest of Intel to focus on a general optimization related to the software, interesting attention to the Rendering Toolkit, which will wink to all these software previously mentioned, and to future optimizations on the programming and construction side of 3D render. Intel promises support for all the latest technologies used by professionals.
The new graphics cards are all equipped with ray-tracingintegrato, and as mentioned, perhaps the most important thing is AV1 hardware coding acceleration and machine learning capabilities (Learning Machines to be clear). This includes Blender, which is widely used, as well as various open source libraries included in the oneAPI Rendering Toolkit. If you want to continue to know the latest news from the hardware world, keep following us. Greetings from TechGameWorld.com.
The Intel Arc Pro article: the new unpublished GPUs for professionals are official! comes from allotek.