Updating drivers is sometimes slow and tedious, but not always. In this review we introduce you to IObit's Driver Booster 8
How many times have you found yourself with outdated drivers that didn't allow you to get the most out of your PC? Usually going to scan them one by one and perform the update can be very tedious. What's more, the less accustomed right now will be wondering what the drivers are or where they update. To the rescue come many programs that help users. In this review we introduce you Driver Booster 8, the new software released by IObit. Let's go and find out together.
Simple and Intuitive – IObit Driver Booster 8 Review
Recently arrived on the market almost in conjunction with IObit Unistaller PRO 10, this new software immediately caught our attention for its simplicity. After a quick installation, the program is ready to use. It is characterized by a clean layout which makes work easier and more intuitive even for those approaching this type of software for the first time.
On the home screen we find three very useful buttons: Device Drivers, Scans and Game Components. The first and last however could be seen as subsections of "Scan". In fact, through this button it will be possible start a scan of the entire PC which will allow us to see the status of the device drivers and the various game components that can be installed to improve their use during some games.
Above these three functions we then find a writing that indicates the status of our drivers and tells us how long the device has not been scanned. Updating the drivers has never been easier and in this new software version we can choose, through the appropriate setting, if download the latest or latest stable version. It will therefore be up to you to decide if you want the latest drivers or if you are satisfied with an older version, but that does not create problems anyway.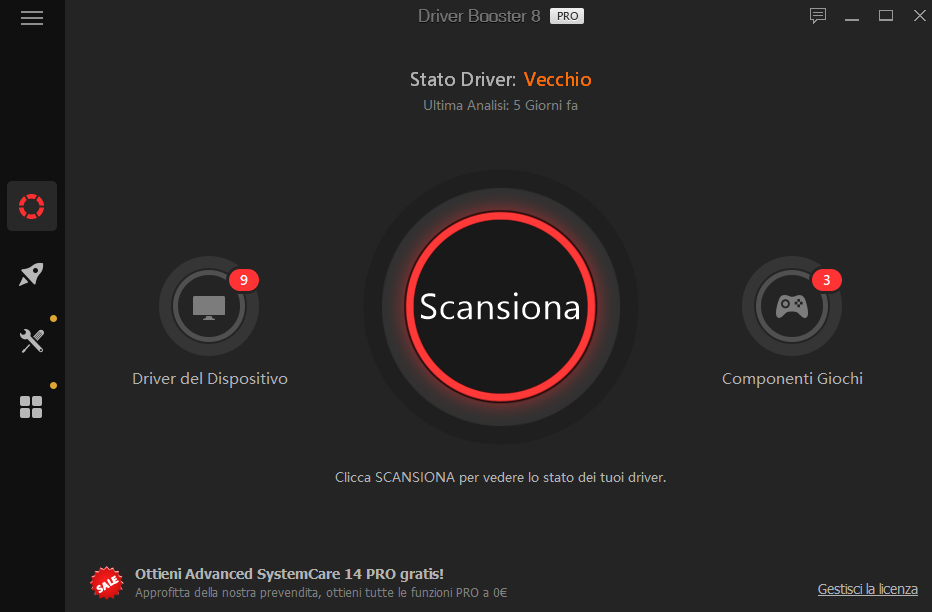 Speed ​​and lightness – IObit Driver Booster 8 review
A fast enough scan and overall lightness make Driver Booster 8 a real splinter. Our CPU will not even realize that the program is running and the weight on the RAM is reduced to the bone. In short, even old toasters would be able to run this software.
Another very nice feature is the one that allows automatic restart, or shutdown depending on your needs, when installation is complete. This will save you time, but of course you need to know when to use it. In fact, if you choose one of these options, you will not have to work on your machine, otherwise you risk losing all your progress as the PC restarts or shuts down without any particular warning.
In the main screen, however, there are 4 other icons along the left bar. This indicates that, in addition to the main screen, the software has 3 other "secondary" screens. In the first, the one characterized by the icon in the shape of a spaceship, we find the section "Booster" which gives the program its name. In this screen it will be possible activate a boost that frees up memory to allow us to play at our best, or delete junk files that take up space on our storage system.
The Game Boost also, in addition to the two preset functions, is equipped with a function configure that will allow the user to choose the processes to be deleted upon activation. Obviously we do not recommend the latter solution if you are not practical and do not know the various processes. In fact, with the preset configurations you will be able to obtain excellent results.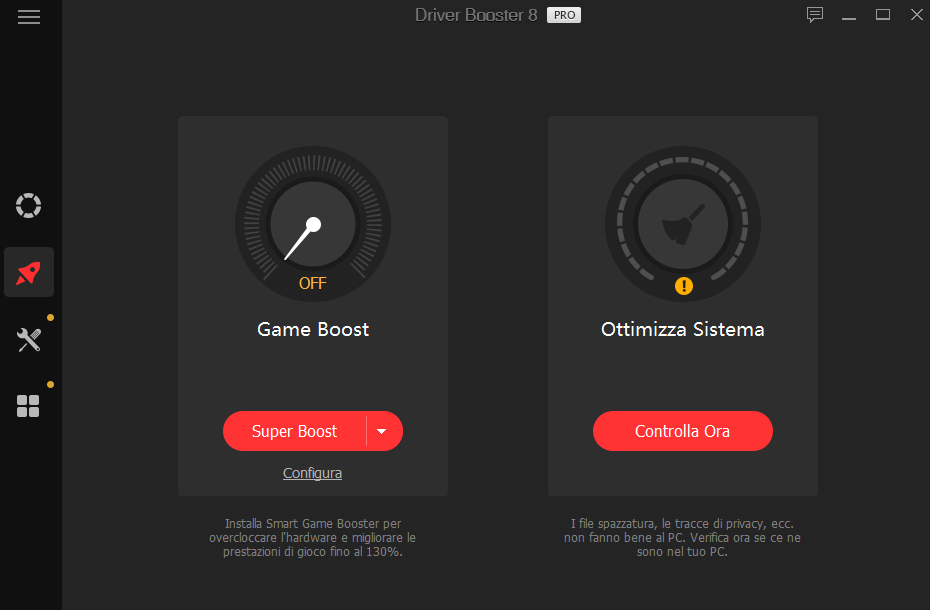 Lots of Useful Features – IObit Driver Booster 8 Review
In addition to these main functions that allow you to update the drivers and "lighten" your RAM, there are many useful functions that can be found in the third screen, characterized by the icon with screwdriver and wrench. These are divided into two lines: the first contains some diagnostic and error correction tools, while in the second there are other useful tools for users.
In the first line of vital importance is the backup restore. If unfortunately an update should be installed incorrectly or should create problems, simply click above and it will return to the previous configuration. Obviously, you will need to make a backup first. In this line then there are other elements that will be used to correct various errors such as an unrecognized device, lack of sound and so on.
The second line instead turns out to be quite intriguing. There is indeed a setting that allows you to update drivers offline. This is certainly very useful if you do not have a connection, but to proceed with the installation you will still need to have downloaded the drivers first. On the other hand, the second function is more important. This in fact will allow you to delete the data of unconnected devices.
The peripherals we use are often replaced for various reasons. Leaving drivers installed for other devices only serves to occupy memory. Here then is that this function comes to the rescue and it deletes all the data of the peripherals not connected at that precise moment. Finally we find two other functions: the first dedicated to collecting and providing us with all the system information (CPU, RAM, video card and so on), the second dedicated to software updates. However, for the latter it will be necessary to download a second IObit software.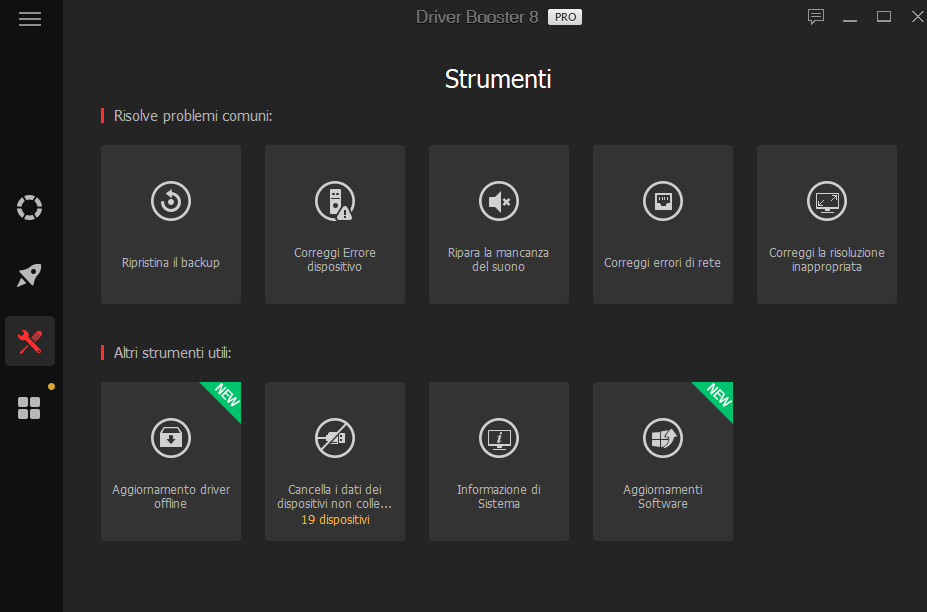 Final report
We have now reached the end of this IObit Driver Booster 8 review and it is time to take stock. The program comes with a clean and simple layout that makes it easier to use. Furthermore, its lightness can also be found on the weight it exerts on the CPU and RAM, almost completely imperceptible. Scanning and preset settings facilitate fast and immediate work. Thanks to over 4,500,000 drivers, the software database is 28% larger than the previous version.
Even a user who is using such programs for the first time will immediately feel at ease. In addition to updating the drivers, however, this program is also able to speed up our PC, even if minimally, thanks to the special booster section. Here it will also be possible to remove obsolete files that only occupy memory. All this is seasoned with other very important functions that will allow the user to return to previous configurations and also to eliminate old drivers dedicated to devices no longer used.
However this fantastic program it is only available for Windows versions, from XP (now disused) onwards. No version therefore for users with macOS or Linux systems. The license can be purchased on the official website or one after installing the program. This it will be valid for one year and will be usable on 3 PCs. A great idea if you plan to keep the drivers of all the PCs in the house updated.
For this review on IObit's Driver Booster 8 that's it now. To not miss further news and reviews of the software world, keep following the pages of tuttooteK!
The best around
Points in favor
Large database
Fast and intuitive
Clean layout