IObit Uninstaller review, a powerful and lightweight tool that allows you to keep your system clean and under control
There are a lot of software exponential, between programs already pre-installed from the moment we purchase the product to those subsequently installed and uninstalled for their own needs.
All of this rack up causes the system to become heavier, leaving fewer and fewer resources available for the work to be done and rendering inefficient our computer.
This mass of data unnecessary which we find in the form of: test software, adware and browser toolbars is called "Bloatware".
IObit Uninstaller protects your system from bloatware by running a full scan of your computer allowing you to remove it, thus freeing up space and resources.
Developed for Microsoft operating systems, it allows the monitoring in real time of all the applications installed on the computer, keeping track of every single file and every single registry key modified or added during the installation of any program.
Very light, it has no impact on system performance despite its monitoring functionality active which allows you to manage the installation and removal of applications, of updates system, plug-in unwanted browser, toolbar of the most used browsers allowing you to keep the system clean and under control through a single interface minimal e multi language.
Just try it to realize the power and the lightness of this tool that you fall in love with easily.
Let's try it together (version 10) | IObit Uninstaller Review
IObit Uninstaller is possible download it via the manufacturer's website, in a single packaged executable of just 22 mb.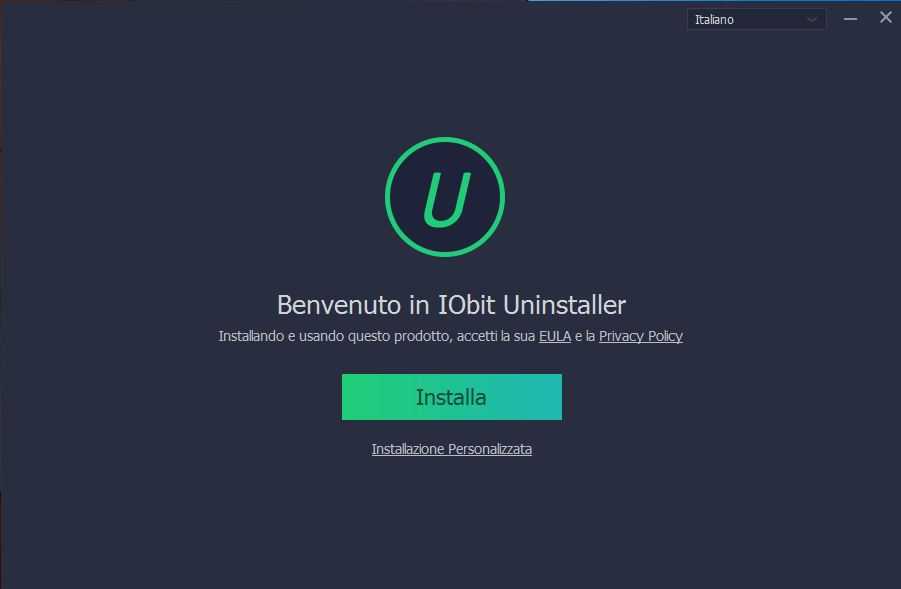 The installation, multi-language, it is fast and very simple and already gives the idea of ​​how light this instrument is.
At the end of the installation there is the possibility to subscribe to the newsletter and get a free guide for Windows systems in e-book format.
For installation completed you are faced with a well-made graphical interface with the instruments most important ones enclosed in macro categories to make everything easier to manage.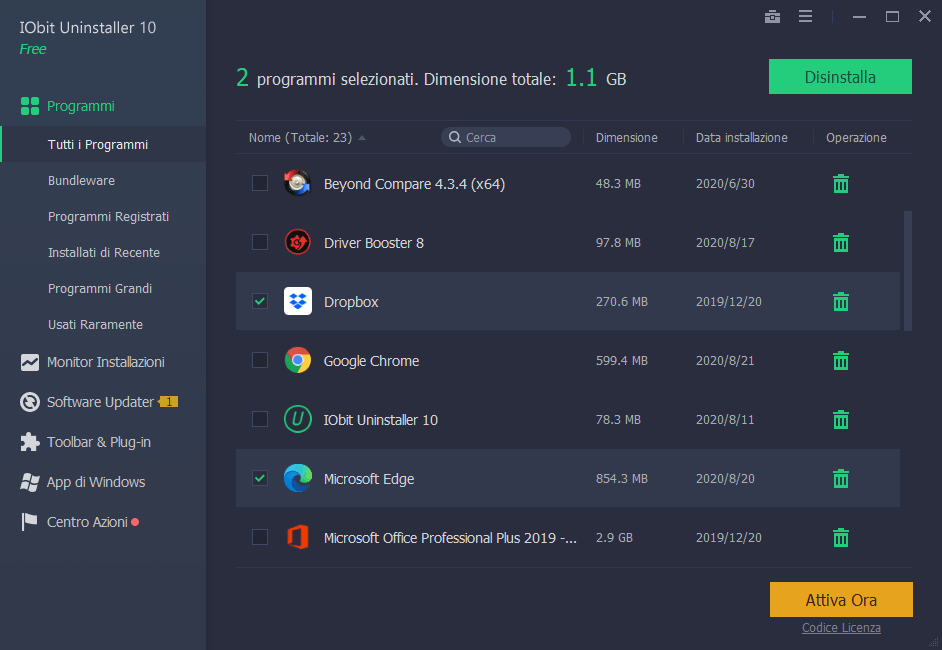 Let's start from the first screen, we find the management Programs.
From here it is possible to remove all unnecessary programs in depth and without leaving residues of files scattered in the system.
Within the same section we find the management of Bundleware that is, all those software that are installed together with other programs but that we do not need and of which we do not always know their existence.
The analysis of recently installed, rarely used programs and those that take up the most memory.
All this is accompanied by a pop-up guide that opens by simply passing the mouse over each menu item and function present within this control panel.
The control panel has the possibility not only to change the language, it supports 38 of them including Italian, but also to change the theme from light to dark and the font size.
The advantage of the Installations Monitor
The function that I liked the most and that in my opinion really deserves praise for its lightness, power and effectiveness is the Installations Monitor.
The IObit Uninstaller Install Monitor can be activated in auto detection mode or manual by dragging the file that integrates us in particular analyzing the installation phase.
What you get by enabling this feature is a complete and meticulous control of what is installed and the result is truly amazing and absolutely worth trying.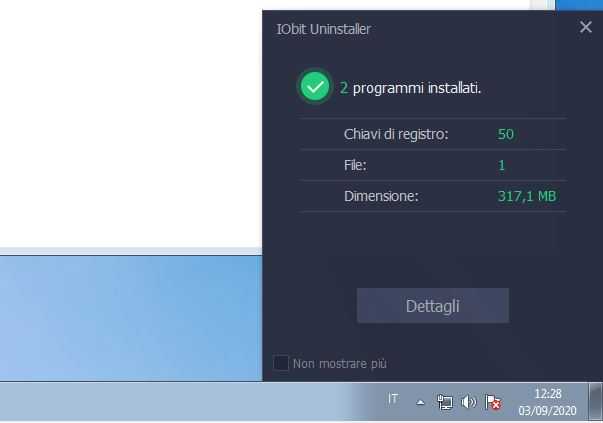 By clicking on the warning detail, the entire software installation process is analyzed in great detail, nothing really escapes, from the registry keys to the installed files everything is recorded on a register that can also be consulted later and exportable.
Lots of features
The function of Software Update it allows to keep under control and updated all the most used software within the system.
Toolbar & Plug-in, lists the browsers present on the system with their plug-ins and toolbars installed with the possibility of removal and research.
But it doesn't stop there. In fact on the right corner of the screen we find an icon with the image of toolbox gift there are useful tools:
Software Integrity: Software Healt, detects the condition of programs so that they work optimally.
Easy Uninstall, by dragging the icon you can select the program to remove.
Forced uninstall, for programs that are difficult to remove, even removing fragments.
History, keeps track of uninstallations performed.
File Shredder, helps to delete files securely and permanently.
Windows Updates, allows you to manage all updates made by Windows Update by uninstalling those that are not of interest.
We have seen together the main features of this tool, but they are not all.
It is possible to install from Action Center, many programs that help you keep the system protected, light and performing.
Conclusion | IObit Uninstaller Review
My only advice is to install it and try it out.
There is also the possibility to buy the Pro version with very little, 13.99 euros for 1 year and I assure you that it is money well spent.
IObit Uninstaller to always have a clean and under control system.
Points in favor
Speed
Lightness
Completeness
Efficiency
Price