Since introducing the notch with the iPhone X, Apple knew it needed a better solution for accommodate the TrueDepth front camera. Many thought that Apple would sooner or later introduce an under-screen sensor, but Apple decided to instead combine hardware and software in a solution that no one expected. In fact with iPhone 14 Pro e Pro Max arriva la Dynamic Islandwhich integrates the pill-shaped cut-out into the notification system.
iPhone 14 Pro introduce Dynamic Island, mix fra hardware e software
For some months now we have known that Apple was working on an alternative solution to the notch, which however remains on the iPhone 14 and iPhone 14 Plus. Several leaks had revealed that there would be a bigger cut-out than what we are used to seeing in the world. Android, a pill shape. So as not to give up the hardware needed to secure FaceID. And when following yesterday's event in Cupertino we saw it, we grinned: we knew it! But the grin is turned into a look of surprise when we saw Dynamic Island.
With this function, the notch comes to life becoming "a rich and fun new way to interact with activities, alarms, notifications ". The physical cut-out "widens" on the screen, taking advantage of the perfect blacks of the Super Retina XDR display, taking on different shapes and sizes.
The new Apple notification center
We were really impressed to see the small cutout in the screen widen to take on the familiar shape of the rectangle where you see incoming calls on iPhone. But Apple hasn't limited itself to this feature.
Dynamic Island becomes a box to tell us that authentication with FaceID it worked, a navigation bar when we are following Maps step by step, a timer for when we don't want to make a mistake in cooking pasta. Although our favorite, first-rate feature is when it becomes one bar showing the sound wave of a song or a podcast we're listening to.
Apple explains that "background activities like Maps, Music or the timer remain visible and interactive. And third-party apps on iOS 16 can provide insight into match results or the movements of the shared transport with Live Activities, taking advantage of Dynamic Island ". This means that the already useful update of the iOS lock screen (here all the details on the new operating system) comes to life with Dynamic Island.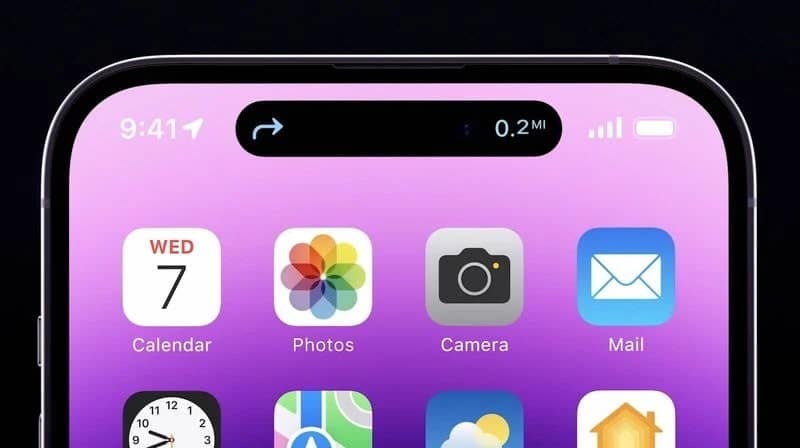 The real advantage of Apple
Using the cut-out as a notification system is nothing new. In the Android world, we've seen smartphone makers light up the camera's 'hole' to tell you when you've received a message. But none of the producers have the ability to make those notifications interactiveexpanding them to your liking, because the software changes it can make are limited.
And for its part, Google could not implement such a feature in Android for the simple fact that each manufacturer positions the camera however they like. Never say never, but for the moment a novelty of this type is unthinkable on any device other than iPhone.
This is because Apple has total control of both the hardware and the software that powers it. So instead of trying to hide (with not always excellent results) the camera under the screen, Apple has made a hardware limit a smart feature with software. To make Dynamic Island work on the iPhone 14 Pro you need a well-designed notch, an OLED screen with pure blacks, total control of notifications and UI. Apple has not only leveraged all of this, it makes it available to developers to create dedicated animations: on Android they should fit a million screens and cut-outs, on iPhone just one.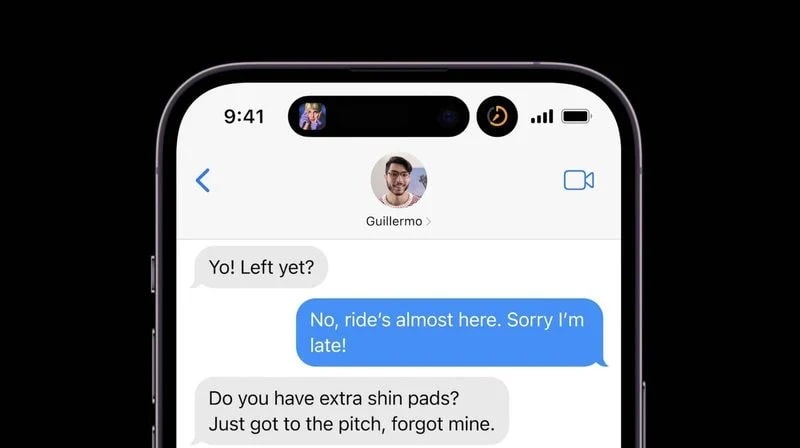 Dynamic Island is the notch of the future (not only for iPhone 14 Pro)
This is the real strength of Apple's smartphones. And in the near future this peculiarity could make the Dynamic Island even more useful. We could perhaps see entire apps opening from that animated notification panel, rather than seeing several developers sew new features on this very novelty. And if tomorrow the pill notch should also arrive on other iPhoneswe bet that the features will multiply.
For the moment, however, we will have to wait for the September 9 for pre-orders of iPhone 14 Pro e Pro Maxwith shipments starting on September 16. Here you can order them.
What do you think about it? Are you, like us, impressed by this gimmick, or do you already miss the notch? Let us know in the comments.