In the last weeks the LinkedIn App is working hard to be able to involve users on the platform as much as possible. As far as we know, the company is working on a new platform where it will list, host and market interactive virtual events. A project that will start with an audio-only product that will be launched soon in beta, and which will be followed by a video version coming in the spring.
LinkedIn: App launches an audio event platform
"Our philosophy is to put the organizers under control. We want to make it easier for you to host virtual panel discussions, fireplace chats, and more. Some may want the event to be more formal or less formal. Others may want to communicate with their audience, open up to the outside. We give support and interactivity to professionals ". So commented the Product Manager Jake Poses about the idea of ​​building an audio event platform on the LinkedIn App. A project that sounds quite familiar to us, given that the App had brought it forward in March 2021 to compete with Clubhouse.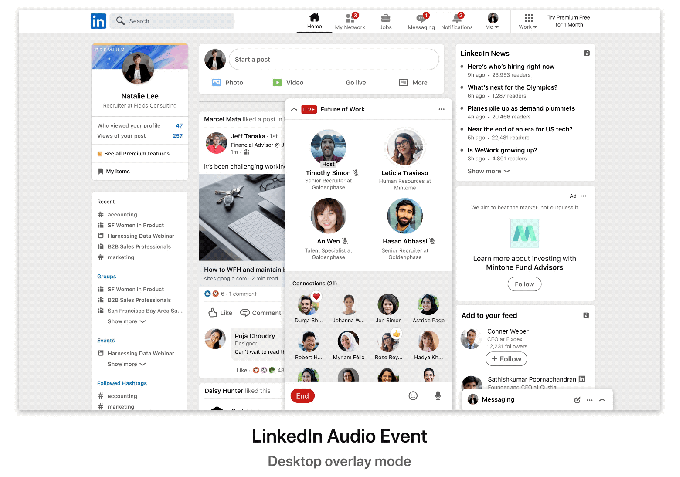 In recent months, LinkedIn has been able to test new functions that could be useful for the perfect functioning of audio events. These include the ability to purchase tickets for events, although it appears that initially the platform will host only free events. Beyond this, we know that the App will provide hosts with all the tools they need to be able to support end-to-end interactive content without the need to use third-party software. The organizers will be able to do so follow and record the event directly from the App LinkedIn, as well as chatting with attendees and moderating discussions.
Furthermore, to expand the visibility of an event LinkedIn will collect them all within a dedicated platform. This will allow Creators to interact more with their users, and also to choose social media as a communication channel. On the other hand, it is undeniable that the company has chosen to invest heavily in the activity of creators. Even if the goal of the App is to also involve large companies and organizations in the creation of interactive virtual events. For the moment, however, we wait to see what the results will be obtained from this new function, at least once it has come out of the beta phase.