In this review we will talk about Metal: Hellsinger, an adrenaline-pumping hybrid between FPS and rhythm game developed by The Outsiders and published by Funcom
If you are a fan of DOOM FPS then for sure you already know Metal: Hellsinger. This title, developed by The Outsiders and published by Funcomit's a hybrid between FPS and rhythm gameand promises to deliver to gamers an adrenaline-pumping experience to the rhythm of music. A combination of genres so different from each other has attracted the attention of the public but obviously has also given rise to many doubts on its success. With this review so we will try to make you better understand the actual quality of Metal: Hellsinger.
Descent into the underworld
In Metal: Hellsinger you will take on the role ofUnknown, a demon who arrived in hell under mysterious circumstances. Once in this place, however, the protagonist will have an unfortunate encounter with the Red Judge, the undisputed ruler of the underworld. This very powerful entity will immediately steal the voice of the protagonistthen imprison her for many years at the bottom of hell. The Unknown, however, is not an easy demon to subjugate and thanks to the help of Paza mysterious magical skull, will manage to escape from the clutches of the Red Judge for put hell to fire and sword in search of what has been stolen from her.
Overall the story of Metal: Hellsinger it does not particularly stand out for its originality. Once you have passed the introduction, all you have to do is devastate all the circles of hell and slaughter every demon that will appear in front of you. In the meantime, however, your companion Paz will take care to tell you a little about the story of this very particular world, thus managing to make you passionate a little despite the banality. In a title like this though the plot is only a side dish and the main focus is obviously the gameplay.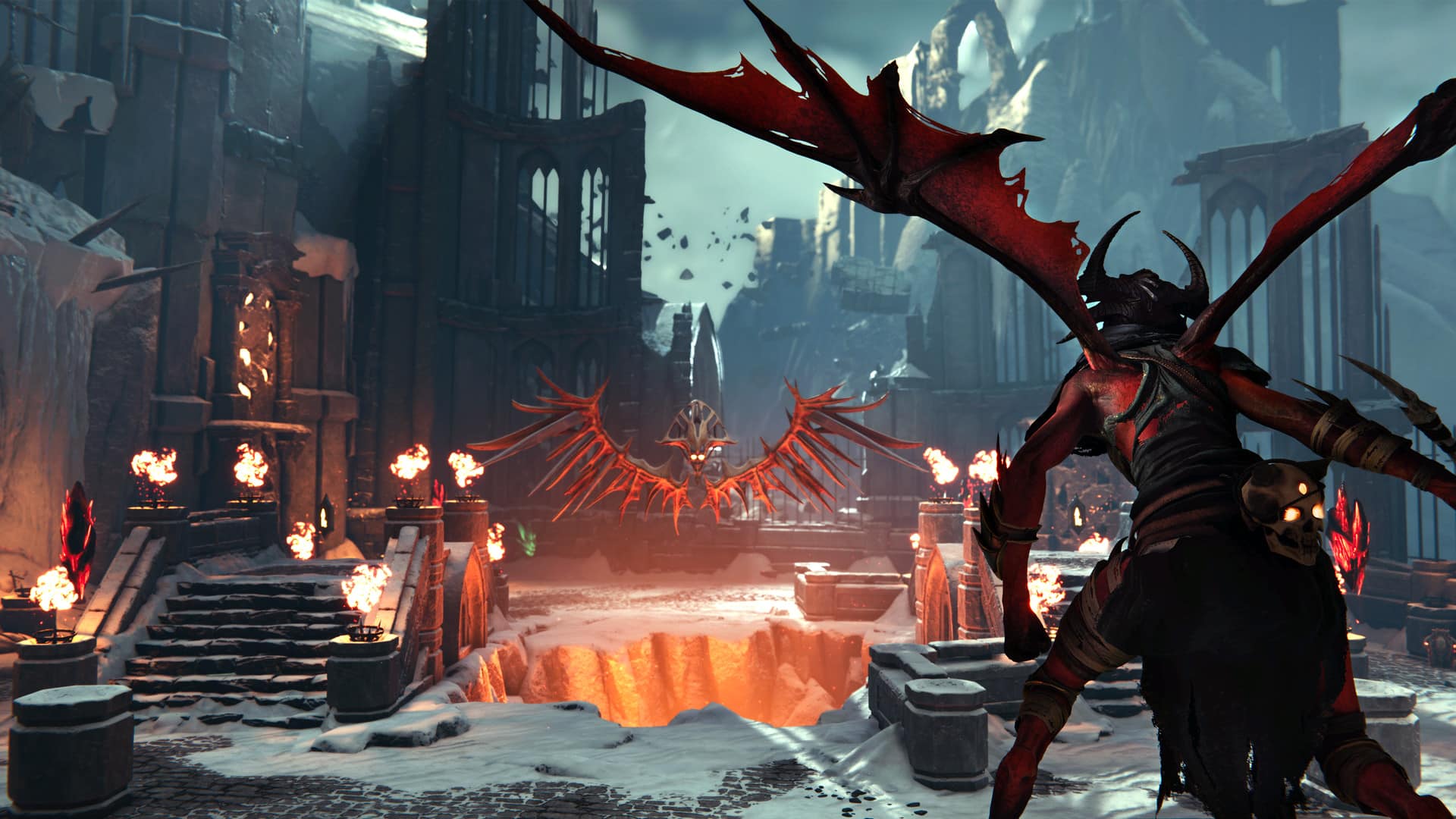 Slaughter to Rhythm – Metal Review: Hellsinger
As we have already anticipated Metal: Hellsinger is a hybrid between FPS and rhythm game, and this translates into having to fight against hordes of demons by attacking in rhythm with the soundtrack. At the start of the game you will only have one available belongs with which to slice opponents in time, but going forward in the game you will also get many ranged weapons such as pistols, shotguns and so on. These tools are perfect for slaying the demons of hell, but they will be much more effective if you use them to the rhythm of the music.
In fact, shooting in time with the soundtrack not only you will inflict more damage, but you will also accumulate rage. Fury is a value that it will increase your overall damage, your score multiplier and, once it reaches the maximum, it will allow you to listen to the sung parts of the music. But that's not the only benefit you'll get from continuing to play at the pace. Continuing to hit enemies in time without making a mistake you can in fact grow yours rhythmic series. This value will increase more and more, allowing you to obtain useful bonus and to earn tons of points.
The Nine Circles of Hell – Metal Review: Hellsinger
In Metal: Hellsinger you will have to face all nine circles of hell and each group will count as a level. The levels of the game will all be very linear and will simply consist of a series of arena rooms connected by corridors full of enemies. As bad as it may seem, this simple structure is not a problem in Metal: Hellsinger. The focus of the game is the action to the rhythm of music and consequently there is no lack of some secrets or a more structured level design. Furthermore, considering how difficult it is to keep up the pace between one fight and another, it is good not to be forced to think too much about your movements.
Furthermore, the main levels of the game will not be the only ones you can face. Once you have completed a round of hell you will in fact have the opportunity to participate in three different challenges that take place inside. These extra levels they are very demanding and in order to complete them you will be forced to respect the certain conditions within a time limit. For example, you may be asked to kill a specific number of enemies at a perfect pace, to perform each kill with a different weapon, or to defeat enemies using only executions.
These extra levels contribute to increase the longevity of the stock and they will also allow you to unlock profits upgrades. At the completion of each challenge you can in fact obtain seals, that is, passive upgrades that can be equipped that will allow you to have different advantages within the main levels.
Demonic Music – Metal Review: Hellsinger
For what concern technical sector Metal: Hellsinger does very well indeed, especially considering it doesn't boast the same budget as a triple A models are really well done, the animations they are very neat and the effects they are truly spectacular. Plus the game proved to be very stable indeed, maintaining a granite framerate even in the most chaotic sections (our test took place on PC).
But what struck us most about Metal: Hellsinger is the artistic side. In particular we were obviously extremely impressed with the quality of the OST. In fact, in each level you will have the opportunity to listen to some truly incredible pieces of music that perfectly fit the style and rhythms of the game. We also enjoyed it very much too the care taken in the creation of the settings, really very inspired. Unfortunately, however, there is also something that has not convinced us. Specifically we talk about design of enemies and bosses, really very mundane and easily forgotten.
Conclusions
Now the point of our review has arrived where we sum up Metal: Hellsinger. Fighting the demons of hell while continuing to attack at pace is really spectacular and satisfyingand everything is accentuated even more thanks to the wonderful soundtrack. Plus, thanks to the presence of challenges, greater difficulties and online leaderboards, the game also boasts good replay value which will encourage you to retry the levels to improve more and more. In short, in our opinion The Outsiders is managed to hit his goal in a big waycreating a very challenging game that can be enjoyed by both FPS fans and metal music fans alike.
Metal: Hellsinger will be available from September 15th for PC, PS5 and Xbox Series X | S.. If you are interested in staying up to date with all the news on the world of video games and much more, then continue to follow us here on TechGameWorld.com. Furthermore, in case you want to buy some games at an advantageous price, we suggest you take a look at the many offers on Instant Gaming.
Points in favor
Fast and fun gameplay
Good replay value
Outstanding soundtrack
Points against
Enemy designs are uninspired