The latest addition to Motorola, the Motorola One Vision put under pressure in this review, represents a synthesis of features seen on other devices, combined with care and caution from the experience of the American company. The result? Read on to find out
Over the last few months we have been witnessing a trend triggered by the major smartphone manufacturers that pushes towards the search for new aesthetic solutions with the aim of optimize smartphones without upsetting them as we know them. I am thinking for example of OPPO's shark fin front chamber, the front chamber placed as a foro sul display launched for example by Samsung with the S10 series, or even al form factor in 21:9 brought to market by Sony's smartphones.
Very often, however, it happens that the mid-range of the market sees these innovations even a year after their introduction on the top-of-the-range models precisely because, initially, they were intended exclusively for more expensive devices. This is definitely not the case with Motorola One Vision protagonist of this review that sees, among its peculiarities, both the presence of the hole on the display for the front camera and the form factor at 21: 9 which affects, not a little, on the general touch and feel in everyday use.
Technical sheet | Motorola One Vision Review
Display: 6.3-inch Full HD + IPS, 21: 9 ratio, 435 ppi
SoC: SAMSUNG Exynos 9609 octa-core a 2.2 GHz max.
Operating system: Android One 9 Pie
Memory: 4 GB of RAM, 128 GB of internal memory expandable with Micro SD up to 512 GB
Rear Camera: dual camera with 48 MP main sensor with OIS and f / 1.8 aperture, second 5 MP sensor with f / 2.2 aperture –
Anterior chamber: 25 MP sensor with f / 2.0 aperture
Connectivity: WiFi 802.11 a/b/g/n/ac, Bluetooth 5.0 con LE/EDR, GPS/GLONASS/Galileo, NFC, USB Type-C 2.0
Battery: 3,500 mAh with fast charging up to 15 W Turbo Power
Dimension:160.1 x 71.2 x 8.7 mm
Weight: 181 grams
Aesthetically not original but pleasant and balanced | Motorola One Vision Review
Inside the sales package there is, in addition to the smartphone, a cavo USB Type-C, a 1.5A fast charging power supply, a couple of auriolari in-ear of sufficient quality and also one cover in soft plastic. A decidedly complete equipment, as we are not always used to seeing in the mid-range.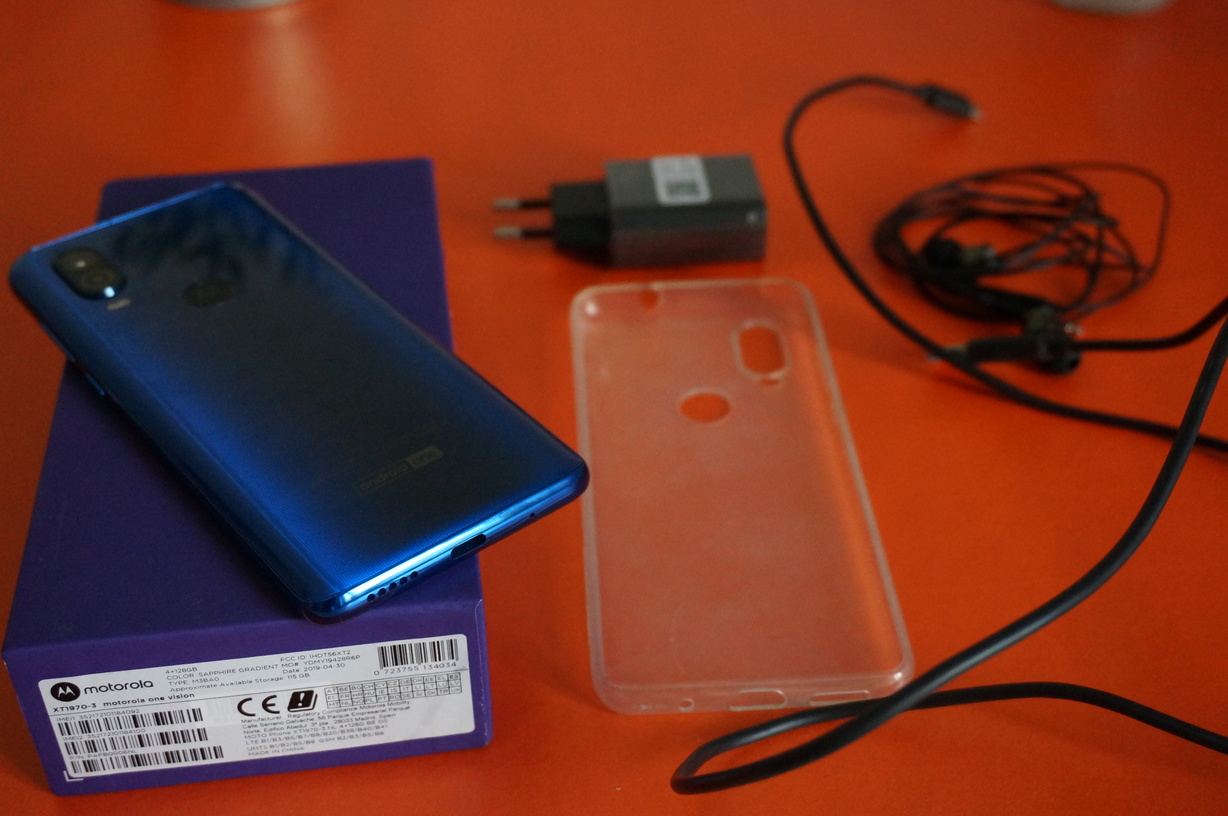 Impossible not to start this review of the Motorola One Vision by mentioning the chat display con form factor in 21:9 which defines the dimensions of the device it comes with 160 mm in length, 71 mm wide on whose edges the USB Type-C jack and the 3.5 mm audio jack and one thickness of 8.7 mm for a well-balanced total weight of 181 grams. Despite the generous dimensions of the 6.3 "panel, the first advantage, and perhaps the largest resulting from this form factor, is the incredible maneuverability that is obtained even in one-handed use thanks to this elongated shape but narrow to the point to favor an always firm and effective grip. I also deserve one flawless construction and the excellent materials used for the metal frame used for the side edges as well as for the glass back cover.
It goes without saying that the purchase of the sapphire color is definitely recommended, unquestionably more successful than the bronze variant. Also in this case, nothing innovative and exclusive on the horizon, but an evolution, currently too widespread, of that blue back cover of Honor 8 which has obviously made its way into the hearts of many. Not to be underestimated then the presence of IP52 certification which allows the smartphone to resist splashing water and dust.
Nice display but unfortunately only IPS | Motorola One Vision Review
The panel employed is a good unit from 6.3 inch IPS with Full HD + resolution protected by a Gorilla Glass. Unfortunately, despite the color rendering is more than good and certainly in line with the price range, we would have preferred to see an AMOLED panel, especially considering that some manufacturers are now able to offer it even at low prices. Obviously the greatest limitation is precisely in the reproduction of black which tends to turn towards greyish tones. The overall quality is however perfectly in line with the selling price, good colors and wide dynamic range as well as the maximum brightness is always more than sufficient.
On the one hand, the 21: 9 aspect ratio improves what is the experience of use in social networks and productivity in general, the greater length of the display in fact, it allows you to view an infinite amount of information on the screen without having to make compulsive scrolls within the applications. On the other hand, however, being a form factor not used in the recording and broadcasting of videos, it creates annoying large side black bands, even more than seen with devices in 18-19: 9. Although the hole for the front camera is certainly not among the smallest seen around, however, it does not appear to be a problem in the use of full screen content.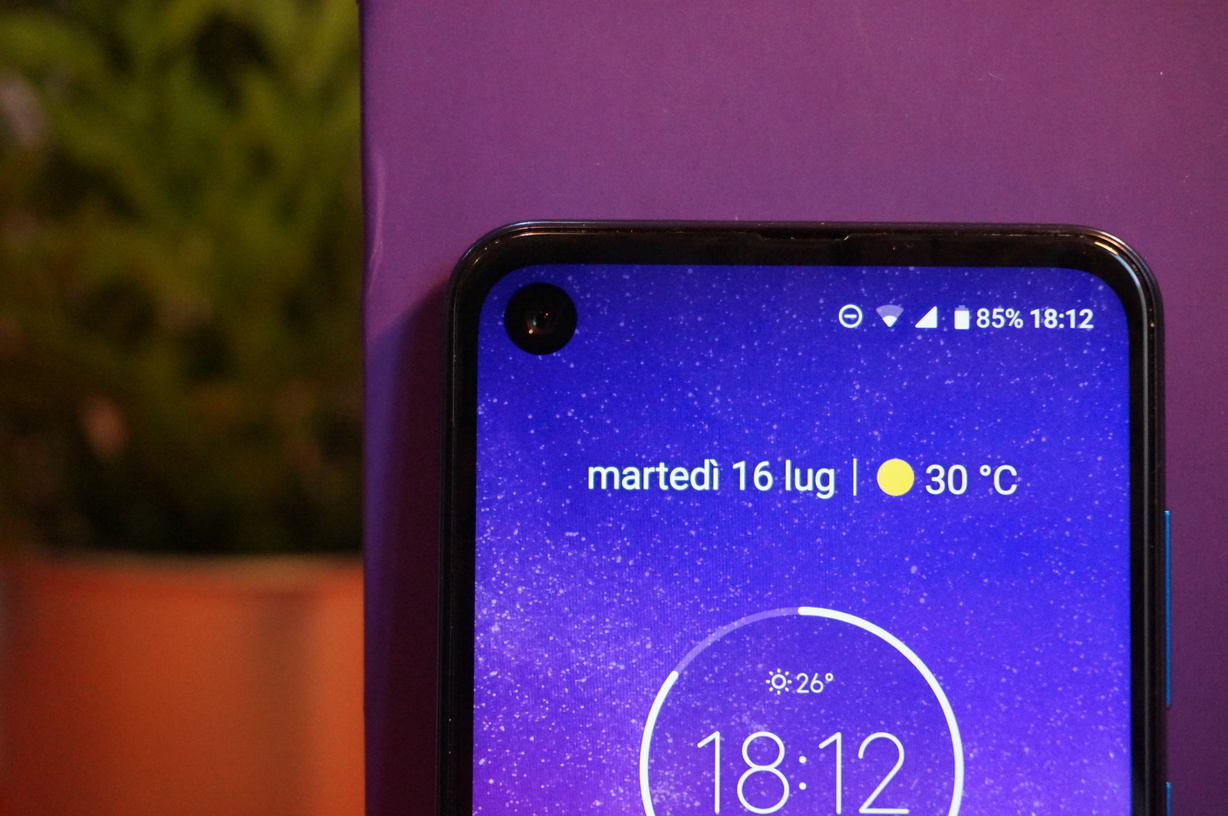 Mid-range performance that convinces | Motorola One Vision Review
Turning now to the performance that Motorola One Vision had during our tests for review purposes, I can tell you that the processor Exynos 9609 on Samsung used by this device does its job well in everyday use. The processor is an octa-core which, coupled with the Mali G72, a 4 GB of RAM and 128 GB of internal storage, allows an always fluid and hardly limiting use, especially if, as in this case, it is combined with practically stock software. To be honest, being used to being in front of the Snapdragon 710 in this price range, I must say that I have found in the case of One Vision a small step back in terms of processing speed and consequently general speed of the operating system.
Applications and social media start up quickly and then run smoothly as long as you do not ask the processor to perform excessively expensive operations in terms of brute power. Present i Level 1 DRM (Widevine L1) to be able to take advantage of Netflix in HD. A small flaw I noticed is that, also considering the current temperatures, the processor tends to heat up significantly when you use it intensively. Absolutely promoted GPU Mali G72 also in videogames like PUBG, more than for example the Adreno 616 combined with the Snapdragon 710 has been able to do. There is both the unlocking with the fingerprint, always effective although not very fast, and the unlocking with the standard Android face with recognition only in 2D .
Three sensors and many megapixels | Motorola One Vision Review
The photographic sector of Motorola One Vision consists of one dual rear camera da 48 megapixel f/1.8 con optical stabilizer combined with a 5 megapixel f / 2.2 for the blur effect. At the front, however, there is a 25 megapixel f / 2 sensor. The photos taken from the main camera will not be at 48 but at 12 megapixels thanks to a system that interpolates 4 pixels in one to improve the final shot.
In practical terms this translates into great photos when the lighting conditions allow, with good dynamic range and good white balance. Fast and responsive autofocus as well as HDR is always useful and effective, which can also be activated automatically. Then taking pictures with the setting forartificial intelligence enabled, the final shots will actually benefit, especially as regards the amount of detail in particular of large scenes. The second 5 megapixel camera intervenes in the realization of photos with effect bokeh, beautiful the degree of nuance of the effect (however variable through software settings) but not very precise in the elaboration of the depth.
As is now almost a tradition, there is one night mode inside the camera application customized by Motorola, useful for making acceptable shots in conditions in which it would not be possible, even if the same tends to mix the colors a little too much in favor of greater general brightness. Nothing to say about the 25 megapixel front camera which makes excellent shots also equipped with HDR and software simulation of bokeh effect. Videos can be recorded up to 4K at 30 fps and that's where the sensor's optical stabilization actually makes a difference. Recording in Full HD at 60 fps is recommended because at 30 fps it tends to micro-shoot in the stabilization phase.
The connectivity sector is good without excelling, but what audio! | Motorola One Vision Review
Promoted telephone section, present NFC e Bluetooth 5.0. Good form for receiving the Wi-Fi although I have certainly seen better in other competitors. What really surprised me and that I had hardly found in devices in the universe of € 300, is the audio quality coming out of the system speaker (mono): very high volume and excellent balance between frequencies whether it is high, medium but also very full-bodied bass. Without a doubt, the collaboration started with Dolby has paid off.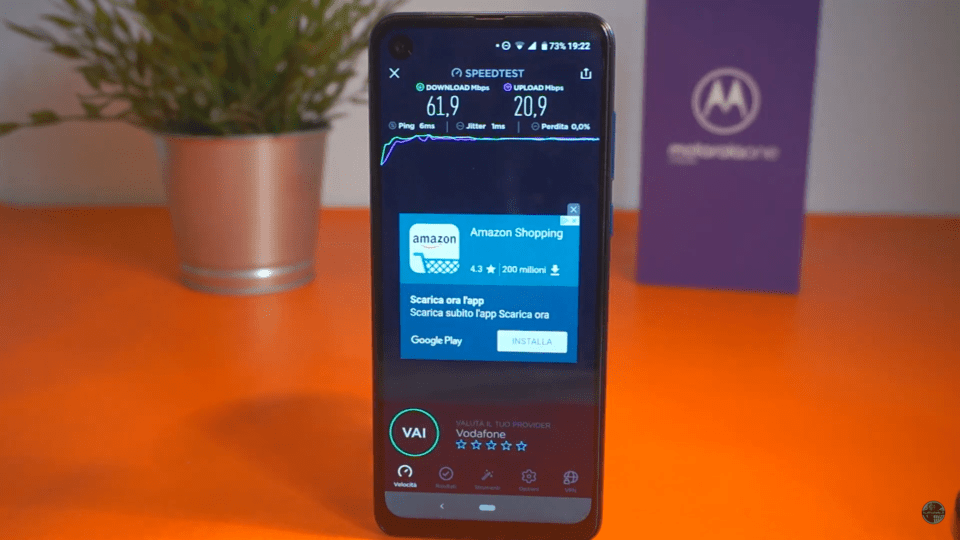 There is Android stock but there are also Moto Actions | Motorola One Vision Review
The operating system that you will find installed when you turn on is Android One in the Pie version updated to the June patches. Surely Motorola is among the manufacturers more in step with the amount of updates but a little work is still needed to be at the top with the release timing. Despite not being a user ofalways on display I found the one proposed by Motorola one of the best ever seen so far, functional and interactive (in addition to displaying notifications, you can also start a response).
Also present the Motorcycle Actions which, thanks to some gestures or particular movements of the smartphone, can activate predefined functions such as turning on the flashlight or taking a quick shot. Unfortunately navigation gestures are missing (back, multitasking, home) which we appreciated on other terminals in favor of a not as effective single navigation key very similar to Meizu's mBack variant.
A day of guaranteed autonomy | Motorola One Vision Review
No problem on the autonomy front thanks to the presence of one 3500 mAh battery which allowed me to close the day with about the stress 15% autonomy remaining. Definitely not a battery phone but it guarantees a full day of use without particular sacrifices. Fast charging is then allowed by technology Turbo Power da 15W.
Let's sum it up
At the end of this review it remains to sum up on this Motorola One Vision. First of all it is worth commending the work done by Motorola which, over the years, has learned to stand out with quality and value products within the …