Nokia 2.4, which I will talk about in this review, adds to the offer of the Finnish company within the low-end of the mobile market. Let's find out if it can be considered a valid purchase
In recent years, as you well know, we have seen an overwhelming return of Nokia within the smartphone market. Following the acquisition and subsequent relaunch of the brand by HMD Global, thanks to a focus mainly on the medium-low end of the market (demonstrating this is the current absence of a real top smartphone), the Finnish company has managed to re-confirm itself with products that I would hardly feel I would recommend, especially in the price range between € 100 and € 150. . Having now tried several smartphones, I find this Nokia 2.4 represents a step backwards even with respect to the philosophy adopted up to now by the same historic brand. Find out why in this review.
Data sheet
Display: 6.5-inch HD LCD + 720 × 1600 pixels (270 ppi)
SoC: MediaTek Helio P22
Operating system: Anrdoid One 10
Memory: 2-3 GB of RAM and 32-64GB of internal memory
Rear Camera: dual camera with 13 MP f / 2.2 main sensor, 2 MP second sensor – Front camera: 5 MP sensor with f / 2.4 aperture
Connectivity: WiFi 802.11 /b/g/n/, Bluetooth 5.0 con A2DP/LE, A-GPS/GLONASS/BeiDou/, Micro USB 2.0
Battery: 4500 mAh
Dimension: 165.85 x 76.3 x 8.69 mm
Weight: 195 grams
Bulky but well balanced | Nokia 2.4 review
Despite the massive dimensions of 165.85 x 76.3 x 8.69 mm, necessary to incorporate the very large display da 6,5″, the feeling returned in daily use is better than expected. Most likely, just the same more than generous dimensions allowed Nokia's engineers to balance the weight very well almost 200 grams, to the point of allowing you to perceive an excellent sense of general construction and make thepleasant use. The design of the Nokia 2.4 is perhaps one of the most satisfying aspects of the whole device, although it is definitely not nothing original or in any way particularly sought after.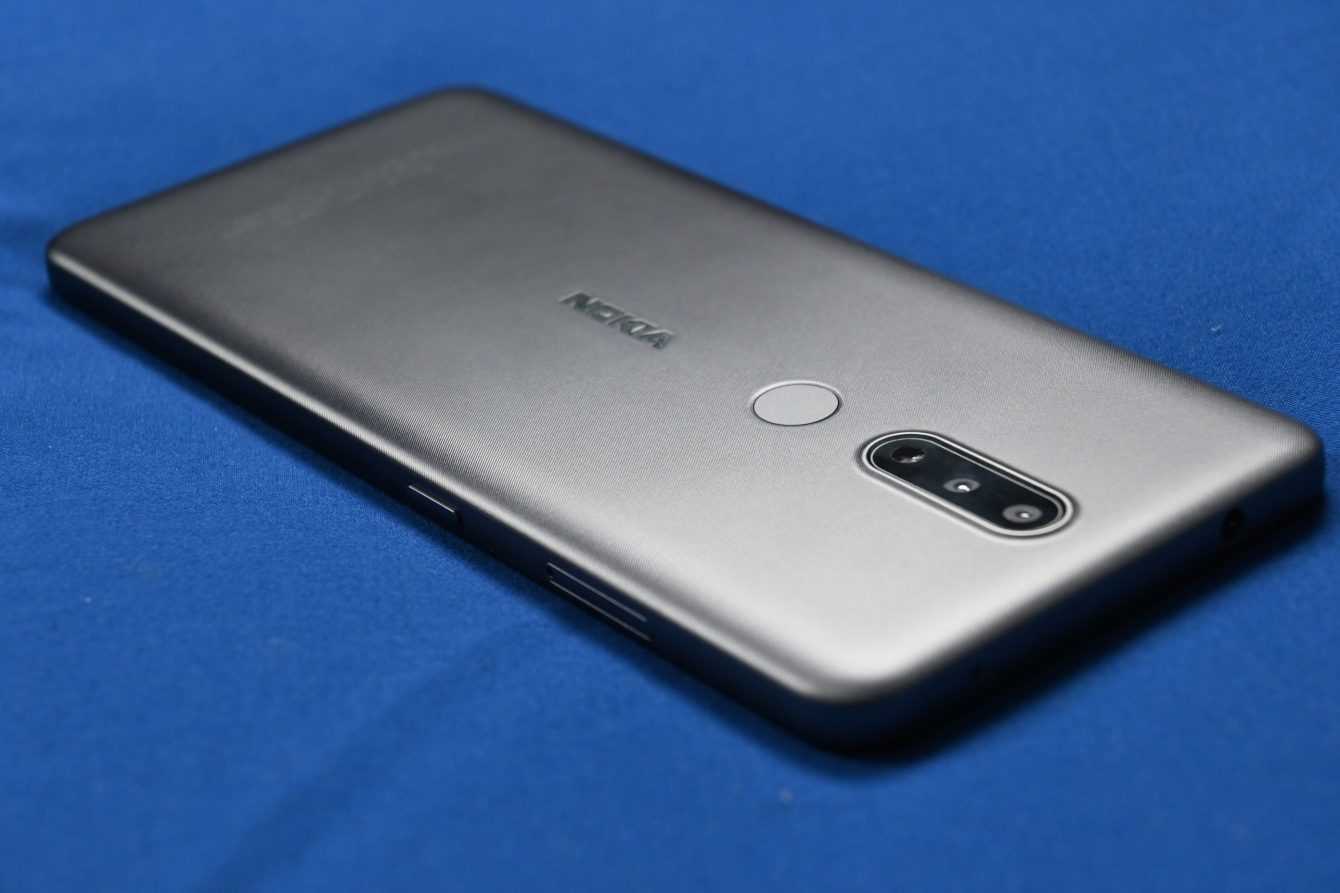 At the front there is a now classic display with drop notch, from which the optimized ones certainly stand out (in relation to the price range) but still present, side frames with 2.5D edges which further improve the grip. The rear follows a philosophy now little used but which in this specific case proves to be a good choice. There back cover is in fact made of brushed polycarbonate, beautiful to the eye and able to greatly improve the grip of a smartphone that otherwise would not have been easy to manage. The surface is then interrupted by the photographic compartment with traffic light structure placed in the center of the upper part and by the fingerprint sensor. All in all, considering the price range, there is not much to complain about the design and build quality of this Nokia 2.4, which has as its only fault the bringing with it some features that are now largely outdated. Available in the colors: Charcoal (copy in review), Dusk e Fjord.
Still HD + | Nokia 2.4 review
The years pass, technology changes, the world alternates periods of evolution with periods of total uncertainty but there is only one absolute certainty that will remain incontrovertible for who knows how long: the presence of display HD+ in the low end of the mobile market. Leaving aside the petty irony, Nokia 2.4 is equipped with a display with HD + resolution (720 × 1600 pixels), like many of its competitors. Indeed, Nokia 2.4, with its huge 6.5 "display is perhaps themost illustrious exponent. This is because, in the face of such a high thumb drive, being in front of a resolution has a greater relevance due to the low density per pixel which stands at 270 ppi.
However, by downsizing the importance that these technical data assume in daily use, actually the Nokia 2.4 display it doesn't make you regret much more sophisticated choices, provided of course you don't expect top-of-the-class multimedia playback. It is undeniable that the large display still gives a certain satisfaction in viewing the contents, preferably from a distance so as not to fix the gaze on individual pixels. The general quality of the panel is perfectly in line with the price range, with more than sufficient brightness and certainly not vivid and deep colors, but still quite faithful in every content reproduced. The oleophobic treatment is not flawless.
Helio P22 and 2GB of RAM .. | Nokia 2.4 review
Before going into the examination of what are the performances of this device, a clarification is a must: the version we tested is the one with only 2GB of RAM and 32GB of internal storage. Clarification made, I can now also explain the reason for the title of this review. If there is one reason why Nokia has managed to make a comeback in recent years among the companies that make a difference in this sector, in addition to the incredible support offered over the years through various updates, is the ability to produce devices that do not made the inevitable hardware limits due to low costs burden on performance.
In Nokia 2.4 all these limits are instead present and come to light, whatever the use that is made of the smartphone. The lag, the jamming, the delays in the openings are constantly present to the point of having the feeling of having gone back a few years. Suffice it to say that to turn on Nokia 2.4 and be able to use it without blocking for various loads at startup, they will have to pass at least a couple of minutes. Due to the 2GB of RAM you can then say goodbye to any hint of multitasking, but I'm not sure if the situation improves much in the 3GB RAM version.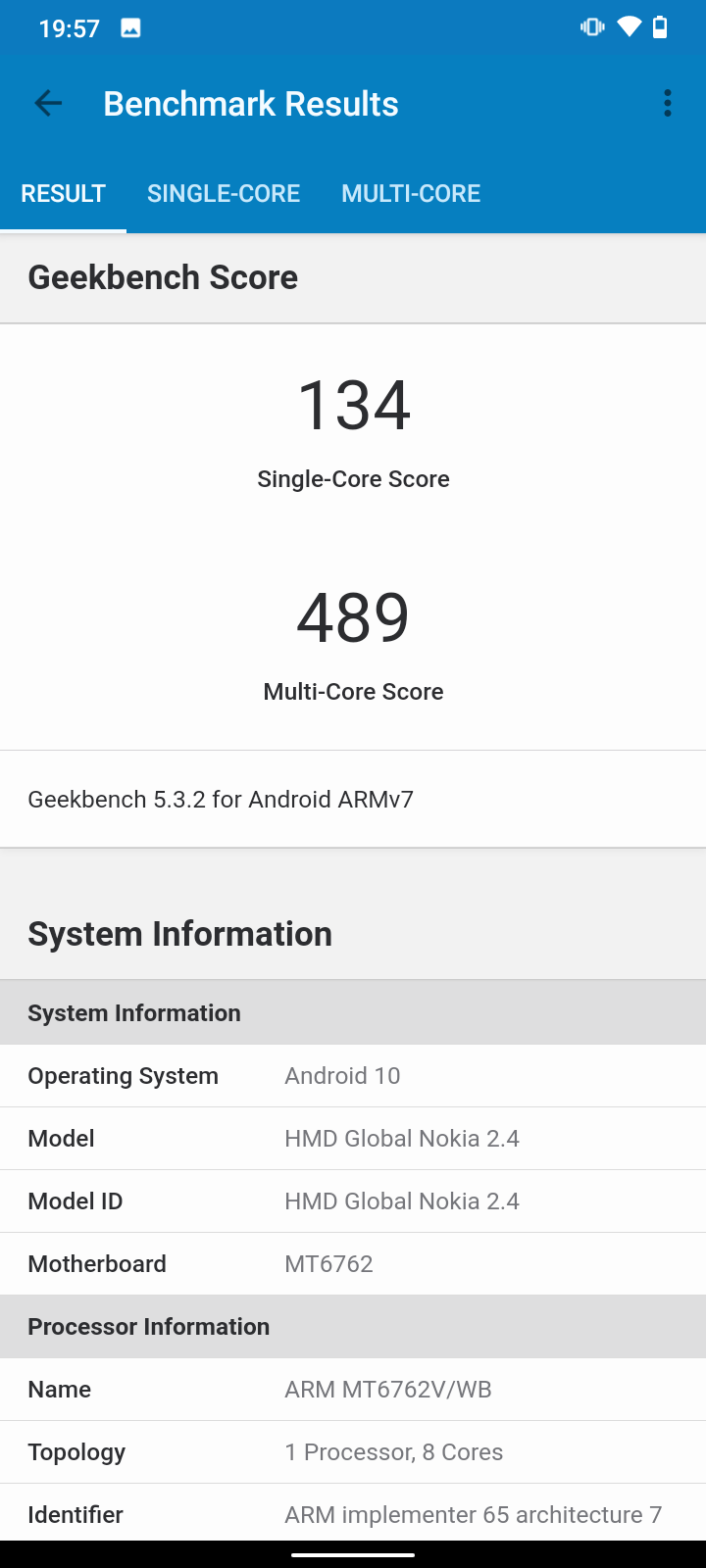 Paradoxically, the limits are less noticeable in the comparto gaming, in which the GPU PowerVR GE8320, despite not making a miracle scream, it allows you to play video games, obviously at HD resolution and low details, even to video games like COD Mobile enjoying the experience. Overall, Nokia 2.4 offers an experience that is certainly not pleasant and always enjoyable, especially considering that it is also defeated in internal competition. In recent months I have had the opportunity to have a Nokia 5.1 (which at the moment can be purchased at more or less the same amount) and the difference in terms of performance is abysmal, in favor of the latter.
Sensors don't work miracles | Nokia 2.4 review
The photographic sector is, as I always say, the real watershed between the various price ranges in the mobile sector. This is why the expectations on Nokia 2.4, despite an updated rear photographic sector consisting of two sensors (main 13 MP and secondary 2 MP), were by no means the rosiest. Even more considering that the secondary sensor is a sensor for calculating the depth of only 2 MP and therefore, as often happens in these cases, it has marketing functions rather than use. The resulting shots are acceptable in perfect lighting conditions but the detail drops dramatically and exponentially as the lighting goes down, with a parallel color change on washed-out tones.
Avoiding being specific in each context, it is possible to say that in most cases you will not be able to take home shots worthy of even being shared on social networks. Ditto for videos, which can be recorded at a maximum resolution FullHD a 30 fps. The 5 MP front camera will instead be able to give you some satisfaction, being slightly above average in this price range and usable to immortalize your memories without particular regrets.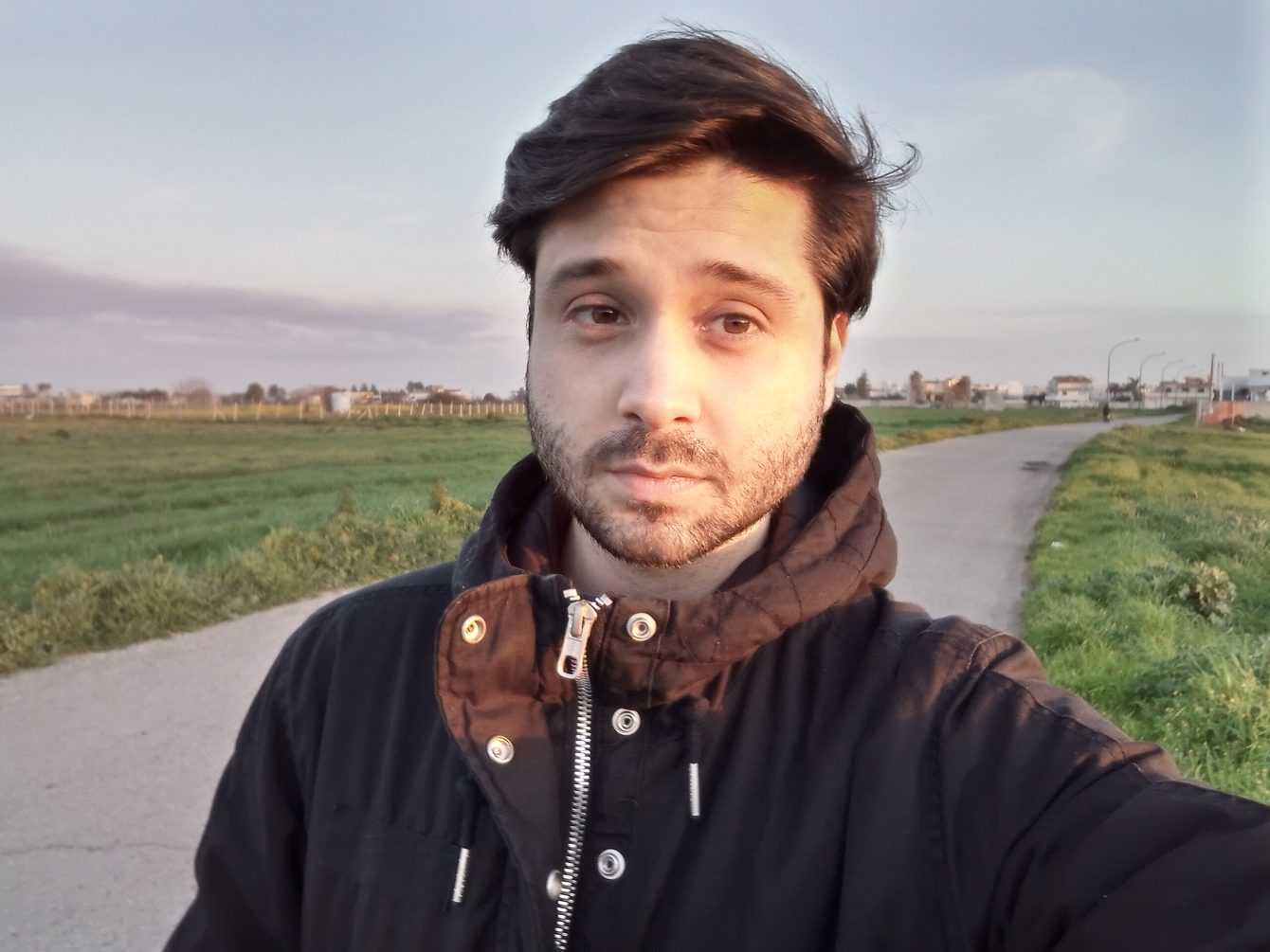 A call forklift | Nokia 2.4 review
Using Nokia 2.4 we did not encounter any particular problems on the call. In addition to good reception, the system speaker and the ear capsule allow you to take advantage of a high volume (but unbalanced on high frequencies) both in calls and in multimedia playback. Nokia's reliability in the durability and support of its devices could therefore be an important factor in favor of the purchase of this smartphone, if you need a forklift without any pretensions, to be used as a second or third smartphone used only for calls. It should also be noted that the Wi-Fi module is absolutely not among the fastest in its category.
Essentially Android One | Nokia 2.4 review
The collaboration between Google and Nokia allowed the Finnish company to find that perfect combination of functionality and reliability that not many can boast. Nokia 2.4 will enjoy, like the other smartphones of the Nokia family, 3 years of support, with the promise of even seeing Android 12 on this device. At the moment, Android 11 is expected to arrive in the first part of 2021. Although Android One is practically Android stock with all its features, as mentioned, the hardware limitations do not allow the software to give that extra boost that would have been needed. Nothing to fault the operating system, it is Android One!
Battery charger | Recensione Nokia 2.4
The subtitle used certainly does not hide particular features of the smartphone but wants to immediately highlight how much battery and autonomy it has to sell. The important dimensions have allowed the insertion of one 4500 mAh battery. Thanks also to the low resolution of the display and the processor certainly not very energy-intensive, Nokia 2.4 guarantees an autonomy of two days of use. An almost battery phone that, following what has been said before, can find its size in a forklift use for calls. Unfortunately, the charging speed, also due to the connection via Micro USB 2.0, is really at a minimum, you will have to wait well over three hours for a full charge.
It's time to take stock!
Nokia 2.4 is the classic smartphone that we would give to a relative per nulla social addicted and perhaps, in this dimension of use, it could find its specific location. Unfortunately, however, in the face of an introductory price of around 130€ in the version with 2 GB of RAM, it suffers the performance difference with other devices (Xiaomi and POCO on all), also losing in the competition within the brand. Instead, it may be interesting when it will be possible to buy it below the € 100 threshold.
The photographs included in this review were taken with a Nikon Z50.
HALF FALSE PASS OF NOKIA
Points in favor
Design and construction
Large display
Infinite battery
Points against
Performance rejected in all areas
HD + resolution
Barely enough cameras
(currently on offer) Don't miss it!