In this piece we want to tell you about a very interesting product: PDFelement. It is a very flexible and powerful software for viewing, editing and creating PDF files, able to perfectly cope with the best known Adobe Acrobat DC and perhaps even a little more. Let's see why
The Portable Document Format (PDF), originally created by Adobe to allow you to represent text and images in a file regardless of the type of hardware and software used to manage it, it has now taken the top spot as the most used format in document exchange. However, if we have all tried to open and read a PDF at least once in our life, probably few will have had the opportunity to create or modify one. In fact, specific software is needed to be able to do it such as Adobe Acrobat DC or the excellent PDFelement that we are going to describe shortly. In particular professionals and companies you might be interested in this tool for the transparent management of PDF documents and forms.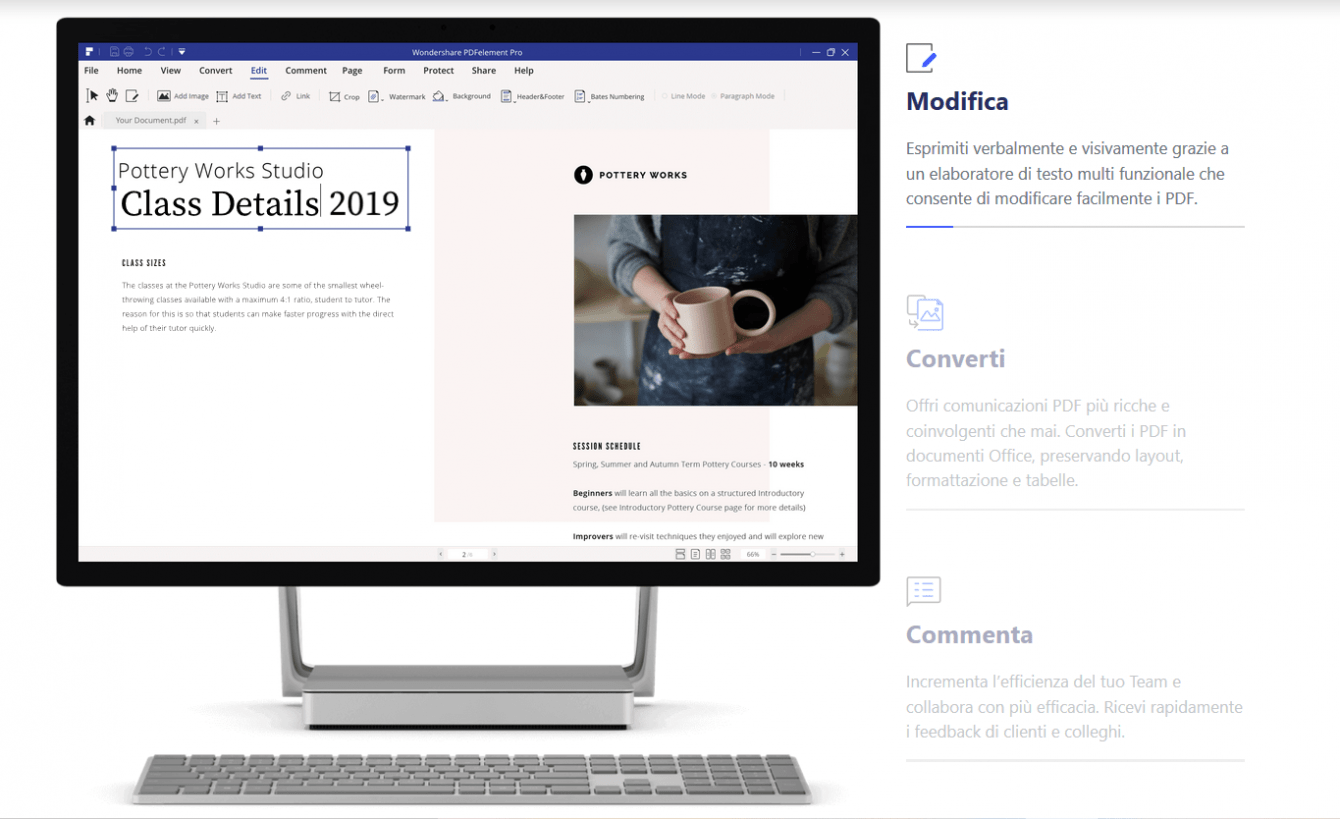 PDFelement: create, but above all edit PDF files
As already mentioned, the PDF format is one of the most popular for exchanging documents on the web. Creating a PDF is actually not too difficult using office suite software like Word or LibreOffice or knowledge of specific languages ​​like LaTex. However, creating a well-laid out and formal document from scratch takes a lot of time and experience. Wondershare's PDFelement allows in a simple and transparent way to create or modify a PDF file starting from one already in our possession for example.
Editing via PDFelement is possible thanks to an editor with a graphical interface very similar to office software already mentioned, therefore simple and intuitive. You can change and resize texts, add images, prepare a different layout simply by using mouse and keyboard. Plus, should you need other more advanced features, that's also possible export a PDF file in one of the many formats of the office suite (such as Word, Excel and Powerpoint) allowing you to manage for example tables. Of course, with smart working becoming more and more prominent, PDFelement contains a comment and feedback system that allows you to communicate with different team members or with customers remotely. It will be possible to leave comments and smart annotations in every point of the document, for a clear and rapid communication.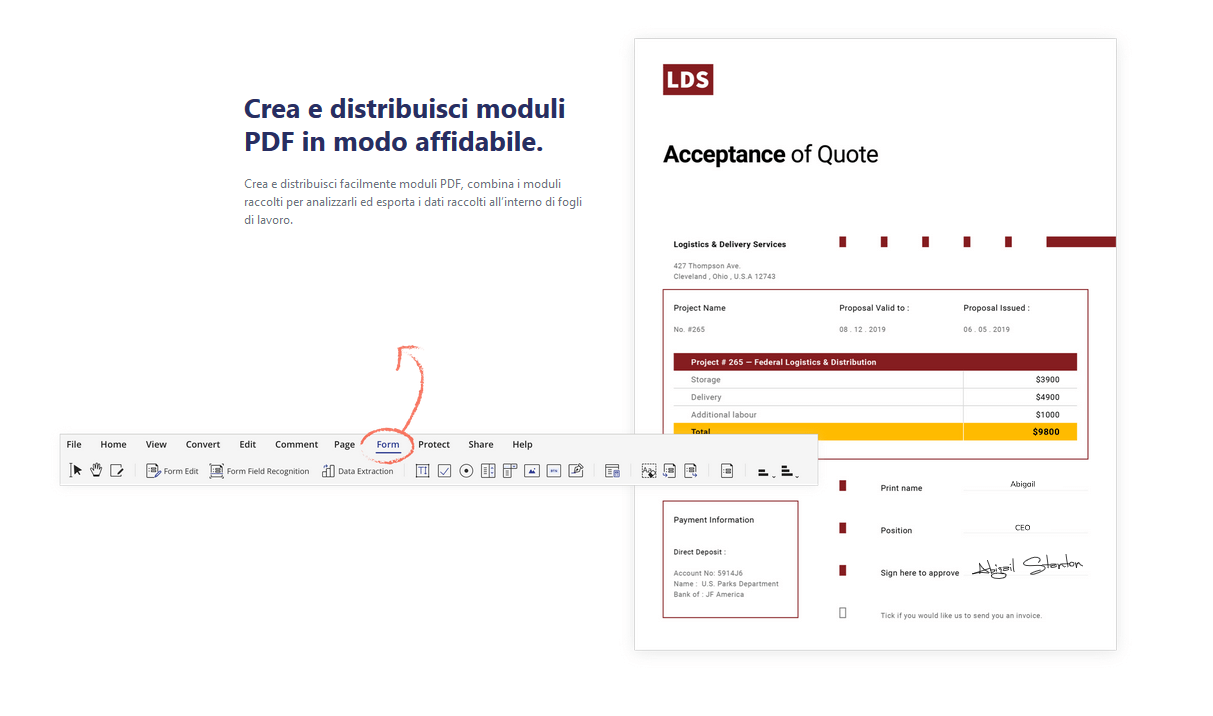 PDFelement, not just documents: forms, OCR and much more
However, the one just described is so to speak only the tip of the iceberg. PDFelement offers a series of features that are particularly useful for professionals and companies. First of all it is definitely the ability to create fillable forms and web forms. You can start from any model made even in different formats and export it to make it editable. At this point, through the graphical interface, you can add and make fields fillable, add text boxes, buttons and other features to make your PDF file interactive. In this way it will be possible to collect data and feedback in a simple and completely digitalized way, to facilitate processing for posterity and also to respect the trees.
Other interesting features are those related to security and privacy: through PDFelement it will in fact be possible to hide the entire document and specific parts of it – for example images or sensitive information – to be able to spread it without security problems and protect it with passwords and credentials. Finally we find all the tools for signing documents with legal value in order to be able to draw up contracts even remotely. The suite is completed by features such as OCR or optical character recognition.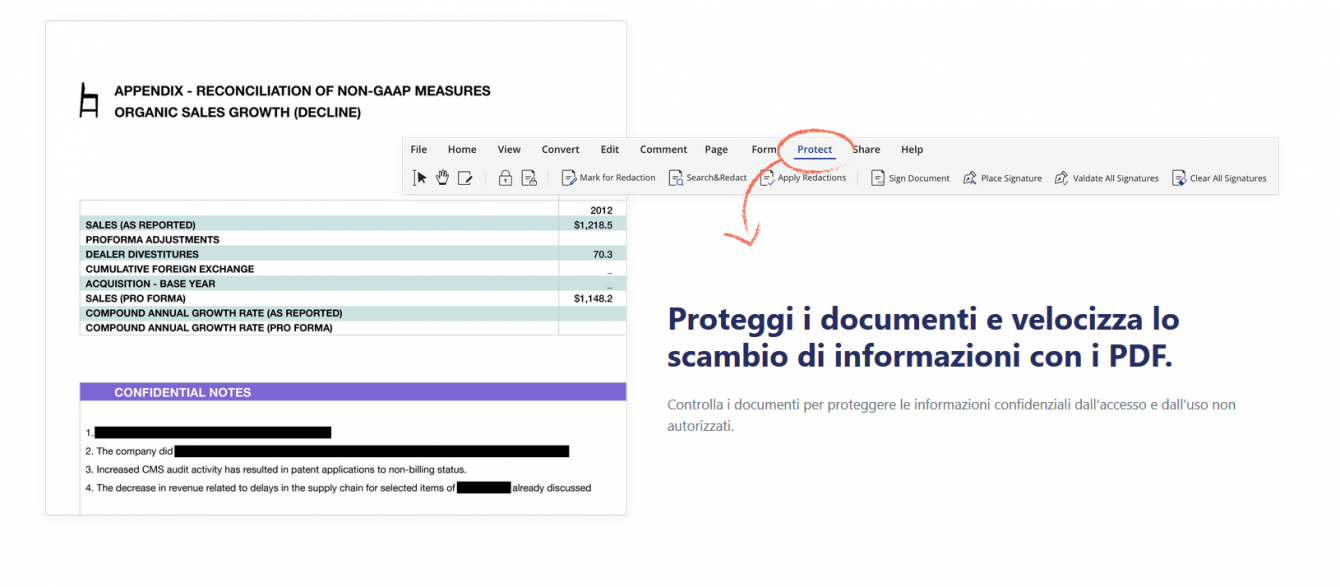 Conclusions and price: is it worth it?
We have seen how Wondershare's PDFelement software offers tons of useful features, especially for professionals or companies who want to digitize their business. Simple and intuitive, it allows you to edit and create interactive PDF files with just a few clicks. Furthermore, the functions related to security and authentication are really interesting. We can say that it can easily replace the Adobe Acrobat DC counterpart, also for the cost of the license which is significantly lower: the annual subscription costs 89 euros for the Pro version and 69 euros for the standard one. In addition, apps for mobile devices are also available, very useful for those who work on the move. PDFelement has already been chosen by many large companies too and we would like to tell you that too it is a very good product. Keep following us in our software section for more tips and trivia!