How to download and play 4K videos from YouTube? Here is 5KPlayer is a multimedia player that supports online video download in 4K, with many useful features
Currently, 4K and 8K videos aren't easy to manage at all. There is a lot of content that can run in 4K resolution, many video hosting sites provide 2160p videos, and even some online downloaders can download videos up to 4K. Videos with UHD images are truly a feast for the eyes. To have great fun with these high resolution videos, we introduce you 5KPlayer, one of the best free UHD downloaders and players for Windows and Mac.
5KPlayer is a media player that supports online video download (also from YouTube) with a resolution of 144p to 1080p / 2160p / 3200p, playing video, music, DVD, radio, m3u8 live streaming, sharing movies / songs with DLNA compatible devices, as well as AirPlay mirroring and iPhone iPad screen recording. Ed it is free to use all these features, after entering an e-mail address to obtain the registration code.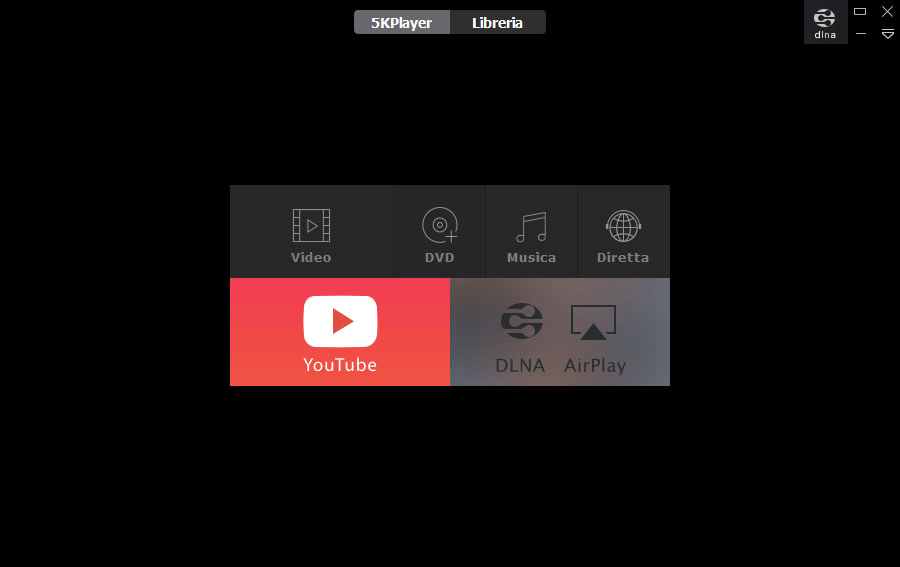 How to download 4K video from YouTube and more
As mentioned above, there are some websites that allow users to directly download 4K videos, but because you need a software downloader?
UHD videos have a high resolution and therefore are large files. A 1 minute 4K video with standard 30fps will require around 400MB. Therefore, the download would take a long time. Once your browser crashes or closes, all the time you have been waiting for is a waste. Find a good downloader for that can resume from the point of interruption del download is very important. 5KPlayer is one of them. Even if you closed the program by mistake by starting it again, you can find the unfinished video in the Library. Click download, it will start from the breakpoint.
If you want to download a UHD video playlist like GoPro's landscaper playlist, you can easily manage it with 5KPlayer. Copy the playlist URL, click "Paste URL and Analyze" on the 5KPlayer download interface, you will get all the videos waiting for download later. There is a small drawback, each video requires a click of the "Download" button to start downloading.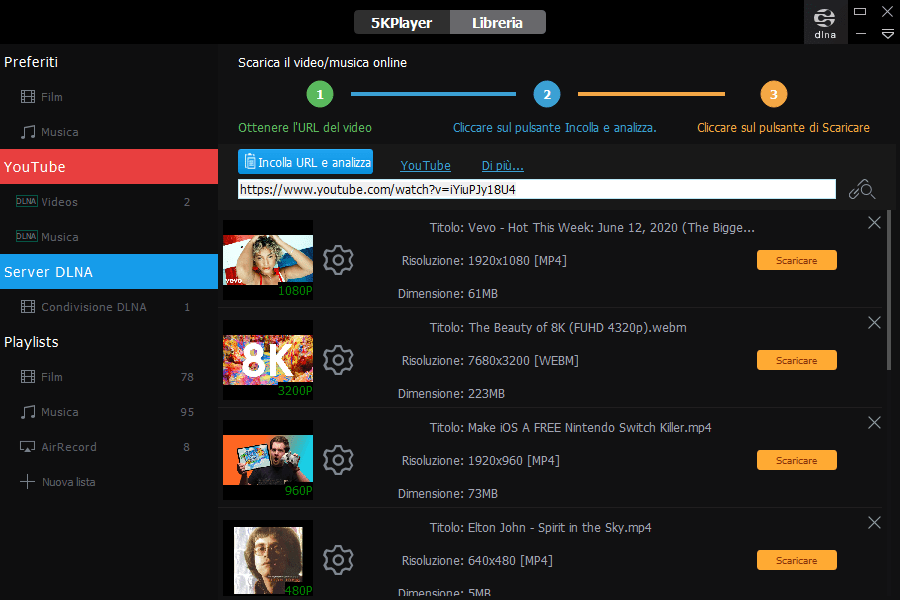 Saving subtitles along with the video is part of 5KPlayer's job. Provided the video provides subtitles, there is an option to download subtitles. When there are multiple subtitles, you can choose one format or all.
The steps for the download the UHD 4K video from YouTube they are not complicated at all.
Step 1. Install 5KPlayer on your computer, launch it and click "YouTube" on the main user interface.
Step 2. Copy the URL of a 4K video, click "Paste URL and Analyze", wait a second for the result.
Step 3. Click the "Gear" icon next to the video. Make sure you can choose 2160p resolution, you need to click "Show All". Select that quality and click "Finish". Typically, this UHD downloader sets 1080p as the default, for other resolutions, you need to select them in the download preferences.
Step 4. Click the "Download" button to complete the process.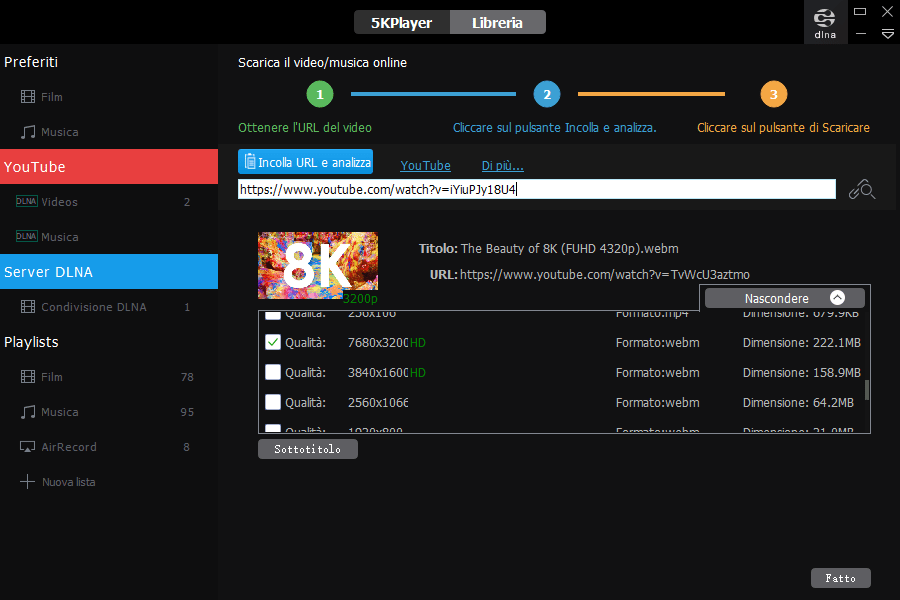 How to Play 4K Videos on Windows and Mac
Music and video playback is 5KPlayer's core capability. It handles almost all video formats from mainstream like MP4, MOV, MKV, H.264, H.265, HEVC VP9 to less known like VC1, YUV, DAT, etc. And HEVC (H.265) and VP9 are the two main codecs that play ultra-high definition videos. 5kPlayer also plays 360-degree video and M3U formats, useful for IPTV lists.
With the supported hardware acceleration, 5KPlayer can play videos in 4K easily. Lightens the CPU load by shifting the load to the GPU, eliminating the possibility of the computer freezing while processing UHD video playback. However, 4K video playback requires not only good software but also good hardware. If the computer configuration is too outdated, it is also difficult for the software to compensate for it. After all, you can't make bricks without straw.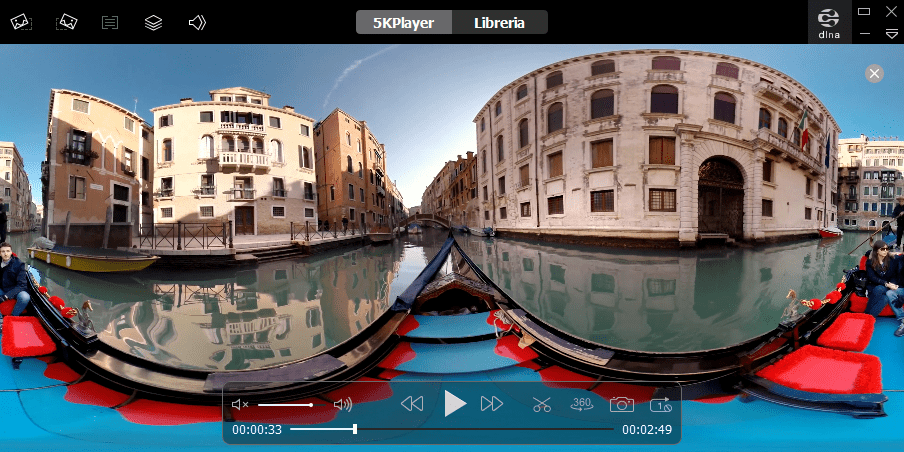 There are some nice additional features of 5KPlayer that are noteworthy. L'snapshot allows you to capture the best UHD video scene as an image, the video rotation 90/180/270 degrees (useful for incorrect smartphone recordings), the speed adjustment lets you play video music in slow motion or faster (x0.5 to x2.0) and much more. Besides, you can also cut video clips with 5KPlayer.
5KPlayer offers both a Windows and Mac version. If you want to download videos from YouTube (and more) or play 4K videos, try this free software.