The online safety of the youngest is one of the problems facing modern parents. A great help can be the Qustodio parental control app which offers numerous features to monitor and protect your children online. Let's find out Qustodio parental control in detail in this review!
Nowadays, communication technology has revolutionized the way we relate to the world and to others. But the Internet can be a dangerous place for adults, let alone for children! Protecting children online and while they use their smartphones, tablets and PCs is now essential. Qustodio is an app designed just for that: it is a parental control for iOS, Android e numerous other platforms. Let's see how it works and how to make the most of it.
Very quick and easy installation | Qustodio parental control review
The Qustodio app is available for a wide range of devices Android, iOS, Windows, Mac e Kindle, although the most complete version for now is the one for Android smartphones. Anyhow installation is guided and very simple: You need at least one parent device and one child device to get started. Registration via email is very fast and in a few minutes our devices will be ready to be used. The features of Qustodio are available both through the application and through the dedicated section of the website. You can therefore monitor and protect your children online either using a smartphone or using a PC.
Protect your children online | Qustodio parental control review
The statistics speak for themselves: almost half of children between 5 and 15 have a tablet and about 32% of those between 8 and 11 have a smartphone. On the one hand, the possibilities offered by these devices are also enormous in terms of education and not just recreation; on the other hand, however, the world of the internet contains numerous dangers: 34% of middle and high school students have had an experience of cyberbullismo, 41% of the boys had contacts with dangerous or unwelcome strangers, 31% of teens sent or received sexual messages. The protection of children online is now imperative.
Qustodio can help you protect your children from numerous dangers. First of all it allows you to monitor your child's activity online: how long and which sites do you visit? If you deem it appropriate, you can also activate the child lock on some dangerous websites: the intelligent content filter can be set to prevent access to areas of the web not suitable for children such as betting sites or pornographic sites. In this way children will be able to navigate with total safety. Finally, it is possible to receive a global report on the use of the controlled devices over the last 30 days.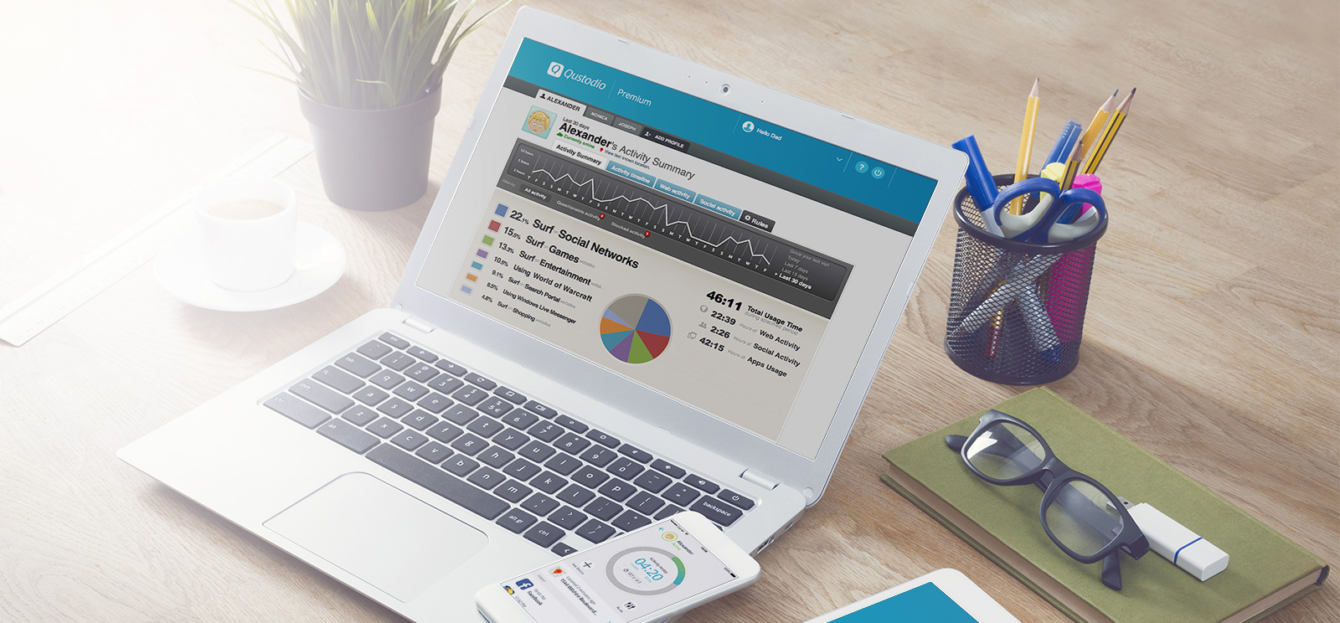 App and social networks under control | Qustodio parental control review
Much of people's online life now passes through social networks and various instant messaging apps. That's why Qustodio has paid particular attention to this feature. Again, you can restrict use and block apps that don't seem suitable for your child's age. It is also possible to block games that are now becoming increasingly popular even in the world of mobile devices. But that is not all: you can also monitor your child's activity on the main social platforms by controlling accesses, published posts and comments. The features that allow you to monitor social media are the flagship of this application because, especially as regards the youngest, most of the dangers come from these platforms.
Calls, SMS and other messages can be read and the contact log can be checked. From the outside, you can finally create a black list of contacts to block unwanted calls and messages on your child's smartphone. If you detect strange conversations or calls from some contact you can immediately interrupt them, blocking the same.
Dangers even in the real world | Qustodio parental control review
Since now everything we always carry with our smartphone and our children do, it can become an effective method to protect them even from the dangers of real life. Qustodio therefore allows you to keep track of your child's location and movements via GPS geolocation and also provides a Panic Button that kids can use in an emergency to contact you promptly. You will then know where your kids are and if they are in danger. It's not just about protecting your children online, Qustodio also allows real-time protection from the dangers of everyday life.
The addiction to the screen | Qustodio parental control review
In addition to the dangers of the internet, another major problem related to the use of smartphones, tablets and other electronic devices is addiction. It can be very harmful because it distracts young people and makes them less active in the real world. The average screen time, or the average time spent in front of a screen, increases with the passage of time, starting from 4.5 hours in the range between 5 and 7 years, up to 9 hours for adolescents from 13 to 19 years of age. It is therefore essential to teach our children that there is a whole world beyond the screen.
For this reason, one of the features of Qustodio that we appreciated the most is time management; it allows you to set a maximum number of hours per day that the child can spend in front of the screen. You can therefore limit the browsing time. The time limit can also be set for specific apps or in certain specific daily bands, so that your child can concentrate on studying or other activities without the risk of being distracted.
Premium Features | Qustodio parental control review
The Qustodio app is free, but some of the features are only available with the prepaid plans, starting at less than € 4 per month:
Block pornography: Qustodio's real-time filter blocks inappropriate content even in private browsing mode.
View the activity of Social Networks: Track time spent on Facebook, Twitter, Instagram, WhatsApp and more.
Adjust the time spent in front of the screen: set the times or limits allowed for daily Internet browsing.
Check out Games & Apps: Set time limits for games & apps or completely block apps you don't want to be used.
Monitor Calls & SMS on Android: find out who your child writes to and who calls the most, read SMS messages and set up a list of blocked contacts. Only on Android devices.
Position Location and Panic Button: track your child's location. In an emergency situation, your child can use the Panic Button to call for help.
The free version allows the protection of a single device and does not include all the features listed above. However, you are given a chance to try the app to decide if the premium features are worth buying. The cost varies according to the number of devices that you want to monitor: it starts from a minimum number of 5 with a cost of approximately 40 euros per year, up to a maximum of 15 devices for a cost of approx 100 euros per year. Clearly it will be possible with the same subscription to monitor the activity of several of your children.
Final Verdict: Is It Worth It?
Surely Qustodio is a very interesting application that offers many features to protect children online: it is one of the most complete products on the market. It allows you to have total control over your children's online activity, but this can be a double-edged sword: if used to its full potential, Qustodio can be very invasive. Boys need a certain degree of privacy, especially when the age of puberty begins. Getting into their life so heavily can have negative effects on their emotional and social development. We therefore invite you to use the app wisely and to correctly assess how heavy your presence in your children's lives should be, based on their age and the risks they may incur. Communication between parents and children should always be the basis of the relationship.
A great advantage of this application compared to the parental control services integrated into the various devices such as Google Family Link and Apple Screen Time lies in the fact Qustodio is a multi-platform solution, compatible with many different devices: you can therefore have smartphones, tablets and even PCs under control, all through a single app.
As we have seen in this review, the Qustodio application has enormous potential but remember that it makes no sense to turn off the screen of electronic devices to our children and then leave them alone! We try to be present both in real life and in the virtual life of our kids. Qustodio is only a valuable aid to help us control the hellish bedlam of the web that has invaded the lives of our children.
From the software section that's all! Keep following us for many insights and reviews!
A super effective control!
Points in favor
Available on numerous platforms
Easy and intuitive
Block pornography
View the activity of Social Networks
Adjust the time spent in front of the screen
Check out Games and Apps
Monitor Calls and SMS
Position Location and Panic Button
Points against
Monitor calls and SMS only on Android
It can be very invasive if overused