Unfortunately, sometimes we understand by an accident or a human error to lose our data: photos that immortalize in our memories, important documents, videos of our experiences. The problem becomes even more serious when it comes to files related to a profession. Recoverit is a software that allows the recovery of data lost or deleted by mistake from PC, SD and hard disk with excellent reliability!
You can sometimes understand that a hardware defect or a software malfunction can affect our data contained in the storage media. But also a human error can happen: mistakenly delete photos and videos from an SD card – especially for creatives who have a lot of them and can get confusing – or mistakenly format a partition while messing with your PC; these are all things that can happen in everyday and professional life. Losing memories is certainly a tragedy, but losing important documents or images and videos for a client can also be really problematic.
Recoverit by Wondershare is a very powerful and versatile application that allows you to analyze your memories and recover lost or deleted data from PC, SD, hard disk and other storage media with an over 90% chance of recovering your data (obviously before overwriting the memory). Of course it is always advisable to back up your most important files. But sometimes it's expensive and we're all a little lazy to be honest. Let's see in more detail the features of this software that can help us.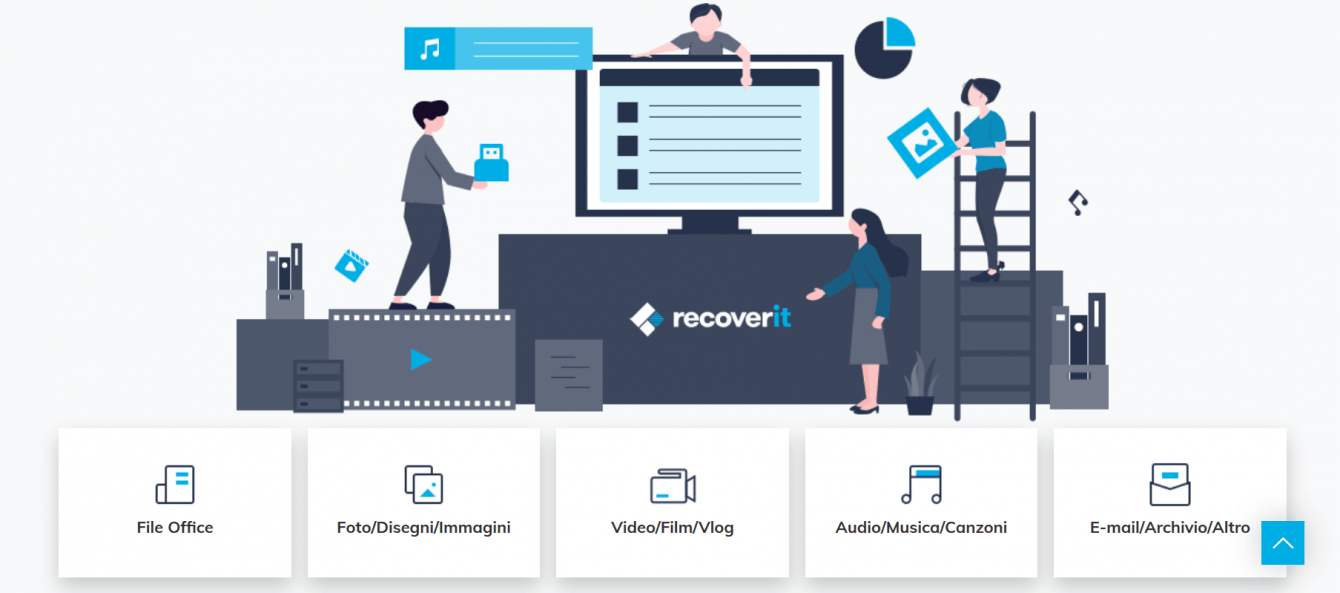 Recoverit: broad spectrum compatibility
One of the salient features of this software is compatibility with numerous operating systems, file systems and file formats. Guaranteed compatibility with and Windows and Mac systems, from the most recent to the older ones like Windows XP which still survives in some situations. Among the compatible file systems we find ExFAT, FAT16, FAT32, NTFS, ReFS, Raid, RAW, JFS under the Linux operating system, ext2, ext3, ext4 under the Linux operating system.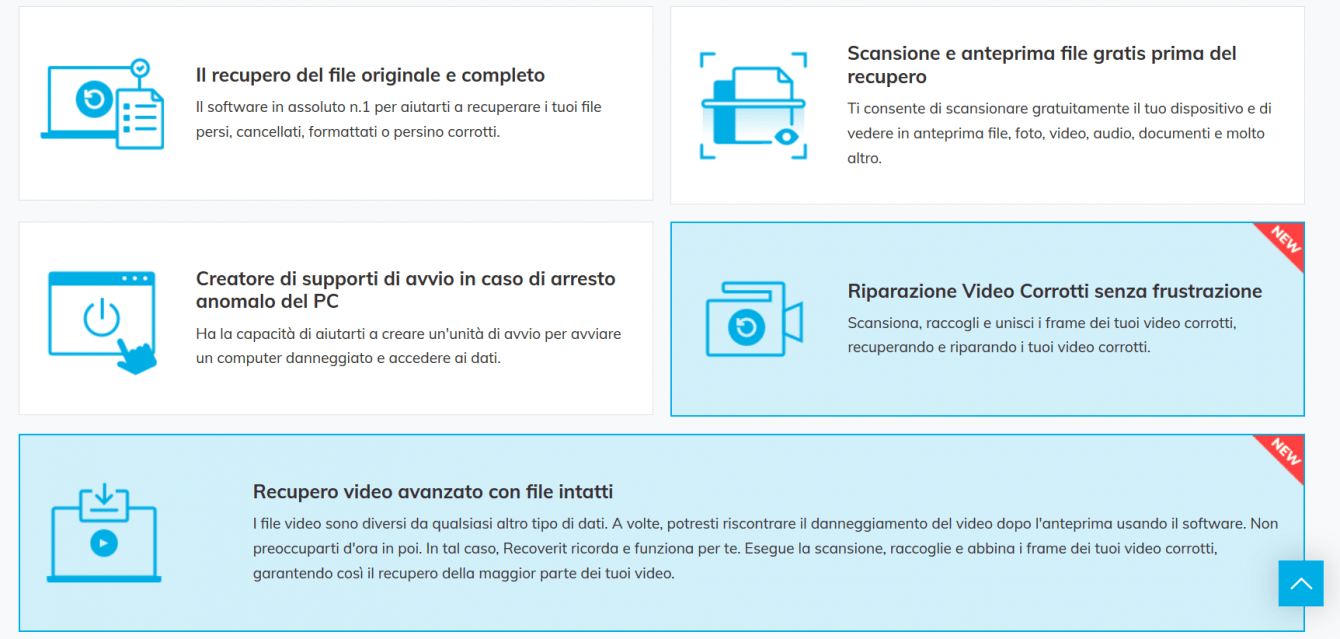 At the hardware level, many different devices are supported including PC and laptop, SD Card, hard disk, cameras, USB Flash Drive, SSD, external hard disk, pen drive, floppy disk, action camera, camera drone, dashcam, camcorder, video player, music player. In practice, any electronic device can be scanned by Recoverit to recover the data contained in it, accidentally deleted or even lost due to a malfunction in certain cases. In particular, Recoverit offers, in its various versions, these features:
Deleted File Recovery
Recycle Bin Recovery
Formatted Disk Recovery
Lost Partition Recovery
External Device Recovery
Virus Attack Data Recovery
System Crash Data Recovery
Full Recovery
An interesting feature is also the one that allows you to scan the device and preview the recovered files and their quality, so you can select the most useful ones and instead discard the most damaged ones. In case of operating system crash Recoverit Pro and Ultimate will be able to access PC data by creating a bootable USB drive or CD / DVD to allow users to fetch and save important data before trying to repair the PC.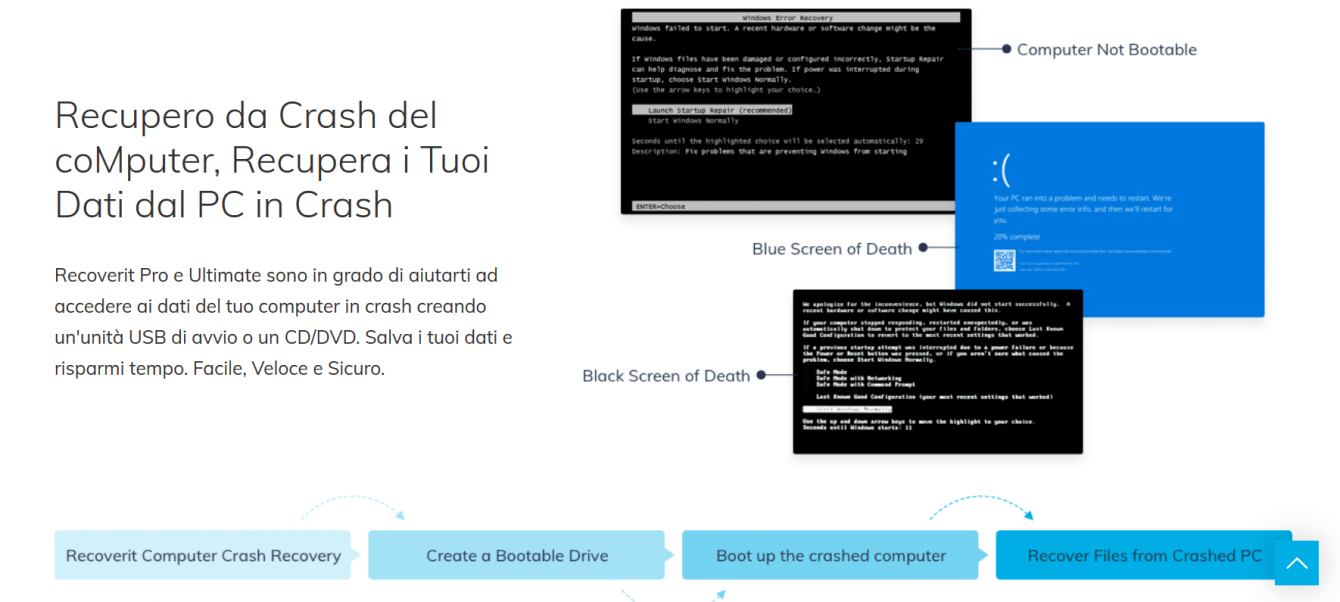 Officially supported file formats:
Office

DOC, DOCX, RTF, DOT, DOTX, DOTM, ODT, OTT, WordML

XLS, XLSX, XLSB, XLT, XLTX, XLTM, XLSM, XML,CSV,TSV

PPT, PPTX, PPS, POT, PPSX, PPTM, PPSM, POTX, POTM, ODT

PDF, PDF/A, XPS

EPUB, JIS, KEY, LOG, MPS, NUMBERS, ODS, ONE, PAGES, PPS, PS

Books, Project, Face and many other types and formats of documents

Photos and images

CRW, JPEG, JPG, PNG, PSD, RAW, RGB

3DM, 3DMF, 3FR, ABM, AFX, ANI, ART, ARW, BIZ, BLD, BLEND, BMP, BOO, BR5, CAD

CDR, CDT, CGM, CIFF, CLP, CMX, CONT, CPT, CR2, CRW, CUR, CVX

DCD, DCF, DCM, DCR, DGN, DIB, DNG, DRW, DS4, DSC, DT2, DWF , DWG, DXF, EMF, EMZ, EPX

ERF, EXIF, FH10, FH11, FH7, FH8, FH9, FLC, FMZ, FOV, FPF, FPX, FUJI, FXG, FZB

SCT, SDR, SDT, SHP, SKF, SKP, SR2, SRF, SRW, STP, SVG, SVGZ, TCW, TGA, THM, TIF

TIFF, UFO, VWX, WBC, WBD, WBMP, WBZ, WEBP, WMF, WP, ai, clk, YUV, DDS, X3F, GPR, FFF

Video

AVI, FLA, FLV, M2TS, M4V, MKV, MOV, MP4, MPEG, MPEG4, MPG, WMV, 3G2, 3GP, 3GP2, 3GPP

AMV, ANM, ASF, ASX, AVS, BIK, CPI, CSF, DIVX, DMSM, DREAM, DVDMEDIA, DVM

DVR-MS, DXR, EVO, F4V, FBR, HDMOV, HDTV, IVM, M1V, M2P, M2T, M2V, M3U, MOD

MOI, MP2V, MPE, MPV2, MTS, MXF, OGA, OGM, OGV, OGX, OOG, PLS, PMG, PSH, PSS

PVA, QPL, QT, QTM, RCPROJECT, RM, RMVB, RP, RT, SCM, SMI, SMIL, SMJPEG

SRT, STX, SWF, SWI, TIX, TOD, TP, TPR, TS, VOB, VOD, VP6, VRO, WEBM, WM, WMP, WTV, XLMV, XVID

Audio and music

AAC, AIFF, ALAC, FLAC, MP3, OGG, PCM, WAV, WMA

A52, AA, AA3, AC3, ACC, AFC, AIF, AIFC, AM, AMR, APE, AT3, AU, CAF, CDA, CPF

CUE, CWP, DMSA, DMSE, DSS, DTS, DTSWAV, DVF, EMP, EMX, FAR, FBX, FLP, IT, KAR

KPI, KPL, LSO, M1A, M2A, M3D, M4A, M4B, M4P, M4R, MAC, MID, MIDI, MKA, MP, MP+

MP1, MP2, MP3PRO, MPA, MPC, MTM, OMF, PTF, RA, RAM, RFL, RMI, RMX, RNS

RPS, S3M, SC4, SIB, SMPL, SND, STM, TAK, TTA, UMX, VOC, VPM, VQF, XM

Compressed emails and archives

E-mail: MSG, PST, OST, EML, EMLX, MBOX

E-mail: BKL, BKS, BMS, DBX, DCI, EDB, MAIL, MBX, NSF, OEB, PAB, PST, WAB

Archivio: 7Z, WAR, ZIP, exe, 7zip, ACE, ALZ, ARC, ARJ, BZ, BZIP, CAB, DBS

Archive: DEB, GZ, JAR, KRYPTER, LZA, LZH, MSI, PF, PKG, PUP, RAR, SEA, SFX

Archivio: SIT, SITX, SOR, TAR, TGZ, ZIPX, ZOO, GZIP, ISO, dmg, rpm, exe, iso9660, afz

Internet Web: ASPX, CGI, ELM, HTM, HTML, IGY, IQY, JSP, LDB, MHT, MHTML, PHP

File DataBase
Recoverit: image and video recovery for creatives
For a photographer or videomaker, professional or amateur, losing their jobs is the worst nightmare. Fortunately, Recoverit offers recovery tools specially created and optimized for recovering image and video files. In particular, the advanced features available for videos can prove to be very useful as they not only allow file recovery but also the repair of these by rejoining the broken frames and recovering up to 95% of the original content automatically and without obvious signs of corruption. It will be possible to recover lost or deleted data from PC, SD, hard disk or even directly from the cameras.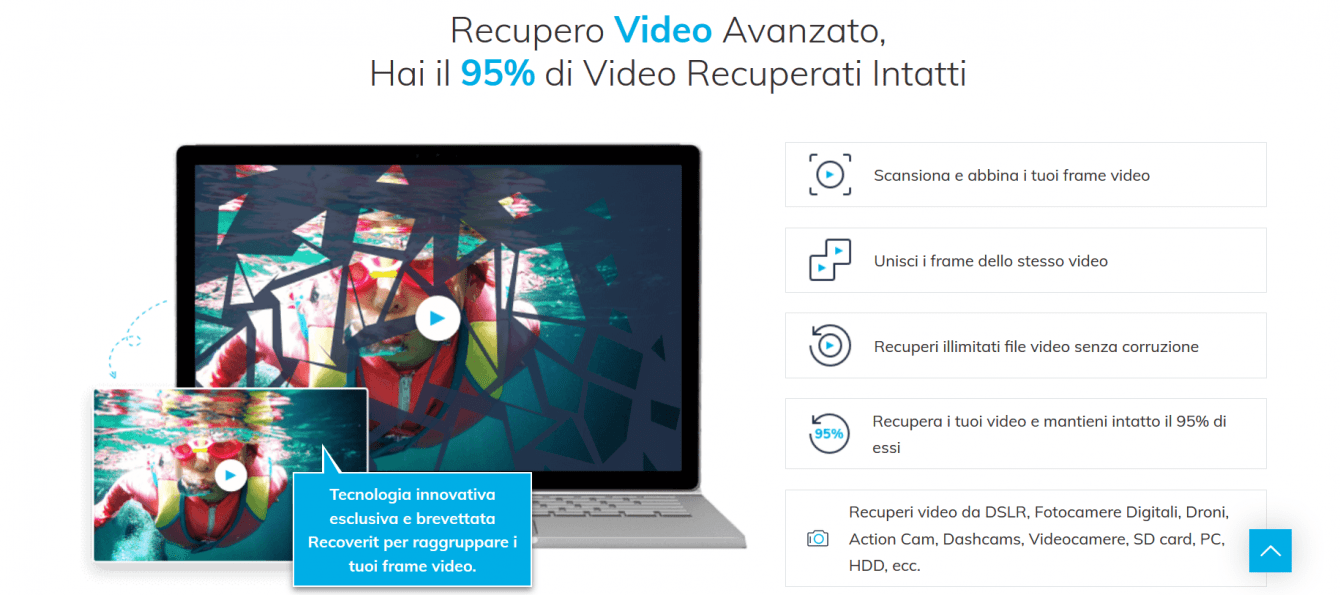 Recoverit: a great product
With over 1000 supports file formats and 5 million users who have used it, Recoverit is confirmed as one of the best software for recovering lost or deleted data from PC, SDm hard disk and so on. Efficient and easy to use even by inexperienced users, it is a very powerful tool that can "save our lives" from human error or an unpredictable device crash. The cost of the license starts at € 59.99 for the annual subscription. From the software section, that's all! Keep following us for other tips and curiosities!