On the occasion of CES 2022, Samsung has looked to its future in the world of technology, sharing its vision for a "tomorrow together". But at the same time it launched some really cool and innovative products, like the new projector The Freestyle.
At CES 2022, Samsung looks to the future
At the opening keynote of CES 2022, the CEO Jong-Hee (JH) Han explained what perspective the company has for the future with the vision "Together Tomorrow". A series of initiatives that look at sustainability, inclusion, partnerships and customizable and connected technologies.
The CEO explained: "I am happy to present our vision of the future, which sees innovation as the engine of
positive change, and that sees us all working together for tomorrow. There sustainability it will become more and more part of the experience of using our products, making a more sustainable lifestyle accessible to all ".
Samsung's commitment moves from commitment to sustainability. The divisions semiconductors reduced the impact, reducing emissions by 700,000 tons. Samsung Visual Display will use 30 times more recycled plastic. And the program of Eco–Packaging allows you to transform TV boxes into small pieces of furniture. Furthermore, by 2025 the company wants TVs and chargers on standby to have a consumption very close to zero.
Personalized technology for everyone
Additionally, Samsung continues to take a people first approach when it comes to technology. This is demonstrated by some of the announcements presented at CES 2022. How The Freestyle, the versatile projector that weighs only 830 grams and rotates 180 degrees on the versatile stand. In fact, it allows you to play high quality video content on tables, floors, walls and ceilings.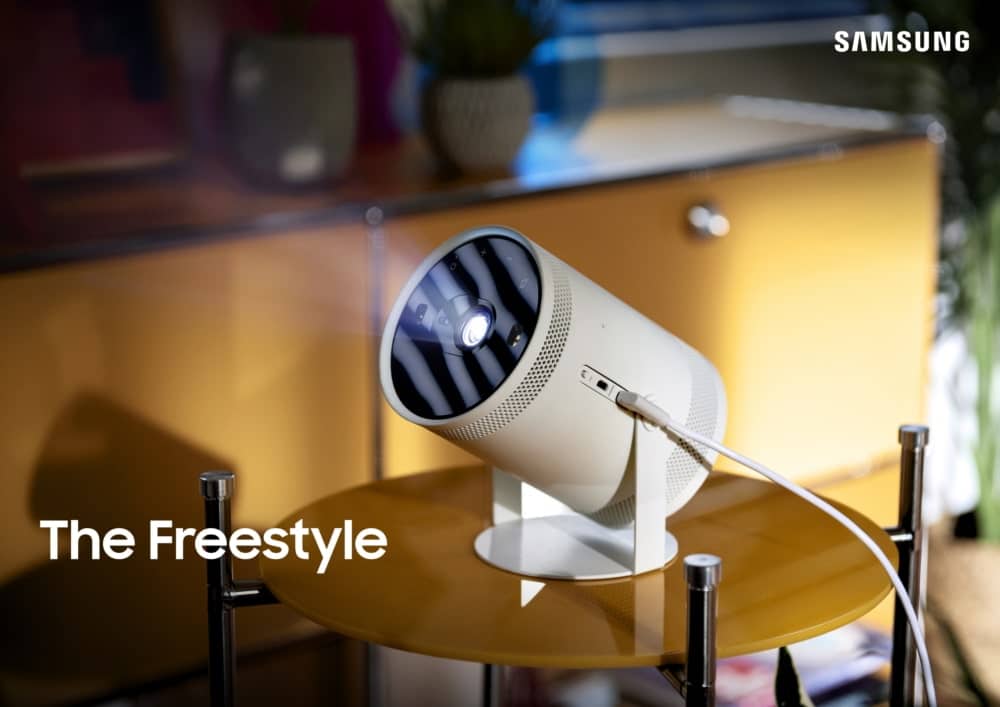 "The Freestyle is a one-of-a-kind projector, which focuses on extreme versatility and flexibility to adapt to the changing lifestyle of consumers," he explained. Simon Sung, Executive Vice President and Head of the Sales & Marketing Team of the Visual Display Business at Samsung Electronics. "Overcoming the limitations of space and format, The Freestyle proves to be a fun and versatile device, which adapts to all the viewing modes preferred by the consumer."
The projector also acts as a ambient light e speaker intelligente, leveraging the intelligent interface of Samsung smart TVs.
And that's not the only news announced. Samsung Gaming Hub allows you to have a platform for gaming on the cloud or console on all TVs or monitors of 2022. Among which there is the monitor Odyssey Ark, curved and 55-inch. There is also an expansion of the line Bespoke, with appliances that you can customize extensively.
An increasingly smart home
Samsung also explained how at CES 2022 SmartThings Hub it becomes more and more the center of your home. In fact, it will have new features built into TVs, Smart Monitors and refrigerators coming this year. Samsung also announced that it will participate as a founding partner in the Home Connectivity Alliance (HCA). Manufacturers like Arçelik A.S., Electrolux Group, Haier, GE Appliances e Trane Technologies they come together for an increasingly connected home.
This means that the appliances of these groups will also be governed via SmartThings. Chanwoo Park, Executive Vice President and Head of IoT Business group of Samsung Electronics explains: "Digital technology is increasingly integrated into everyday life and for this reason we at Samsung believe it is essential to provide greater openness to our ecosistema smart home and offer consumers a wider range of options to create home experiences that are truly personalized ".
The future of Samsung presented at CES 2022 is therefore sustainable, personalized and interconnected. A future that is already beginning.