Protocol Games has announced that Song of Horror Deluxe Edition is finally available for PlayStation 4 in Europe and Australia. This special edition is set up as a must have for all horror fanatics and contains the official artbook of the game, a map in which to write down the clues found during the game and a guide to the characters, which explains their strengths and their role in history.
Song of Horror Deluxe Edition is officially available
Song of Horror is configured as a direct homage to the videogame genre of survival horror. The third-person game with fixed shots and promises to keep players in suspense from start to finish while, in the role of Daniel Walnut, try to solve the mystery of the disappearance of Sebastian P. Husher, a famous writer.
The Deluxe Edition, in addition to containing a physical copy of the game, includes various collectibles that will delight fans of the genre. We have the official artbook, which reveals the background on the creation of the "Presence", the supernatural creature that will constantly haunt us in the game, a map where to write down the clues found during the exploration and a useful one character guide, which reveals the background on the relationships between them and their strengths.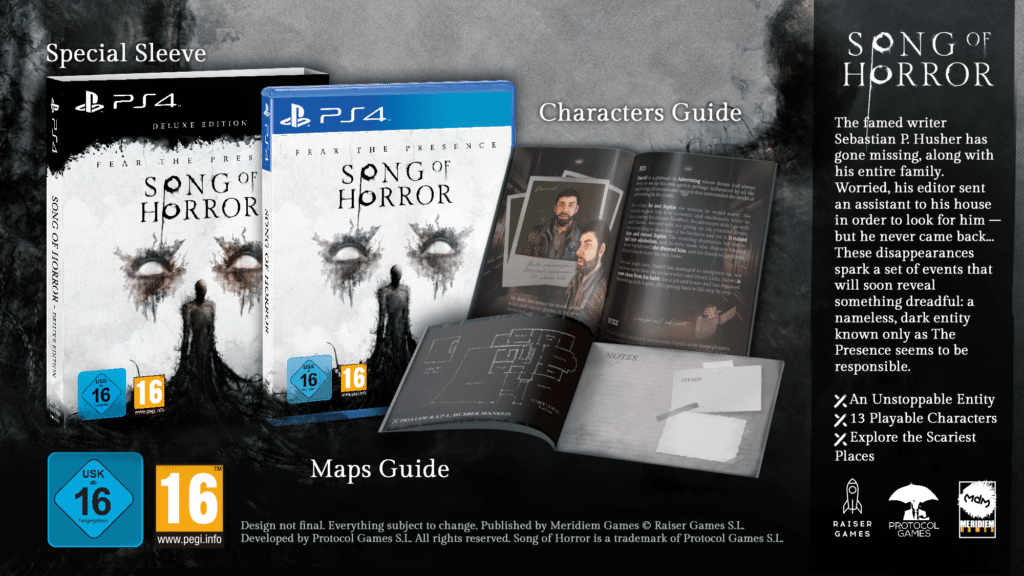 Here are the main features of the game:
Song of Horror offers a dynamic horror experience: The supernatural entity known only as The Presence, is controlled by an advanced AI that adapts to the player's actions. Presence will hunt us down in unexpected ways, offering a unique experience to each player and gameplay where tension naturally builds up instead of coming from scripted sequences.
As a player, you will experience this story through the eyes of a series of characters. Each character is different and brings their own unique point of view, allowing them to approach clues and objects differently.
The actions and decisions of the characters will shape the game world but everyone can die if the Presence reaches them, and death is permanent.
Each location in Song of Horror is inspired by the classics of the genre. We will have to investigate these haunted places to collect clues and key objects, all under the constant threat of the Presanza, but too far from us and never close enough.